Imagine having to adjust your wireless earbuds or skip tracks while riding your motorcycle. Not very convenient, is it? If only something like a helmet with Bluetooth existed. Oh wait! It does! Whether it's listening to music, taking calls, or even hearing navigational instructions, connectivity can rev up the riding experience. And Bluetooth-equipped helmets are here to make it all hassle-free for you. They come in handy for daily commutes as well as recreational riding.
Of course, finding the best bluetooth motorcycle helmet involves doing some research. And with the endless options out there, it's important to choose one that suits you in every way possible. But guess what; we did the homework for you. We listed the details you need to account for, compiled a list of top choices, and even took a peek at Reddit for valuable insight.
Features to Look for Before Buying a Bluetooth Motorcycle Helmet
It goes without saying that not all motorcycle helmets with Bluetooth and GPS are the same. Before going ahead and buying your own, you'll want to make sure it suits your needs and preferences in every way possible. Here are some of the most important features to keep an eye out for:
Fit and Shape
You'll want a Bluetooth bike helmet that fits snugly around your head while being comfortable at the same time. Keep in mind that the eye port should start right above your eyebrows. A rule of thumb is that if you can move the helmet sideways, you'll probably want a smaller size. As for head shape, not every helmet will be ideal for your head. It will either be longer from front to back (long oval), longer from side to side (round oval), or round (intermediate oval). The manufacturer will often note this detail.
Audio
The quality of the audio is one of the most important details to look for in a motorcycle helmet with Bluetooth. After all, isn't the whole point of a Bluetooth helmet to listen to GPS directions or music and take phone calls? And when you're riding with a group, you should be able to communicate clearly with fellow riders. You can make sure whether the quality is good by checking for the brand of the integrated speakers. If the manufacturer doesn't mention the brand, chances are the audio quality is poor.
Weight
A Bluetooth motorcycle helmet that's lighter won't strain your neck as much. Modular integrated communications helmets, for example, will typically weigh more than full-face helmets with Bluetooth—mainly because of the added components that allow you to lift up the visor. Also, many models have shells that are made of lightweight materials like carbon fiber. While this helps in minimizing the weight of the helmet, it may drive the price up.
Range
Simply put, the range tells you how far you can be from a fellow rider before you lose connection. This depends on two main factors and one of them is whether the helmet uses Bluetooth or mesh, the latter being a more advanced technology. The other factor is the topography of the region. Plain landscapes with no obstructions, for example, will allow for better range than steep valleys or concrete jungles.
Battery Life
Battery life is something else you want to keep in mind when shopping for a motorcycle helmet with Bluetooth. This indicates how long you can talk on the phone or listen to music on a single charge. With tech advancements such as smartphone batteries, this area shouldn't be much of a problem. Modern comm system batteries can go at least 12 hours before needing to be charged again.
Noise and Ventilation
This is where it gets a bit tricky. You'll obviously want some ventilation going if you want to stay cool with the helmet on. On the other hand, too much wind can be loud enough to damage your hearing. And we haven't even mentioned the comm system. Excessive airflow can make it really hard to hear whatever it is you're listening to. You wouldn't want to miss that important turn because you couldn't hear the navi direction. Luckily, the best Bluetooth motorcycle helmets will have active noise cancellation that drowns out the wind noise.
Rider Compatibility
If you prefer riding solo, this feature may not really matter to you. But if you're hitting the road with your riding buddies, rider compatibility becomes important. It essentially indicates how many riders can link into the same network. Many Bluetooth bike helmets can link up more than a dozen users at once. You may also want to account for how your comm system pairs up with other devices. This process is easier with some helmets and a hassle with others.
Materials and Construction
The main purpose of any helmet, whether with Bluetooth or not, is to provide safety. That being said, a crucial feature to look out for in a Bluetooth motorcycle helmet is the shell's construction and the liner underneath. The latter is the part that's responsible for absorbing impacts and is mostly available in EPS (expanded polystyrene). As for the shell, your options include fiberglass, carbon fiber, and different composites. Other interior elements like the cheek pads are often removable, washable, antimicrobial, and moisture-wicking.
8 Best Motorcycle Helmets With Bluetooth
Bluetooth motorcycle helmets can weigh anywhere from as low as 2.24 pounds up to 3.97 pounds. You also have the option of choosing between half, modular, full-face helmets, the latter having an integrated chin guard. With modular helmets, the chin guard is detachable whereas half helmets are exactly what the name implies. As for Bluetooth systems, some models have it built in while others require you to buy the comm system separately.
Considering this model's value for money, it's easy to see why Sena is one of the biggest names in the business. The Outrush R uses Bluetooth 5.0, allowing for either four-way or two-way high definition communication with a maximum range of 900 meters. Its battery runs for 12 hours and takes only three hours to charge. This smart motorcycle helmet is compatible with the Sena Utility App, allowing you to access the helmet's functions using your smartphone.
The Sena Bluetooth helmet also features a three-button panel on the left side, which you can use to control the Bluetooth system. And with Sena's sound processing technology, this helmet ensures that wind noise doesn't bother you. Did we mention it includes the brand's voice prompt system?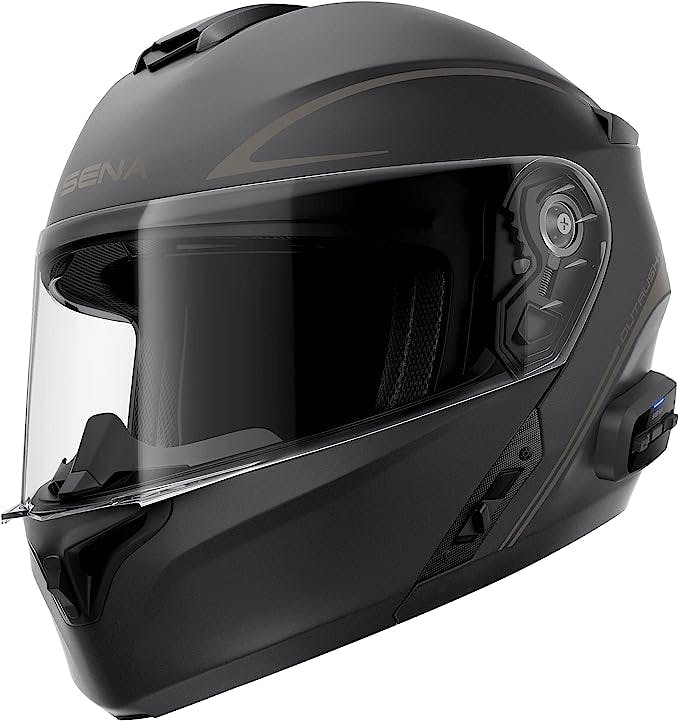 Specifications:
Modular style
Intermediate oval
3.7 pounds
Reasons to BUY
Improved Bluetooth 5.0 system
Excellent value for money
Effective ventilation
Great aerodynamics
Reasons to AVOID
No mesh technology, but the advanced Bluetooth system makes up for it

Next up on our list of the best Bluetooth motorcycle helmets is the Sedici Sistema II Parlare. It features a unique composite of fiber and aramid fiber, with a design that keeps wind turbulence at bay. The padding is customizable so you can adjust the fit till it's just right. The integrated comm system boasts a 1,000-meter range—courtesy of Sena. Planning on a group biking tour? The Sedici Bluetooth helmet supports up to four users, allowing you to link up with your fellow riders.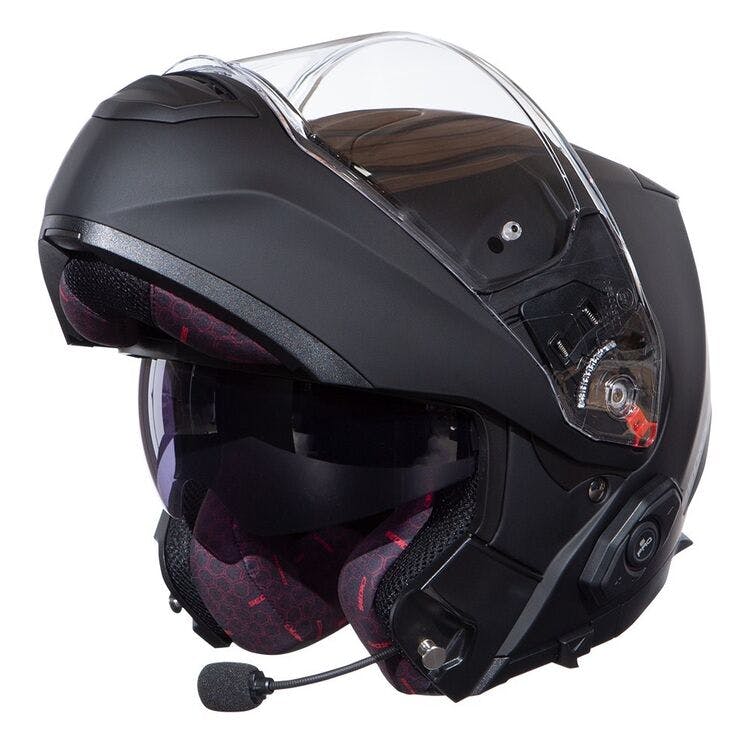 Specifications:
Modular style
Intermediate oval
3.7 pounds
Reasons to BUY
High-quality DuPont™ Kevlar® fiber and fiberglass construction
The liner is antimicrobial and moisture-wicking
Integrated Sena DWO-6 Bluetooth v4.1 system
Reasons to AVOID
Only two shell sizes
Speakers aren't that great

Who said you need to break the bank in order to have an integrated Bluetooth system in your helmet? Not us. Armed with Sena's DWO-6 Bluetooth v4.1 technology, this budget-friendly model from BILT lets you connect with up to four riders for as long as eight hours. Plus, you can share music, speed dial each other, and carry out phone conferences. What we really like about the BILT Modular Bluetooth helmet is that it automatically turns up the volume when it senses excessive noise from outside. As for the shell, it's made of molded alloy composite and offers top-notch aerodynamics.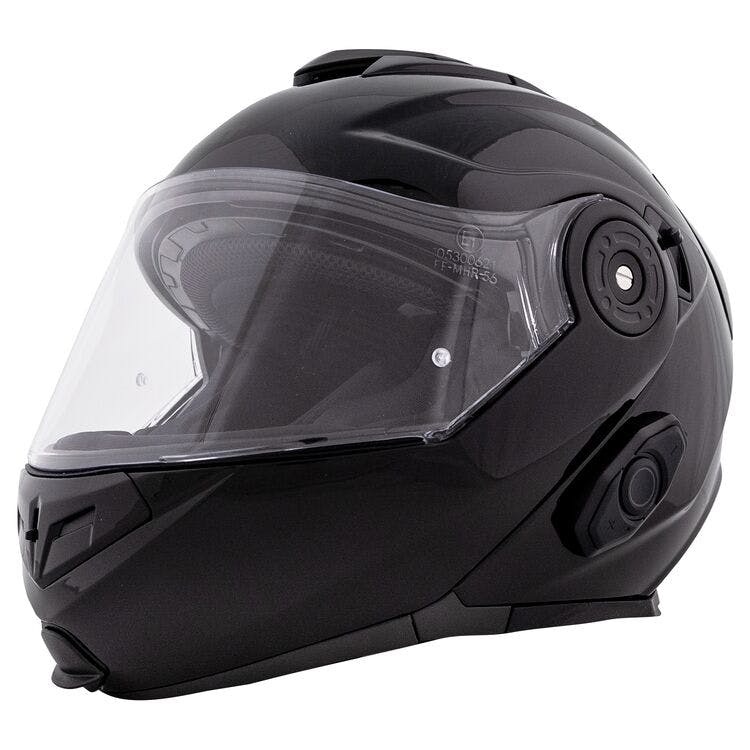 Specifications:
Modular style
Intermediate oval
3.8 pounds
Reasons to BUY
Low-profile detachable visor
Advanced Audio Distribution Profile (A2DP)
Integrated Sena DWO-6 Bluetooth v4.1 system
Reasons to AVOID
The materials aren't the best in the market
Not very comfortable (but offers great protection)

Featuring a simple design, this full-face bike helmet offers a classic performance that you can always rely on. Its aerodynamic shell is made from an advanced matrix of high-quality organic and elastic fibers that will protect you without causing neck strain. The Shoei GT-Air II comes with 3D Max-Dry pads as well as an emergency quick-release system. But the feature that takes center stage is the CNS-1 three-dimensionally curved shield, which is taller and wider than other helmets. It is also anti-fog, scratch resistant, and it protects against both UVA and UVB rays. While the helmet itself doesn't have built-in Bluetooth, it is designed to accommodate the installation of the Sena SRL 2 Bluetooth Communication System.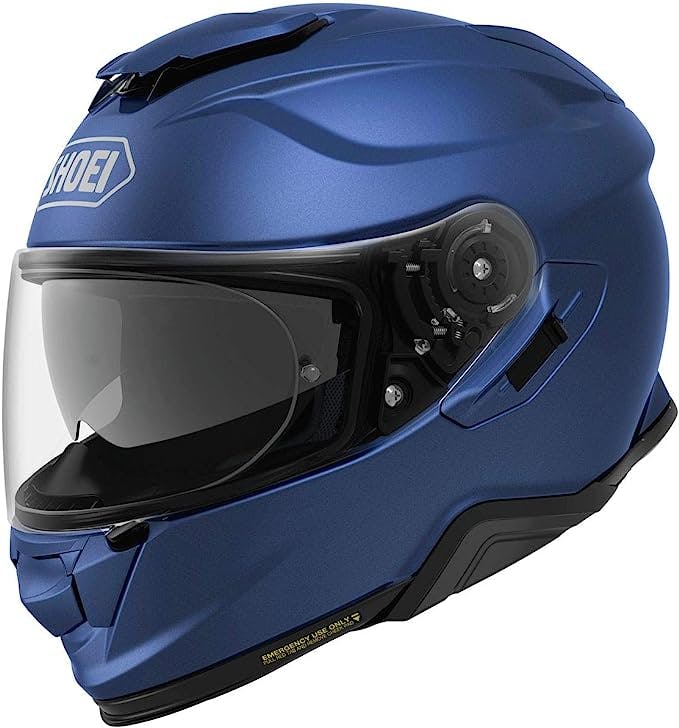 Specifications:
Full-face style
Intermediate oval
3.97 pounds
Reasons to BUY
Available in three different shell sizes
Enhanced ventilation scheme
High-quality shell
The 3D Max-Dry pads are great
Reasons to AVOID
Doesn't effectively reduce wind noise
Some users find the shield awkward to maneuver
The Bluetooth system is sold separately but is easy to install

German engineering at its finest is the least we can say about this Bluetooth motorcycle helmet. Its DFB glass fiber heated-formed outer shell, lined with antimicrobial ShinTex fabric, keeps your head nice and safe. Hit the road and you'll notice the directionally stable quality that keeps buffeting and oscillating at a minimum.
To support Bluetooth functionality, the Schuberth R2 Traction features a microphone, an antenna, and speakers. Installing the Bluetooth system is a piece of cake, especially with the SC1 communication system's plug and play capability. This technology is designed in collaboration with Sena and boasts a run time of 14 hours. It can also link up to four riders and offers a range of a whopping 1,600 meters.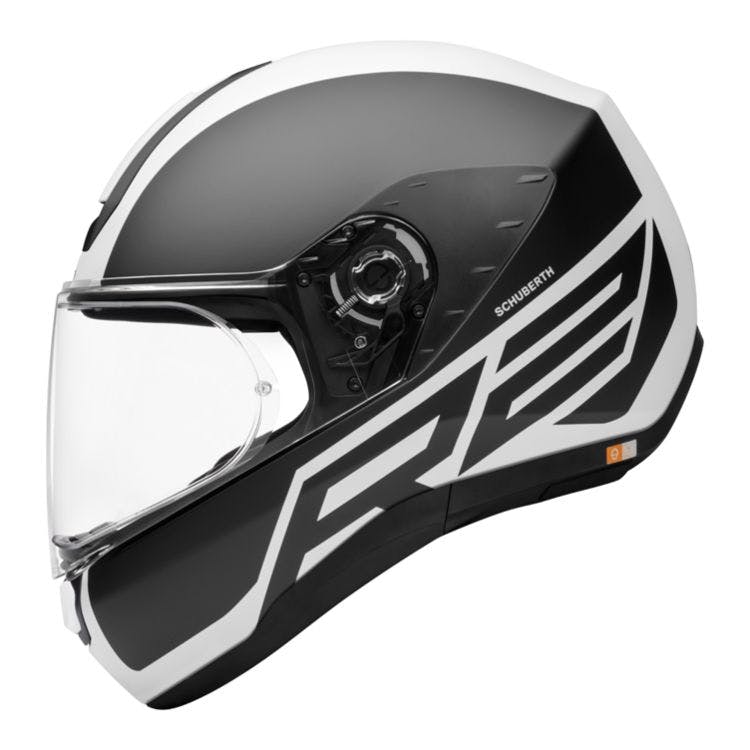 Specifications:
Full-face style
Intermediate oval
3.27 pounds
Reasons to BUY
Impressive aerodynamics
Extra-large anti-fog lens
Extra-wide viewport
Reasons to AVOID
The Bluetooth system is sold separately but the microphone and speakers are preinstalled
User functionality is a bit awkward

The two color options and striking designs of this helmet is enough to grab anyone's attention. The LS2 Challenger GT rocks a solid construction with a carbon injected EPS liner and a shell that's composed of Kevlar, fiberglass, and carbon fiber. Once you slide the helmet on, you'll love how the eye-port is wider and taller than other models. This expands your field of view and helps in reducing neck strain. And there's just enough airflow to keep you cool. It is also designed to accommodate the LS2 Linkin Ride Pal comm system—brought to you by none other than Sena.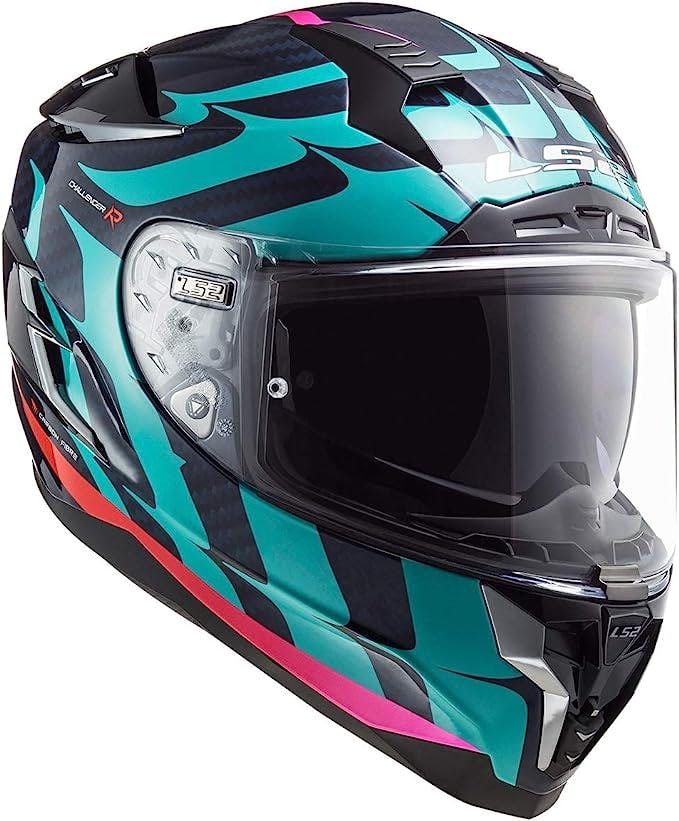 Specifications:
Full-face style
Long oval
3.32 pounds
Reasons to BUY
Generous field of view
High-quality materials
Lightweight
Reasons to AVOID
Vent controls are annoying to use with gloves
Doesn't accommodate other Bluetooth systems

If you happen to prefer a motorcycle half helmet with Bluetooth, the Sena Cavalry Lite might be just the one for you. This lightweight helmet offers top-notch aerodynamics with a fiberglass composite shell, a low-profile visor, and a multi-density EPS. This black motorcycle helmet uses the Sena 10R Bluetooth system. And while it's not as advanced as the 20S communication systems that you'd find in other Sena helmets, it gets the job no less. We're talking active noise canceling, 10 hours of talk time, and only three hours to recharge.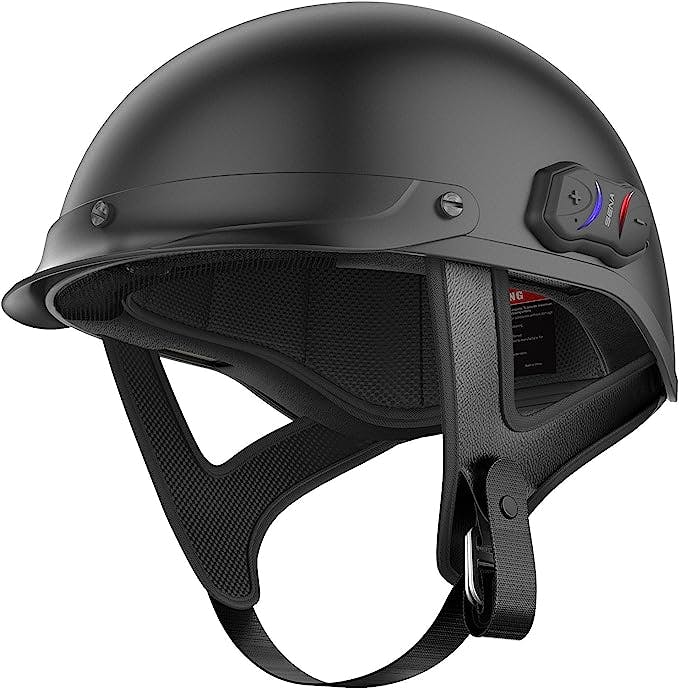 Specifications:
Half helmet
Intermediate oval
2.24 pounds
Reasons to BUY
Super lightweight
Active noise cancelation
Very comfortable and keeps you dry in hot weather
A bang for your buck
Reasons to AVOID
Controlling the buttons with gloves is a challenge
Bluetooth not as advanced as that of other Sena models

The SRT Modular Transmit helmet for motorcycles features recessed ear pockets and can accommodate either Sena or Cardo Bluetooth systems. For a modular design, it is fairly lightweight. The drop-down visor and extra-wide field of view makes this helmet super convenient and practical. And let's not forget to mention how comfortable this helmet is. Besides secure padding that doesn't move, it also guarantees ventilation with a mouth port inlet and an exhaust port above. As for the switchgear, it is big enough to control with gloves. Bell also caters to eyeglass wearers by offering extra room behind the visors.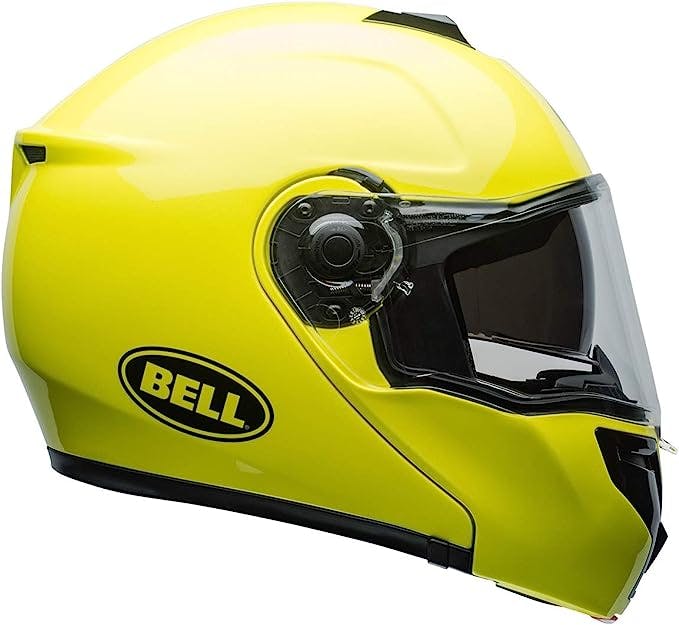 Specifications:
Modular
Intermediate oval
3.89 pounds
Reasons to BUY
Compatible with both Sena and Cardo communication systems
As comfortable as a helmet can get
Great ventilation
Reasons to AVOID
Reddit's Verdict
Getting familiar with necessary features and listing your options certainly go a long way. But it doesn't hurt to look for online reviews and advice from those who've tried the product. That's why we turned to the road warriors on Reddit for their honest opinions on the best Bluetooth motorcycle helmets. And it may come as no surprise that the vast majority praises Sena.
It's fair to say that arguably the biggest name in the industry is the biggest for a reason—with a whole fanbase to back it up. A number of Redditors don't recommend a specific model of Sena but the brand as a whole. One user claimed that it was "money well spent" and another said that it's the best brand for group rides. Aside from Sena, we also read good things about Schuberth and BILT.
FAQ
How Do You Control the Bluetooth Functions on Your Motorcycle Helmet?
Bluetooth systems for helmets work by voice commands. The Bluetooth receiver goes on the bottom of your helmet, ideally close to your mouth. This allows it to pick up your voice. The device will wirelessly connect with your smartphone, music player, or GPS tracker. All you need to do is give your command, such as "volume down", and the device will do the rest. You'll need to make sure your mobile device is either in your pocket or mounted on your bike so the receiver can maintain a stable connection.
How Long Does the Battery Last on a Bluetooth Motorcycle Helmet?
The battery life on a Bluetooth motorcycle helmet largely depends on a couple of major factors. The more obvious factor would be the usage. For example, a helmet on standby mode can last up to 30 days while communicating with your riding buddies throughout the tour will drain the battery faster. The particular model or brand that you have can also determine the battery life of your helmet. On average, you can use GPS, play music, and connect with fellow riders for up to 14 hours.
Can You Use a Bluetooth Motorcycle Helmet for Phone Calls?
You can use a motorcycle helmet with Bluetooth for various purposes. In addition to listening to music, using a navigation system, linking up with other riders, and more, integrated Bluetooth also allows you to speak on the phone hands-free. It essentially works in the same way as a Bluetooth headset. Once you turn on the helmet's comm system and pair it with your mobile device, you can make or take phone calls while you're on the go.
Conclusion
Nothing quite beats hitting the open road on your beloved motorcycle while your favorite songs set the mood. And what else to thank for making that practical than Bluetooth-enabled motorcycle helmets. Whether you're looking for a Bluetooth helmet with a sun visor, one with detachable chin guards, or any other variety, you're spoiled for choice with the slew of different models out there. And now that you know what features to look for and maybe even narrowed down your options, if only a matter of time before you find yourself on the road with the best Bluetooth motorcycle helmet.
Related articles
Top Electric Bike Marketing Tips: Fueling Your Success