Every product must have a place where it can be discovered before it officially launches, and your prelaunch landing page is that place. Set it up even before writing a single line of code for your website.
The sooner you get your product launch landing page up and running, the sooner your prospects will have the opportunity to learn about your upcoming product, as well as subscribe to updates about your launch.
It will also provide you with a source of leads that you can follow up with once you launch your product.
Moreover, you can use your product prelaunch page to check if you're on the right path in planning the launch of your product. In other words, the landing page is the following step in turning a visitor into a lead.
Studies show that landing pages have the highest conversion rates (23%) [omnisend.com]. And the landing page is most probably at fault if your conversion rates are low despite high traffic.
Thus, to have a high percentage of visitors taking up what your landing page offers, it's really important to create a well-optimized landing page for your product launch.
With the help of our article, you will learn the necessary tips and suggestions for building a successful prelaunch landing page.
Moreover, we will provide free templates for you to use to create yours.
The difference between the lead gen page and the product validation page
Prelaunch landing pages can be used for different reasons. But the common thing is that they are meant for eventually conveying visitors to take a specific action.
For your landing page to drive conversions successfully, it must have one single objective, which should be your primary call to action.
So based on the purpose of your prelaunch landing page, we differentiate the lead generation page and product validation page.
The lead generation landing page is used for gathering personal information and establishing contact points to generate as many "leads" or "prospects" as possible.
This is the first step in a conversion funnel, where the company describes its offer, and potential customers are asked to fill out their information in exchange for some benefits.
The collected information varies by industry and goals. Some common examples are the name, e-mail, industry, phone number, etc.
The data can be used to find out qualified leads and nurture them closer to making a purchase.
While the primary purpose of the lead gen page is capturing the contact information of the visitors, product validation landing pages are meant for testing your ideas.
Essentially, this landing page is designed to determine if you should move forward with your idea based on what your target audience thinks.
This ensures that you are not wasting time and effort on developing your main website and your product, so you can launch your idea confidently.
Keep in mind that no matter the objective you are aiming to achieve, your landing page must be eye-catching, interesting, and informative.
Moreover, it should include action-oriented copy pointing to a clear next step. And most importantly, it has to give its users compelling reasons to do whatever you're asking for. Sounds pretty complicated...
So how can you arrive at this result, and how can you make the best use of your landing page? Let's dig deeper!
What to describe on prelaunch landing pages?
If you want your prospects to feel committed to your action plan, you have to propose them a win-win solution. Simply put, if you want to attain your objectives, you have to help your target audience attain theirs.
So combine your goals with the goals of your audience when creating your prelaunch landing page.
Defining what your prospects will opt for is not a guessing game. So start with thorough market research to get to know your audience and find the detailed information you need to create a persuasive combination of content and visuals.
Never skip this step! It's the key to converting visits on your prelaunch landing page.
There are several methods that you can employ for conducting market research:
Carrying out customer interviews and surveys. Focus your questions on the experience of your target audience to understand the issues their facing and their needs.

Analyzing how your prospects use social media platforms and other social channels. These platforms will give you more insight into the daily lives, preferences, hobbies, and interests of your target audience.

Conducting competitive analysis: By studying the positioning of your competitors, you will be able to improve yours and define what sets you apart from them. Moreover, it'll help you understand the attitude that your customers have toward the other players in the market.
Always keep studying your audience and adapting your landing page accordingly. You can use Google Analytics to get a solid understanding of your traffic and eventually increase the conversion rate.
SparkToro, BuzzSumo, Audiense, and Smart Traffic are other tools you can use to conduct effective audience research.
After collecting all the necessary data on your targeted audience, it's time to analyze it, define your product positioning, and optimize your prelaunch landing page accordingly.
Start with splitting your users into segments based on similar characteristics, as not all users will be the same.
With this approach, you will be able to make your campaign more personalized and address your audience more efficiently.
Demographic segmentation is a solid starting point for making your prelaunch landing page more specific. Use the information about the demographic characteristics of your prospects to better tailor their experience.
To better pen your content, you can also segment your audience based on their lifestyle and the keywords they use while surfing the internet.
Now with a firm understanding of your audience, it's time to build your high-performing and persuasive product launch landing page.
Consider creating multiple landing pages to connect every prospect with more relevant experiences.
To understand how you can use the results of your research, let's navigate through the different sections of the landing page.
Related article: 6 Prelaunch Marketing Strategies to Ensure a Successful Launch
Above the fold section - first messaging.
"Above the fold" refers to the section of your website that users first see when they land on your page. In other words, it's the content visible to your users before they scroll.
It can't be highlighted enough that the attention span of your users is really short, and you've got less than 10 seconds to attract their attention.
Thus, the 'above the fold' section is what's highly responsible for the engagement metrics. If it's appealing enough, it'll entice the users to scroll through the page.
Otherwise, if it's not properly optimized, prepare to see a boost in bounce rate. Your prospects are not going to scroll out of the blind hope that something interesting might be found.
So the question is how to keep the attention of your visitors and get them to explore the rest of your page. Make sure to follow these tips.
1. Keep it simple with your design
If the users fail to understand where to look first, they'll just click away from the page. So make sure your 'above the fold' section is clear, organized, and understandable.
Use your brand colors for more professionalism. Differentiate your titles, leverage white space, and make your text easy to read.
Don't load it with texts and visuals. Write a headline that introduces your webpage. Then add a sentence that gives more details about it. Consider also putting one featured image or video next to your content.
Check out the example of Tully.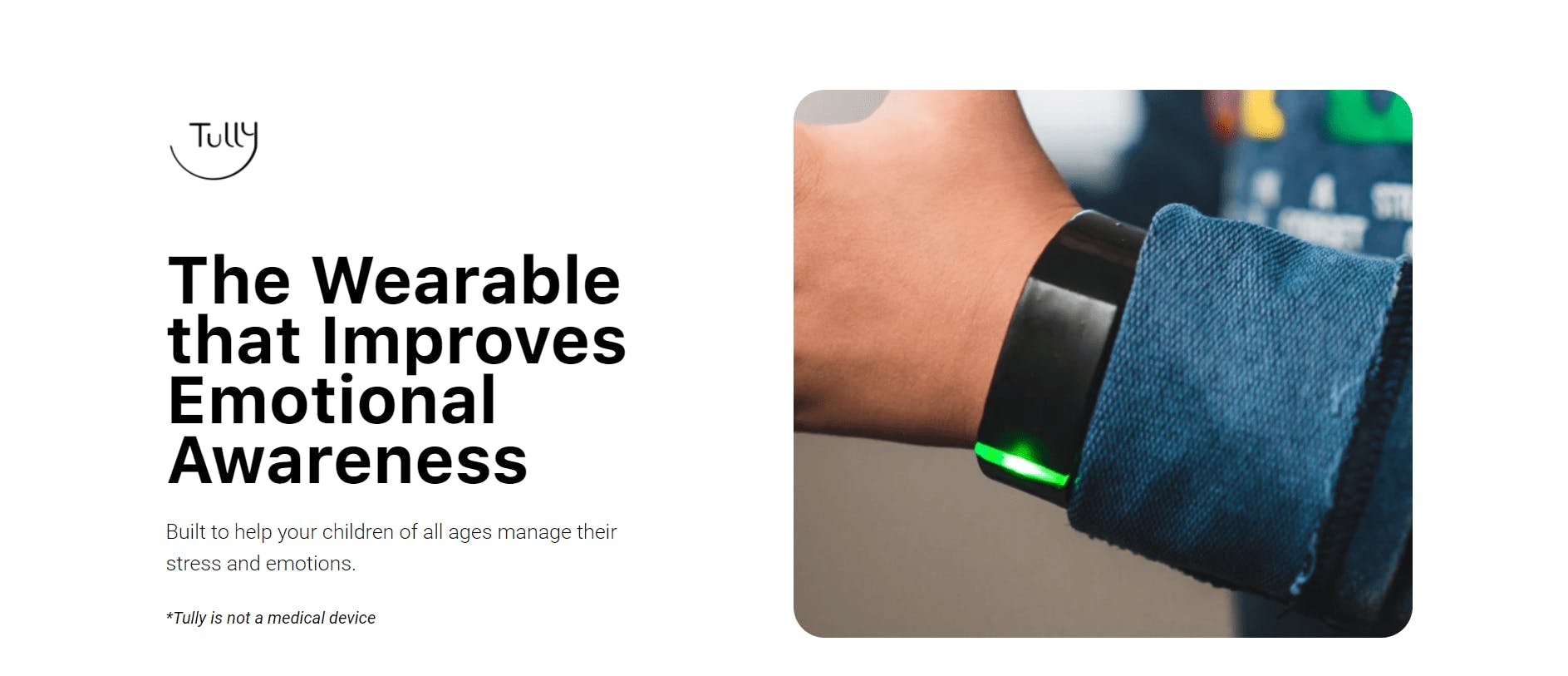 2. Create engaging content
Your simple landing page will keep the attention of your users for seconds, but your engaging content is what will delight them.
So craft it based on your audience research. It should resonate with your objectives, as well as reflect the needs of your target audience.
Keep in mind that your content is the only reliable way to communicate with your prospects. So make sure it echoes your brand voice as well as answers the challenge of your users.
Let's go back to our example. "The Wearable that Improves Emotional Awareness" , "Built to help your children of all ages manage their stress and emotions." Short, simple, and to the point. Tully's 'above the fold' content sparks curiosity and compels the users to scroll further to find out more.
3. Pay attention to functionality and usability.
Your prelaunch landing page has to be easy to interact with. If your page is taking hours to load, it's already a bad start. Think about the experience of your users.
Make sure everything functions as it should. To improve the loading speed of your prelaunch landing page, you can use some speed tools such as PageSpeed ​​Insights.
Below the fold section
According to a study conducted by the Nielsen Norman group, the information on the 'above the fold' section is seen 84% more often than the content placed on the 'below the fold' section. But it doesn't mean that the content below the fold doesn't matter.
'Below the fold' is only visible after scrolling down. Thus, it requires an action to be uncovered.
Compelling the 'above the fold' section will draw the user in, but the valuable information in the 'below the fold' section is what makes them stay and keep exploring.
Remember, the users scroll when they see a reason to do so. The moment they fail to see appealing content, rest assured that they will navigate away.
So let's study what will make your prospects put in some extra effort and keep scrolling.
1. Clear and bold titles
Since the titles are the first texts your audience will notice while scrolling, they have to make the readers quickly determine what's the information below about.
So your titles have to be not only simple and easy to understand but also catchy enough to trigger the interest of your audience.
Moreover, as they introduce the topic encompassed in a section of the text, you'll want to make them stand out. You can write them in bold or play with shapes and font sizes. Just make your titles visible!
In our example, the title is "Stay Aware of Your Child's Emotions."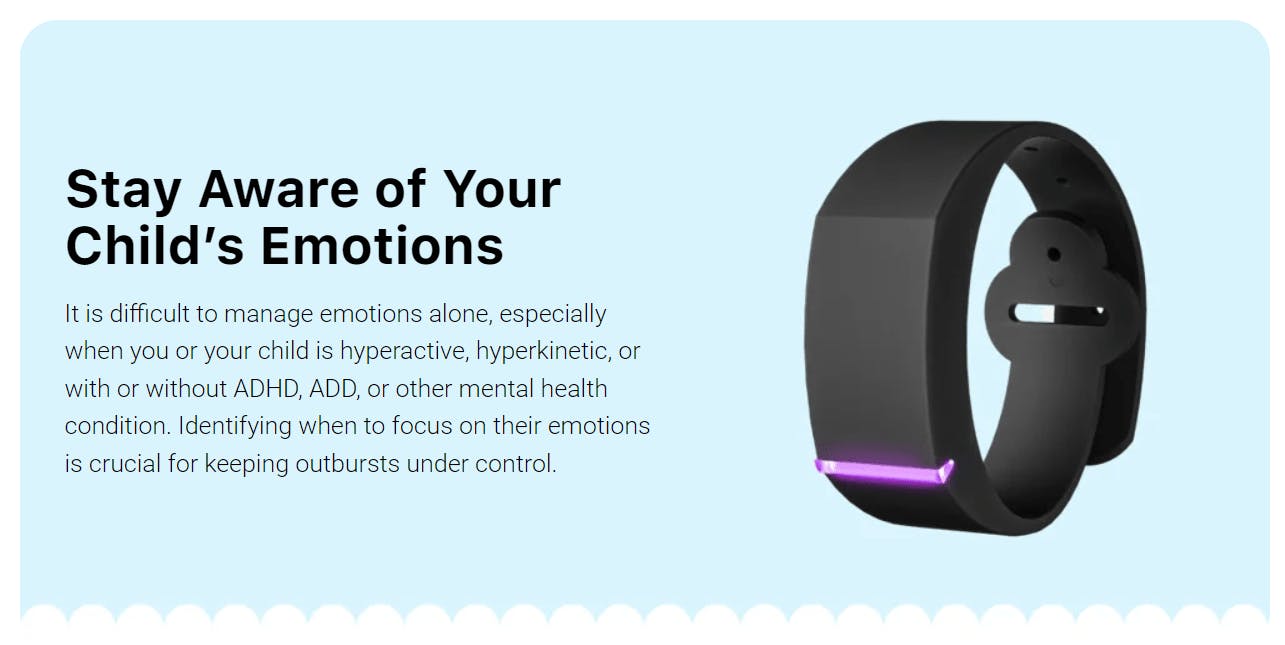 2. Short and informative descriptions
Value the time of your audience and make the description of your product as short as possible. Adapt your descriptions to your findings from the audience research.
Concentrate on your target audience and include a personal touch to make them understand the worth of your proposition.
Use short texts to:
define who will find your product useful
explain the issue you are addressing
clarify the solution you are suggesting
share the information you find important
Check this example of a short description from Tully's landing page. It clearly explains what Tully is and what problem it solves.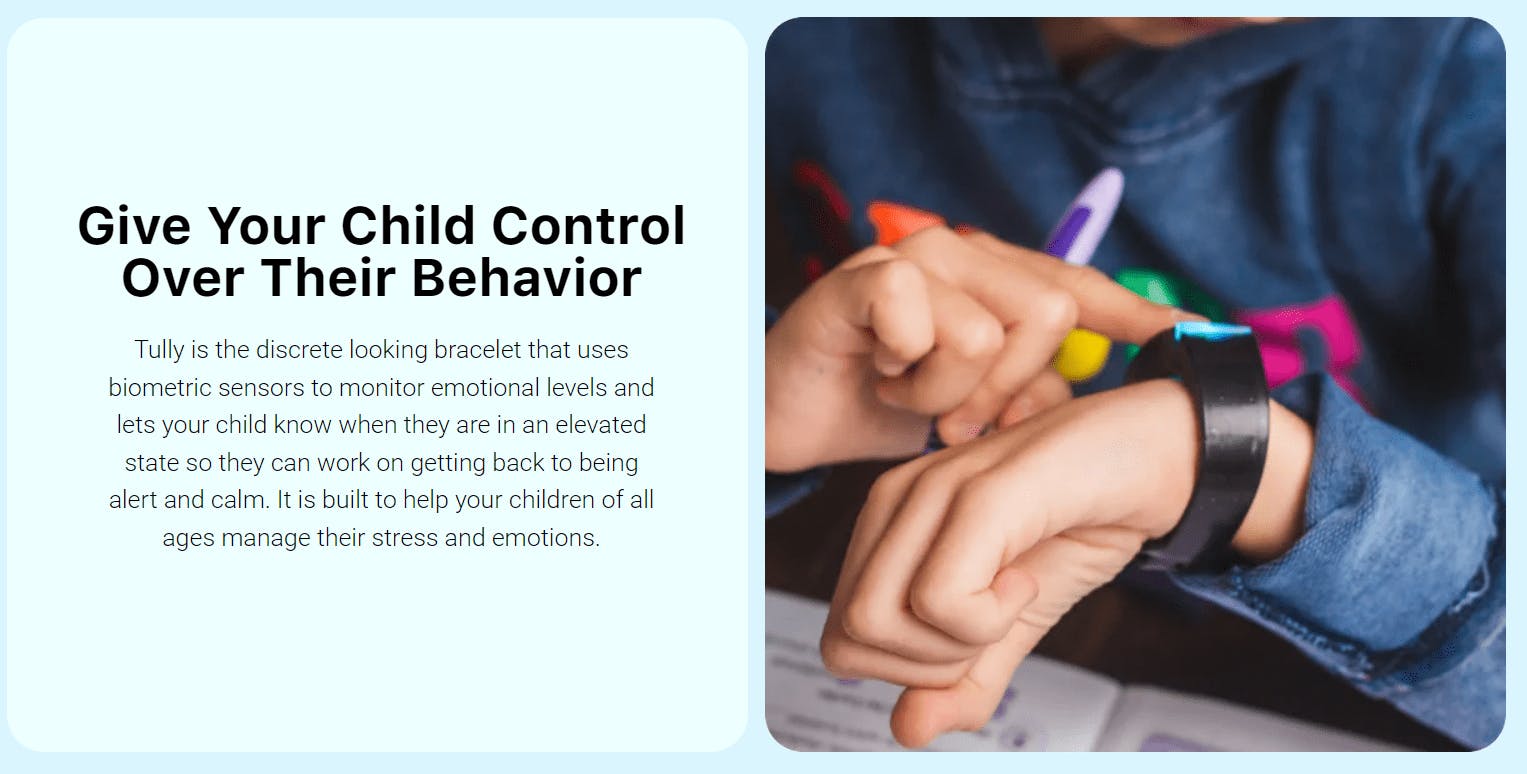 3. Relevant call-to-action ( CTA)
It's crucial to pay close attention to your calls to action. They are meant to guide your users and give them clear instructions on what to do next.
Therefore, they are responsible for transforming leads into conversions. In other words, the right CTA is considered to be the culmination of sorts. It's the action phase of your whole campaign.
So here are some suggestions for you to consider when optimizing your CTAs.
Place your CTA in context with the rest of your landing page.
Make it look like a button.
Make your CTA stand out! Use contrasting colors, and attractive visuals, and size it right.
Use action verbs and create a sense of urgency.
Keep it short but clear and convincing.
Here in our example, the CTA stands out and grabs your attention immediately. The short description explains why you should click on that orange button. And the text on it encourages action.

Benefits of the product
In this part of your prelaunch landing page, you get the opportunity to provide more details about your product.
And again, while writing the copy, your goal is to make it generate conversions.
Keep in mind that nowadays, thanks to the internet, customers already know the solutions they're looking for.
Moreover, they also know the features they need and the requirements the product must meet.
Therefore, aligning your solution with the acknowledged customer need and explaining why it is better than the competition's isn't a selling strategy anymore.
So craft precise, informative, and insightful content for this part and focus on demonstrating the benefits of your product.
Don't forget about the market research that you've done. Use every single thing you know about the needs and wants of your audience to make your content as relevant as possible.
The fact that your users are not going to meticulously read your content shouldn't be surprising. Here are some tips that will help you make your copy more engaging and convert those who just skim or scan your landing page.
In order not to use long blocks of text, divide this part into 2-3 sections.
Write compelling subheadlines that highlight the advantages of your product.
Use short paragraphs, not longer than 5 lines.
Make the sections of your page eye-catching and appealing with some pictures and icons.
Use short bullet points.
Now let's see how Tully presented its benefits.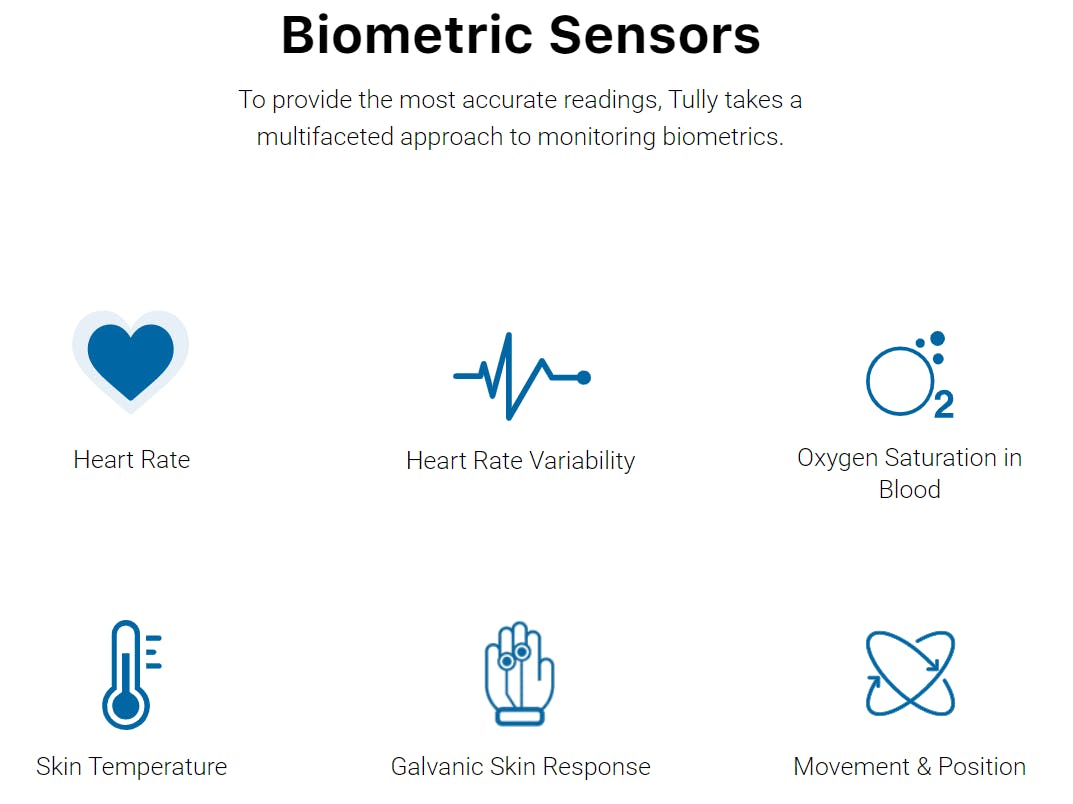 Talk about the product's features.
Besides talking about the benefits of your product, you also have to present its features. A product feature is a particular functionality that provides the user with one or more benefits.
The value consumers receive from utilizing that functionality is referred to as a benefit.
Your product probably has a lot of features to list, and it might be tiresome and time-consuming to describe them all. So your copy should always be based on your market research.
As long as you're already familiar with what your prospects want and why they want it, you can prioritize the most beneficial features of your product and showcase them on your landing page in a way that resonates with your target audience.
Remember that literary prowess is not going to make your product any more compelling or useful. So here again, keep your writing simple. Your goal is to explain why the specific piece of the feature ultimately matters to your target audience.
Be precise and make sure to transfer all the important information. Don't ignore the importance of visuals. Add some photos or icons to make your content more engaging.
Most of the time, the product features fall into 3 main categories.
1. Physical features: material, color, size, weight, etc
In Tully's example, it's discrete and comfortable.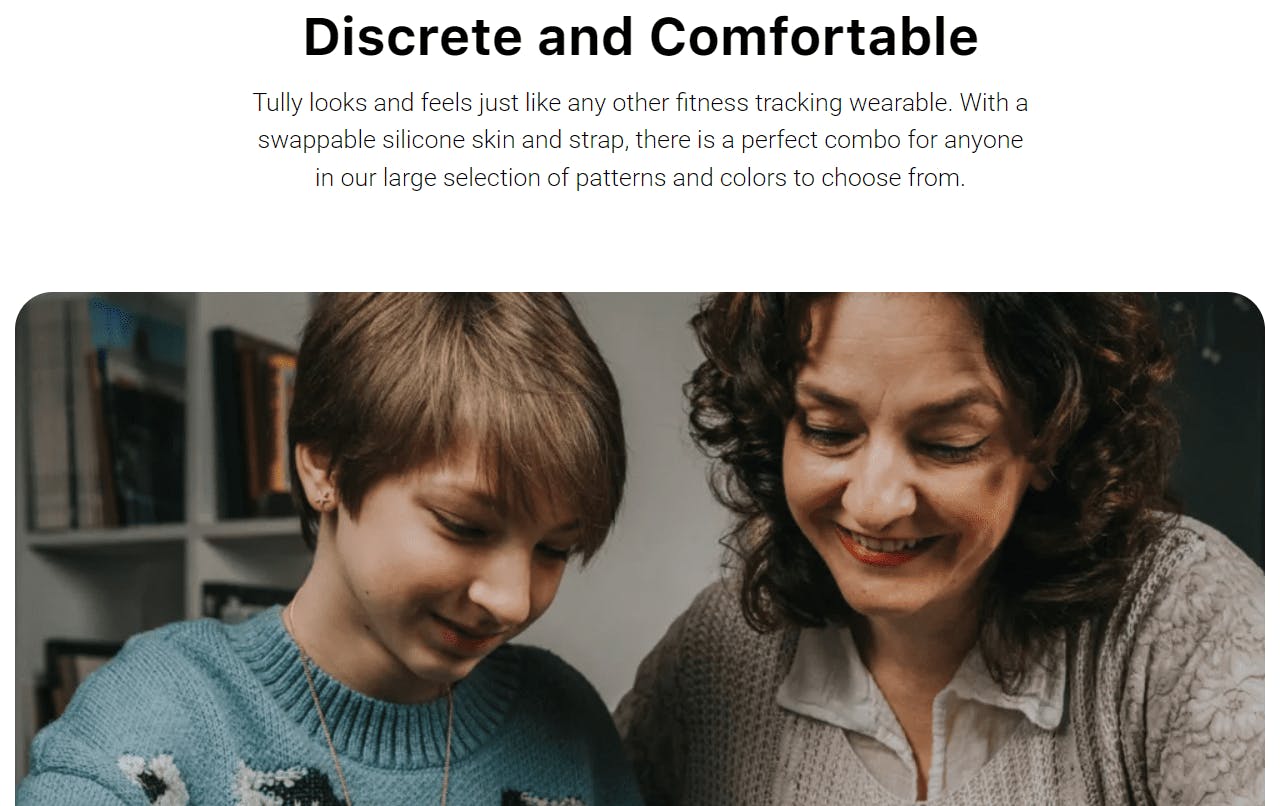 2. Functional features: the capabilities of your product, what it does, and how it works
Tully has guiding LED light patterns.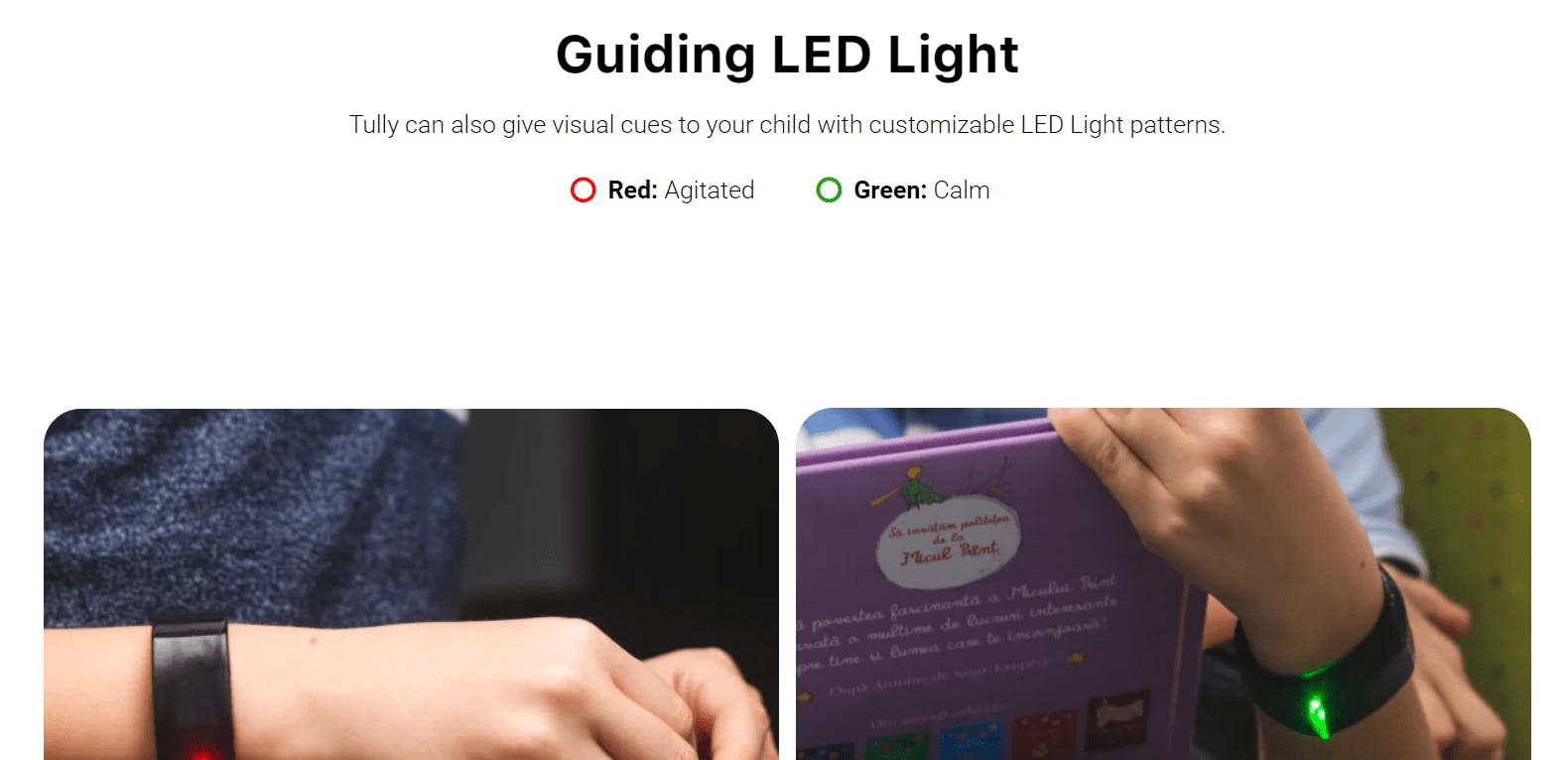 3. Added value features: the extras or things that make it stand out in the market
Tully's extra feature is its guiding app.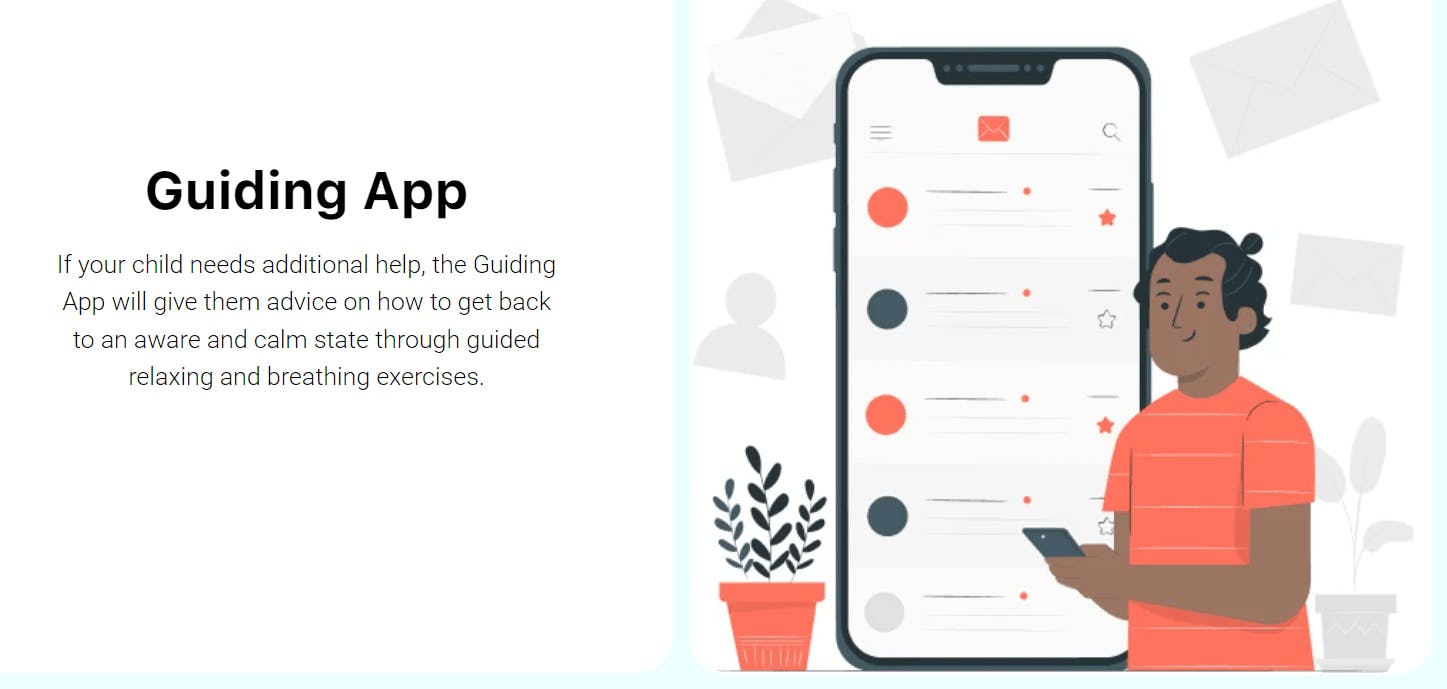 How it works section
Surely, you don't want your prospects to leave your website just because they failed to understand how your product works.
So no matter how simple or complex your product is, make sure to integrate this section into your prelaunch landing page and describe in a few steps 'How it works'.
Avoid using fancy words. Be clear and describe what you're trying with the most basic words.
Divide the working process of your product into small chunks and write a short explanation for each step.
Adding some icons or photos will facilitate your task and will make your 'How it works' section easier to comprehend. Keep in mind… Simplicity sells!
Specifications
The details always matter! Just telling your audience what your solution is might not be enough to convert them.
Therefore you need to mention what is included in your solution. Providing your prospects with all the information they need to make a decision will eventually lead you to success.
Bullet points are a visually appealing way to list your product specs.
Tully used bullet points and a photo to present the specs of its product. Seemingly the job is well done!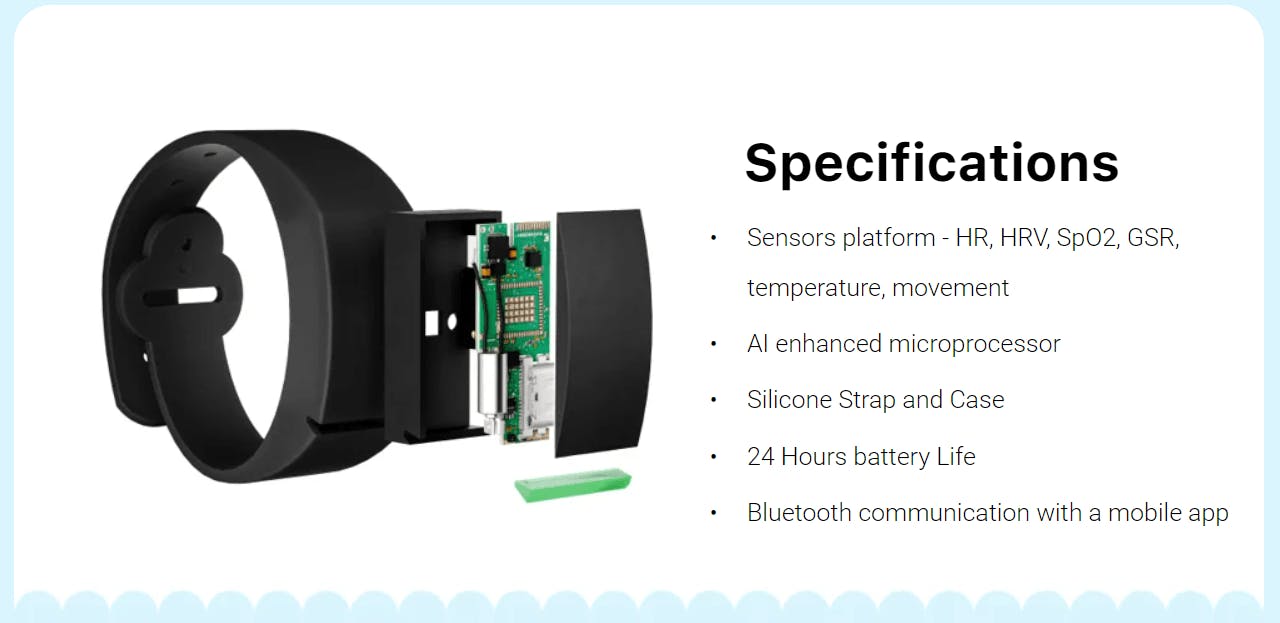 Colors and variations
Nowadays, people strive to be unique and special. They opt for personalized products, as it helps them to stand out in the crowd.
That's why most people appreciate choosing the color, size, and other aspects of the product they are buying.
So making your product available in different colors and variations will eventually increase your sales.
The trick here is to figure out the right colors and the right number. Too few options can result in fewer sales. On the other hand, too many options may create a paradox of choice.
Moreover, it's important to choose the colors you're offering based on the demographics of your target audience.
The colors and variations section on your prelaunch landing page is for presenting the options that you've tailored for your prospects.
It also allows you to ensure that the options you're providing work well for your target audience.
Tully made known that there is a perfect combo for anyone in their large selection of patterns and colors to choose from without giving any more details.
CTAs in the middle of the page
We already talked about the importance of the right CTA, so you know why you should spend some time perfecting it.
Your CTA answers the question of what you want to achieve with your landing page.
And since the sole purpose of your dedicated prelaunch landing page is to get your prospects to convert, you can only have a single CTA.
Undoubtedly, you don't want to confuse your audience to do more than one thing, as it might eventually make them leave your page.
It is also important to stay consistent with your CTAs. We recommend putting it after multiple sections, as shown in our example, to make sure that your visitors are always reminded of that option which will guarantee an increase in conversion.
It can be seen that Tully has put its CTA in 4 different places, one in the beginning, two in the middle, and one in the end.
You need to always consider how you want your customers to view your landing page and spread your CTAs accordingly.
They need to be coherent with the general content to avoid feeling too out of place.

FAQ Section
An FAQ section is a very important part of customer support on your prelaunch landing page. This section is mainly for showcasing questions that are frequently asked by visitors.
Both the positioning and design of this section largely depend on your product and your landing page structure. In general, you want to place it below the product description section and above the buying section.
This is mainly because you don't want to distract your visitors who just want to get to know your product but want to assure your potential buyers of your expertise on your product.
So why does having an FAQ section hold great merit?
It improves your customer service.
It relieves your customer support team of similar widespread questions.
Gives your visitors a heads-up on some things that they may not have thought about.
Besides, it might help to create a bond with your visitors by showing that you are aware of questions concerning your product and are proactive in helping.
By using specific keywords, you will increase your search engine optimization. This, in turn, will guarantee online visibility and, consequently, better traffic.
Check out this example to find out what questions this campaign has included in its FAQ section.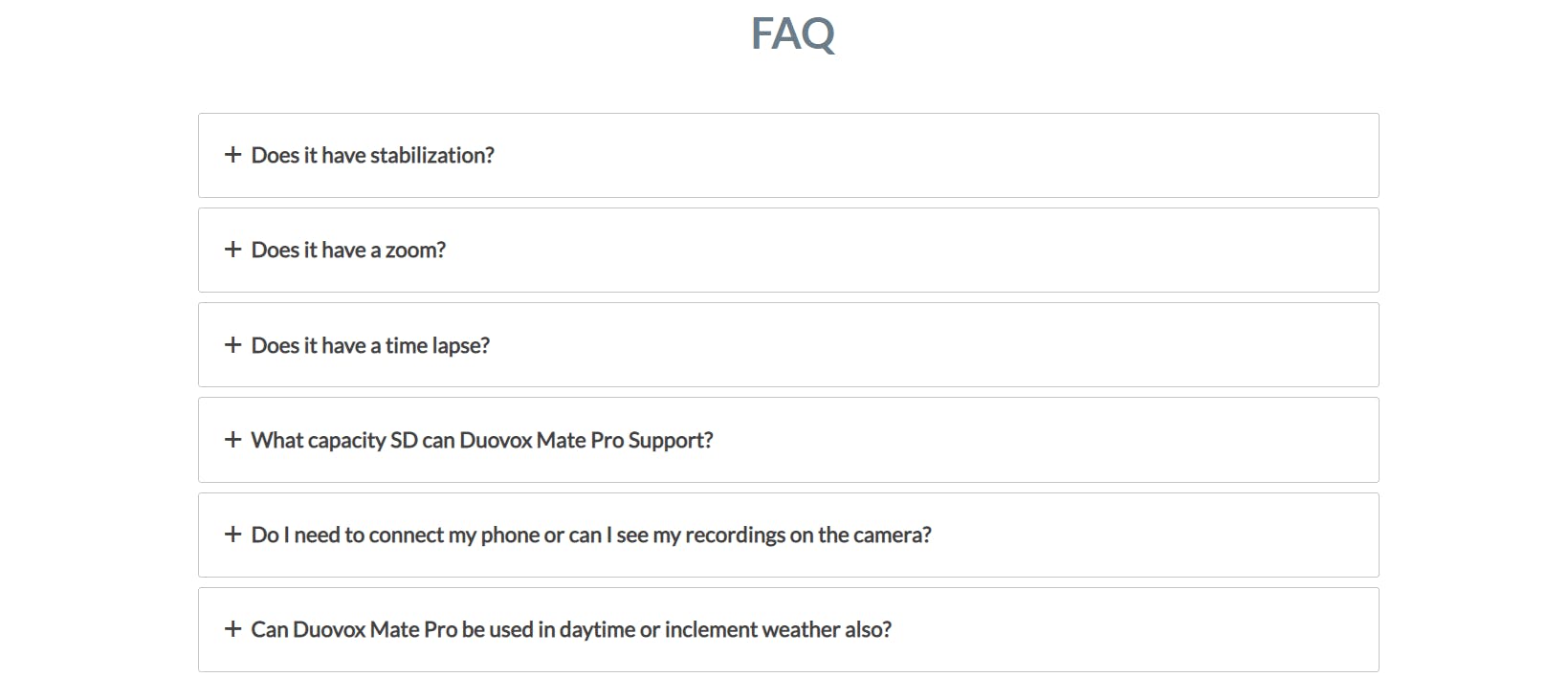 Team Section
The team section, in our opinion, is the most overlooked section on a landing page. Furthermore, it is one of the most important sections.
Why? Because it allows your visitors to know you. And if they know you, it is far easier to trust you. Consequently, they trust the product you create.
Anyone who is going to purchase your product, who is going to invest money in something new surely needs to know who they are getting involved with.
It is also very important for your team because it showcases their talent and achievements. It shows appreciation for their expertise and devotion, and it is always good to give credit to a devoted team.
Being social and transparent is mandatory in creating buyers from visitors, and the team section achieves just that.
It is also highly recommended to include pictures and social media links of your team in this section because it strengthens the relationship that this section builds between you and your visitors.
On this landing page, you can see who are the people behind the project.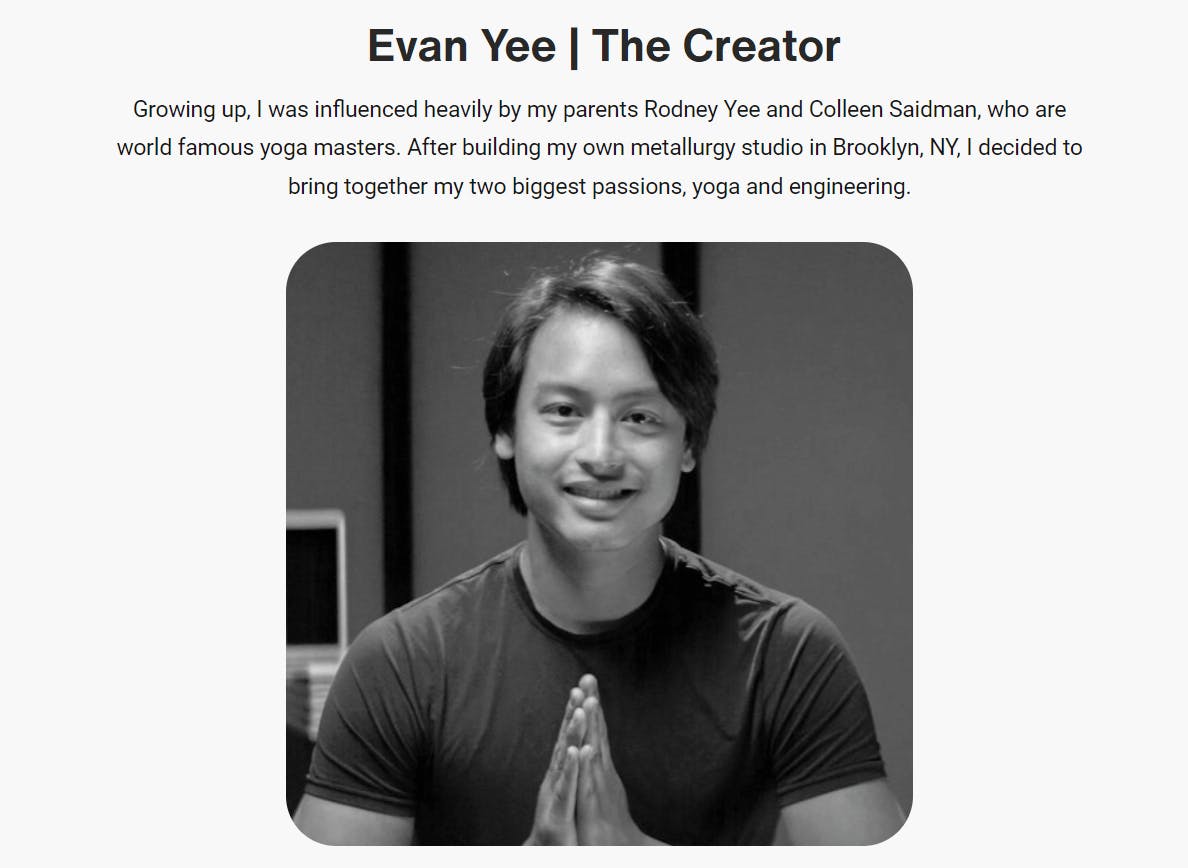 Reservation page
While coming to your landing page and subscribing does show commitment to a certain degree, you can take an additional step by creating a reservation page.
The reservation page is a redirected page after subscription that gives your visitors the opportunity to pay a small price and fully commit to your product's launch. In return, they get some early bird bonuses when your product launches.
The main goal of having a reservation page is to validate the product price. Having your visitors commit to your idea monetarily indicates another level of trust and dedication.
This, more often than not indicates, that your product idea, as well as its price, is well thought out and competitive.
Having good bonuses for people who paid you is also very important. Those can include special discounts and early bird bundles.
It largely depends on your brand and the product you are launching, but it certainly needs to be rewarding.
After all, they are your most committed supporters, and it is always important not to misuse people's trust.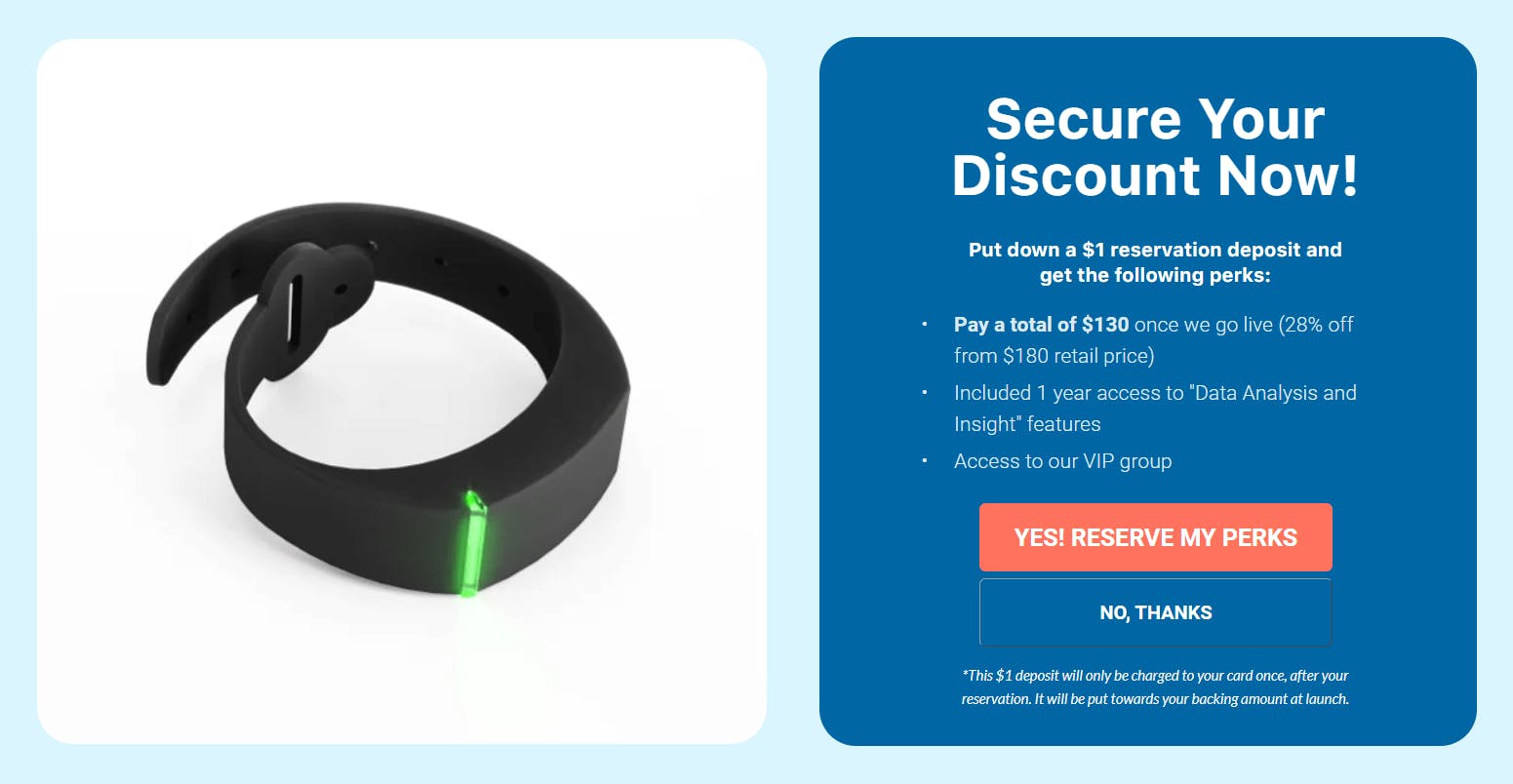 Conclusion
Your prelaunch landing page is successful only if it serves its main purpose. So define clearly what you are aiming to achieve by setting it up. If you trying to generate leads, it has to convert your readers.
If you want to validate your product, no conversion means that it still needs some modifications or it doesn't make sense to proceed with your idea.
Whatever your goal is, you have to work on your copy and optimize your prelaunch landing page.
And it's not only about skills! There are some techniques that you can learn and master.
We hope you'll find useful the tips and suggestions that we've provided you in this article.
There is no right or wrong content unless it leads to conversions. Keep it simple, sound like a human being, and tailor your messages to the needs of your target audience.
As promised, we are sharing our best-performing landing page templates with you. Here you go.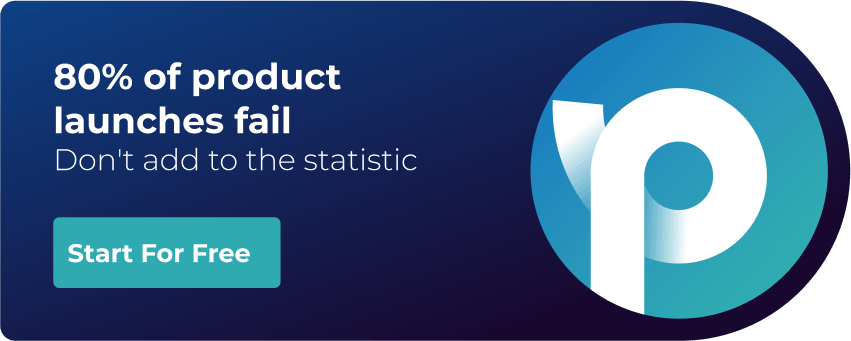 For further reading
How does Pre-Selling a Product Work? Tips for Preselling Successfully
Pre-Order Marketing: 18 Strategies, Examples, Steps and Tips