PRESS RELEASE
PRELAUNCH - Launch Your Product With Confidence
Prelaunch your product and gather real insights on what the market will do when you launch
Prelaunch Inc. is proud to announce that prelaunch.com is live!  Prelaunch is the first market-validation platform that evaluates market demand and defines pricing strategy before launching a product by analyzing conversion metrics and comparing them with industry averages.
It is the first ever market validation tool to measure real buying intents through a seamless landing page designed with genuine ecommerce logic, which precisely provides essential data and accurate predictions based on analysis and measurements of price and market demand.
The platform is for the creators who want to test their new innovative products and to figure out whether the idea fits an existing market and solves a user's problem before developing it. Thus, it helps creators discover their products' real potential and credibly predicts any product's launch success, helping them avoid wasting significant time and resources on unexpected failures.
Prelaunch is a result of years of concentrated hard work, research and analyses. Tones of field studies, interviews and analysis have been constantly conducted to understand where the core of the failures of startupers comes from and to align all the results around developing a first of its kind solution platform. Based on proven metrics it helps newcomers reduce preventable failures and make wiser decisions upon investing and improving their products.
‍Proven tools and methodology to step by step ladder up great ideas toward successful business
2-step idea validation methodology:
Market validation: Easily see whether there is a real market for the product through thousands of data points that map current user behavior to real future interest.
Price validation: Understand what customers will really pay for the product with Prelaunch's proprietary reservation system.
Seamless landing page builder:
There is no need for any design or coding skills to build a landing page with Prelaunch - just choose from over 50 design blocks and automatically get your responsive page. Make a landing page on the Prelaunch.com platform and through an email subscription and paid reservation model, interested potential customers can subscribe for more updates and pay a small reservation deposit to get an even bigger savings at launch.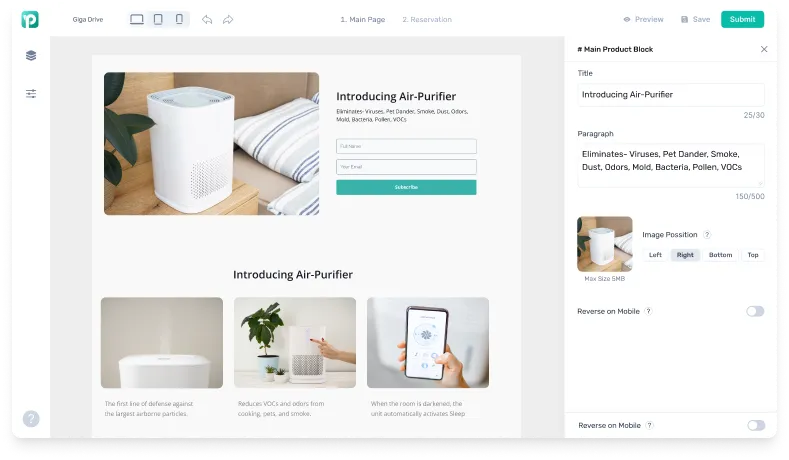 Data-driven decisions: Get essential data on the page performance and make the right decision on the future of your product idea. Understand whether customers are interested in your product by getting detailed analytics on conversion rates with an easy-to-use dashboard interface:
Comprehensive reports on your page traffic,
Instant performance data on your product's positioning and visuals to find the perfect positioning with page variations,
Accurate and smart benchmarks on your product performance to find improvement spots for the future success.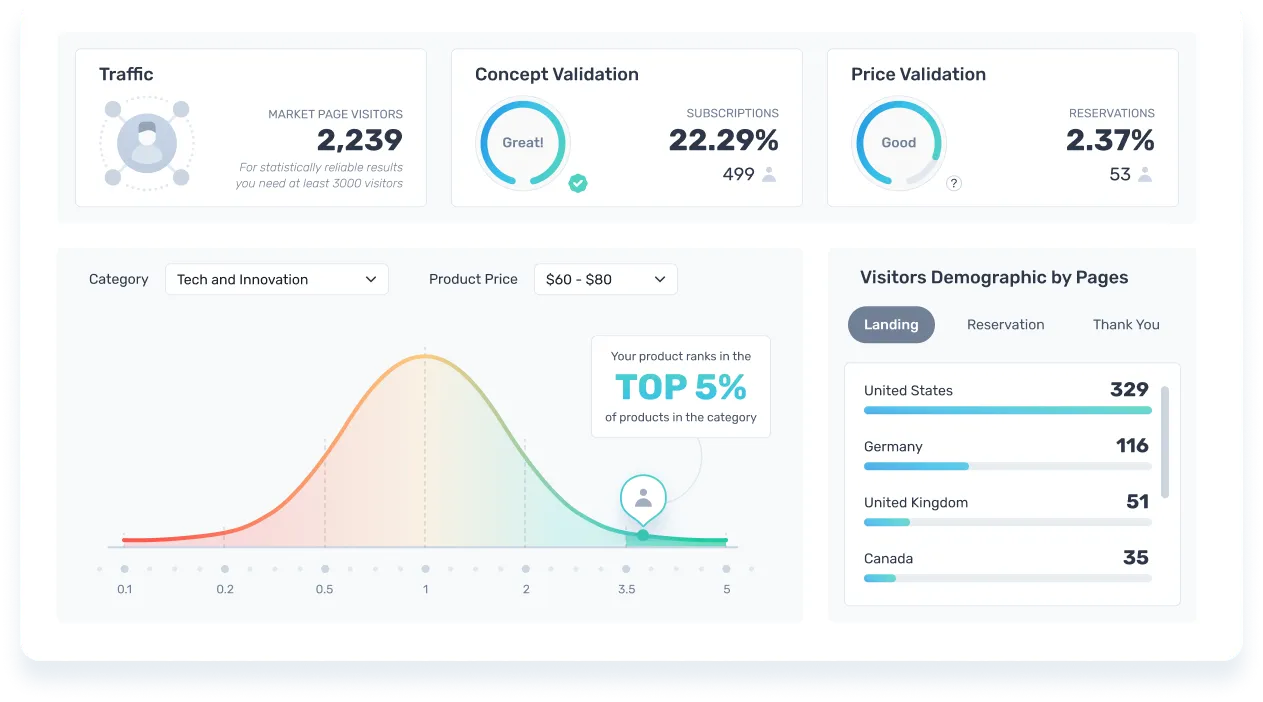 Get Customer Insights: Receive early feedback from your real customers. Get insights about their favorite features, why they reserved your product and how they are going to use it.Learn more about who your customers are and develop an engaged community.
Prelaunch automated product validation to help
Maintain Sustainability
With rumors of an impending economic crisis, avoiding failure and wasted resources is now more important than ever.
Save Resources
Save hundreds of thousands of dollars on prototyping, producing, marketing etc before you get actual data on your product market demand.
Build Community
Build your list of your early supporters committed to buy your product and get guaranteed successful launch when you are ready.
Get featured on Prelaunch Marketplace: Get organic traffic from Prelaunch.com community and even faster validation with even larger number of your page visitors
‍Expand your knowledge: Follow PreLaunch Blog to learn all the tips and tricks to get the most out of your PreLaunch campaign and to find your product-market fit and more.
Based on my decade-long experience with thousands of startups, I've noticed one clear pattern to accompany the majority of those that failed - no data-driven decisions during the prelaunch stage. Our team at Prelauch.com decided to address this issue by developing an all-in-one platform to help founders identify the real potential of their product before making investments
Narek Vardanyan, CEO of Prelaunch.com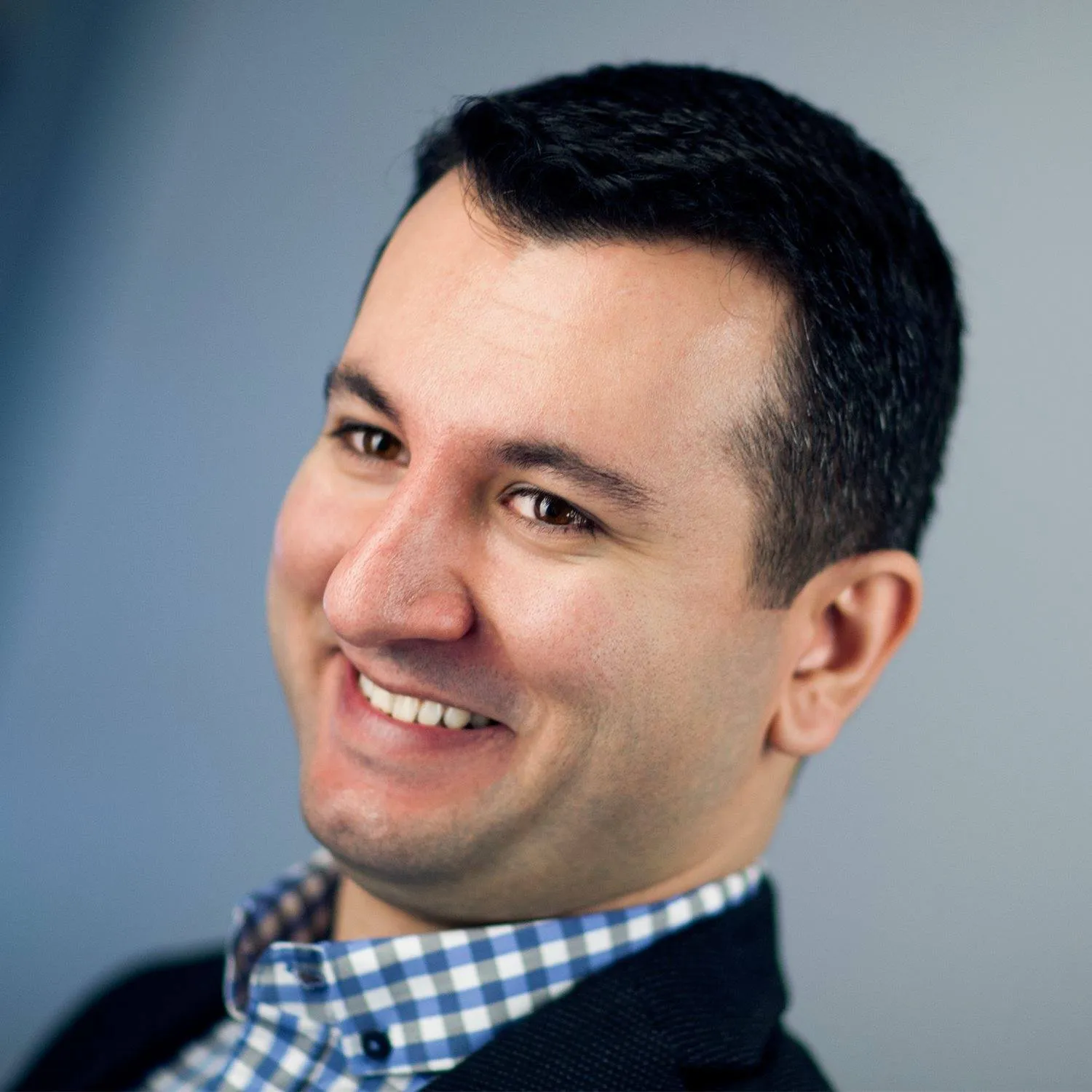 About the company
Prelaunch Inc. is a US based company which operates under the umbrella of TCF - a leading marketing agency with a five-years-and-counting journey, which has already developed a strong ecosystem aiming to empower and inspire growth in the new tech generation. So does Prelaunch, following the adopted principles it has already supported hundreds of creators to test their product market demand on the idea stage with more than 90% accuracy and to understand product-market fit and price with proven metrics based on customer purchase intent.
For press inquiries:                                                                           
Artak Mkrtichyan
artak@prelaunch.team
‍
Download Press Kit