Does your cat want to lounge up high with a view from the window? Giving your clawed companion a hammock to rest on is a practical way of keeping them happy, especially if you decide to step out for a while — they won't feel alone.
If you're looking for a perch that suits your cat's needs, then you're in the right spot, as we've rounded up a dozen cat window perches available on the market to share them with you here in this article. Cat perches will transform your home into a place filled with immense happiness and joy for your kitten, allowing them to bask in the sun and watch the birds on the other side of the window.
So, do you want to learn more about these marvelous kitty window perches? Read on to find out about them in more detail as your cat will without a doubt adore them.
Features to Look for Before Getting a Cat Window Perch
Before adding a cat window perch to your shopping cart, there are a couple of things to consider. First, make sure the size and weight capacity match those of your cat and also ensure that it's made of sturdy and comfortable material. Lastly, pay attention to the versatility of the cat's window perch, which will allow you to replace it and provide your cat with different viewing spots around the house.
Size and Weight Capacity
This is the most important feature you may want to pay attention to when getting a perch for your furry friend. It's best if you get a kitty perch that's spacious enough for your cat and will give it the opportunity to stretch and relax while enjoying the outside view.
Sturdy and Comfortable Material
Cats love soft surfaces to lounge on. They'll appreciate you getting them a perch with cushioned material which will elevate their comfort to a whole new level.
Versatility
This feature is not a must, but still, it's noteworthy. The versatility of a kitty perch will allow you to place it in several places around the house. So, if you think you can get one that you can place in different spots, it'll give your cat a fresher lounging experience from which it will never get tired.
Our Listing for the Top Best 10 Cat Window Perches
And here's our listing of the top 10 amazing cat perches that we've rounded up to share with you in this article.
Specifications:
Item dimensions: 23 x 13 x 12.5 inches
Sturdy design
Washable
Soft
Is your cat looking for a soft couch to lounge on next to a window? If that's so, then you'll find this cat window perch worthy of your attention. The sturdy design of this perch prevents any possible wobbling making it safe for your cat to jump on and off from all heights.
The sherpa-covered pad will give your cat cushioned comfort while it enjoys the outside view. This model is an ideal option for large cats as it'll allow them to stretch out freely.
You won't have to put effort into assembling this small cat couch. It's user-friendly and your cat's going to love it! Anyway, with all its pros, some users complain about its poorly-sticking suction cups.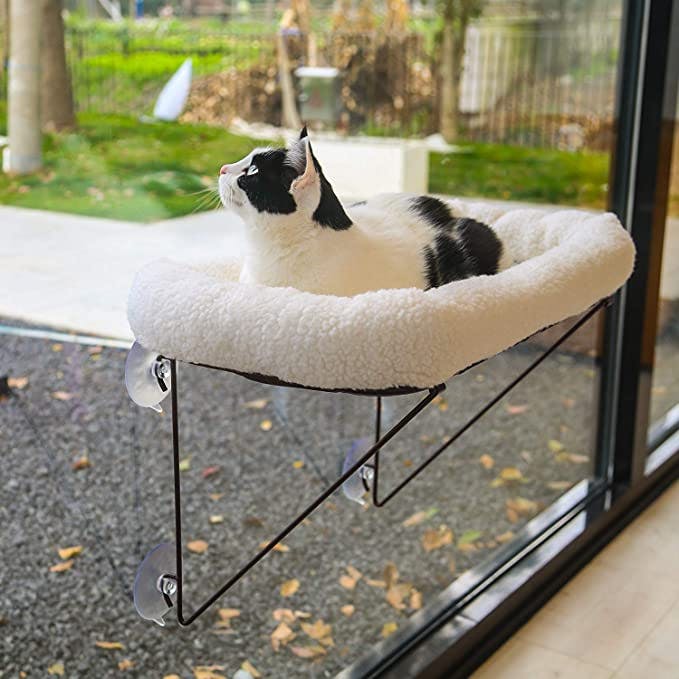 Reasons to BUY
Sturdy Construction
Soft
Spacious
Reasons to AVOID
Specifications:
Item dimensions: 24 x 14 x 12 inches
Removable Cover
Sturdy Construction
Soft, orthopedic foam
Your cat surely loves sunbathing next to a window. And we have a great cat window perch that your clawed companion would appreciate. The K&H window perch can support up to 40 pounds and is very easy to assemble making the installation process hassle-free.
This model requires a 24-inch long and 2-inch deep window sill for installation. With the soft and orthopedic foam that this perch has, your cat can enjoy the outdoor view with great satisfaction and comfort. However, as perfect as this cat window perch is, some users complain about its cover. Some users wrote that it may sometimes slip when a kitty jumps on it.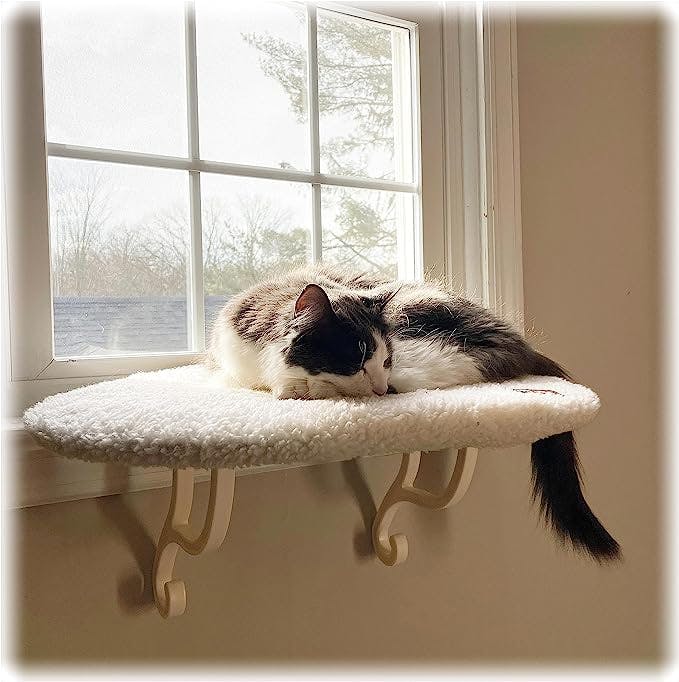 Reasons to BUY
Sturdy Construction
Soft
Spacious
Reasons to AVOID
Specifications:
Product dimensions: 21"L x 21" W x 45"H
Safe and Sturdy
Interactive design
This uniquely designed cat window perched will not only allow your cat to lounge near the window and appreciate the outside view, but it will also make the perch climbing a game for your cat. It's interactive and is great for those kitties who like scratching.
You can put this perch next to a window in your place and install it with suction cups which will make it safer for your cats to jump up and down from this beautifully designed cat perch. Your cats will absolutely love it.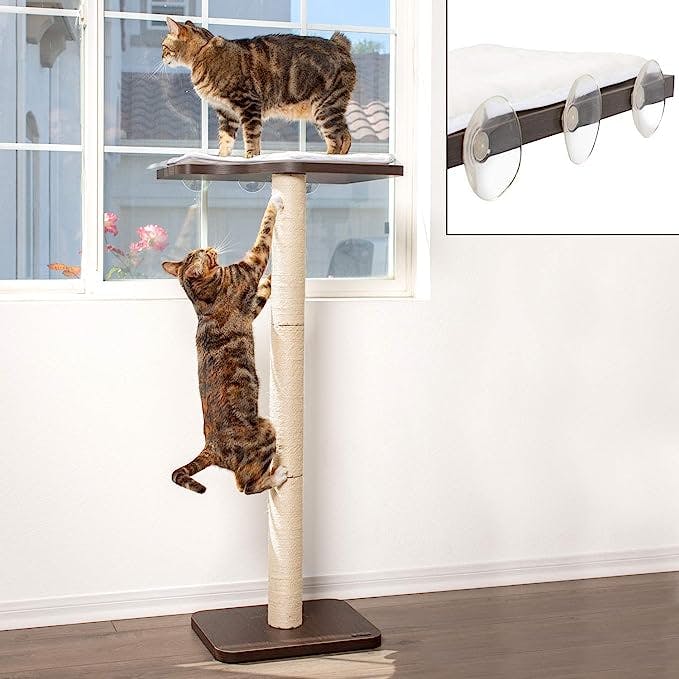 Reasons to BUY
Sturdy Construction
Interactive
Stylish design
Reasons to AVOID
Specifications:
Item dimensions: 27.7 x 6.9 x 11.8 inches
Stainless Steel
Foldable
Two-fabric cover
Are you looking for a soft, but foldable cat window perch? If your answer is yes, then you're looking at the right product here. Whenever your cat doesn't want to lounge next to a window, you can fold it up without taking the whole thing off.
This fluffy window bed for cats comes with a cover with two different types of fabrics. You can use them interchangeably to adapt to specific seasons and temperatures. One is breathable sandwich mesh which can dissipate heat, making it great for the summer season. The other one is a soft rabbit fur plush that will keep your cat warm in cold winters.
Also, AMOJISOY's cat hammock is spacious enough to let your cat stretch and relax in an environment surrounded by cushioned comfort.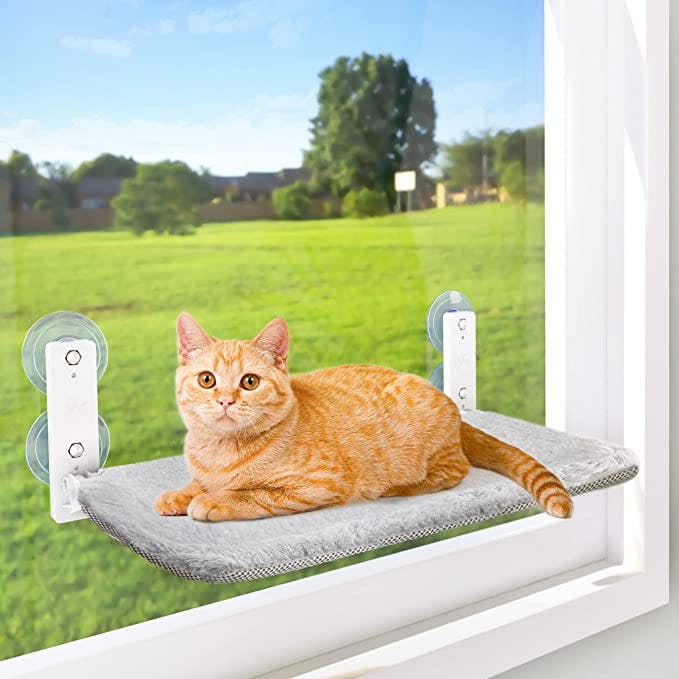 Reasons to BUY
Sturdy Construction
Interactive
Stylish design
Reasons to AVOID
Specifications:
Item dimensions: 24 x 14 x 14 inches
Removable bolster
Washable
Supports up to 40 pounds
Orthopedic sleeping surface
If you're looking for a throne for your cat, then this K&H product is just for you! Your cat can freely lounge on this spacious and cushioned perch which will give it the comfort it's been looking for.
This cat perch is also surrounded by a soft bolster which gives it extra comfort when basking under the sun. With over 20 years of experience in producing quality products for cats, K&H kitty perches will allow your cat to nap on a luxurious throne designed specifically for them.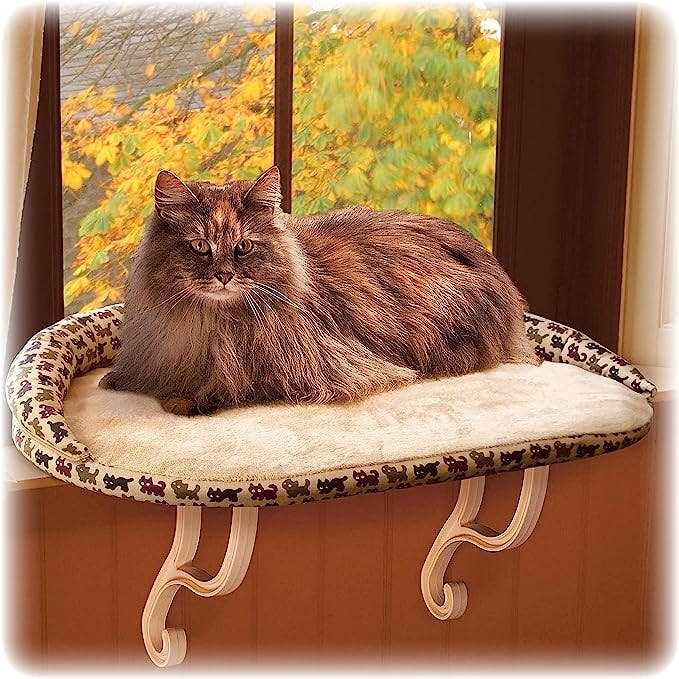 Reasons to BUY
Sturdy Construction
Interactive
Stylish design
Reasons to AVOID
Specifications:
Removable Cover
Product dimensions: 23"L x 19.5"W x 29"Th
Cushioned Comfort
Easy installation
Your cat would love a penthouse to lounge in while observing the birds outside the window. Made with a comfortable, polyester material, this cat window perch will bring exceptional comfort to your kitty.
This small penthouse has two front windows, one side window, and a large viewing window for enjoying the outdoor view. With a super soft microfleece sleeping area (23x12) your cat can stretch out freely and continue basking in the sun.
Another important thing to note here is that this is a product of users-favorite K&H which is a market-leading company producing pet products.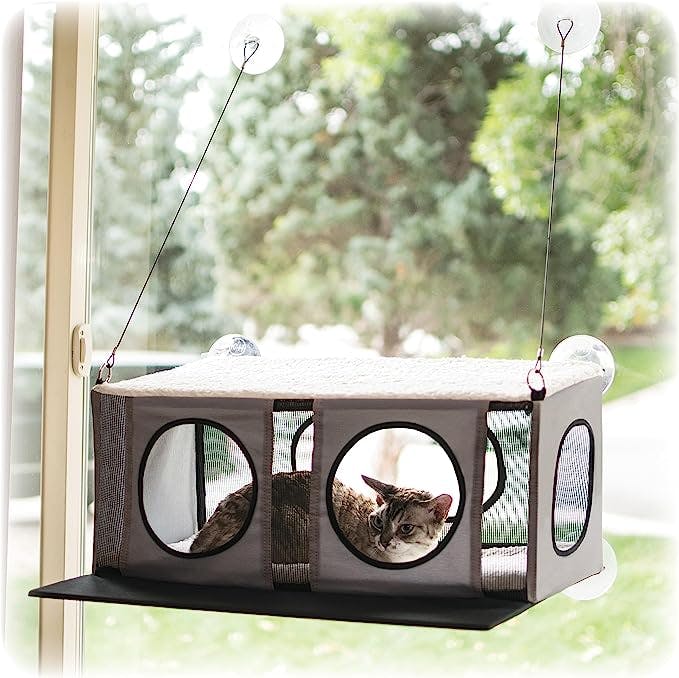 Reasons to BUY
Cushioned Comfort
Easy installation
Stylish design
Reasons to AVOID
Specifications:
Item dimensions: 20" W x 11.5"D x 16" H
Strong steel tubes
Suction Cups
Easy Installation
This minimalist, yet stylishly designed cat window hammock would be an ideal gift for your clawed companion. Supporting up to 30 lbs, this cat perch allows your cat to observe its surroundings with great joy and satisfaction.
Also, with its strong suction cups, you can stop worrying about this hammock's collapse. That's the last thing you'd be worrying about if you get this perch for your furry friend.
Although, there's one thing to note here about this product's size. It is not as large as the previous products we listed above. If your cat is large, it may feel uncomfortable lounging on this one here. Other than that, it's one of the most comfortable hammocks you can get for your cat who's without a doubt going to love it.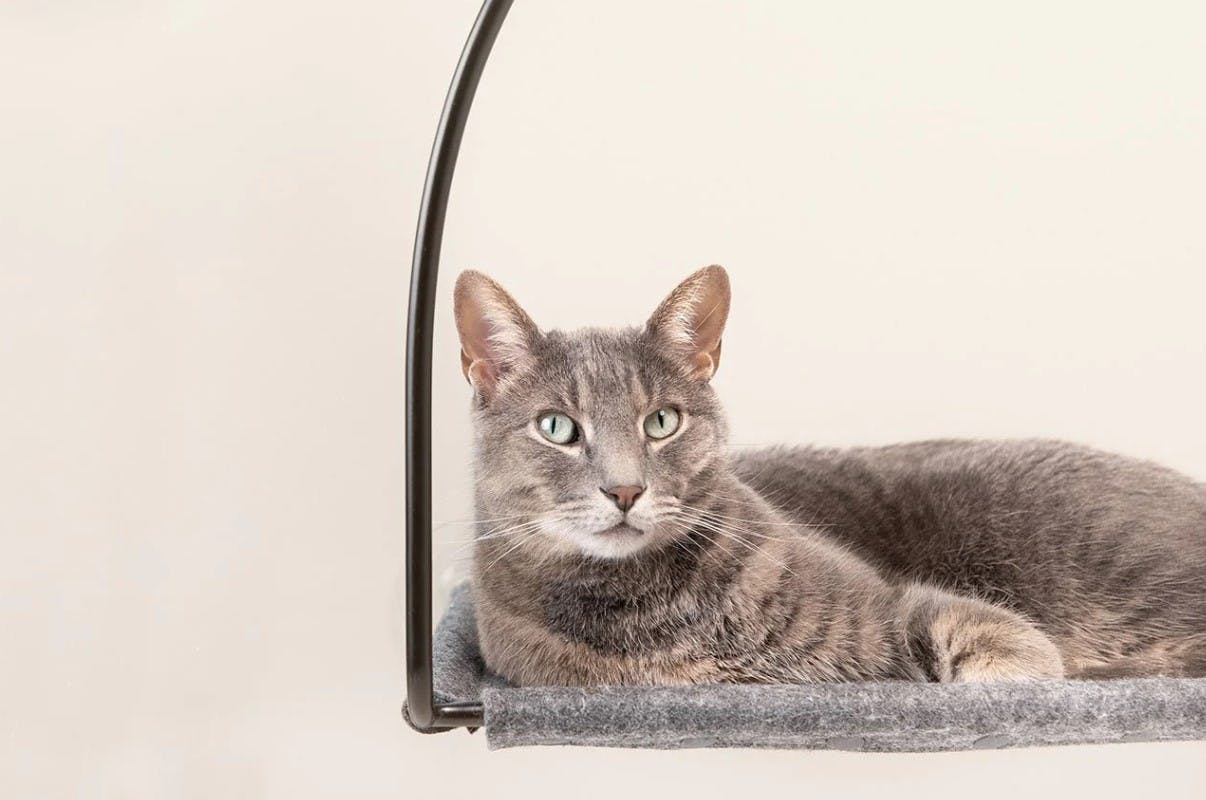 Reasons to BUY
Cushioned Comfort
Easy installation
Stylish design
Reasons to AVOID
Pricey
Limited Weight Support

Specifications:
Item dimensions: 26.4 x 14.6 x 24 inches
Washable
Advanced material
Rugged Fabric mat
You can get your cat a perfect window perch that will give it the most relaxing sunbathing experience lying next to the window. This cat perch is built with sturdy materials and has strong suction cups making it a safe option for your cat to rest on near the window.
You can put your cat's own cushion on the rugged fabric mat and give extra comfort while your cat's observing the outdoor view. Most users on Amazon are satisfied with how this cat window perch shifted their cats' resting experience to a new level of cushioned comfort. Many of them say their cats are now obsessed with Pefuny's window perch for kitties.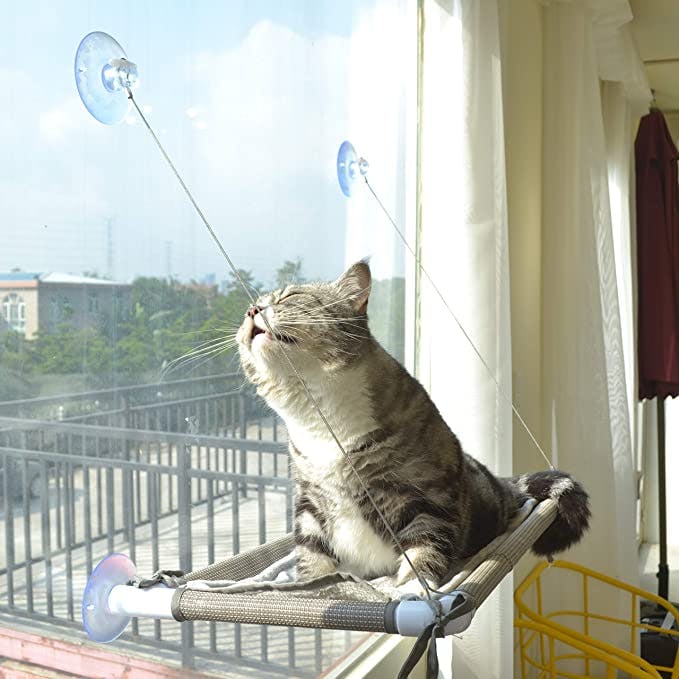 Reasons to BUY
Comfortable
Easy installation
Removable and washable fabric
Reasons to AVOID
Specifications:
Item dimensions: 19.69 x 11.81 x 1.57 inches
Up to 30lbs support
Machine washable cover
High-Quality PVC suction cups
By getting this low-priced cat window perch, you'll pay significantly less for what you'll get at the end. If you decide to order this hammock for your furry friend, it'll be delivered to your doorstep with a kit containing a fleece blanket and an exquisite gift box.
This hammock is easy to install and requires almost no effort. With high-quality PVC suction cups, you can free yourself of the worry that the perch may collapse one day. Although, I need to mention that if the room temperature falls low in the winter, these suction cups may start malfunctioning.
Supporting up to 60lbs, your cat can freely jump on and off the hammock and experience summer basking in warm sun rays. This cat perch will bring a new option of relaxation that's unlike anything else.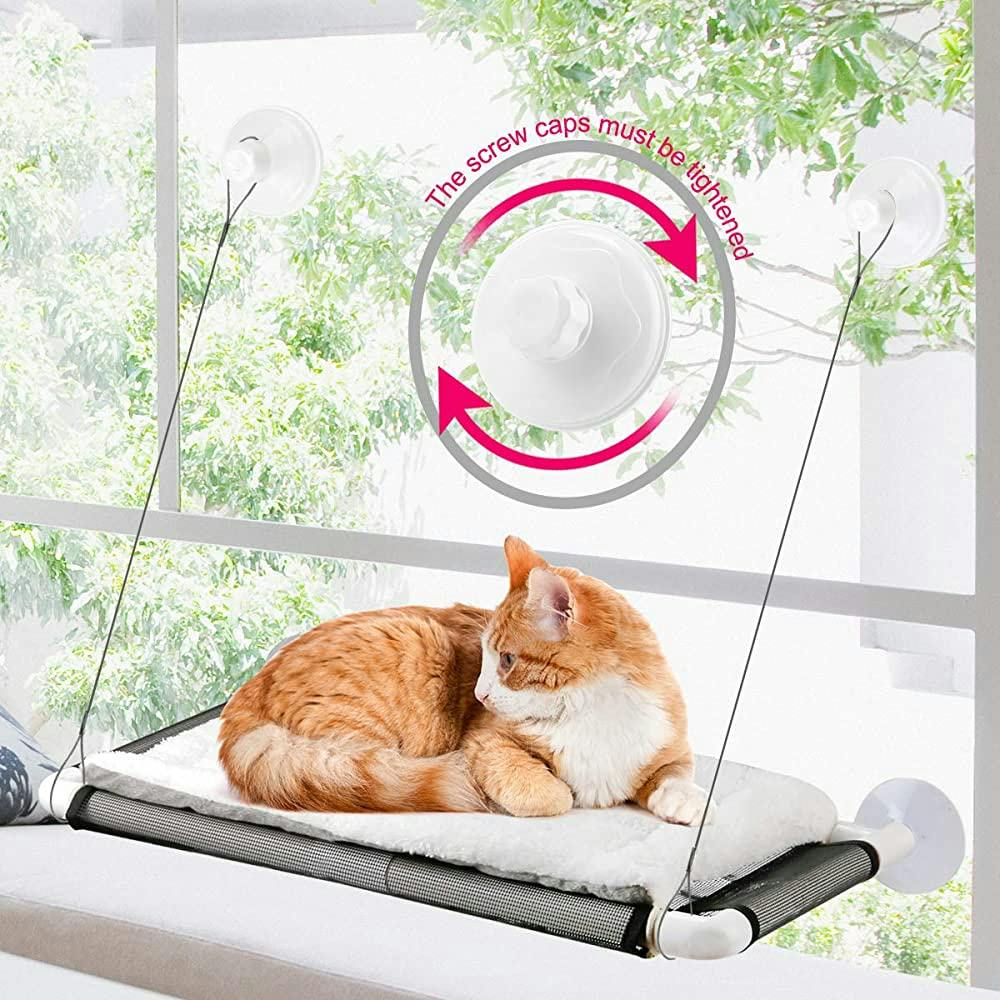 Reasons to BUY
Comfortable
High-Quality PVC suction cups
Removable and washable fabric
Low-priced
Reasons to AVOID
Specifications:
Item dimensions: 23.6 x 11.8 x 1.6 inches
Machine washable cover
Soft plush cover and memory foam
Supports up to 20 pounds
Here's another minimalist cat window perch that will shift your cat's summer holiday to the next level. The design of this product differs from most cat perches, and you may find it more suitable for your cat.
It can be installed on windowsills no deep than 3 inches deep and can hold up to 35 pounds. The plush cover with memory foam can be easily washed when you feel like it's time to do so. Overall, this is a comfortable window perch that will allow your cat to stretch out and watch their feathered friends outside the window.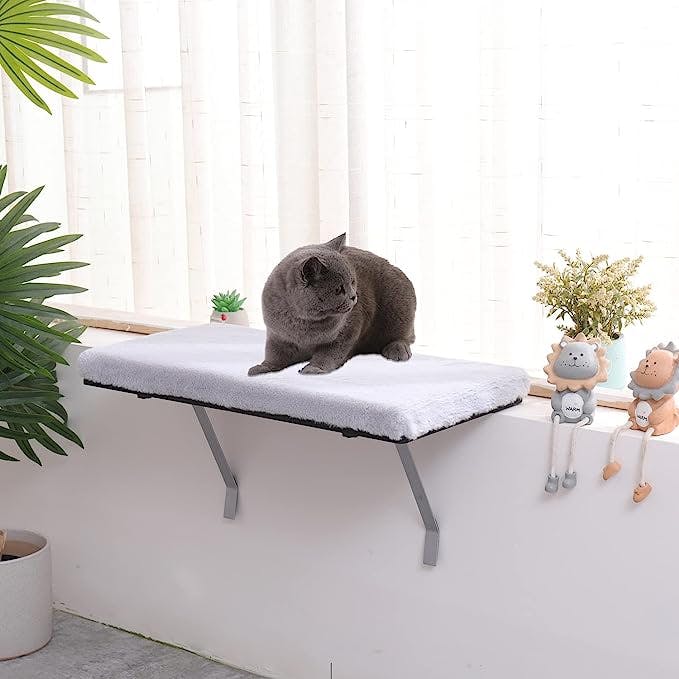 Reasons to BUY
Comfortable
Soft cover with memory foam
Removable and washable fabric
Low-priced
Reasons to AVOID
May be unsuitable for some windowsills
Reddit Summary
Many cat owners on Reddit do have a favorite cat window perch that is widely available on the market. It's no surprise that K&H cat perches are the most favored in the community of pet owners. They say that K&H products are user-friendly, easy to clean, and almost never have issues with suction cups.
The majority of Redditors do claim that K&H produces reliable products that are both safe and comfortable for their furry friends.
"K&H makes reliable products. In many, many years of animal retail, those are the few companies that make products that are never returned."
"I have 2 K&H pet EZ mount window scratchers and both work fine. I have 2 babies, one 10 lbs, one 12 lbs. Both have held up fine. The trick is to soak those suction cups in hot water to soften them up and clean the window really well to make sure you get a good clean suction."
FAQ
Are cat window perches safe for cats?
Yes, cat window perches are perfectly safe for your clawed companion. However, I have to say that a wrong installation of the window perch may sometimes result in a collapse. One suggestion I'd make is to make sure the surface on which the suction cups are going to stick is perfectly clean. That'll ensure better sticking.
Can I use a cat window perch in any window?
Generally, YES! However, they stick best to windows with strong frames that can support your cat's weight. Before you decide to stick it on one of your windows, check the specifications of the cat perch first.
What materials are cat window perches typically made of?
Not all cat perches share common materials. Mainly, they are either made of stainless steel and rugged mats or are made with strong plastic pipes and memory foam.
How much weight can a cat window perch support?
Well, it depends on the model of the cat perch. Before you add a cat window perch to your shopping cart, check if it can handle your clawed buddy.
How do I choose the right size of a cat window perch for my cat?
Small cats don't generally have a problem fitting on a perch. However, if your furry friend is larger than most cats, then you can certainly benefit from checking a couple of large perches that we've included in our listing.
Conclusion
Your cat surely enjoys watching birds and observing the world that's on the other side of the window. Getting the right cat window perch would be a perfect gift for your clawed companion. There's no saying how much it'll transform your cat's lounging experience to a new level of comfort and relaxation. It'll allow your cat to bask in the sun and stretch out freely above floor level, bringing it immense joy and filling your place with warmth and happiness.