Rainy days don't have to put a damper on your furry friend's outdoor adventures. From pitter-pattering paws to enthusiastic tail wags, the joy of exploring the great outdoors remains unbridled even in the wettest weather. With a myriad of options flooding the market, I've selected the top 7 best dog raincoats to ensure your canine companion stays stylish, snug, and, most importantly, dry during those rainy days. Who said rain should ever be a reason to put a leash on adventure? Especially when it comes to adventures with your furry friends.
In this article, we will understand what features you should keep in mind before purchasing a raincoat for your dog. What are the best raincoats in the market, detailed information about them and reasons to buy/to avoid. So without further do, let's jump right into it.
Features to look for before buying a dog raincoat
When looking to purchase a dog raincoat, it's important to consider several key features to ensure the best fit, comfort, and protection for your furry friend. Here are some essential features to keep in mind:
Waterproof Material
Opt for raincoats made from high-quality waterproof materials such as nylon or polyester to keep your dog dry even in heavy rain.
Proper Sizing and Fit
Ensure you select the right size that fits your dog comfortably without being too tight or too loose, allowing for easy movement and preventing any rubbing or chafing.
Adjustable Straps or Fastenings
Look for raincoats with adjustable straps or fastenings around the neck and belly area to achieve a secure and customized fit for your dog's unique body shape.
Hood or Collar
A raincoat with a hood or a high collar can provide additional protection for your dog's head and neck, preventing rainwater from trickling down their back.
Reflective or Bright Colors
Opt for raincoats with reflective or bright colors, especially if you walk your dog during low-light conditions, as this can help improve their visibility and safety.
Breathable Lining
Choose raincoats with breathable linings to prevent your dog from overheating or feeling uncomfortable due to excessive sweating.
Easy to Clean and Maintain
Select a raincoat that is easy to clean and maintain, preferably machine-washable, to ensure hassle-free upkeep and longevity.
Durable Construction
Look for raincoats with durable stitching and reinforced seams to withstand rough play and regular wear, ensuring long-term use.
Portability and Storage
Consider raincoats that are lightweight and easy to fold, making them convenient for travel and storage when not in use.
By keeping these features in mind, you can make an informed decision and choose a dog raincoat that provides both functionality and comfort for your beloved pet during rainy weather conditions.
Top 7 best dog raincoats:
Specifications:
Color - Transparent
Waterproof - Yes
Reflective - Yes
We are starting strong with the HDE Raincoat for Dogs, A must-have accessory for every pet owner, especially during the unpredictable seasons. Tailored for large-sized dogs with a neck size of 32 centimeters and a minimum weight recommendation of 30 pounds, this raincoat is a reliable option for various occasions, including New Year, birthdays, and Thanksgiving celebrations.
Crafted from 100% polyester material with a waterproof coating, it guarantees exceptional comfort and dryness for your furry friend, even during the harshest weather conditions. The thoughtful design, with length measurements ranging from 22.5 inches, ensures a perfect fit for larger breeds, providing ample coverage from the base of the hood to the coat's longest point.
The raincoat boasts high-visibility reflective material, keeping your pet easily noticeable during dimly lit walks or outings in poor weather. The adjustable belly strap is another standout feature, ensuring a secure and comfortable fit for most dogs. Before making your purchase, it's advisable to consult the girth measurements in the provided size chart.
Moreover, its lightweight and compact design allows for easy packing, making it an ideal option for trips to the park, beach, or hiking trails. The HDE Raincoat for Dogs is the perfect blend of functionality and convenience, offering your beloved pet protection and comfort during those inevitable rainy days.
Reasons to BUY
Easy to put on, even for apprehensive dogs
Cute and lightweight, offering adequate rain protection
Keeps dogs warm and dry during long, rainy walks
Reasons to AVOID
The hind end is not securely fastened, potentially exposing the dog's posterior to the elements
Specifications:
Color - Yellow
Waterproof - Yes
Reflective - Yes
The Cosibell Dog Raincoat is a standout choice for pet owners seeking top-notch protection and style for their canine companions. Tailored specifically for dogs, especially those in the medium size range, with a neck size of 9 inches and a chest size of 14 inches, this raincoat is ideal for various occasions, including New Year, birthdays, and Thanksgiving celebrations.
Constructed with professional outdoor jacket fabric, this raincoat excels in both windproof and waterproof performance, ensuring your pet stays dry and comfortable even in the harshest weather conditions. The 100% polyester fabric not only provides excellent breathability but also enhances portability, making it a reliable choice for all-day wear.
This dog raincoat doesn't compromise on style, featuring a fashionable four-leg design that not only prevents water from seeping in but also adds a touch of cuteness and coolness to your furry friend's appearance. Safety remains a priority with the inclusion of high-visibility reflective material, keeping your pet visible during walks on gloomy days or in low-light conditions.
Ease of use is another highlight, with well-placed buttons on the chest and belly closures, alongside drawstrings on the hat and waist, for added convenience. The lightweight and washable fabric makes it a breeze to put on and take off, while its foldable design allows for easy storage and portability. Before purchasing, it's advisable to refer to the size chart image to ensure a proper fit for your dog.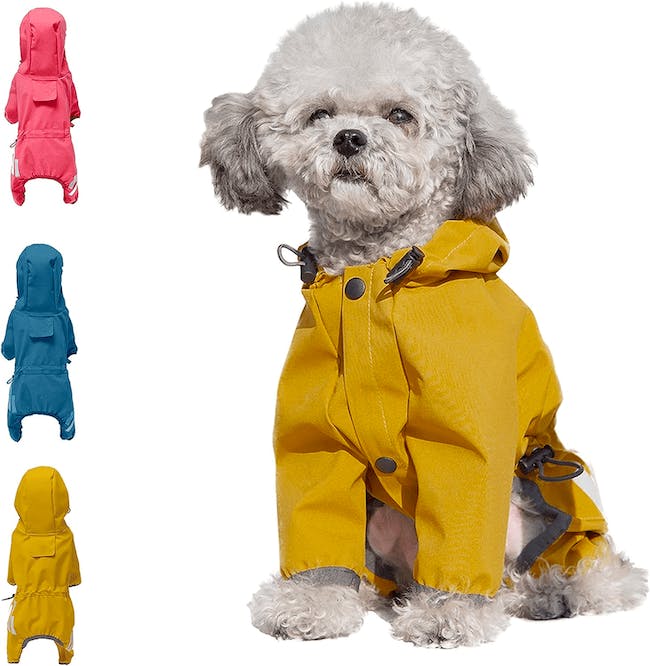 Reasons to BUY
Sturdy material, providing ample protection from rain
Long leg parts prevent dog's legs from getting wet
Cute and stylish, with adjustable features for a better fit
Reasons to AVOID
Sizing can be inaccurate, making it challenging to find the right fit for some dogs
Specifications:
Color - Yellow
Waterproof - Yes
Reflective - Yes
Next up, we have a raincoat, which has the cutest design. The Cosibell Dog Raincoat is a versatile and stylish option tailored for dogs of various breeds and sizes. With a target species of dogs and a recommended weight of 15 pounds and up, this raincoat is suitable for medium-sized breeds, featuring a chest size of 19 to 23 inches and a neck size of 33 centimeters.
Crafted for a range of popular breeds such as bichon, Yorkie, Terrier, schnauzer, poodle, border collie, labrador, golden retriever, golden doodle, toy poodle, beagle, Australian shepherd, and cocker spaniel, this raincoat is designed to offer comfort and protection even in the harshest weather conditions.
The zip-up design, combined with additional buttons, ensures effortless wear while adding a touch of style and cuteness to your furry friend's wardrobe. Its water-resistant properties guarantee your dog remains warm and dry during those unexpected downpours.
Functionality meets convenience with the inclusion of a harness hole on the upper back, allowing easy access for harness users. The back pockets offer a practical solution for holding doggy bags, keys, or even small snacks during outdoor adventures.
Easy to maintain, the raincoat can be wiped clean with a wrung-out wet cloth or machine-washed on a gentle cycle with cold water, ensuring hassle-free upkeep. The Cosibell Dog Raincoat strikes the perfect balance between practicality and fashion, ensuring your dog remains not only protected but also effortlessly stylish during any outdoor activities.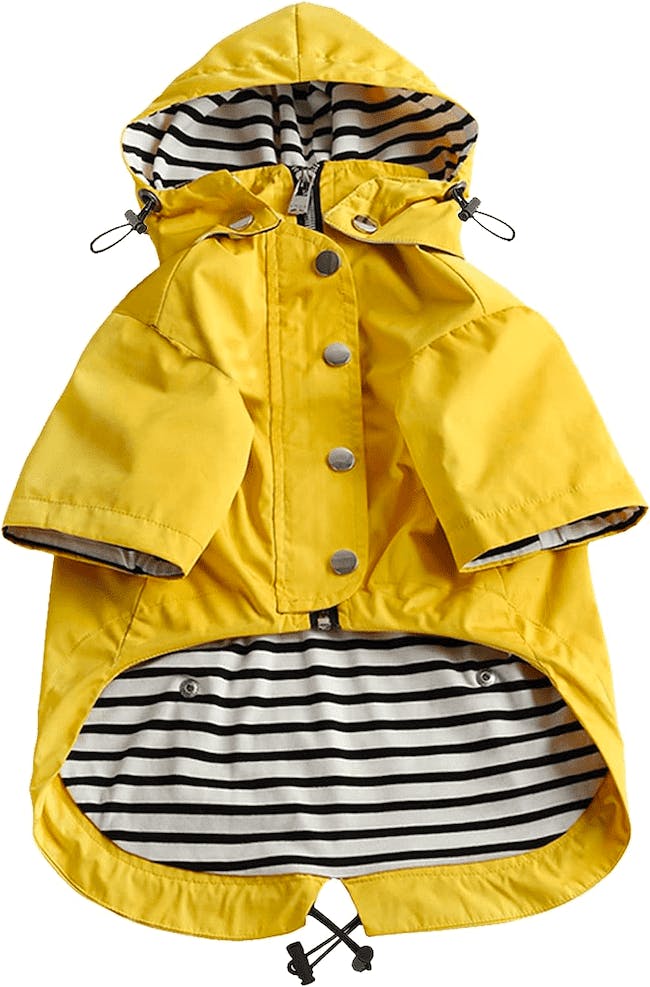 Reasons to BUY
Adjustable features for a better fit on various dog sizes
High-quality, thick, and durable material
High-quality, thick, and durable material
Reasons to AVOID
It can be difficult to put on certain dogs, potentially causing discomfort and resistance during wear
Specifications:
Color - Khaki
Waterproof - Yes
Reflective - Yes
The KOOGAL Dog Raincoat proves to be a reliable and versatile option, specifically tailored for medium to large dogs. Designed to accommodate dogs up to 44.1 pounds, with a size of 2XL, 15.35 inches neck size, and 63 centimeters chest size, this raincoat for dogs offers exceptional protection and comfort even in the harshest weather conditions.
It is made from a combination of polyester and TPU materials; this raincoat boasts excellent toughness, cold resistance, and environmental friendliness. The windproof and waterproof properties, along with a breathable mesh layer, ensure optimum comfort and dryness, even during extended wear. The sweat-absorbent and quick-drying fabric further enhances the overall comfort of your furry friend.
This raincoat effortlessly transforms into a compact bag, making it convenient for on-the-go usage. Whether as a protective layer against wind chill or rain, this raincoat effectively safeguards your dog's fur from the elements.
Featuring adjustable buckles on the front and back of the hat, as well as on the back of the coat, it allows for a customizable fit, ensuring the utmost comfort for your dog. The inclusion of Velcro straps streamlines the process of putting on and taking off the raincoat, making it a practical choice for daily use.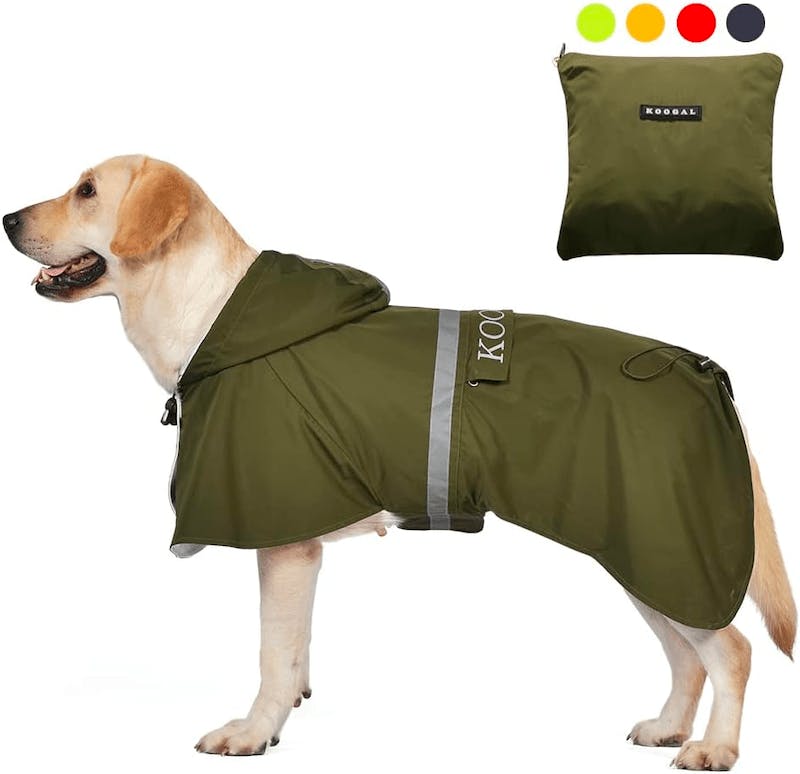 Reasons to BUY
Available in larger sizes, accommodating bigger dogs
Durable fabric and strong zipper for lasting use
Adjustable straps and features for a comfortable fit
Reasons to AVOID
Leg straps may interfere with the dog's movements during walks and potty breaks
Specifications:
Color - Blue
Waterproof - Yes
Reflective - Yes
Annchwool Dog Raincoat is an exceptional choice, catering to the needs of small and medium puppy breeds with a neck size of 7 inches and a chest size of 12 inches. Constructed with premium and soft outdoor jacket waterproof fabric, it effectively shields your furry friend from the harshest weather conditions, ensuring optimal comfort and dryness throughout the day.
Designed with smaller puppies in mind, this raincoat is a perfect fit for a variety of breeds, including Shih Tzu, Papillon, Cavalier, Cockapoo, Miniature Pinscher, Maltese, Toy Poodle, Maltipoo, Pomeranian, Coton De Tulear, Jack Russell Terrier, Bichon Frise, Havanese, Yorkie, and Miniature Schnauzer, among others.
The thoughtful design features a leash hole for the convenient collar and leash attachment, while the drawstring on the hat and waist ensures a snug and customized fit. The four-legged design effectively prevents water from entering, while the snap buttons on the chest and belly allow for quick and easy wear, perfect for active and playful puppies.
Safety remains a priority with the addition of a reflective strap, not only enhancing the raincoat's aesthetic appeal but also ensuring better visibility during nighttime walks, keeping your beloved pet safe and sound.
With a range of sizes available, including S, M, L, and XL, it's important to refer to the provided dimension chart and measure your dog's chest and neck size accurately before making a purchase.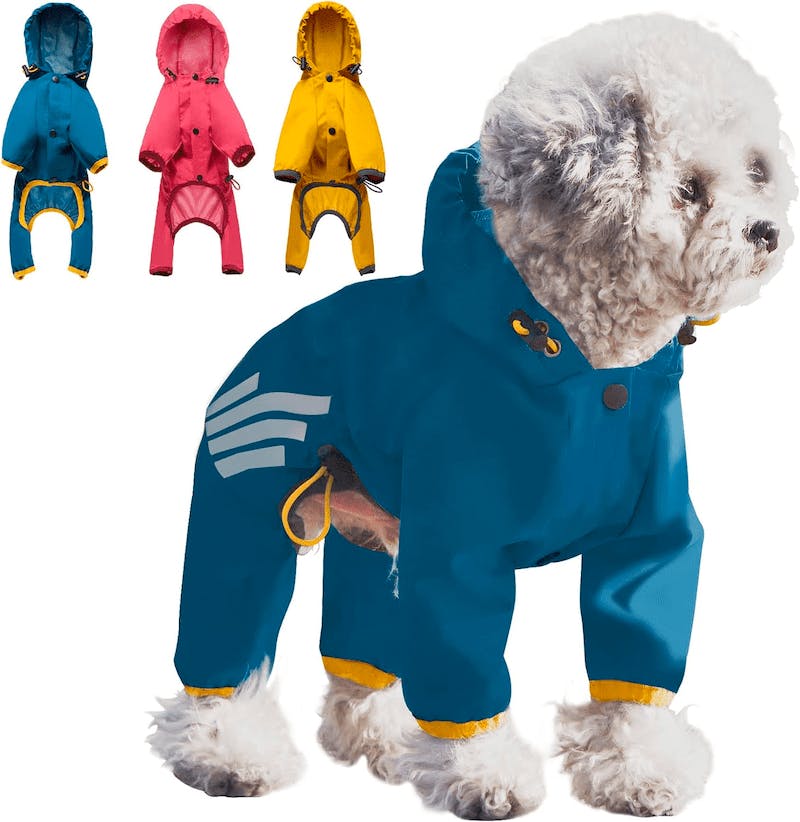 Reasons to BUY
Easy to use with convenient snap closures
Provides effective waterproof protection
Reasons to AVOID
Sizing may run small, leading to potential fitting issues for certain dogs
Specifications:
Color - Green
Waterproof - Yes
Reflective - Yes
The "SEIS" raincoat for dogs for dogs is the ultimate solution for keeping your beloved pet dry and comfortable during heavy downpours. Crafted from high-quality polyester, this waterproof one-piece raincoat is not only soft and comfortable but also effectively shields your dog from wind. The innovative button-on-the-abdomen design ensures effortless wear and removal, allowing your pet to move freely without feeling constrained or fatigued.
What sets this raincoat apart is its thoughtful construction, featuring a mesh lining that prevents direct contact with your dog's skin, enhancing comfort and preventing uncomfortable matting of the fur. Designed for a range of dog sizes, this versatile raincoat comes in 11 sizes, ensuring a perfect fit for small, medium, and large dogs alike.
Choose from a wide array of sizes, from XS to 7XL, each carefully measured for optimal fit. Please note the manual measurement tolerance of 1-2cm/0.4"-0.8" and consider selecting a size approximately 2cm/0.8" larger than your pet's actual measurement for the most comfortable fit.
Keep your furry companion cozy and dry while enjoying the outdoors with the "SEIS" Raincoat for Dogs. Don't let the rain dampen your dog's spirits; let them frolic in the rain without any worries. Trust in the "SEIS" Raincoat for Dogs to ensure your pet's comfort and protection during inclement weather.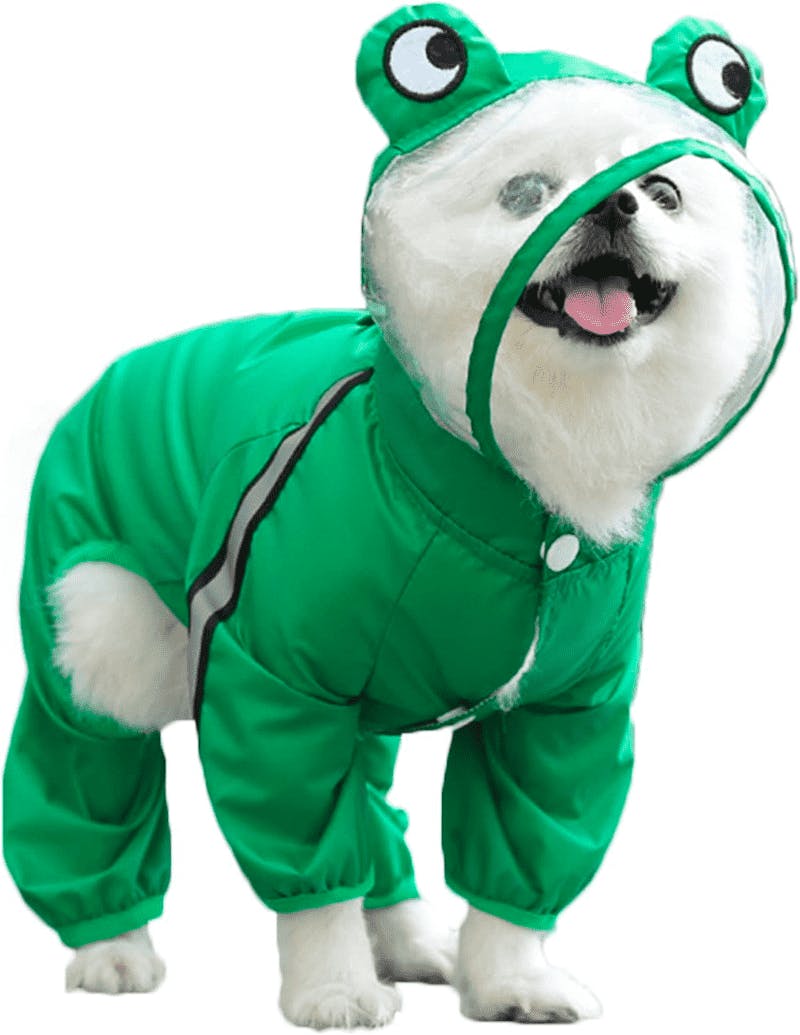 Reasons to BUY
High-quality material
Easy to clean with a washing machine
Reasons to AVOID
Sizing may be inconsistent or not suitable for certain dog body types
Specifications:
Color - Red
Waterproof - Yes
Reflective - Yes
Introducing the "Ezierfy" dog raincoat, which is the ultimate outdoor accessory that combines functionality with style. Crafted from 100% polyester waterproof fabric, this lightweight and durable raincoat provides exceptional protection, ensuring your furry companion stays dry and comfortable even in the most challenging weather conditions. Its long-lasting quality guarantees extended use and reliability, making it a must-have for any dog owner.
Safety takes the forefront with its innovative design featuring high-visibility reflective strips along the belly, ensuring your pet remains visible even during nighttime walks minimizing the risk of accidents with careless drivers. The adjustable belly and chest straps not only provide a comfortable and secure fit but also alleviate any anxieties your dog might have during inclement weather.
Offering practicality at its finest, the "Ezierfy" raincoat for dogs includes a professional elastic adjustment cap buckle that ensures the hood fits snugly, effectively shielding your dog's head from the elements. The convenient traction rope hole allows easy attachment to leashes and other dog accessories, such as collars and vests, enhancing versatility and convenience.
Maintenance is a breeze as this sleek dog rain jacket is effortlessly cleanable, and its foldable design makes it an excellent on-the-go companion for trips to the park, beach, or hiking trails. Invest in the "Ezierfy" Dog Raincoat to ensure your dog enjoys every outdoor adventure, regardless of the weather.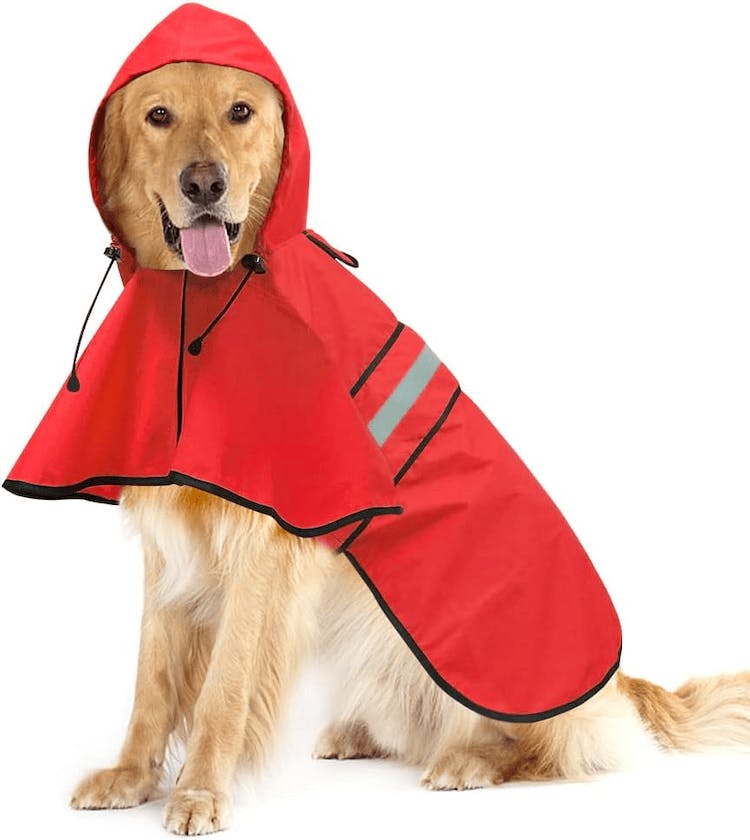 Reasons to BUY
Good quality material, waterproof and comfortable
Various size options for different dog breeds
Reasons to AVOID
Hood fit issues, might be tight or cover the dog's eyes
Limited reflectivity in low-light conditions

Reddit Summary
"It depends on your dogs coat and their tolerance for clothes. My dog has a thick coat that stays wet for a long time if she gets wet, so it's worth it. If you have a short haired dog and/or one who hates wearing clothes, then I wouldn't worry about it."
"It really depends on the dog.
My dog used to hate wearing booties/anything touching his paws, but the building management where I lived at the time always salted the sidewalks to hell when it snowed. So walking him was a risk all the time. But after trying them for a few days, he started learning that wearing booties meant his walks would be longer and more enjoyable.
It got to a point where he would patiently sit and watch me put his booties on him, eager to go outside again.
He hates rain too so I honestly should look into a raincoat for him as well, he would probably wear it happily if it meant no rain!
You could also try positive reinforcement, if you give her treats/encourage her to walk in it, it could help. Also some dogs may just ignore wearing a new jacket outside because they are so eager to sniff/go on their walk. Admittedly, my dog just started ignoring every clothing item I put on him because he was more excited to be outside."
FAQ
Are dogs sensitive to rain?
While individual sensitivities can vary, many dogs can indeed be sensitive to rain. Some dogs may feel uncomfortable or anxious when exposed to rain, particularly if they are not accustomed to wet conditions or if they have had negative experiences during rainy weather. Additionally, certain breeds with shorter coats or those that are not naturally inclined to water may display sensitivity to rain or damp environments. Signs of rain sensitivity in dogs may include reluctance to go outside, hiding, or signs of distress when exposed to rainy conditions.
How to get your dog used to wearing a coat?
Getting your dog used to wearing a coat can be a gradual process that requires patience and positive reinforcement. Here are some effective steps to help your dog become comfortable with wearing a coat:
Introduce the coat gradually: Start by allowing your dog to sniff and explore the coat before putting it on. This can help them become familiar with the new item.
Use positive reinforcement: Associate wearing the coat with positive experiences by offering treats, praise, or playtime while they have the coat on. This can create a positive association with wearing the coat.
Start with short intervals: Initially, have your dog wear the coat for short periods, gradually increasing the duration as they become more accustomed to it. This can help prevent overwhelming them.
Choose a comfortable fabric: Opt for a coat made from soft, lightweight material to ensure your dog's comfort and minimize any potential irritation.
How do I choose the right size for my dog's raincoat?
Choosing the right size for your dog's raincoat is crucial to ensure a comfortable and proper fit. Use a flexible tape measure to determine your dog's back length, chest circumference, and leg length. For the back length, measure from the base of the neck to the base of the tail. For the chest circumference, measure the widest part of the chest. For leg length, measure from the base of the neck to the paws.
Consult the specific size chart provided by the raincoat for dogs manufacturer. Match your dog's measurements with the corresponding sizes on the chart to find the best fit. Some raincoats may have adjustable straps or buckles that can accommodate different body shapes.
Conclusion
Don't let the rain spoil your dog's fun! With a diverse array of dog raincoats available, you can keep your furry companion dry and comfortable during those wet and windy days. Consider essential features like waterproof raincoat material, proper sizing, adjustable straps, and reflective elements to ensure both protection and style.
Remember to take your dog's preferences into account and use positive reinforcement to help them adjust to wearing a dog rain jacket. Whether it's for a leisurely walk or a vigorous play session in the rain, these top 7 dog raincoats provide the perfect blend of functionality, style, and comfort for your beloved four-legged friend.