Are you in search of some cool accessories for your ebike? Then you're in the right place, as we'll be discussing the top 9 must-have ebike accessories that'll deliver your riding experience to a whole new level of comfort.
There are many trendy accessories you can get for a more enjoyable ride on your ebike such as a lightweight helmet or padded cushion seat. But that's not all, there are more accessories that you can get to elevate your level of comfort to new heights. If you're already intrigued to find out about these ebike accessories, then read on to learn about them in more detail.
Features to Look for Before Buying Ebike Accessories
Before we jump straight into listing these exclusively selected ebike accessories, let's first briefly cover the essential features to look for before you add an item to your shopping cart.
Surely, if you're looking for great accessories to complement your everyday ride, you'd want to get lightweight accessories that would have an ergonomic design and are easy to carry around. To save you time, we've already done the required research for you and now offer you the most budget-friendly, and high-quality ebike accessories out on the market.
Lightweight
Whether you're buying bike panniers or a multi-tool for repairs, make sure it is lightweight and will not cause you discomfort while riding. These accessories need to offer you a safer, and more enjoyable ride, not cause you discomfort.
Ergonomic design
The design of an item is also one of the main features to look for before buying an ebike accessory. Make sure the tools you buy have an ergonomic design and are easy to handle.
Budget-friendly accessories
Last but not least, it is important to get a budget-friendly accessory that gets the job done in no time. Don't go after brands and spend unnecessary amounts on ebike accessories that will hurt your pocket. Instead, you can get a better one that may sometimes even cost you less!
Top 9 Ebike Accessories For Your Cushioned Ride
As a biking enthusiast, you'd already know that a cozy ride needs a lightweight bike helmet, pannier bags to carry your stuff around, rechargeable head/tail lights for night rides, bike mirrors for your extra safety, a multi-tool for repairs, bottle cage, phone mount, bike lock, and finally a padded seat cushion.
Below you can see our exclusively selected ebike accessories that will elevate your ride to a whole new level of safety and comfort.
When it comes to a safe ride, a lightweight helmet is a must. This market-leading ebike accessory is engineered to protect you from high-intensity impact. With a multi-directional impact protection system (MIPS), this helmet is designed to redirect energy in case of a crash.
Specifications:
MIPS
Universal fit sizing
22 vents
Rugged
The universal adult size is 54-61cm, and the universal X-large is 58-65cm. You'll get the right fit straight from the box. The helmet is synthetic and has 22 vents that'll save your scalp from intense sweating during your ride under the sun.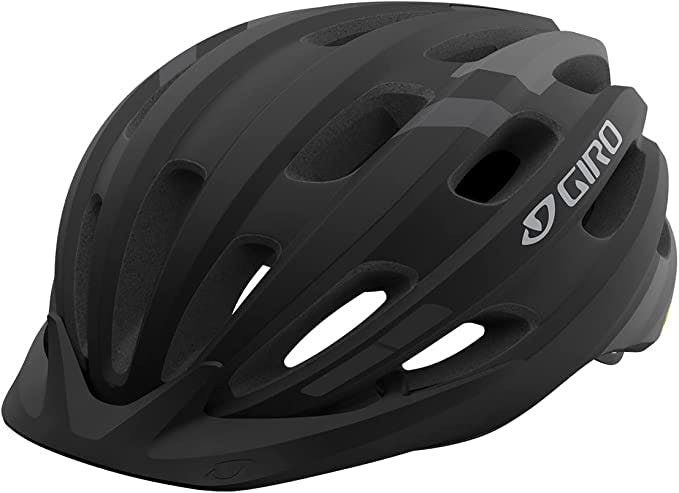 Reasons to BUY
MIPS technology
Reasonable price
Lightweight
Reasons to AVOID
If you like carrying your stuff while riding your ebike, then BV Bike Panniers are a great option that you could consider getting.
Specifications:
Large zippered pockets
Angled pocket design
Adjustable hook
Rigid Back Panel
BV's panniers have large zippered pockets that'll allow you to fit your stuff inside. The angled pocket design will give pedaling space to your bike and will not hinder your ride. Also, with the adjustable hook, you can put it on all of your bikes and ebikes. It's a great ebike accessory that will help you carry your stuff around with ease. You won't even notice that it's there.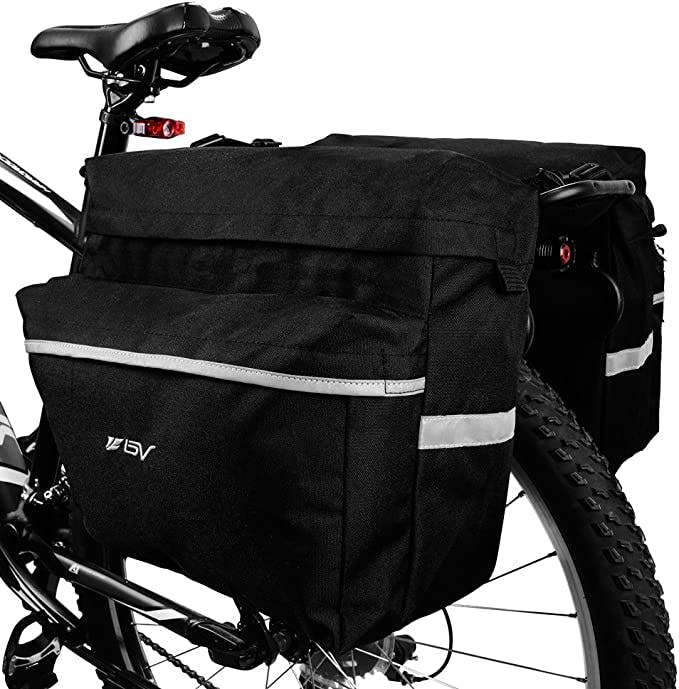 Reasons to BUY
Large capacity
Adjustable hook
Reasons to AVOID
Are you an enthusiast who loves riding your ebike at night? If that's so, you'll know how important rechargeable head/tail lights actually are. It's not a necessity, it's a must! Now, if you don't have one yet, why not get one that will last you for prolonged periods and can be recharged? This ebike accessory is an inseparable part of every biking enthusiast's collection.
Specifications:
Long-lasting performance
400-lumen headlight
Multiple lighting modes
Weather resistant and durable
For your convenience, the kit comes with both a head and tail light! GearLight is an ideal option if you want to get a long-performing light for your rides at night.
You can fully recharge it only in three hours and set off on a relaxing ride on your ebike with the latest LED technology that includes 400-lumen headlights that will illuminate your path in the dark. Another exciting thing about GearLight is that it has 5 versatile lighting modes — High, Medium, Low, Strobe/Blinking w/ Side Strobe Lights, and High w/ Side Strobe Lights.
Last but not least, these head/tail lights are weather resistant and durable. Once purchased, they will serve you for a long while, and you won't have to think about them malfunctioning on a rainy day!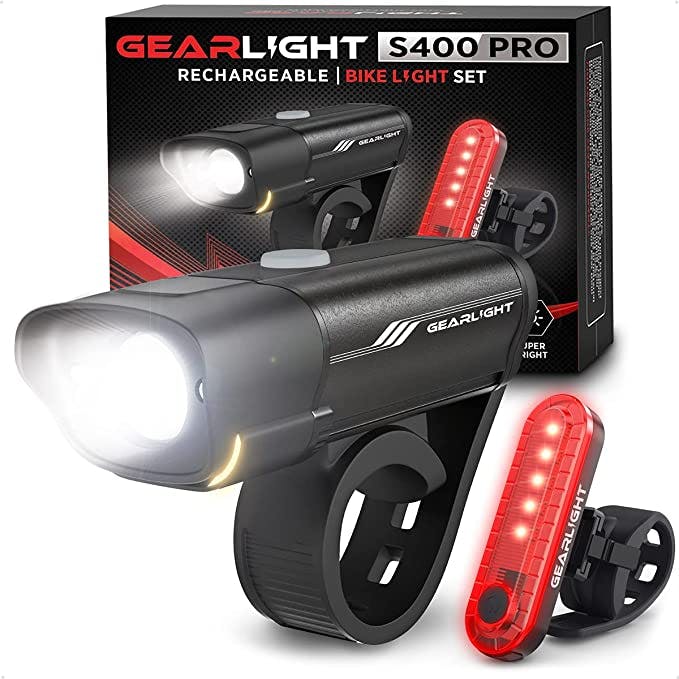 Reasons to BUY
Long-lasting performance
5 versatile modes
Weather resistant
Reasons to AVOID
Do you want to get a pair of top-notch and stylish bike mirrors for your ebike? Hafny's bike mirrors are ergonomic and sturdy and would be just great for your use. They are also designed to resist high-impact crashes and give you a safer riding experience.
Specifications:
Dimensions: 7.2 x 1.5 x 5.5 inches
Material: Nylon, Aluminum
5mm hex key required for assembling
This ebike accessory is great for a safer ride. You'll be able to see the vehicles behind you without having to turn your body around too much. It also has a reasonable price making it a great addition to your collection of ebike accessories.
Anyway, with all its pros, some users complain about these mirrors' limited compatibility with some handlebars. Please pay attention to the diameters and see if this pair of mirrors is compatible with your ebike's handlebar.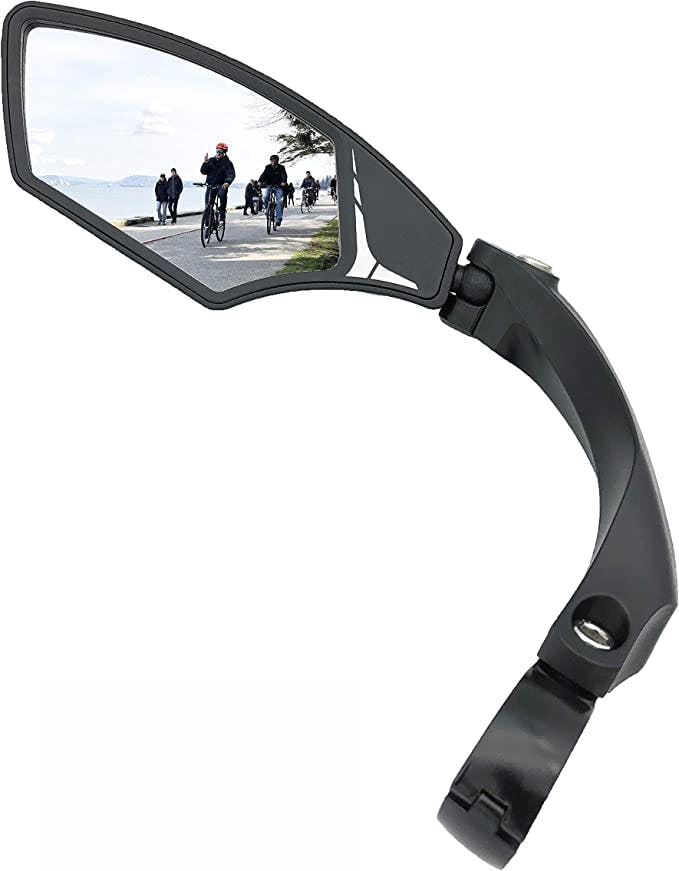 Reasons to BUY
Safer ride
Good price
Stylish
Reasons to AVOID
One thing that should always be with you on your daily ride is a repair multi-tool. Imagine keeping it in the bicycle pannier bag and not in your pocket or backpack — how cool would that be? Crankbrothers Bike Multi-Tool (or "Crank Bros" as some users refer it to) is a market-leading, #1 bestselling repair tool out on the market. Getting this ebike accessory would definitely give you a more relaxed, and worry-free riding experience.
Specifications:
19 tools for repairs
7 Hex wrenches
4 spoke wrenches
Phillips and flathead
t-25 driver, etc.
With all the 19 tools for common road and trail-side repairs, this tool has your back in case of any minor problems that may occur during your ride on your ebike. Encased in a lightweight, aluminum hard case, the tool only weighs 175 grams (6,17 oz) and is 3,5 inches long. You'll hardly even notice that it's there with you.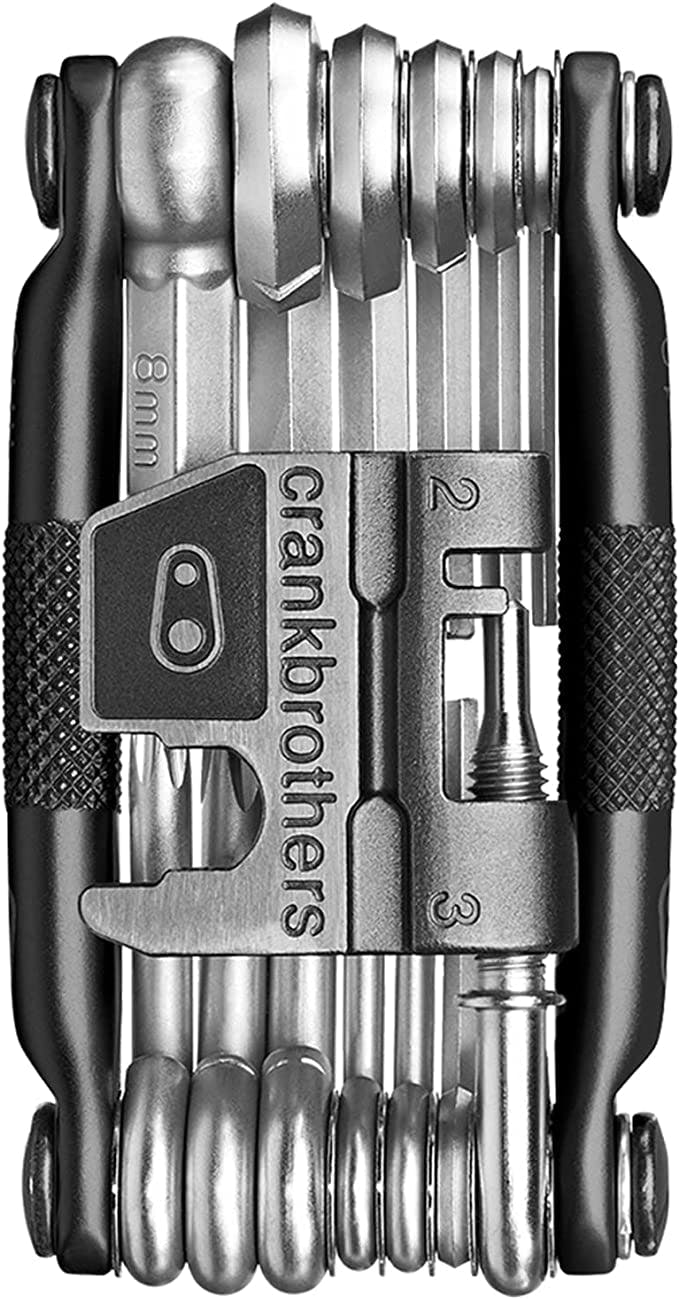 Reasons to BUY
Lightweight
Includes all the necessary tools
Ergonomic Design
Reasons to AVOID
This 360 degrees rotation bike phone mount is another handy ebike accessory that you might need for a cozier ride. It's easy to handle, making it hassle-free to take your phone for emails or calls.
Specifications:
360 Degrees Rotation Bike Phone Mount
Detachable Bike Phone Hold
Shock-absorbing
Wide Compatibility
Manufactured with high-quality, elastic silicone that absorbs vibration, this phone mount can withstand powerful shocks. One more exciting thing about the ORIbox phone mount is that it is widely compatible with most bike/ebike handlebars (0.66 - 1.68).
If your cellphone is either of the following models, you're all set to get one for your daily rides on your electronic bike — iPhone 13/12 Pro Max/XS max/SE/XS/XR/X/8 Plus/8/7Plus/7/6Plus/6, Galaxy S20/S10/S9 Plus/S8/S8 Plus/S7/Note 8, Google Pixel Series. This phone mount is ideally compatible with these cell phones.
Also, it is to be noted that many users find bicycle phone mounts distracting. So, if you get distracted easily, you might want to consider skipping this accessory for a safer ride.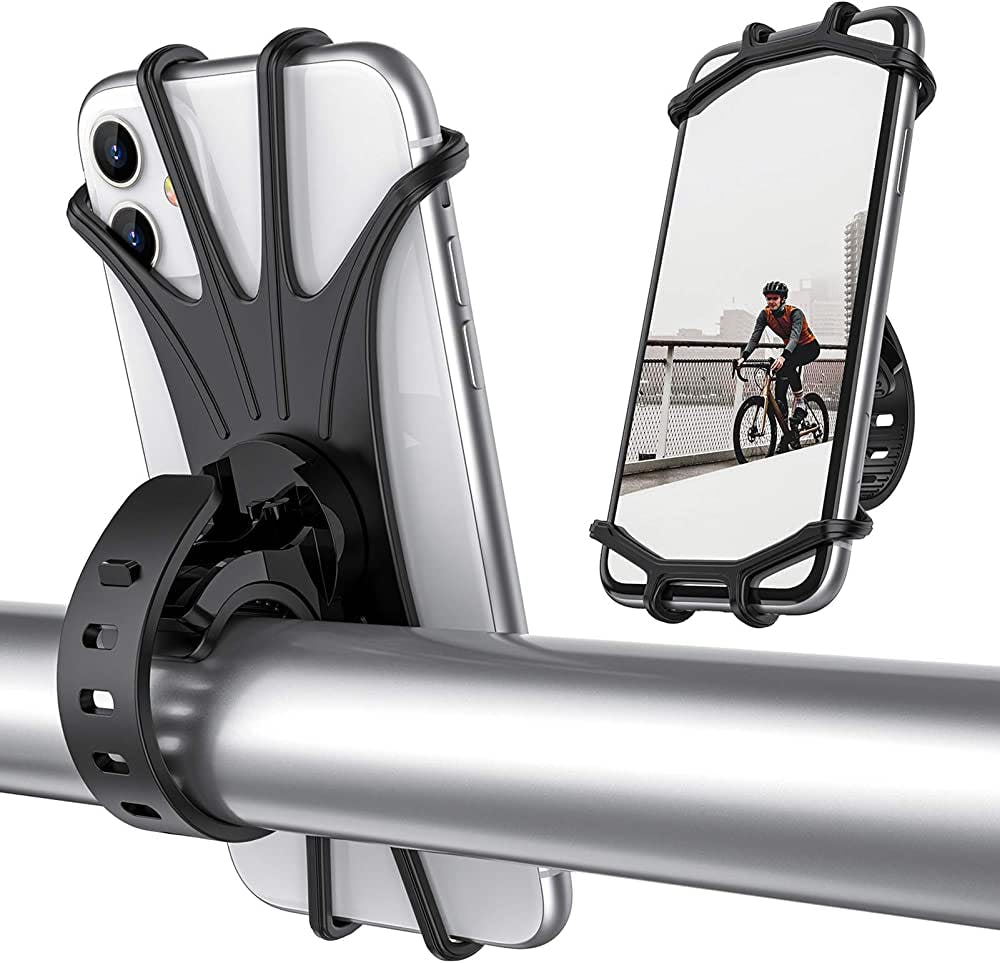 Reasons to BUY
Elastic silicone
Wide compatibility
Shock-absorbing
Reasons to AVOID
As an avid ebike rider, you certainly know that staying hydrated during your ride is a must. If your electronic bike doesn't have a bottle cage, then you can add Topeak Bottle Cage to your shopping cart.
Specifications:
Adjustable
Ideal for bottles with a diameter of 63-70
Made of polymer and aluminum
Weights: 7 grams
This lightweight ebike accessory can be adjusted to host most bottles with a diameter of 63-70. If you've been riding with a bottle in your backpack, do no more! Getting one at this affordable price will bring your ride immense comfort that you'll definitely enjoy.
This bottle cage will last you for at least 6 years. However, if you want to get one that'll last you longer, this one might not be the best fit for your ebike.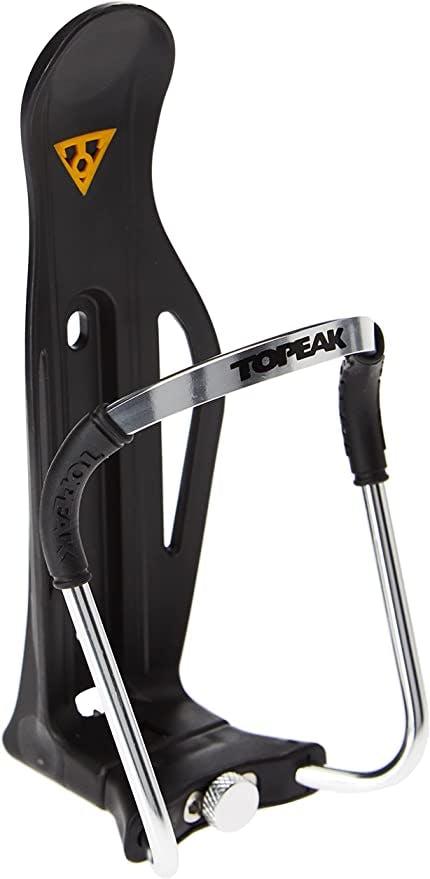 Reasons to BUY
Reasons to AVOID
A bike lock is probably the most useful ebike accessory that you need the most. To keep your ebike secure in public spaces ABUS X-Plus lock is a great option that will serve you the headache of worrying.
Specifications:
Dimensions: 14.57 x 8.66 x 7.87 inches
13 mm square parabolic shackle
2 keys
Being a little pricier than many other bike locks, this one is greatly praised in the community of biking enthusiasts. With a security level of 15, this lock's keyhole is protected from dirt and rusting. It'll last you a lifetime.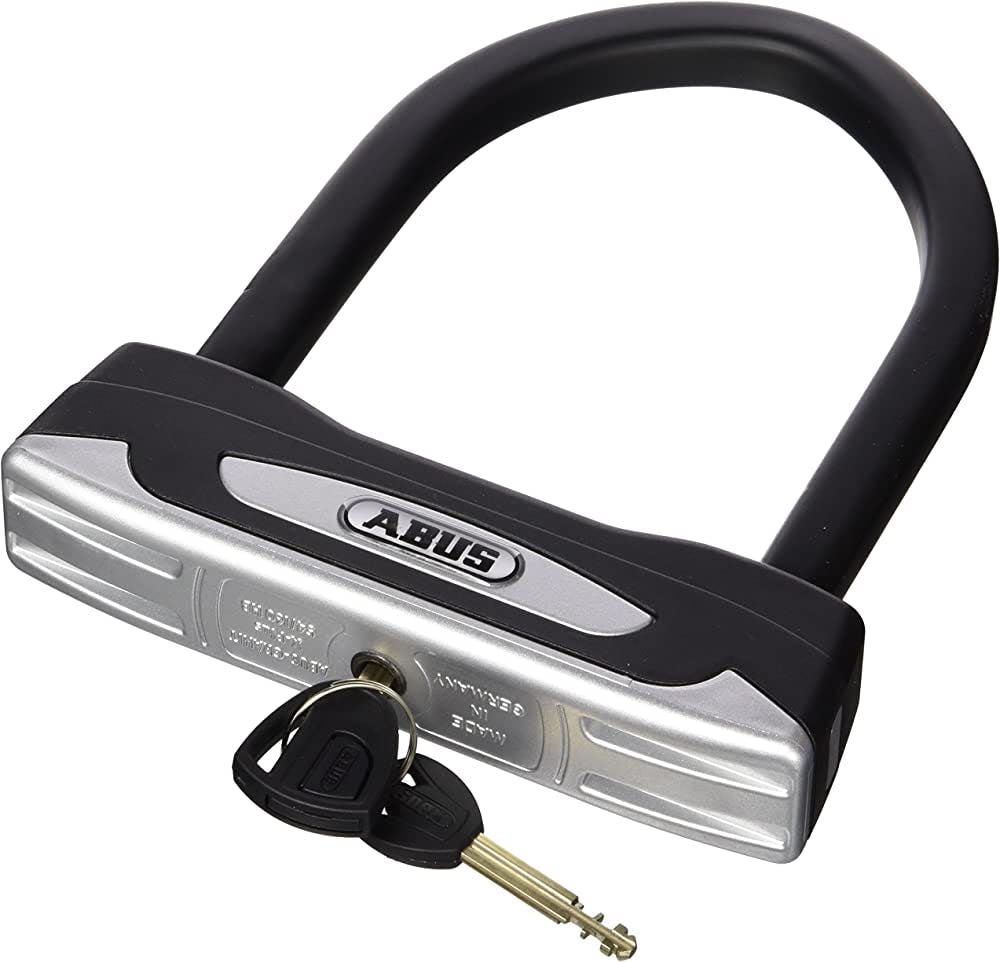 Reasons to BUY
Superior Safety
Ergonomic Design
Reasons to AVOID
Riding comfort is very important when it comes to prolonged riding. This anti-slip seat will bring you the cushioned comfort you've been looking for. This ebike accessory will take your riding experience to a new level of comfort, and you'll have a hard time getting off your electronic bike just because of how enjoyable your ride will now be.
Specifications:
Cushioned comfort
Silica Gel & High-Density Foam
Universal Design
Get ready to set off on a thrilling adventure with your electronic bike with these cushioned seats that are made of silica gel and high-density foam. It's designed to fit most bicycle seats and is very easy to install.
Don't jump right at adding this cushioned seat to your shopping cart. Make sure to double-check the dimensions of your bike seat with this one over here.
The dimensions of this seat are as follows: 11in (length) X 7 in (width) X 1,5 in (height).
With all its advantages, this cushioned bike seat may have a possible downside. Some users complained that the seat wears out and flattens from extended riding sessions.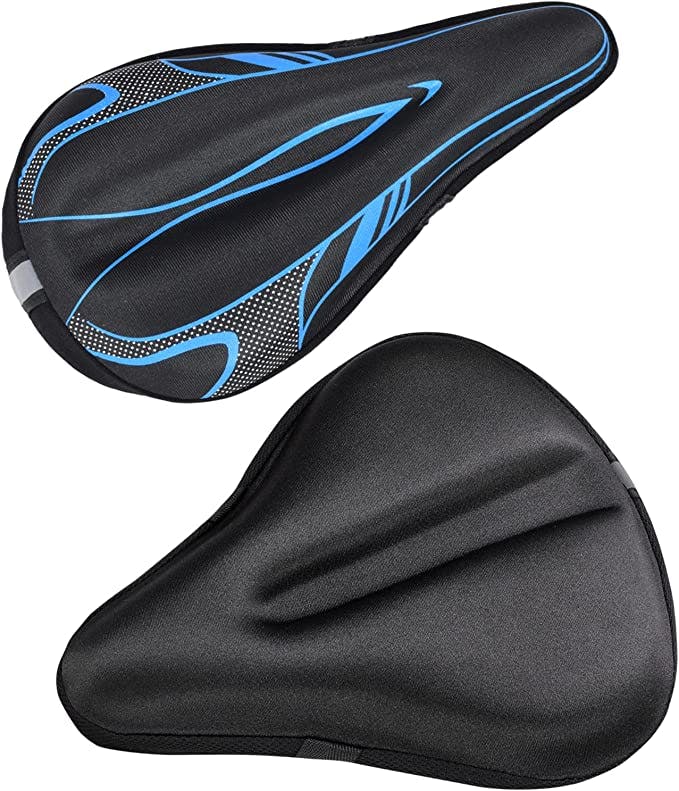 Reasons to BUY
Cushioned Comfort
Ergonomic Design
Easy Installation
Reasons to AVOID
Reddit Summary
Redditors are engagingly discussing which bike/ebike accessories are best for everyday use. Many of them widely prefer Crankbrothers multi-tool for repairs. They say Crankbrothers M19 has all the tools a rider needs and will last you in the years to come.
"Crank bros. They last for years, and have everything you need"
Also, some claim that it is also ideal for enduro races, it's lightweight and very affordable.
"Awesome quality has everything I have ever needed during rides or even enduro races. Not that heavy and actually cheap"
FAQ
What are some of the must-have ebike accessories?
Must-have ebike accessories are a sturdy helmet, bike lock, head/tail lights, and a multi-tool for repairs. It's important to have these items for a safe ride.
Can I use a regular bike lock on my ebike?
Yes, you can use a regular bike lock on your ebike. But it's always better to use a lock that's best suited for your ebike.
Conclusion
Getting these useful ebike accessories will transform your riding experience to a whole new level of comfort and safety. With a combination of all of these nine items, you'll get yourself the desired ride comfort that will bring more joy into your everyday rides.
If you're a night rider, make sure to install head/tail lights on your ebike to prevent possible accidents that may occur at night resulting from the lack of visibility. Keep wearing a good-quality helmet and always keep a multi-tool for repairs in a nice cozy corner of your backpack or bike pannier bags.
An anti-rusting bike lock is another must-have item that should be in your collection. All these ebike accessories combined will transform your ride into a dream.