Electric vehicles are rapidly entering the mainstream in a society where sustainability and innovation are important. These eco-vehicles have long been linked with high prices, making many potential purchasers wary of making the leap to electric. However, the situation is rapidly changing, and owning an electric vehicle (EV) is no longer a rare luxury.
Electric cars under $30k have emerged as a viable choice, providing a cost-effective alternative to classic gas-guzzling vehicles. In this article, we will look at some of the top evs under $30k demonstrating that going electric is now an inexpensive and environmentally conscientious option for everyone.
The upsides of going electric are on the table, which include lower emissions, lower running costs, reduced maintenance costs, tax benefits, noise pollution control, and, of course, convenient home charging. If you're all hyped up about having an EV in your garage, take a moment to read through the list of vital features to consider when shopping for an electric car.
Features to look for before buying electric cars under $30k
It's sometimes hard to dive into the all-electric world when you've been an internal combustion engine person your whole life (or the only exposure you had to cars was of traditional ones). Here are some factors you should be aware of when looking for the best electric car under $30k.
Price
Compared to a conventional car, an eco-friendly option may come off as costly. Why even bother if the best small electric car or best electric SUV in 2023 can cost you more than a regular gasoline eater? The answer is in the long-term thinking - lower maintenance and running costs are making up for the initial need to budget for the first substantial payment. Recharging costs less than refuelling, and your choice of vehicle will pay off in a couple of years.
For instance, Hyundai offers both Hyundai Kona electric and Kona 2.0-litre petrol engine. The starting price for a conventional 2024 model is about $25,000, while the price for an EV 2024 model is estimated to be $35,000. The difference in the market price can be covered by running and maintenance costs, as electricity costs less than petrol, and EVs are known for being cheaper to maintain.
Driving range
The driving range of an electric vehicle is the distance it can travel on a single charge and is a crucial factor to consider for your everyday needs. The size of the battery determines the average range of an EV. Battery capacity, measured in kilowatt-hours (kWh), affects range, with bigger batteries typically allowing for longer ranges. On average, an EV has a range of 100-250 miles, so it's important to see if this corresponds to your regular driving pattern and if the battery capacity can fulfil your daily commute, while also keeping EVs under $30k.
Keep in mind that batteries degrade over time. Also, real-world conditions like freezing temperatures can reduce range by up to 40%, according to AAA, so it's essential to consider the impact of such conditions to ensure your EV meets your expectations and range concerns.
For example, the Nissan Leaf 2023 looks good on paper but dismays if you take a closer look. The standard version comes with a 40.0-kWh battery pack which is rather tiny in today's game and provides a range of 149 miles. While adequate for regular commuting, it is insufficient for highway racers and trip enthusiasts, hence it's necessary to check the driving range offered before making a purchase decision.
Charging Infrastructure
When buying EVs under $30k, consider the charging infrastructure in your area. Make sure charging stations are easily accessible locally and on your regular routes. This saves you from longer travel times and range anxiety. Also, consider charging speed, especially on long journeys. Not everyone has an opportunity to charge a vehicle overnight, that's why knowing all the ins and outs of your city's charging infrastructure is a must (a nice practice of long-term thinking, huh?).
If your EV is good for both home charging and on-the-go charging, like the Chevrolet Equinox EV, you can alternate between at-home plug-in and DC Fast Charge stations in the city.
So, choosing one of the EVs under $30k with access to a big and growing charging network is a smart move to ensure your car stays practical and up-to-date as more and more people switch to EVs.
Incentives and rebates
It's nice to be given a good old rebate when buying a pricey car, let's be honest, cause buying one of the electric cars under $30k can still result in a hefty sum. And as a novice EV owner, you should know, that there are many different incentives out there to help you recover from a rather lavish purchase.
Prices vary from country to country and from state to state in the United States, so check your local initiatives. In reality, several electric utility companies offer rebates and special incentives to EV customers.
Top 6 electric cars under $30k
So now you know what is important to look for when choosing electric cars under $30k, let's dive into the listing we carefully curated for you, including the best electric suv 2023, the best small electric car and overall a variety of evs under $30k.
Specifications:
Starting price: $27,495
Driving range: 259 miles
Battery capacity: 65 kWh lithium-ion battery pack
Horsepower: 200 hp
Torque: 266 lb-ft
Chevrolet Bolt EV is undoubtedly the best value you can find out there. It combines a relatively low price, spacious interior, quite lengthy range and all the perks a regular hatchback can offer but with the touch of advanced technology.
You can opt for L1 or L2 trim, and for the small difference in price, you get heated front seats and a surround-view camera system. But even if L2 trim sounds unnecessary, you get all the good stuff with the basic model. The car comes with a responsive 10.2-inch center touchscreen, intuitive and fun to use. When it comes to charging, it's possible to switch between Level 1 (120-volt) and Level 2 (240-volt), making it easier to replenish both at home and on the road.
Some other impressive features are One Pedal Driving and Regen on Demand (regenerative braking along with one-pedal driving). Take a closer look if you want to get the most out of EVs without breaking the bank!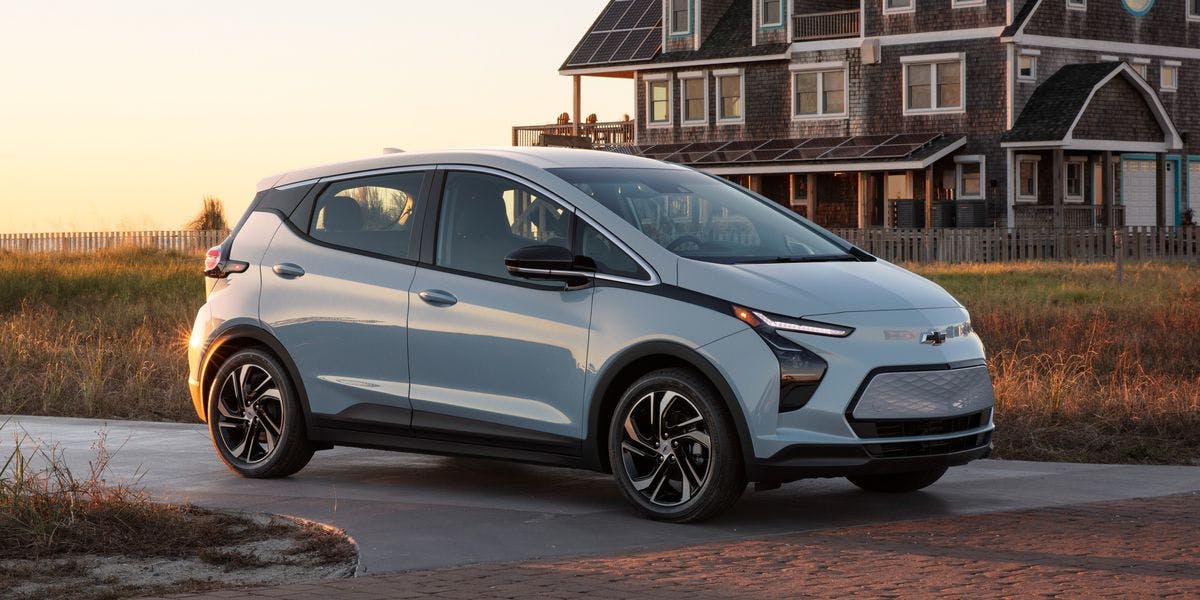 Reasons to BUY
Budget-friendly
Comfortable battery range
Ample cargo capacity
Reasons to AVOID
Poor charging speed
No all-wheel drive option
Specifications:
Starting price: $28,140
Driving range: 149 miles
Battery capacity: 40 kWh lithium-ion battery pack
Horsepower: 147 hp
Torque: 236 lb-ft
Nissan once released a ground-breaking EV and they continue to update the line of legendary LEAF. The design may look a bit outdated, but it's a matter of taste. What this car can offer is enough range for daily commuters and running errands, mercy on your budget (important for aspiring EV owners who want to dip their toes in this water) and a comfortable ride.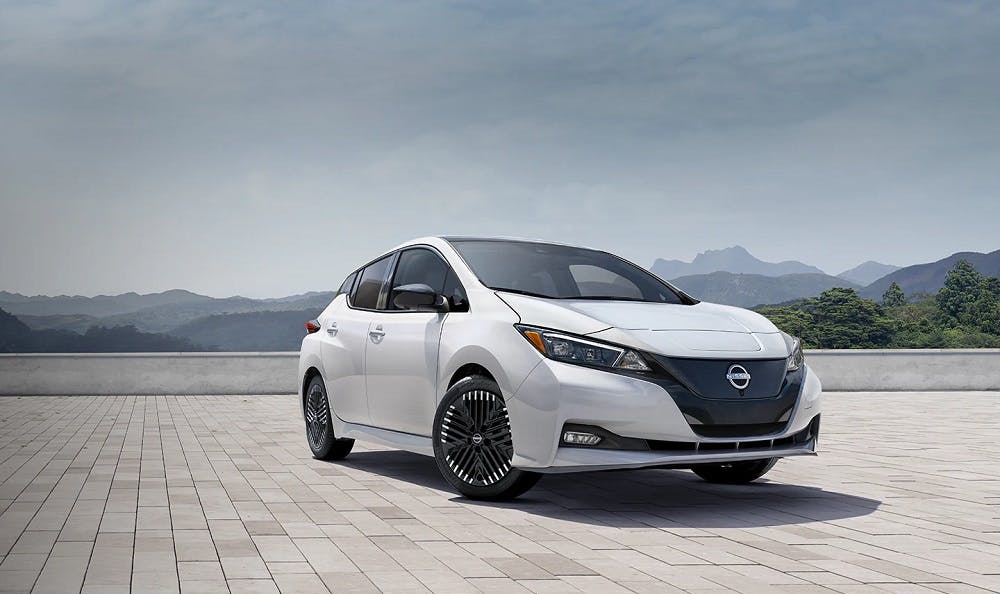 Reasons to BUY
Driver-assistance system
Affordable (only the Leaf S model falls under the category evs under $30k)
Reasons to AVOID
Underwhelming driving range
Fast-charging port is not universally supported
Can't keep up with rivals
Specifications:
Starting price: $33,550
Driving range: 258 miles
Battery capacity: 64 kWh lithium-ion battery pack
Horsepower: 201 hp
Torque: 291 lb-ft
When talking about electric cars under $30k, it's impossible to overlook the best electric SUV 2023, which is without a doubt Hyundai Kona Electric! And before you ask - yes, its starting MSRP is $33,550, but when leasing through an authorised dealer you can get that $7,500 federal tax credit and technically meet the budget, as the list of electric SUV under $30k suggests! Of course, we're taking into consideration only the base trim, but even the SE trim is quite impressive!
It's well-equipped, and not only offers some zesty performance but also comes with heated front seats, regenerative braking and different collision-avoidance features. For those who cherish comfort - Kona is nimble and quiet! Regarding driving range, this model delivers a decent 258 miles with room for extending the range based on real-life surroundings.
This Huyndai SUV takes pride of place in the list of electric cars under $30k.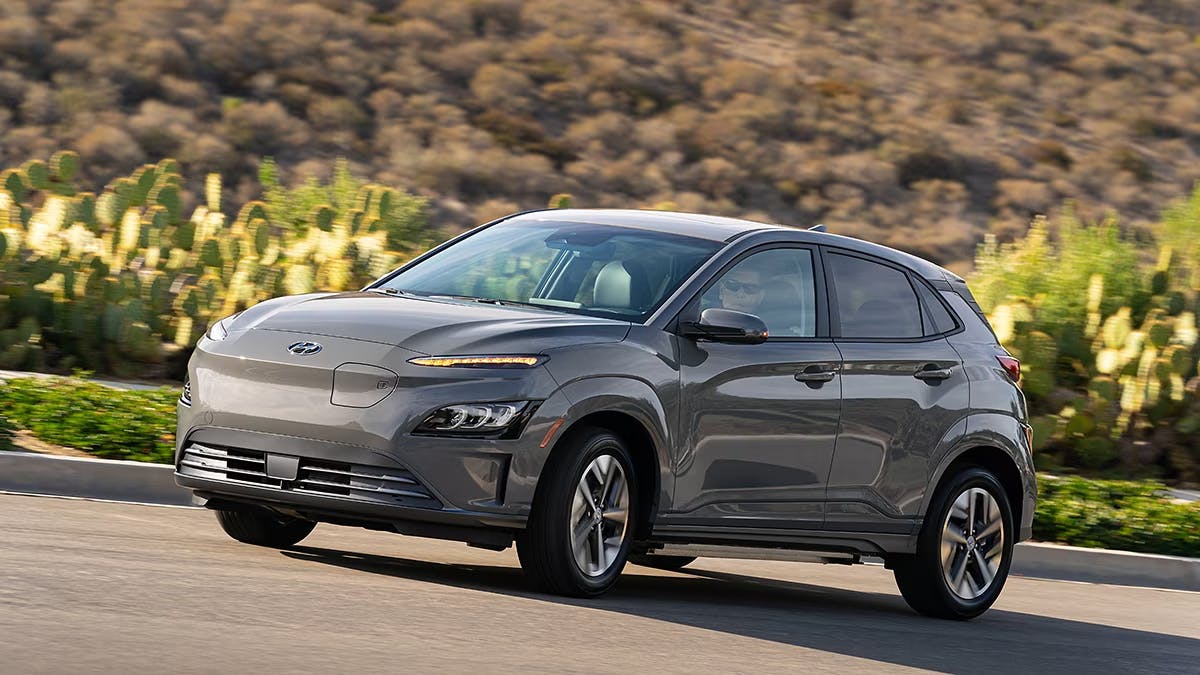 Reasons to BUY
Great driving range
Features for a standard trim are plentiful
Nimble handling
Reasons to AVOID
The federal tax credit is only available via lease
Narrow rear legroom
The fast charging isn't that fast
Specifications:
Starting price: $30,000
Driving range: 118 miles
Battery capacity: 24 kWh lithium-ion battery pack
Horsepower: 95 hp
Torque: 162 lb-ft
The iconic Fiat 500 stays true to its posh design but now is fully electrical and, while being compact, offers larger dimensions than its fuel-powered predecessor. The appearance is familiar (though with some stylish adjustments), but the magic starts when you peek under the hood. What makes the all-new all-electric Fiat 500 the best small electric car?
The combination of price and the way this city cruiser lives up to expectations. The driving range is small, compared to some other offers, but it's just the thing to drive around the city and charge the vehicle quickly (petite batteries cut range, but on the other hand they mean quicker charging time, which is important for city dwellers). Inside the cabin, you'll find a 10.25-inch central touchscreen, equipped with a user-friendly infotainment system.
While looking for the best electric cars under $30k you might consider opting for a quality feel and sleek appearance - this way Fiat 500 will exceed your expectations.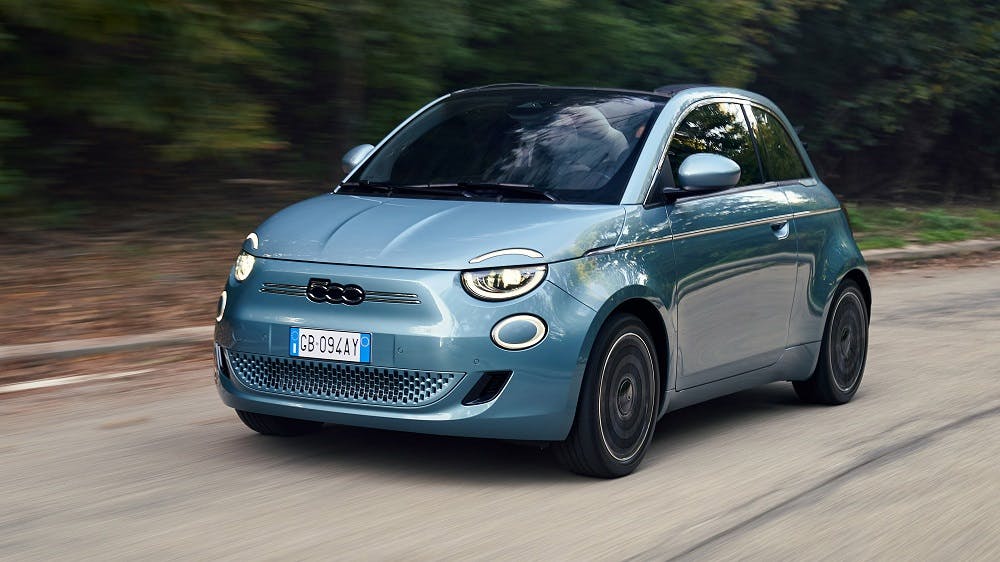 Reasons to BUY
Exquisite aesthetic
Perfect for a quick chores ride
Reasons to AVOID
Cramped room
It doesn't perform on longer commutes
Unpleasant driving experience on a bumpy road
Specifications:
Starting price: $30,900
Driving range: 118 miles
Battery capacity: 33 kWh lithium-ion battery pack
Horsepower: 181 hp
Torque: 199 lb-ft
Mini hatchback is almost the same as its not eco-friendly counterpart, thus carries the same advantages and disadvantages. Going all-electric hasn't affected Mini Cooper's signature design and sporty handling, though it also hasn't added much to its convenience.
If you're all about style and urban commuting, this car might suffice but keep in mind that you're getting a somewhat cramped interior (which is fine for those who don't need more than two doors) and limited range for a tad more than $30k. It's not the best value, but it's definitely a chic solution for eco-friendly day-to-day rides.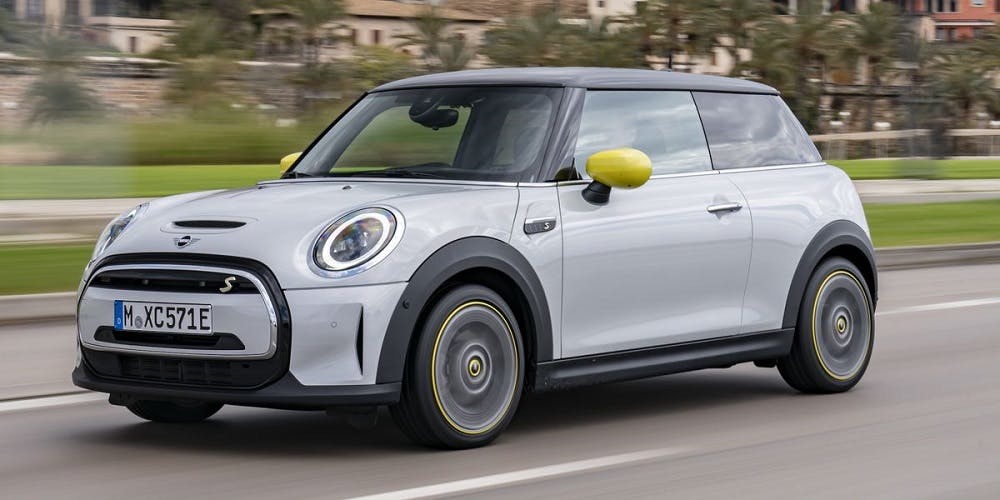 Reasons to BUY
Catchy and classy
Minute dimensions, good for easy parking
Reasons to AVOID
Driving range
Not spacious at all
Firm ride quality doesn't suit everyone

Specifications:
Starting price: estimated $30,000
Driving range: estimated 250 miles
Battery capacity: TBA
Horsepower: estimated 210 hp
Torque: 242 lb-ft
We are all holding our breaths for a game changer which is about to enter the market. Chevrolet Equinox EV is expected to arrive this spring, and it might be a new chapter in the world of affordable electric cars under $30k.
It's a promising SUV, which offers top-notch performance, the one to compete with much higher priced EVs out there. Maybe it'll move the best electric SUV 2023 and become the best in 2024. The specifications mentioned above are true for 1LT trim, and imagine having a full-blown SUV as a base model and also qualifying for the $7,500 federal tax credit!
The promising range and a vast array of features sound appealing, and the vehicle is about to be packed with technology. Touchscreens are now a standard in the industry, and 1LT hosts an 11-inch infotainment touchscreen along with an 11-inch digital instrument cluster, but models from 2LT and onwards are expected to offer a 17.7-inch screen!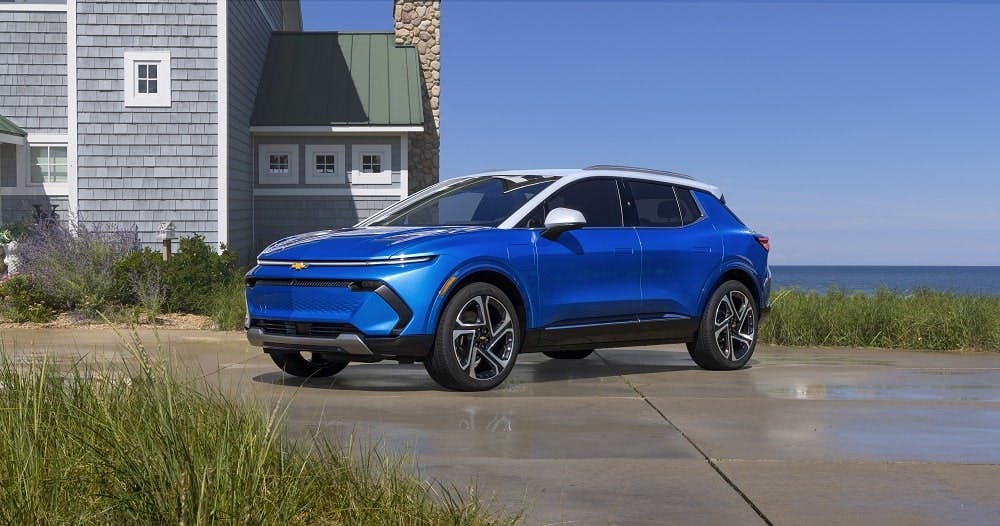 Reasons to BUY
Can be a perfect substitute for a Chevrolet Bolt EV which is about to be discontinued
First-class specs for a reasonable price
A game changer in the market for electric cars under $30k
Reasons to AVOID
Reddit Summary
Many Redditors have different opinions on EVs under $30k. For example, a user asks whether Bolt EV is still a buy, and the dominant advice is that if you qualify for federal and state benefits, you could get a base model Bolt for around $27,5k, making it a remarkable deal. However, concerns are raised about the Bolt's DC fast charging capability, which some find inconvenient for long road trips.
"And the Bolt got a lot of little details right: more physical buttons, a good instrument cluster, several options for excellent regenerative braking including really good blended braking just using the brake pedal", says one of the users in the discussion about advantages of Chevrolet Bolt EV.
Overall, when asked about the best electric cars under $30k, many list the Hyundai Kona as the best, then go Chevy Bolt and The Cooper Mini SE (though concerns are raised about the distance range).
FAQ
How affordable are maintenance and repair costs for electric cars under $30k?
Because there are fewer moving parts and hence less wear and tear, maintenance and repairs for electric automobiles under $30k are often less expensive than for petrol vehicles. Electricity for charging is frequently less expensive than petrol. However, keep in mind that battery replacement expenses can be substantial.
Are there any government incentives or tax breaks for electric cars under $30k?
Electric cars under $30k are eligible for government incentives and tax cuts. Incentives vary by region but can include federal credits up to $7,500, state rebates (up to $3,500), and local incentives. For the most up-to-date information on incentives available in your region, check with local authorities or visit the Department of Energy's website.
Do electric cars under $30k have a warranty for the battery, and what does it typically cover?
Most electric cars under $30k come with a battery warranty covering defects and excessive capacity loss for a specified number of years or miles. For instance, it's common to see warranties of 8 years/100,000 miles or even longer. Review the terms carefully, as warranties may include clauses related to capacity loss. A warranty provides peace of mind as battery replacement can be costly.
Conclusion
As you can see, affordable electric cars under $30k are now a viable option, providing both environmental awareness and cost savings. The initial cost, driving range, battery capacity, and charging accessibility are all important factors to take into account. While the initial costs may appear hefty, the long-term savings, government subsidies, and battery warranties make these EVs an excellent investment. Models such as the Chevrolet Bolt EV, Nissan Leaf S, Hyundai Kona Electric, Fiat 500 Electric, and the forthcoming Chevrolet Equinox EV appeal to a variety of tastes. Electric vehicles are no longer a niche product, providing real benefits for those who want to save money on fuel and reduce their carbon footprint.