With the advent of modern technology, the small riding lawn mower has undergone an impressive transformation, emerging as its electric counterpart. This innovative twist on a classic tool has revolutionized the way we approach lawn maintenance. Say bye to the days of noisy gas engines and environmental concerns as the electric riding mower silently glides through your lawn, leaving behind a pristine, well-groomed landscape.
In this exciting era of sustainable living, the electric riding mower has become a beacon of eco-friendliness and convenience. This zero-emission wonder has captured the hearts of homeowners and environmental enthusiasts alike, redefining the essence of responsible lawn care. In this article, we will embark on a comprehensive journey through the realm of the top 7 best electric riding lawn mowers.
Features to look for before buying an electric riding lawn mower
When considering the purchase of an electric small riding lawn mower, several key features should be on your radar to ensure that you make an informed decision. These features not only contribute to the overall efficiency and performance of the machine but also determine how well it aligns with your specific lawn care needs. Here are some essential factors to consider before investing in an electric riding lawn mower:
Battery Life and Charging Time
Evaluate the riding lawn mower battery capacity and the estimated runtime on a single charge. Additionally, consider the charging time required for a full battery recharge to ensure uninterrupted mowing sessions.
Cutting Deck Size and Width
The cutting deck size determines the width of grass that the mower can cut in a single pass. Opt for a size that suits the dimensions of your lawn to minimize the time and effort required for mowing.
Adjustable Cutting Height
Look for models with an adjustable cutting height feature, allowing you to customize the grass length according to your preference or seasonal requirements. This versatility ensures an even and tailored cut for different areas of your lawn.
Durability and Build Quality
Assess the overall construction and durability of the mower, including the quality of the materials used. A sturdy build ensures longevity and resilience, enabling the mower to withstand the rigors of regular use and varying terrains.
Maneuverability and Turning Radius
Consider the turning radius and maneuverability of the mower, particularly if you have intricate landscapes or obstacles in your lawn. A smaller turning radius allows for greater agility and ease of navigation around tight corners and obstacles.
Comfort and Ergonomics
Look for features that prioritize user comfort, such as adjustable seating, ergonomic steering controls, and vibration reduction systems. A comfortable riding experience ensures reduced fatigue and enhanced productivity during longer mowing sessions.
Additional Attachments and Accessories
Check for compatibility with various attachments and accessories, such as baggers, mulching kits, or snow blades, to maximize the mower's versatility and adaptability for different seasonal tasks.
Safety Features
Ensure that the mower is equipped with essential safety features, such as automatic blade shut-off, reverse operation mechanisms, and robust braking systems. These features are critical for preventing accidents and ensuring the well-being of the operator and those around the mower.
Warranty and After-Sales Support
Evaluate the warranty coverage and after-sales support provided by the manufacturer. A comprehensive warranty and reliable customer support can offer peace of mind and assistance in case of any issues or maintenance requirements.
By carefully assessing these crucial features, you can make an informed decision when selecting the most suitable electric small riding lawn mower that aligns with your specific lawn care requirements and preferences.
Top 7 best electric riding lawn mowers
Specifications:
Brand - Greenworks
Color - Black/Green
Material - Plastic
Number of Positions - 5
If you're in the market for a reliable, efficient, and eco-friendly lawn maintenance solution, look no further than the Greenworks 40V 16 Electric Riding Lawn Mower. This small riding lawn mower offers an impressive blend of power and convenience, making it a must-have for anyone tending to small to medium yards of up to ½ acre.
The cordless design allows you to maneuver effortlessly without the hassle of cords or the limitations of gas-powered alternatives. With a fully charged 4.0Ah battery, you can enjoy up to 45 minutes of uninterrupted mowing, and the rapid 120-minute charging time ensures minimal downtime.
The lightweight 16" cutting deck facilitates easy navigation through various terrains, guaranteeing a well-groomed lawn with every pass. Thanks to the 5-position height adjustment, ranging from 1-1/4" to 3-3/8", you can achieve the perfect trim regardless of the environment.
Additionally, this electric riding mower boasts a maintenance-free operation, eliminating the need for gas, oil, or strenuous upkeep. Its quiet yet robust performance makes lawn care a breeze, and the 2-in-1 feature allows for seamless transitions between mulching and rear bagging.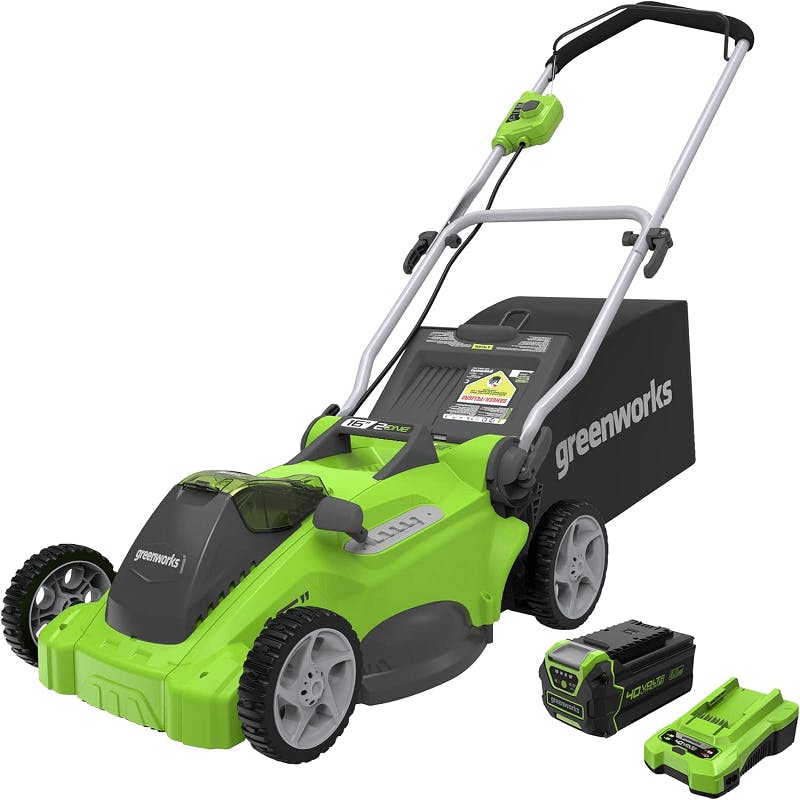 Reasons to BUY
Lightweight and easy to push
Efficient riding lawn mower battery life
Easy maintenance without the hassle of oil changes or gas filters
Reasons to AVOID
Difficulty in removing the battery
Specifications:
Brand - Ego Power +
Color - Black/Green/Grey
Material - ABS plastic & Aluminium
Number of Positions - 6
For those seeking top-tier performance and effortless lawn maintenance, the EGO Power+ Small Riding Lawn Mower stands out as an exemplary choice. Boasting an array of cutting-edge features, this electric riding mower redefines convenience and efficiency in lawn care.
Crafted with durable ABS plastic and aluminum, this small riding mower ensures long-lasting reliability and exceptional maneuverability, making it a perfect fit for small to medium-sized lawns. The self-propelled, dual-port design, powered by two 5.0Ah batteries, guarantees a seamless mowing experience.
With an impressive 80-minute runtime on a single charge, thanks to the innovative PeakPower technology and the high-efficiency brushless motor, you can cover more ground in less time. The variable speed self-propel function, ranging from 0.9 MPH to 3.1 MPH, allows for precise control over the mowing pace.
Furthermore, the EGO Power+ offers a 3-in-1 function, enabling mulching, bagging, and side discharge, while the 6-position cutting height adjustments, spanning from 1.5" to 4", ensure a tailored lawn finish. The inclusion of bright LED headlights enhances visibility during early morning or evening mowing sessions.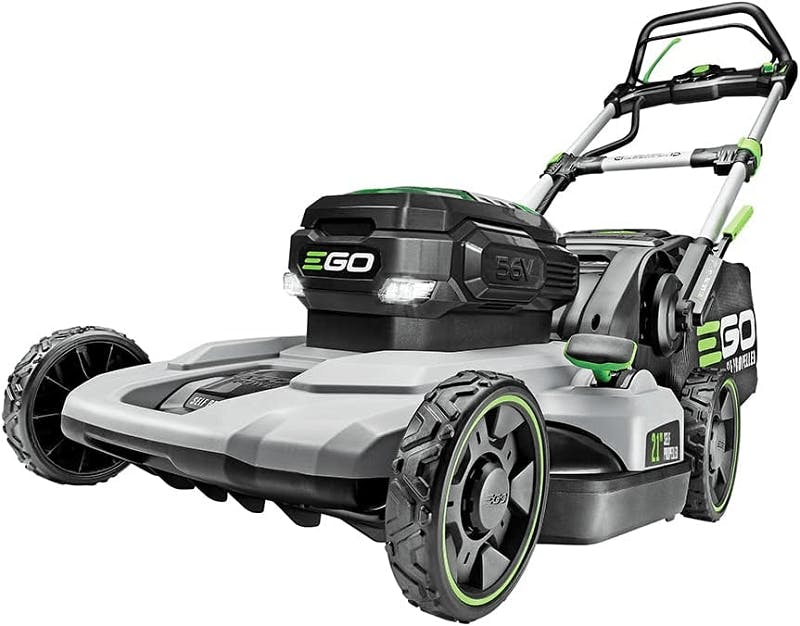 Reasons to BUY
Powerful performance suitable for large yards
Long battery life allows for multiple uses on a single charge
Lightweight design and easy handling
Reasons to AVOID
Potential issues with the safety switches
Specifications:
Brand - Sun Joe
Color - Black/Green
Material - Alloy Steel
Number of Positions - 3
The Sun Joe Electric Riding Lawn Mower emerges as a game-changer for individuals seeking an efficient and user-friendly lawn care solution. Designed for small to medium-sized lawns, this 24-volt, 4-amp battery-powered mower is a testament to Sun Joe's commitment to quality and innovation.
Crafted from robust alloy steel, this mower exudes durability and strength, promising long-term reliability for your lawn maintenance needs. Its lightweight build, at just 28.6 pounds, coupled with a compact 18-inch cutting width, ensures exceptional maneuverability and precise grass cutting with each pass.
Equipped with exclusive EcoSharp technology, the Sun Joe Electric Small Riding Lawn Mower guarantees consistent, fade-free power and performance. The 14" steel blade effortlessly carves a crisp path through your lawn, leaving behind a neatly manicured finish.
Moreover, the mower offers a convenient 3-position height adjustment, allowing you to tailor the grass-cutting height between 1.18" and 2.52" inches to suit your preferences. The detachable 10.6-gallon grass bag simplifies the disposal of grass clippings, streamlining the overall lawn maintenance process.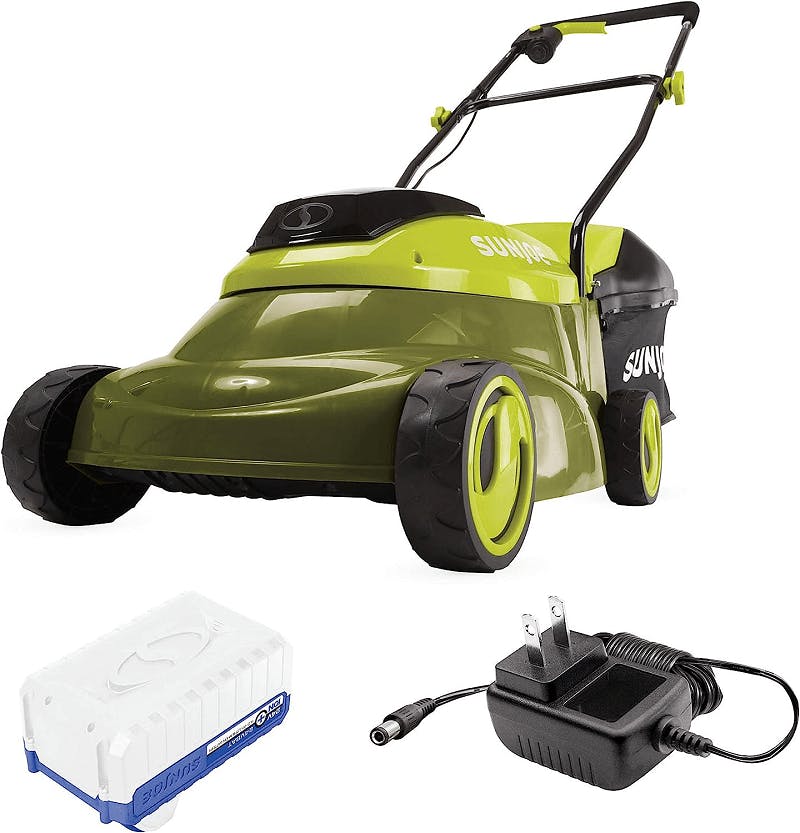 Reasons to BUY
Quiet operation, making it suitable for any time use without causing disturbance
Efficient cutting performance
Reasons to AVOID
Some components, such as the grass clippings bag attachment and certain parts of the mower, may feel flimsy and less durable
Specifications:
Brand - BLACK=DECKER
Color - Black/Orange
Material - Nylon
Number of Positions - 7
Crafted with precision and equipped with a host of innovative features, the BLACK+DECKER Electric Riding lawn mower effortlessly tackles even the most demanding lawn care tasks.
Weighing 46.85 pounds, this electric mower boasts a 20-inch cutting width and a versatile 7-setting cutting height that can be adjusted with a single lever, ranging from 1-1/2 inches to 4 inches. Powered by a robust 13 Amp motor, it effortlessly slices through thick grass and overgrowth, delivering professional results with every pass.
The unique EDGEMAX deck design allows for precise cutting along fences and landscape borders, significantly reducing the need for additional trimming. Choose from three versatile mowing modes – mulching, bagging, or side discharge, offering flexibility to suit your specific lawn care needs.
Featuring a convenient 13-gallon fabric grass bag, the BLACK+DECKER mower ensures easy monitoring of grass collection. Its compact and foldable design, along with the practical carry handles, enables effortless lifting and storage, making it an ideal fit for compact spaces like sheds or garages.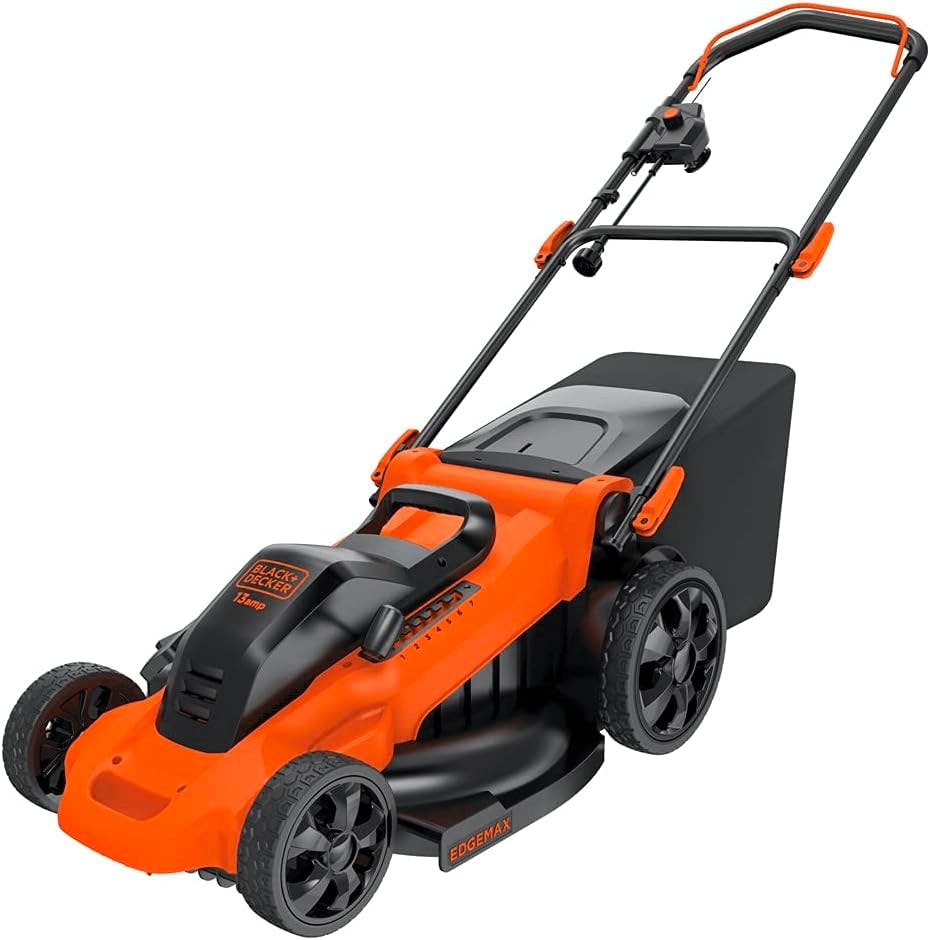 Reasons to BUY
Economical and environmentally friendly in the long run
Powerful performance comparable to more expensive gas-powered mowers
Lightweight and convenient for regular use
Reasons to AVOID
Potential issues with the height adjustment lever and quick-release levers
Specifications:
Brand - Toro
Color - Black/Red
Material - Plastic
Number of Positions - 3
The Toro 58620 Electric Riding Lawn Mower redefines efficiency and convenience, presenting a robust and versatile solution for all your trimming and brush-clearing needs. Powered by a reliable 163cc 4-Cycle Briggs and Stratton Engine, this string mower effortlessly conquers terrains that conventional mowers can't access while eliminating the back strain often associated with heavy equipment.
Constructed with a durable one-piece steel deck and heavy-duty nylon line, the Toro String Mower ensures uninterrupted performance, effortlessly slicing through thick foliage and stubborn weeds, making every trimming task quick and satisfying. With a generous 22" cutting diameter, this mower swiftly handles mowing and trimming chores, significantly reducing your workload.
The user-friendly trimmer head allows for swift replacement of the cutting line, ensuring minimal downtime and keeping you on track with your tasks. Equipped with large-diameter wheels, the Toro Walk Behind String Mower effortlessly maneuvers over uneven terrains and thick grass, delivering a smooth mowing experience every time.
Once the job is done, simply wheel the unit back to the garage and fold down the handlebars for easy storage. The Toro 58620 Electric Small Riding Lawn Mower is a testament to Toro's commitment to quality and performance, providing a reliable and efficient solution for all your lawn maintenance requirements.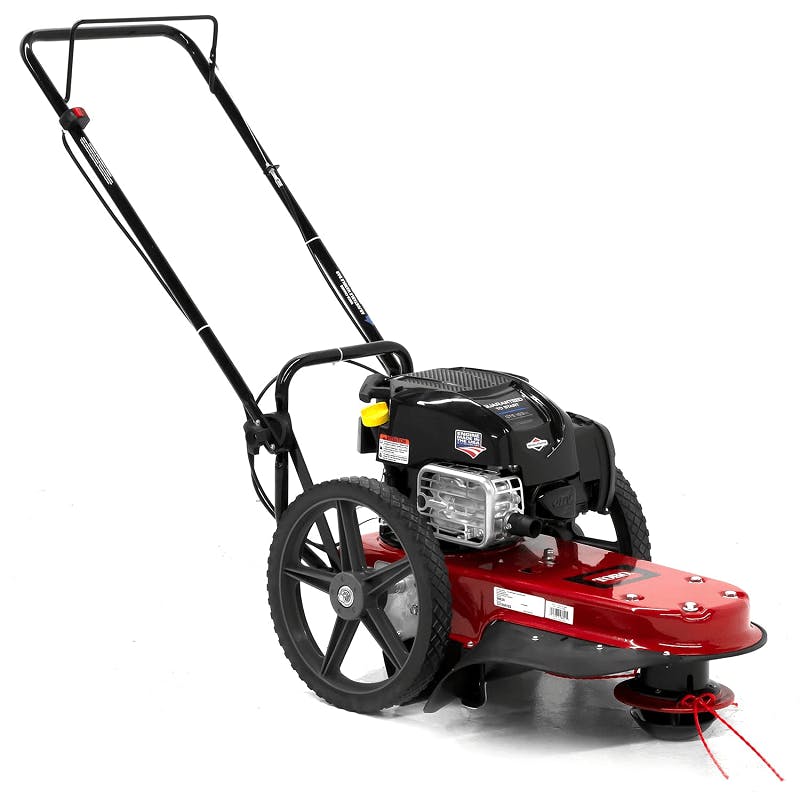 Reasons to BUY
Effective at cutting tall weeds and overgrown grass
Minimal assembly is required for the setup
Reasons to AVOID
It may require frequent adjustments during use.
Specifications:
Brand - Power Smart
Color - Black/Yellow
Material - Stainless Steel
Number of Positions - 5
In case you are ready to spend some more money, let me explain why you should consider the PowerSmart Electric Riding lawn mower, which presents an exceptional solution for efficient and hassle-free lawn care. With its powerful 80V 6.0Ah lithium-ion battery, this mower eliminates the need for cords or gas, ensuring a quiet and eco-friendly mowing experience. The stainless steel construction of this 26-inch mower guarantees durability and longevity, making it a reliable choice for tackling various terrains.
Equipped with a self-propelled feature and a 5-speed height adjustment, this mower offers superior control and adaptability, catering to diverse mowing needs. The double-blade mower with dual power effortlessly handles even the toughest grass, ensuring a precise and clean cut with every pass.
One of the standout features of the PowerSmart Electric Riding Lawn Mower is the inclusion of a water pipe joint, allowing for convenient and thorough cleaning of the underside of the deck. This thoughtful addition enhances the mower's maintenance and longevity, ensuring consistent performance over time.
The brushless motor reduces interference and operates quietly, contributing to a peaceful mowing experience. The foldable storage design saves space, making it convenient for storage in sheds or garages.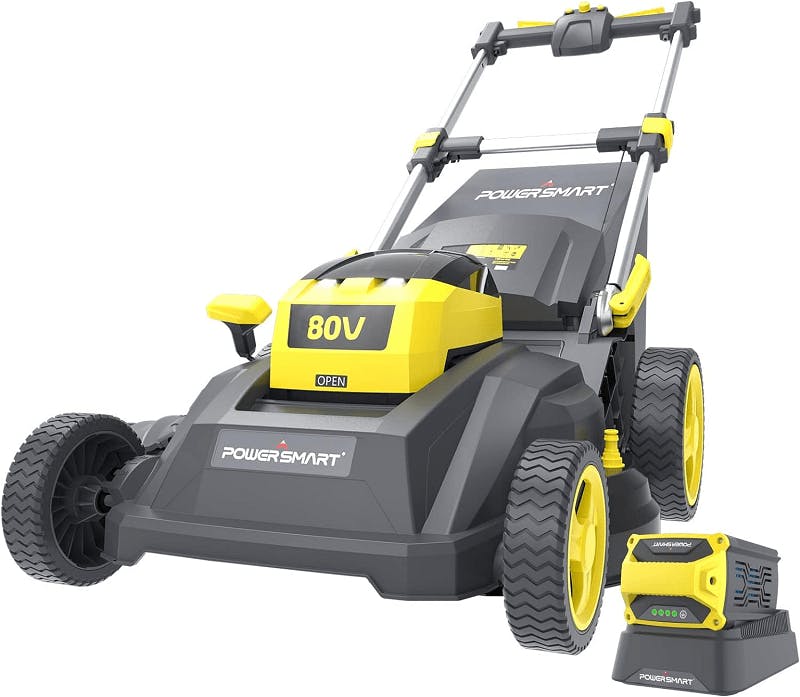 Reasons to BUY
Effective self-propulsion for effortless mowing
Powerful cutting performance, even in challenging conditions
Easy to maneuver
Reasons to AVOID
Limited speed control can make maneuvering difficult, especially for heavier users
Specifications:
Brand - Worx Nitro
Color - Black/Orange
Material - Alloy Steel
Number of Positions - 7
Last but not least, the Worx Nitro Electric Riding Lawn Mower. Which is a powerhouse designed to deliver gas-like power, performance, and runtime without the hassles associated with gas-powered alternatives. Crafted with durable alloy steel, this mower combines robust construction with cutting-edge technology, making it a reliable companion for all your lawn care needs.
Featuring a 20-inch steel cutting deck with Nutricut dual-stage mulching capabilities, this mower ensures precise and efficient mulching, bagging, or side-discharge functionalities, providing versatile options for disposing of grass clippings.
Equipped with high-capacity 4.0Ah Power Share PRO batteries, the Worx Nitro delivers exceptional performance and extended runtime, allowing you to cover more ground without interruptions. The charge-level indicator provides a quick reference to the remaining runtime, ensuring that you are always aware of the battery status during operation.
The single-lever height adjustment with 7 cutting positions enables you to customize the grass-cutting height according to your preferences and lawn conditions. Additionally, the fully collapsible handle facilitates compact, stand-up storage, making it convenient for users with limited storage space.
The Worx Nitro Electric Riding Lawn Mower comes complete with a collection bag, mulch plug, and side-discharge chute, providing a comprehensive set of options for managing grass clippings. With its powerful performance, durable build, and convenient features, the Worx Nitro proves to be a reliable and efficient partner for maintaining a pristine lawn.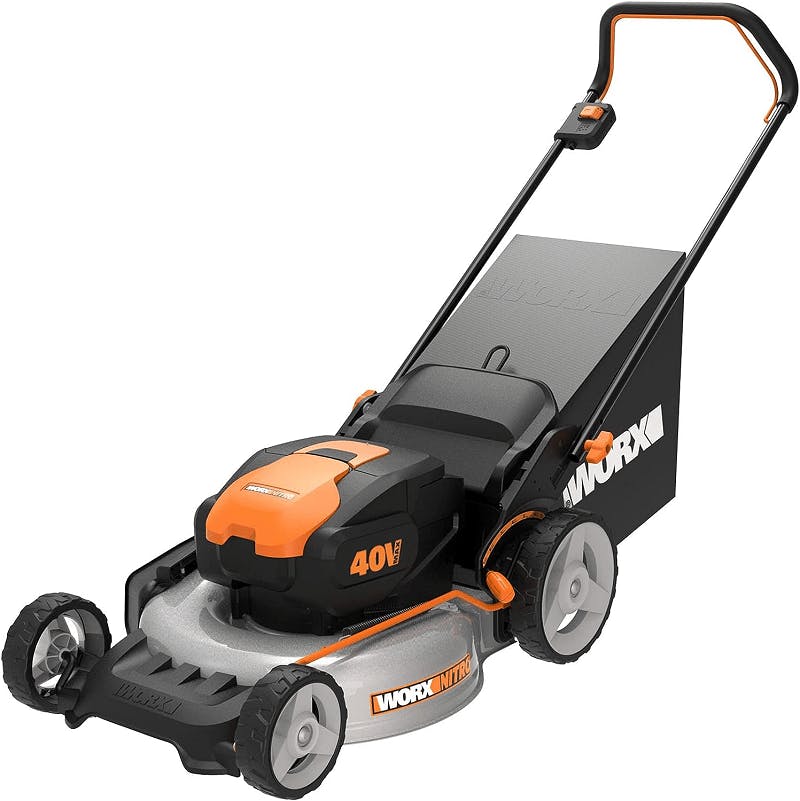 Reasons to BUY
Quiet operation and minimal vibration
Efficient battery life and quick charging
Easy to maneuver
Reasons to AVOID
Bagging and mulching capabilities may be limited, leading to potential grass build-up
Reddit Summary
"I don't have any personal experience with electric riding mowers, but I can't imagine spending $3500 on something made by Ryobi.
Why do you want electric so badly for this? I'm a big fan of cordless power tools, and have an electric push mower as a backup, but the riding mower is one that I don't think I'll be switching over for a while."
"Im researching this now and haven't found the "perfect mower". Right now I'm leaning toward green works. Here are some considerations:
I like…
Green works, ego because they have removable batteries. (New ryobi will too but can't get a release date)
Green works because it has a "trunk space" for mulch, etc (unique feature)
Green works because it has a front towing hitch
I don't like how ego's battery cover is so big.
Cub cadets 42e looks good but both cub cadets have internal batteries
AVOID the old Ryobis with non replaceable lead acid batteries. These are known to fail after a couple of years."
FAQ
Is an electric riding mower worth it?
Yes, a small electric riding mower can be a valuable investment for several reasons. Firstly, electric mowers are known for their eco-friendliness, producing zero emissions and reducing your carbon footprint. This makes them an environmentally conscious choice for individuals looking to minimize their impact on the environment.
Secondly, electric mowers often require less maintenance compared to gas-powered alternatives, as they do not need oil changes or spark plug replacements. They also operate more quietly, creating a more peaceful mowing experience for both the user and their neighbors.
Furthermore, electric riding mowers are generally more cost-effective in the long run, as they eliminate the need for purchasing gas and oil. Additionally, they can be more convenient, as they do not require frequent trips to the gas station for refueling.
What are the disadvantages of an electric lawn mower?
While electric lawn mowers offer numerous advantages, there are some drawbacks to consider. One limitation is the dependence on battery life or a power cord. Corded electric mowers restrict mobility and may require an extension cord, which can be cumbersome to manage, potentially limiting the range of the mower. Similarly, battery-powered mowers might have limited run times, necessitating breaks for recharging.
Electric mowers might not be as powerful as gas-powered models, making them less suitable for tackling dense or overgrown grass and tougher terrains.
Can electric mowers cut wet grass?
Electric mowers, particularly corded ones, are generally not recommended for cutting wet grass due to safety concerns related to electrical components and the potential for electrical hazards. Water can increase the risk of electrical shock when using corded electric mowers on wet surfaces. Moreover, wet grass can clump and stick to the underside of the mower deck, potentially clogging the blades and impeding proper cutting.
While some battery-powered electric mowers may have more tolerance for cutting damp grass compared to corded models, it's still advisable to avoid mowing wet grass when possible. Wet grass can be more challenging to cut evenly and may result in an uneven, untidy finish.
Conclusion
This zero-emission wonder has captured the hearts of homeowners and environmental enthusiasts alike, redefining the essence of responsible lawn care. In this article, we embarked on a comprehensive journey through the realm of the top 7 best electric small-riding lawn mowers.
From Greenworks' efficient cordless mower to the powerful and versatile EGO Power+, the options are abundant and tailored to various lawn care needs. Sun Joe, BLACK+DECKER, and Toro also join the electric revolution, each with unique features and capabilities.
Before making your choice, remember to consider essential features like battery life, cutting deck size, adjustable cutting height, durability, maneuverability, comfort, attachments, safety features, and warranty. These factors ensure you select the best electric riding mower that aligns with your specific lawn care requirements.
Whether you prioritize sustainability, efficiency, or user-friendliness, electric riding mowers are paving the way for a greener and quieter future in lawn care. With an array of options at your disposal, it's easier than ever to make a responsible choice without compromising on performance.