In the world of personal transportation, new ideas keep rolling in. One exciting innovation that's caught everybody's attention is the world of folding e-trikes – a mix of cool tech, sleek design, and eco-friendly travel.
In this article, we're going to take a closer look at the top folding electric trike you can get your hands on right now. These wheeled wonders aren't just about fun riding; they also fit right into our fast-paced urban lives by giving us a ride that's easy to use, good for the planet, and looks great too. Whether you're into green living, a daily commuter, or just looking for a cool way to get around, let's jump right into the world of foldable trikes that are changing the way we move in the 21st century.
Features to look for before buying a folding electric trike
Before you take the plunge and invest in an electric folding tricycle for adults, it's essential to know what features to keep an eye out for. These features can make a significant difference in your overall riding experience and how well the trike suits your needs. Here, we break down the key factors to consider before making your purchase:
Battery Life
The heart of any electric folding tricycle for adults is its battery. Check for a trike with a battery that offers sufficient range for your daily travels. Consider factors like your typical commute distance and whether you plan to use the trike for leisurely rides or more extended trips.
Motor Power
The motor's wattage determines the trike's speed and ability to tackle inclines. Ensure that the motor power meets your requirements, whether it's for a leisurely cruise or a more demanding commute.
Foldability
One of the primary reasons for choosing a folding electric trike is its portability and storage convenience. Examine how easily and compactly the trike folds down, as this will impact its practicality for transportation and storage.
Weight Capacity
Different trikes have varying weight capacities. Ensure that the trike you choose can accommodate your weight and any additional cargo or accessories you plan to carry.
Comfort and Ergonomics
Pay attention to the trike's seating, handlebars, and overall design. An electric folding tricycle for adults with a comfortable and ergonomic layout can significantly impact your riding enjoyment, especially for longer trips.
Suspension System
If you anticipate riding on uneven terrain or rough roads, a good suspension system can make your journey much smoother and more comfortable.
Braking System
Reliable brakes are crucial for safety. Look for a trike with responsive and efficient braking systems, such as disc brakes, to ensure you can stop quickly when needed.
Tire Size and Type
The size and type of tires can affect stability, traction, and comfort. Consider where you'll be riding most often, whether on smooth city streets or rougher terrains, and choose tires accordingly.
Additional Features
Some folding electric trikes come with extra features like integrated lights, phone mounts, or cargo storage. These can enhance your overall experience and convenience.
Price and Warranty
Finally, don't forget to factor in your budget. Prices for folding e trikes can vary significantly. Additionally, check for warranties and customer support to ensure your investment is protected.
By carefully assessing these features and how they align with your specific needs, you can make an informed decision when purchasing a folding electric trike that will provide you with countless enjoyable rides in the future.
Top 5 Best Folding Electric Trikes
Specifications:
Color - Green/White
Weight capacity - 220 lbs
Number of Wheels - 2
The HUDORA Scooter is a versatile and reliable option for riders of all ages, from kids aged 6 to adults. With a weight capacity of up to 220 lbs and adjustable handlebars at four different heights, it offers a comfortable and customizable ride experience.
This lightweight folding electric tricycle's aluminum frame and kickboard make it sturdy enough to handle various terrains while maintaining a smooth and comfortable ride, thanks in part to the foot brake and low-to-the-ground deck.
However, while the Hudra scooter aims to be a great choice for kids and teenagers, and it is adjustable, I think that it might be too big for a 6-year-old, so it may not be the best choice for very young children.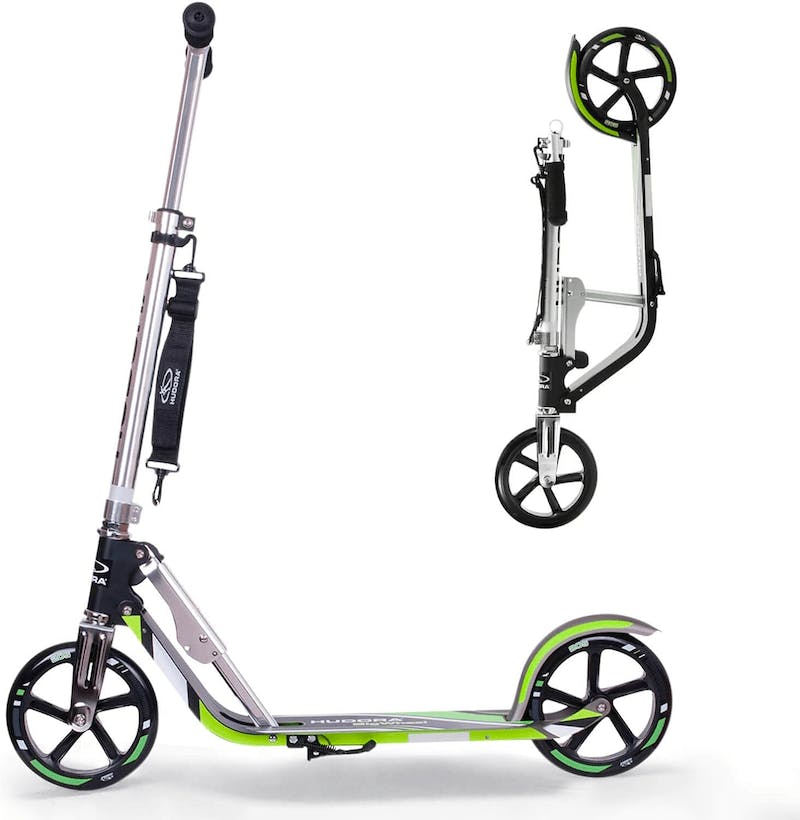 Reasons to BUY
Great Build Quality
Smooth and Quiet Ride
Adjustable and Portable
Reasons to AVOID
Size May Not Be Suitable for Younger Kids
Specifications:
Color - Blue/Black
Weight capacity - 330 lbs
Number of Wheels - 3
The "G 3" folding e-trike is a compact and convenient travel companion. It features a powerful 48V Brushless motor, providing up to 5.5 miles of travel on a full charge and a maximum weight capacity of 330 lbs. Its collapsible design allows for easy storage in the trunk of most cars.
The trike's safety features include a Fast Acting Dual-Drum Brake System and a comfortable faux leather seat with adjustable height settings. However, it's important to note that the "G 3" is not a medical device and should be used on smooth, dry surfaces by riders aged 16 and up.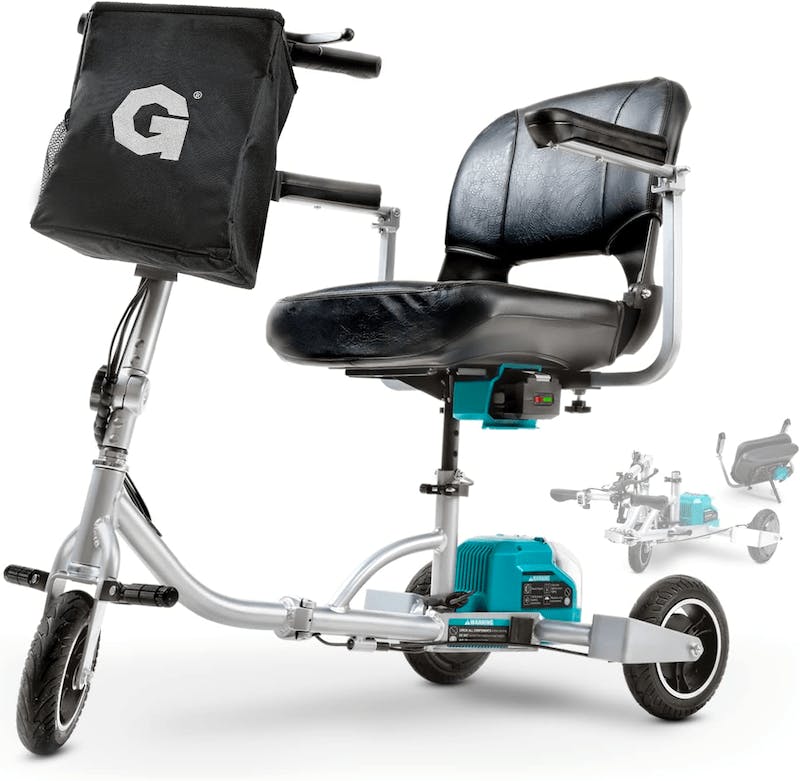 Reasons to BUY
Convenient for Travel
Lightweight and Portable
Easy to Assemble
Reasons to AVOID
Short limited Battery Life
Specifications:
Color - White/Black
Weight capacity - 330 lbs
Number of Wheels - 2
The folding adult tricycle "Juntos and Soldado" packs a punch with its 750W motor, offering a seamless and stylish ride. With long-range capabilities of up to 110 miles when equipped with the optional secondary battery, it's perfect for extended journeys.
The lightweight Aluminum Alloy frame and suspension-equipped front forks ensure a comfortable ride, accommodating riders up to 330 lbs. Thanks to the Shimano 7-speed shifter, tackling diverse terrains is a breeze. Also, the lifetime warranty on the main frame and motor adds peace of mind to this impressive package.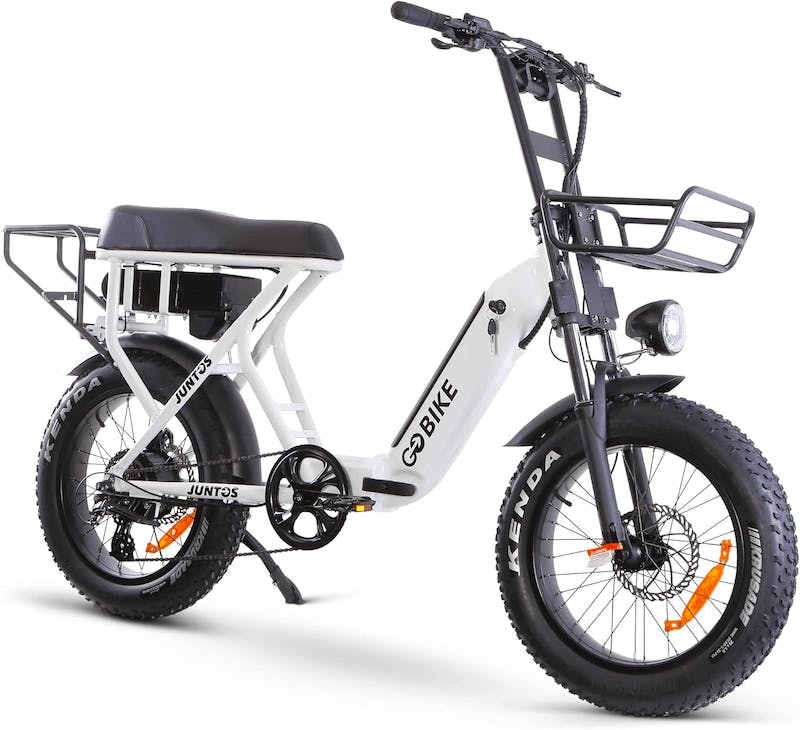 Reasons to BUY
Powerful Motor
Long Range
Foldable and Lightweight
Reasons to AVOID
Not easily foldable - In order to fold it, you have to reconstruct the trike.
Specifications:
Color - White/Black
Weight capacity - 330 lbs
Number of Wheels - 3
The "ATTO" folding adult tricycle by MOVINGLIFE is the epitome of portability and convenience. With a quick and effortless fold-and-unfold mechanism, it compacts down to the size of a small suitcase (15.3"L x 16.5"W x 28"H) or can be split into two smaller pieces for even easier transport and storage. Perfect for those on the go.
Additionally, the ATTO's versatility doesn't compromise on style, boasting a sleek white design. With options including armrests for added comfort, this electric trike provides a practical and stylish solution for those seeking convenience in their mobility.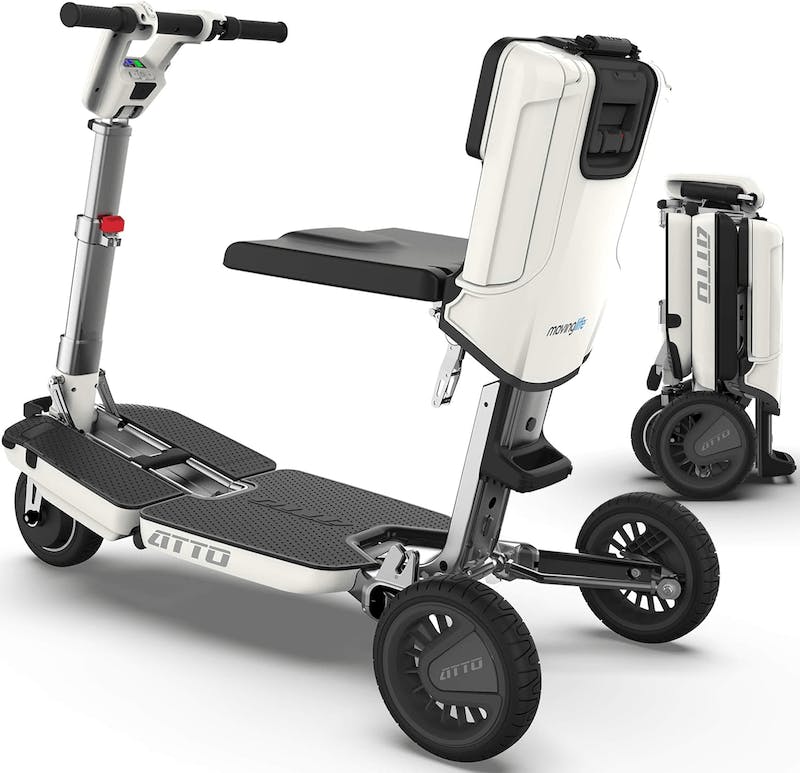 Reasons to BUY
Long Battery Life
Maneuverability
Travel-Friendly
Reasons to AVOID
Limited Comfort for Daily Use
Specifications:
Color - White/Black
Weight capacity - 450 lbs
Number of Wheels - 3
The Perraro Polar folding electric trike for adults redefines convenience, safety, and style. This foldable three-wheel electric bike boasts turn signals, brake lights, and tail lights, prioritizing rider safety. With a powerful 750W BAFANG motor and a long-lasting 48V 15Ah battery, it offers both speed and endurance, covering up to 65 miles on a single charge. The insulated food storage bag and pet-friendly rear basket make daily errands a breeze. The 3.5" TFT colorful display provides essential information and is built to withstand various weather conditions. Easy assembly and extensive warranty coverage complete the package.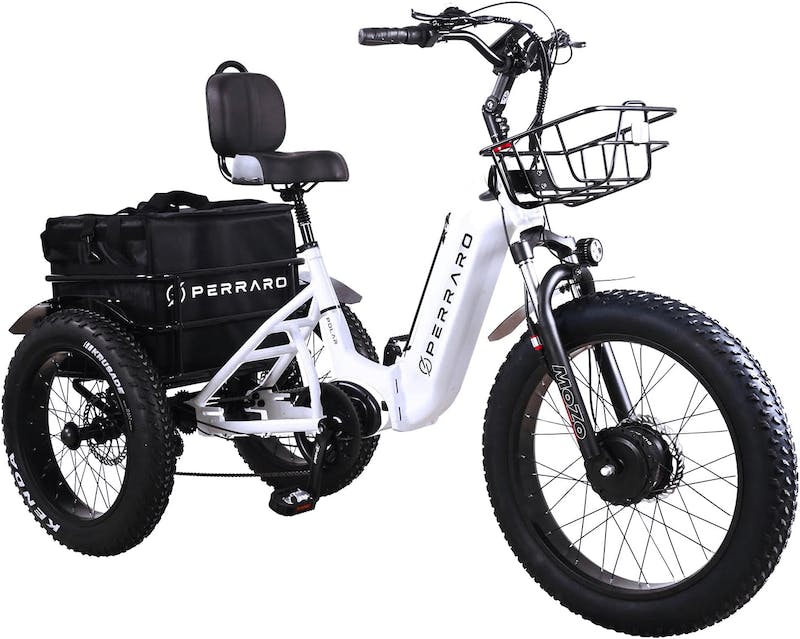 Reasons to BUY
Impressive Range
Easy to use
Reasons to AVOID
Stability on Uneven Surfaces
Reddit Summary
"I'd avoid anything folding. It will already weigh considerably more then a regular bike, so it'll be hard to lift to move around and fit through door ways or into a car in the first place. A decent electric trike will be 70-80lbs without folding, and using an aluminum frame. Cheaper chinese folding steel etrikes can be 100+lbs."
"Sort of.
My long-wheelbase aluminum-frame two-wheel recumbent with the aero fairing is my favorite for fast rides, esp on windy days.
My long-wheelbase chromoly-frame two-wheel recumbent with under-seat steering is my favorite for running errands within 5 miles and for riding in slower groups.
My low-slung aluminum/chromoly recumbent trike is my favorite for riding 100+ miles per day
My very-long wheelbase two-wheeled tandem recumbent is my favorite for riding with my wife without worrying about her GPS-dependent sense of navigation.
My carbon fiber folding "upright" bike is my least favorite because the "normal" riding position is for dummies, but it's easier to stash in the car than my recumbents."
FAQ
What is the maximum speed and average cruising speed of the electric trike?
The maximum speed of the folding electric trike, which includes models like the Liberty Trike and Lectric XP Trike, can reach up to 26 MPH, offering a zippy ride. However, the average cruising speed may vary depending on factors such as terrain and rider input but typically provides a comfortable cruising speed for everyday use.
How far can it travel on a single charge?
On a single charge, the folding electric trike, including folding adult tricycles, can travel up to an impressive 65 miles. This extensive range ensures that you can complete longer journeys without worrying about running out of battery power.
Can the battery be easily replaced or upgraded?
The battery of these lightweight tricycle for adults is designed to be easily replaceable and upgradable. This feature allows users to swap out the battery for a new one or upgrade to a higher-capacity battery, which can potentially extend the travel range and overall performance of the electric trike. It's a convenient option for those looking to tailor their trike to their specific needs and preferences.
Conclusion
These sleek and eco-friendly wonders blend technology, design, and practicality to offer a unique mode of transportation. Whether you're an eco-conscious commuter, an adventurous explorer, or simply someone who appreciates the convenience of a folding e trike, there's a ride out there for you.
In this article, we've delved into the top electric folding tricycle for adults available today, each offering a distinct set of features and capabilities. These trikes not only promise enjoyable rides but also seamlessly integrate into our fast-paced urban lives, providing a sustainable and stylish way to get from point A to B.
Before you make your choice, it's essential to consider the key features that align with your specific needs. From battery life and motor power to foldability and comfort, these factors play a crucial role in enhancing your overall riding experience. Take the time to assess your requirements and select a folding e trike that suits you best.