Those loving to conquer the fiery roads of rocky mountains with a bike know how vital full face mtb helmets are when it comes to hitting the trails. Setting off on a thrilling adventure downhill, you always want to make sure to have a full face bike helmet offering the highest level of protection. If you're looking for a good, high-quality helmet for your next journey, head on reading to explore the top 10 best full face mountain bike helmets. But before we dive straight in, let's first list the features to look for before you select your perfect helmet.
Features to Look For Before Buying High-Quality Mountain Bike Helmet
As a true mountain biking enthusiast, you always want to take extra precautions to prevent any possible damage while riding. And that's why full face mtb helmets are here to save the day! Before making an immediate purchase on a whim, look for a helmet that has a comfortable and convertible fit to ensure you can adjust it depending on your head shape. Also, make sure to get a lightweight helmet with an adjustable visor. Ventilation which prevents excessive sweating is also among the essential features to look for. Finally, choosing one at a convenient price could also benefit you.
Comfortable and Convertible Fit
Before you set off on a thrilling journey with your bike, make sure the helmet sits as low as two finger-widths above your eyebrows. You should be able to see the front rim of your bicycle when looking upward. The helmet should fit very snugly so that it doesn't rattle around much before your takeoff. Also, since head shapes vary from rider to rider, try several helmets to find the one that works just perfectly for you.
Lightweight
Setting off on a mountain journey, you'd always want to get a lightweight helmet that doesn't cause inconvenience while performing tricks on your two-wheeler. You'd like to forget about the helmets when you ride in the mountains, so pay attention to that, too!
Adjustable Visor
If you're incredibly passionate about riding under the sun, you certainly want to get a helmet with an adjustable visor to block the sun's glare while still letting you look forward. MTB riders generally ride slower than road cyclists, so wind drag caused by a visor is not something to worry about.
Ventilation
Riding a bike on rocky mountains would most likely make you sweat. So, to prevent your helmet from trapping the heat, you'd want to buy a mountain bike helmet that also has ventilation features. This way, you can thoroughly enjoy your adventure in the mountains.
Top 10 Best Mountain Bike Helmets
Are you an adrenaline seeker who loves nothing more than hitting the trails on your mountain bike? If you're looking for a new full face helmet to protect your head and enhance your riding experience — look no further! Our team has handpicked a range of top-notch full face mtb helmets, each offering its own unique features and stylish design. Whether you're seeking added protection, comfort, or simply a new look, these helmets are sure to impress and make a valuable addition to your gear collection.
Are you ready to set off on your mountain journey with a maximum protection helmet to fully immerse yourself in this exciting excursion? In that case, you might definitely want to take a look at BELL Super 3R Adult Mountain Bike Helmet.
Specifications:
Small (52-56 cm), Medium (55-59 cm), Large (58-62 cm)
23 vents
4 ventilation ports
6 chin bar vents
With quick-adjust fasteners that help to keep the strap flat and properly positioned, it's designed with a Multi-directional impact protection system. This downhill mountain bike helmet has the feature of overbrow ventilation and an adjustable visor system, which will upgrade your riding experience to a whole new level.
If you love recording your adventures on rocky mountains, this helmet has got your back with a camera mount that you can use for your GoPro and record your amazing tricks and stunts, which you can later share with your friends and family.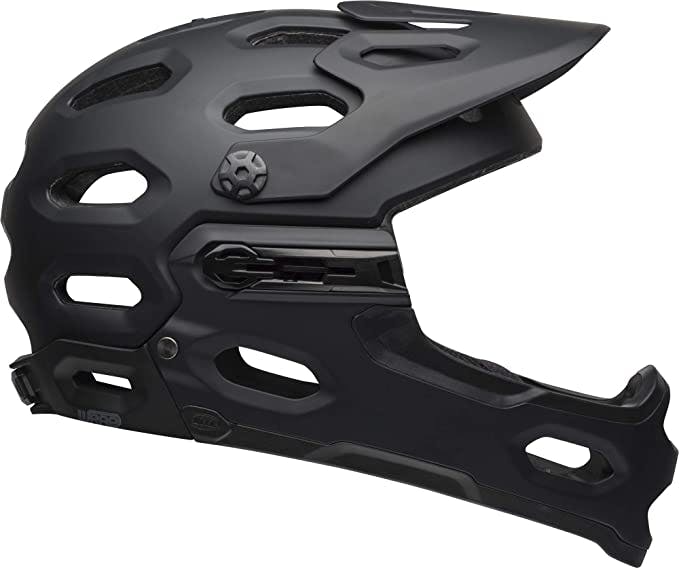 Reasons to BUY
Reasons to AVOID
Still looking for a budget-friendly, high-quality helmet for riding on the mountains and hills? If that's so, DEMON UNITED's Podium Full Face Bike Helmet is just suited for your use.
Specifications:
EPS foam.
Tough outer shell
Removable and washable helmet liner
With a fully adjustable aluminum side-screwed visor, the helmet is made with roughly injected molded thermal alloy resin polycarbonate shell. Also, the EPS foam liner fits comfortably on your head, which will make even you forget you have your helmet on. If you're looking for a helmet that's made with a strong outer shell designed to prevent impact, Demon Podium is a great choice that won't let you down.
Another good thing about the Demon Podium is that its inner liner is removable and washable. Whenever you feel like the helmet needs some refreshment, you'd know what to do with these excellent features offered by Demon United.
Also, this helmet has 13 airflow vents to prevent excessive sweating while enjoying the beautiful mountain view while riding your bike.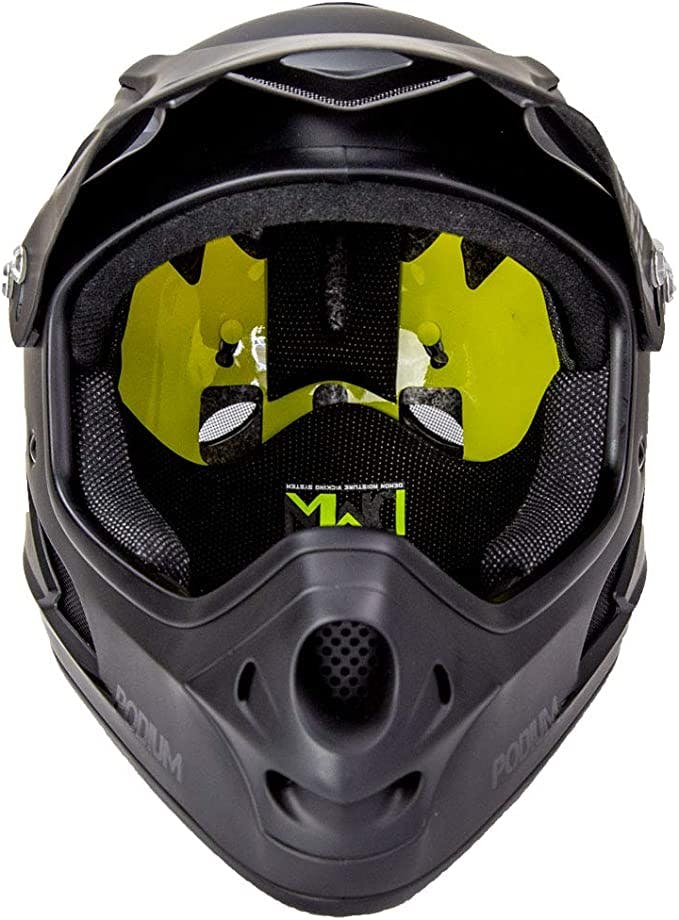 Reasons to BUY
Lightweight
Tough outer shell
Reasons to AVOID
Difficult to get one with the right size
Suppose you are willing to pay for a top-notch, professional mountain bike helmet that exceeds bicycle standards. In that case, Giro offers a perfect helmet with excessively enhanced features that are going to work out just marvelously. Giro's adult mountain bike helmet with market-leading protection uses different density EPP and EPS foam layers that will eliminate and redirect the impact force.
Specifications:
Lightweight
Different-sized cheek pads
Enhanced Ventilation
Market-leading protection
With its soft-touch and absorbent pads, this lightweight full face mountain bike helmet set includes different-sized cheek pads for a customizable fit and comfort, so you can embark on your journey downhill with supreme coziness and ecstatic pleasure.
Now, picture yourself out on a scorching hot day, pushing your mountain bike to the limit as you tackle a challenging trail. The last thing you want is to be weighed down by a heavy, hot helmet that makes breathing hard. By maximizing the number of intake points for fresh, cool air, the engineers have created a 50% more efficient helmet at cooling than the Disciple Mips. So your head can stay cool, comfortable, and focused on the trail ahead.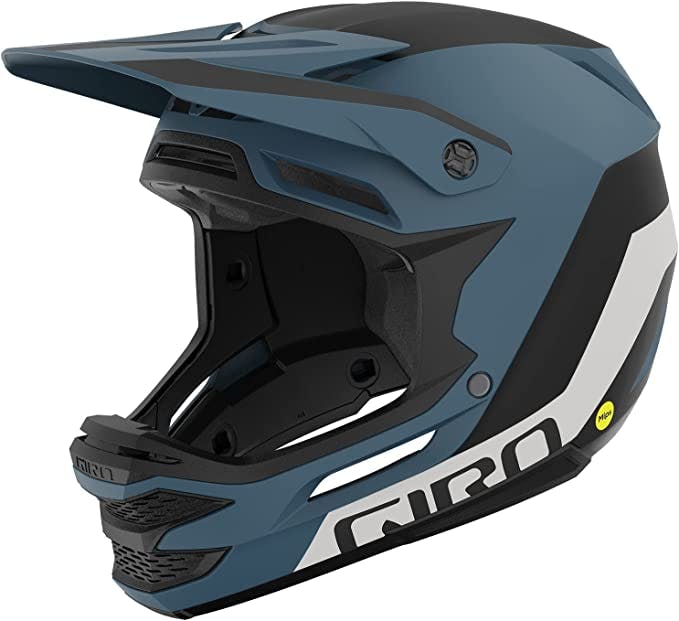 Reasons to BUY
Market-leading protection
High-Quality mtb helmet
Reasons to AVOID
The Super Air R mountain bike helmet is another great option for your collection. 22% lighter than its predecessors, this helmet now has the feature of two-click chinbar removal, which will make it easier for you to handle it by putting in less effort.
Specifications:
Two-click chinbar
Flex Spherical pairs with MIPS
EPS foam
3-position adjustable visor
26 vents
Flex Spherical pairs with MIPS are ideal to prevent any damage from the possible impact. EPS foam with a polycarbonate shell will absorb the brunt of major accidents, so your cruise on your bike will be a more relaxed and worry-free experience. Also, with a 3-position adjustable visor, you can make sure to block the sun rays when biking on mountain trails.
To save your scalp from intense sweating, the 26 vents (18 helmet vents, 8 chin bar vents, 4 brow ports) will usher in air to keep you cool, so you can enjoy your ride at an easy pace.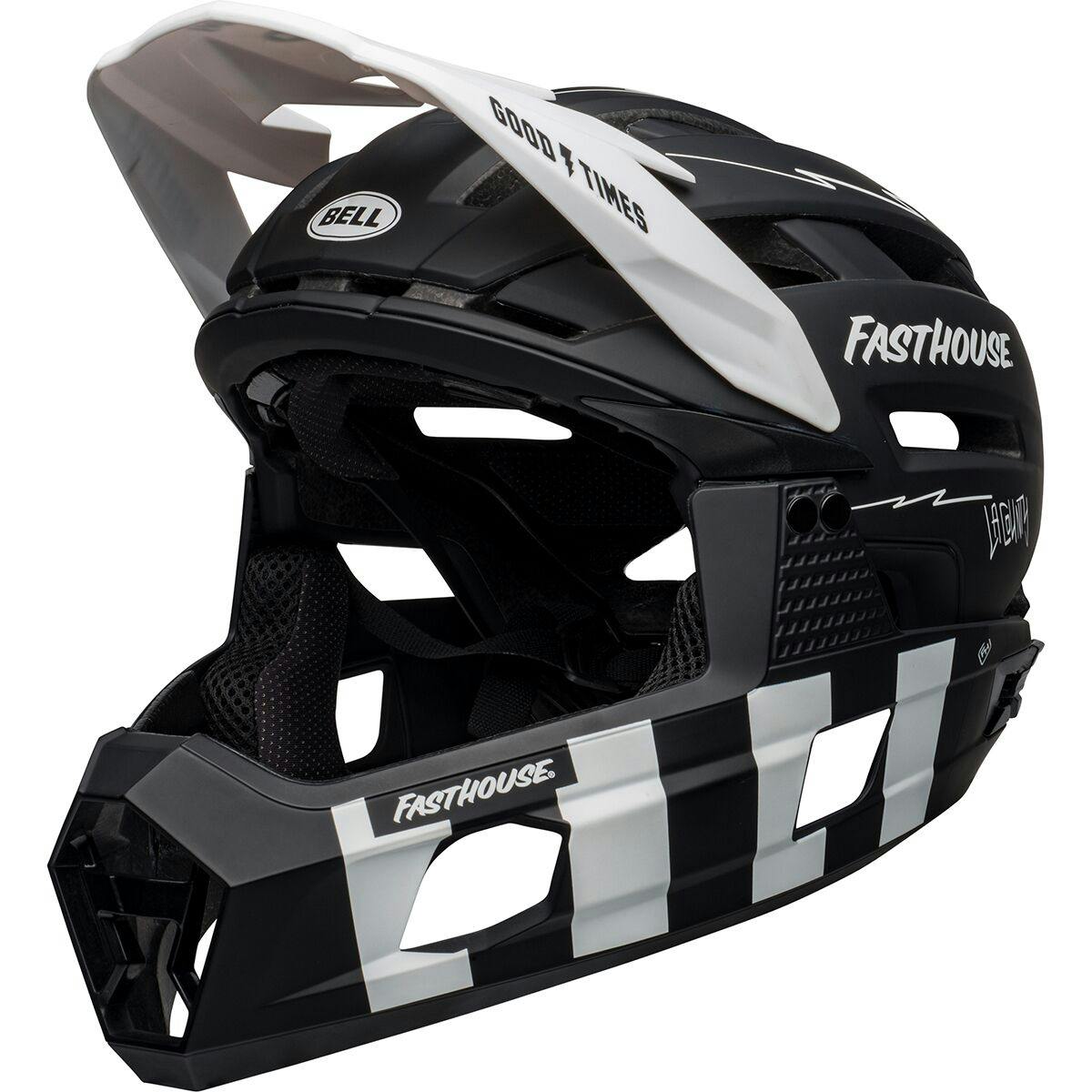 Reasons to BUY
EPS foam
Advanced Ventilation
Reasons to AVOID
Troy Lee's 40 years of experience making full face mtb helmets offers one of the best helmet ventilation systems out on the market. This light helmet weighs only 690 grams, that'll make you forget about its existence right after you put it on.
Specifications:
Lightweight (690 grams)
25 high-flow ventilation ports
Moisture-absorbing helmet liner
The helmet has 25 high-flow intake and exhaust ventilation ports which will prevent excessive sweating and bring comfort while biking downhill. The helmet liner is designed to absorb and quickly dry after being exposed to moisture, which is very convenient for downhillers and trail riders. Also, one of the great advantages of this helmet is that its outer shell is tough that can deflect serious impacts.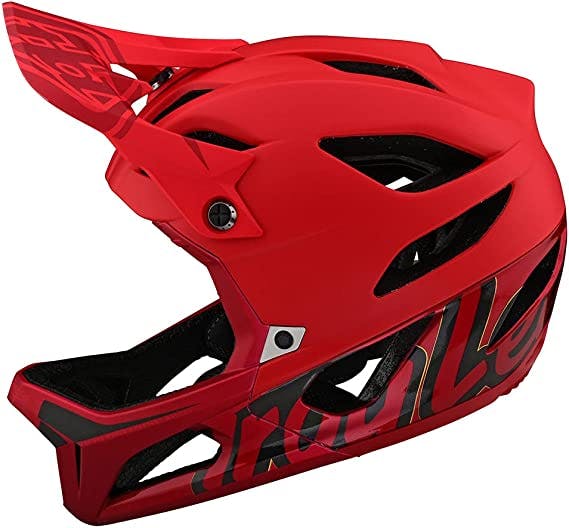 Reasons to BUY
Lightweight
Advanced Ventilation
Moisture Absorbing Liner
Reasons to AVOID
Trusted by UCI World Cup Champions, Fox's Proframe full face mountain bike helmet includes MIPS added protection system designed to limit the rotational motion transmitted to the brain during the impact. This ultra-lightweight enduro helmet includes a patented integrated chinbar and a Dual-density Varizorb EPS liner for extra protection.
Specifications:
MIPS protection
Ultra-lightweight
Varizorb EPS liner
So, with all these features, are you now ready to conquer the mountains on your bike? The Fox Proframe helmet has advanced ventilation features will outstandingly save your head from intense sweating. The 24 Big Bore vents provide unrivaled breathability which would certainly give you comfort while performing stunts on your bike. This helmet's fixed visor is perfectly positioned, offering you cutting-edge air flow and visibility. Also, if you're annoyed with slow buckles, you can unburden yourself with this helmet's fidlock SNAP buckle, which will assist you in quick entry and exit.
Anyway, with all its pros this helmet may have a possible downside. Some customer reviews indicate that the head size of this helmet may not always match with the offered description. One user claims that an XL-sized helmet is noticeably smaller than many other XL-sized helmets.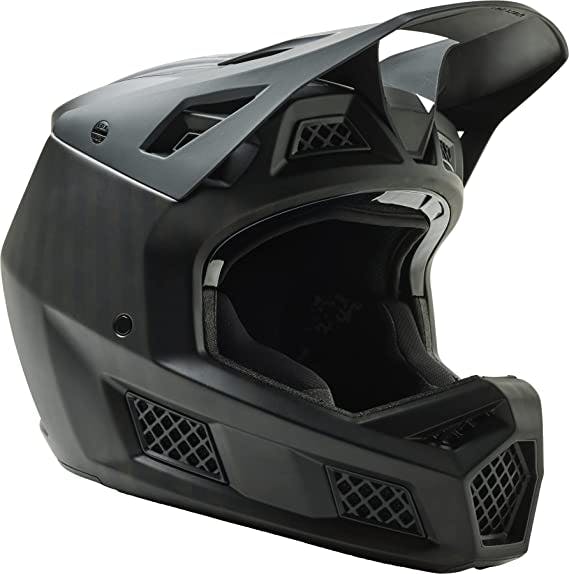 Reasons to BUY
Ultra-lightweight
Advanced Ventilation
Reasons to AVOID
We're on the streak of some of the best Troy mountain bike helmets, right? This product is certainly among the better ones that you can consider adding to your collection. With a tough Carbon fiber shell and an EPP collarbone impact system, this helmet is one of the greatest which noticeably suppresses impact and saves your head from possible damage.
Specifications:
Tough Carbon fiber shell
EPP collarbone impact system
24 vents
Washable
Advanced ventilation features (10 front intake ports, 5 overhead channeling intake vents, 7 rear exhaust ports) of this helmet will allow you to bike at a high pace without sweating profusely. Another great thing about this particular helmet is that Troy has all the sizes at its disposal — from XS to XXL.
Last but not least, the Coolmax-Dri-lex comfort liner of this helmet is removable and washable. So, don't hesitate to refresh your helmet whenever you see fit.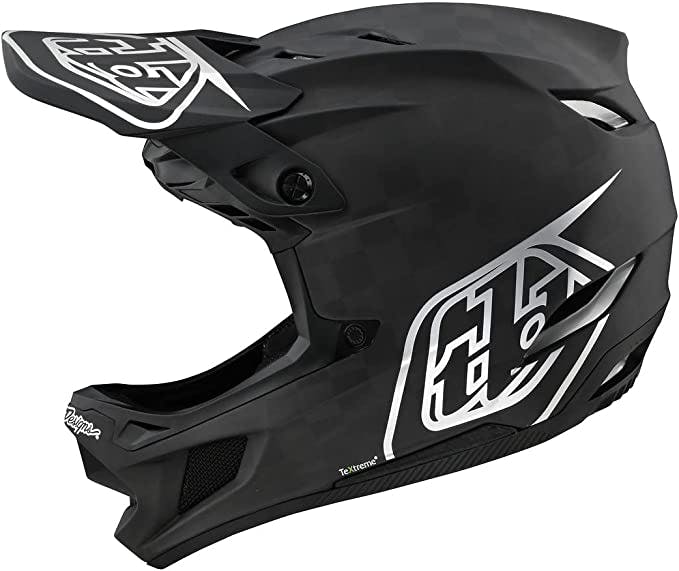 Reasons to BUY
Tough outer shell
Washable liner
Reasons to AVOID
The Giro Switchblade MIPS helmet is one of the greatest market-leading helmets with advanced protection features. With an easily removable chin bar, you'll save time and effort taking off your helmet after conquering the rocky hills out in the wild.
Specifications:
Advanced Protection
Easy removable chinbar
MIPS
Ventilation
Exceeding bicycle standards, this helmet is an excellent option for risk-takers, which utilizes the Multi-Directional Impact Protection System to redirect the energy impact in a crash. Also, the ventilation of this helmet allows the airflow to pass over the head and exhaust from the rear.
Helmet sizes are as follows – Small (51-55 cm), Medium (55-59 cm), and Large (59-63 cm).
The cheek pads of this mountain bike helmet are pressed nicely without squashing, so you can feel cozy and comfortable while performing tricks on your two-wheeler. The ergonomic design of this product will make you feel like you're way more protected than with a standard trail helmet.
However, along with all its benefits, some users complain about the fragility of the chin-guard, saying it's only held together with a small layer of plastic.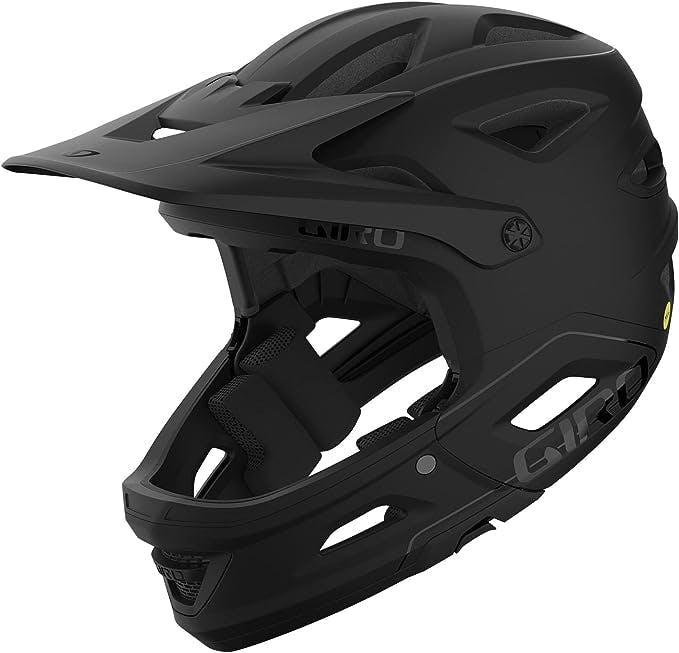 Reasons to BUY
Reasons to AVOID
With comprehensive energy management, Bell Super Air R MIPS is ideal for both high and low-speed impacts, as well as rotational impacts. The quick-drying material combined with an advanced ventilation system will alleviate head sweating while riding downhill at an intense speed.
Specifications:
Polycarbonate shell and progressive layering
MIPS
X-Static Padding
Wraparound Chin Bar
Overbrow ventilation
Adjustable Visor System
Designed with an EPS foam, this helmet is sturdier than many other helmets on the market. With a thorough overbrow ventilation system and an adjustable visor, you can make sure to modify your landscape based on the sun's angle.
It's always important to take a head measurement before deciding to purchase a high-quality, full face mtb helmet. So, please, before you do, make sure to buy one that matches your head size.
The helmet is available in the following sizes – Small (52-56 cm), Medium (55-59 cm), Large (58-62 cm)
Does it pique your interest now, this attractive mountain bike helmet?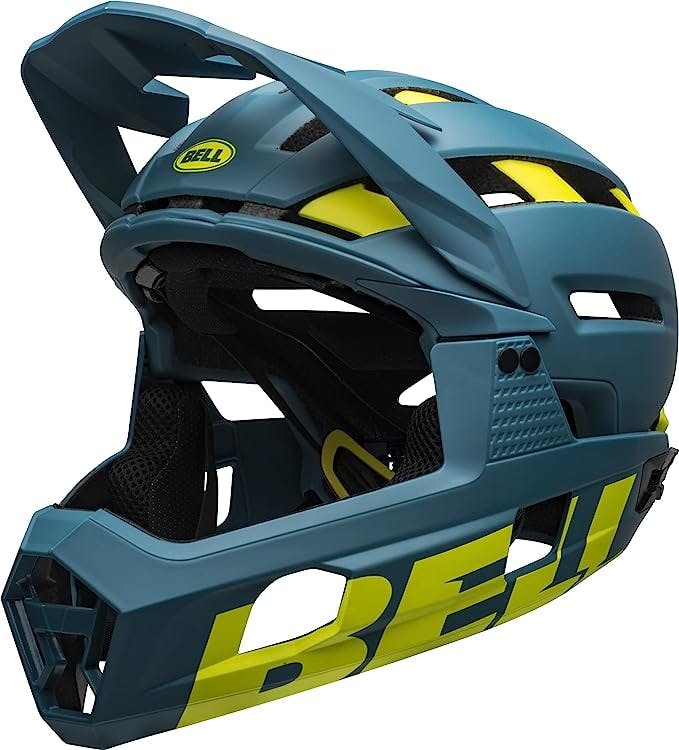 Reasons to BUY
Extra protection
Advanced Ventilation
Adjustable Visor
Reasons to AVOID
If you're all about buying a premium quality full face mountain bike helmet, this one has a great chance to become a part in your collection. OTOCON is ultimately lightweight with a beautiful ergonomic design that you'll definitely enjoy taking photos with. This highly ventilated helmet will keep you comfortable during the whole trip on your bike.
Specifications:
Ultra lightweight
Beautiful design
Highly Ventilated
Removable grill
Removable grill and cheek pads
Integrated race lock adjuster
The helmet includes a removable grill that prevents mud splashes. If you're planning to ride in rather warmer conditions, you can always remove it for more airflow. Another thing you can do with this helmet is to remove the cheek pads for better ventilation.
However, please note that these pads are integrated to drastically reduce the impact of a crash. By removing them, you'll put yourself at risk.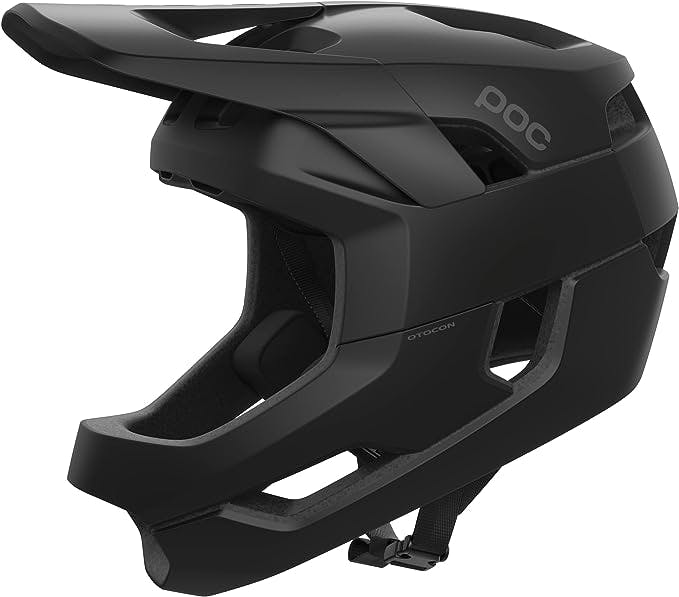 Reasons to BUY
Premium Quality
Highly Ventilated
Integrated race lock adjuster
Reasons to AVOID
Reddit Summary
Many redditors do enjoy riding downhill with their full face mountain bike helmets. Bell's Super Air R is one of the helmets that's greatly preferred by the community.
"I tried that, Bell 3R, and Fox Proframe, I liked the Super Air R the best. It's really light and has great airflow."
Troy Lee stage and The Fox proframe helmets are also extensively favored by our fellow redditors. @RocketDocRyan claims that some of the enduro helmets are as good as DH helmets. Proframe is a great option for those who want to save money with an enduro helmet and get the bonus of riding downhill, as well.
"Several enduro helmets have DH ratings. The Fox Proframe definitely is (I have one) and I believe the Smith Mainline and Troy Lee Stage do as well. My Proframe is airy enough for XC rides, and protects as well as a full DH helmet, so I'm definitely sold."
FAQ
Is a full face helmet worth it?
For those enthusiasts who love speeding on their two-wheeler, full face mtb helmets are a must! There's always a tiny chance of getting into an accident. You'd always want to take extra precaution before embarking the ride downhill.
Can you wear a visor with a bike helmet?
No. A visor may give you discomfort and impede proper fitting, which is risky while you're performing tricks on your bike.
What are the disadvantages of a full face helmet?
Riders in hot climates may consider a full face helmet uncomfortable that also traps heat. However, it is always mandatory to put on a full face helmet to reduce the impact in a crash.
Conclusion
Coasting downhill or enduro is a thrilling experience for many bicycle enthusiasts. For more risk-free riding, getting a full face mountain bike helmet is essential to reduce and prevent significant damage in the case of a crash. Before you add a helmet to your shopping cart, please make sure the helmet matches your head size, has adequate ventilation, an adjustable visor, and, foremost, the durability to absorb high-energy impacts. So now what? Did you find your perfect full face so you can push your limits on your two-wheeler? We would appreciate it if we could assist you in buying a good helmet from our list. It is our greatest pleasure, and we can't wait to hear from you!