Are you tired of lugging around your skateboard like it's a ball and chain, slowing you down, and cramping your style? Well, I think I have the perfect solution to set you free and elevate your skateboarding game to new heights! You can say goodbye to awkwardly carrying your board under your arm or struggling to find a place to stash it because, in this article, we are going to dive into the world of the Top 6 Best Skateboard Backpacks!
These sleek, stylish, and super-functional backpacks are here to revolutionize the way you transport your board, making it easier than ever to shred the streets and look good doing it. Whether you're a seasoned skateboarder or just getting started, you won't want to miss out on this essential gear upgrade.
Features to look for before buying a Skateboard Backpack
When it comes to selecting the perfect skateboard backpack, there are several essential features to consider to ensure you're making the right choice for your skating needs. Here are the key features to look for before making a purchase:
Board Attachment System
The most crucial feature of a skate backpack is its ability to carry your skateboard securely. Look for a backpack that offers a reliable board attachment system. This can include straps, buckles, or pockets designed to hold your skateboard firmly in place.
Durability
Skateboarding can be tough on gear, so choose a backpack made from durable materials like high-quality nylon or canvas. Reinforced stitching and robust zippers are also important to ensure the backpack can withstand the rigors of skateboarding.
Size and Capacity
Consider how much gear you typically carry with you. Some skate backpacks are designed for minimalists, while others have larger capacities with multiple compartments. Choose a size that suits your needs and allows you to carry your skateboard comfortably.
Comfortable Straps and Padding
Comfort is key when carrying your skateboard around. Look for backpacks with padded shoulder straps and a padded back panel to distribute weight evenly and prevent discomfort during extended skate sessions.
Organizational Features
If you carry other items besides your skateboard, such as a laptop, water bottle, or extra clothes, opt for a backpack with multiple compartments, pockets, and organizers. This helps keep your belongings organized and easily accessible.
Ventilation
Skateboarding can be a sweaty activity, so a backpack with proper ventilation can help keep you cool and prevent your back from getting overly sweaty during rides.
Water-Resistance
Unexpected weather conditions can occur, so having a water-resistant or waterproof backpack can protect your gear, especially electronics like laptops or phones.
Adjustability
Look for a backpack with adjustable straps and chest or waist straps. These features allow you to customize the fit for maximum comfort and stability while skating.
Style and Design
Skateboard backpacks come in various styles and designs. Choose one that matches your personal style and preferences. Whether you prefer a sleek and minimalist look or a bold and eye-catching design, there's a backpack to suit your taste.
Brand Reputation
Consider reputable skateboard brands or those known for producing high-quality backpacks. Reading reviews and getting recommendations from fellow skateboarders can be helpful in finding a reliable brand.
Price
Determine your budget before shopping and compare different backpacks within your price range. While high-end options may offer more features, there are also budget-friendly backpacks that provide excellent value for the money.
By taking these features into account, you can find the perfect skateboard backpack that not only securely carries your board but also meets your personal style and storage needs, ensuring you're ready to hit the streets with ease and confidence.
Top 6 Best Skateboard Backpacks
Specifications:
Color - Black/Grey
Extra Storage - Yes
We are starting strong with the RUCYEN Skateboard Backpack. With its sleek design, practical features, and durable build, it's an excellent companion for skateboard enthusiasts, students, and anyone who needs a versatile backpack for various activities. Let's dive into what makes this skate backpack stand out.
The RUCYEN Skateboard Backpack boasts dimensions of 13 x 20 x 6 inches, offering a spacious 30L capacity. It's designed to accommodate up to a 17.3-inch laptop, making it perfect for students or professionals who need to carry their tech gear. The backpack is constructed from high-quality polyester with a waterproof coating, ensuring your belongings stay dry in unexpected weather conditions.
One of the standout features of this backpack is its adjustable board straps, allowing you to securely carry your skateboard vertically. Additionally, there's a hidden net that's perfect for holding basketballs, baseballs, footballs, soccer balls, volleyballs, or even a helmet. This versatility makes it an excellent choice for sports enthusiasts and skaters.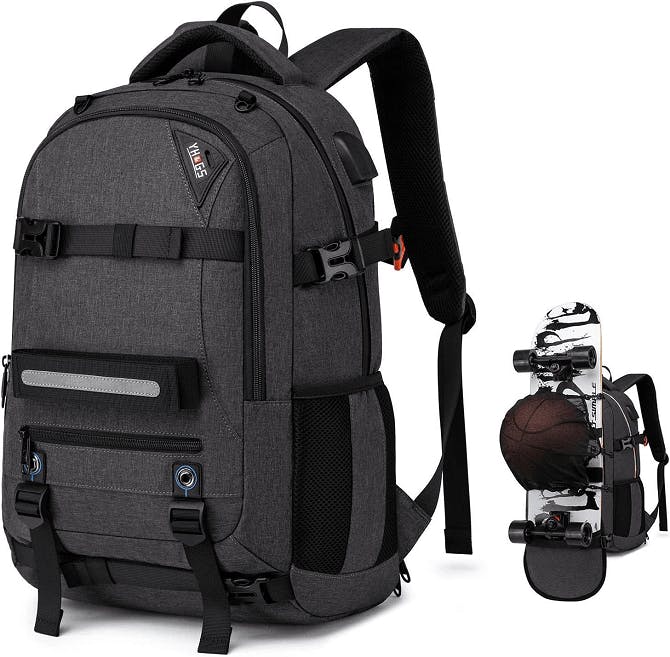 Reasons to BUY
Well-made and sturdy
Good quality with many compartments
Adjustable and Portable
Reasons to AVOID
Flimsy straps that may break easily

Specifications:
Color - Black
Extra Storage - Yes
The GoRide skateboard backpack is a versatile and stylish solution for skateboarders and outdoor enthusiasts alike. With its sleek black design and a host of practical features, it's much more than just a skateboard backpack.
One standout feature of the GoRide backpack is its dedicated laptop slot, making it an ideal choice for travelers, business professionals, or college students. It effortlessly combines your skateboard transportation needs with your tech-savvy lifestyle.
It features padded and breathable straps for your shoulders and hips, ensuring that you can transport your skateboard without straining or hurting your body. The extra foam padding throughout the backpack is designed to keep your items protected inside, providing peace of mind when you're on the move.
With its perfect blend of functionality and fashion, it's an ideal choice for individuals of all ages. Also, the quality construction ensures that your valuable items stay protected.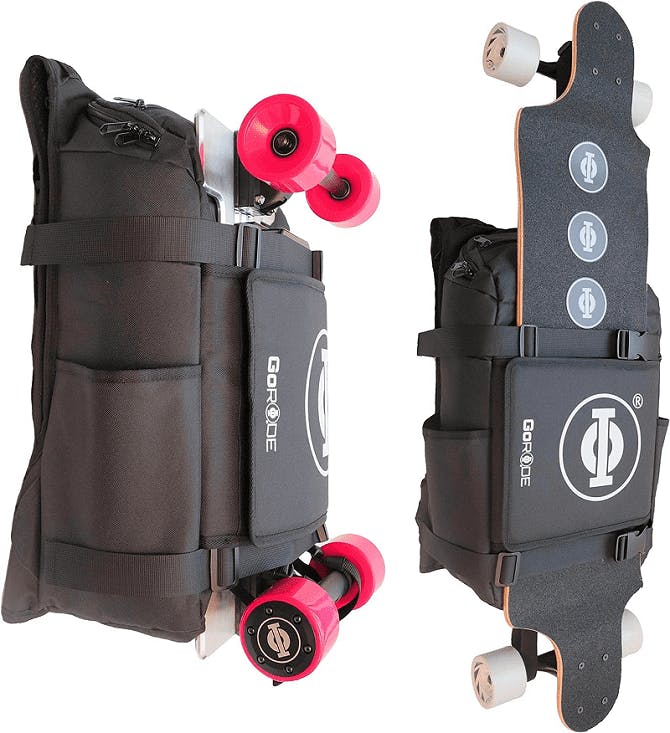 Reasons to BUY
Spacious with multiple compartments
Convenient skateboard-carrying capability
Comfortable design for commuters
Reasons to AVOID
Shoulder straps may feel thin for some users

Specifications:
Color - Black
Extra Storage - Yes
Whether you're a student, a sports enthusiast, or someone constantly on the move, the Ronyes Skateboard Backpack has something unique to offer.
With dimensions of 13 x 20 x 6 inches and a generous 30L capacity, this backpack is roomy enough to accommodate all your essentials. Made from high-quality polyester with a waterproof coating, it ensures your belongings stay dry even in inclement weather.
The Ronyes Skateboard Backpack is loaded with thoughtful features. From the convenient basketball net to the ergonomic S-shaped shoulder straps, this backpack is designed with your comfort and convenience in mind. The external USB port with a built-in charging cable ensures you stay connected on the go. Plus, the padded breathable air mesh shoulder straps and comfortable back padding provide all-day comfort.
Organization is key, and this backpack excels in this department. It boasts multiple pockets, including a double zipper front pocket with pen slots and separate compartments, a main pocket with padded pockets for your iPad and laptop, a back pocket, two side zipper pockets, and a bottom pocket with a net for basketball storage. Everything has its place.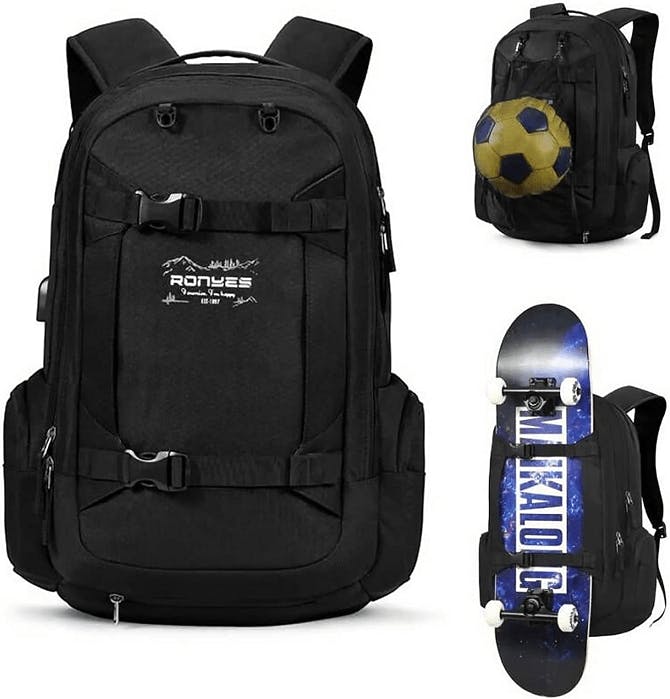 Reasons to BUY
Plenty of compartments and cool features
Affordable price for the value offered
Well-made and sturdy
Reasons to AVOID
Flimsy straps that may break quickly

Specifications:
Color - Black
Extra Storage - No
The xxiaojun Skateboard Backpack is an exceptional budget-friendly choice for skateboarders and electric skateboard enthusiasts who are looking for a compact and versatile solution. This backpack may be small in size, but it packs a punch when it comes to functionality and style.
Measuring at a compact 7.87 x 5.91 x 1.18 inches, this skateboard backpack is designed to accommodate skateboards, electric skateboards, skateboard decks, and other items with dimensions of less than 30 inches in length, 8 inches in width, and 3.5 inches in height. It's a convenient option for those who want a simple and compact carry solution.
Despite its small size, the xxiaojun skateboard backpack boasts three storage compartments. There's a dedicated skateboard carry bag, a separate space for hats and shoes, and an additional pouch for smaller items. It's a surprisingly well-organized backpack for its size.
The backpack features wide adjustable straps that distribute the weight of your skateboard evenly, making it comfortable to carry. Plus, it has a protective bottom cover, ensuring your skateboard remains safe during transport.
Made from waterproof and lightweight 420D Oxford fabric, this skateboard backpack is built to withstand the elements. It's tough and durable, ensuring your gear stays dry even on rainy days. The unique doodle pattern on the backpack adds a touch of street trend and hip-hop style, making it a fashionable choice for riders of all kinds.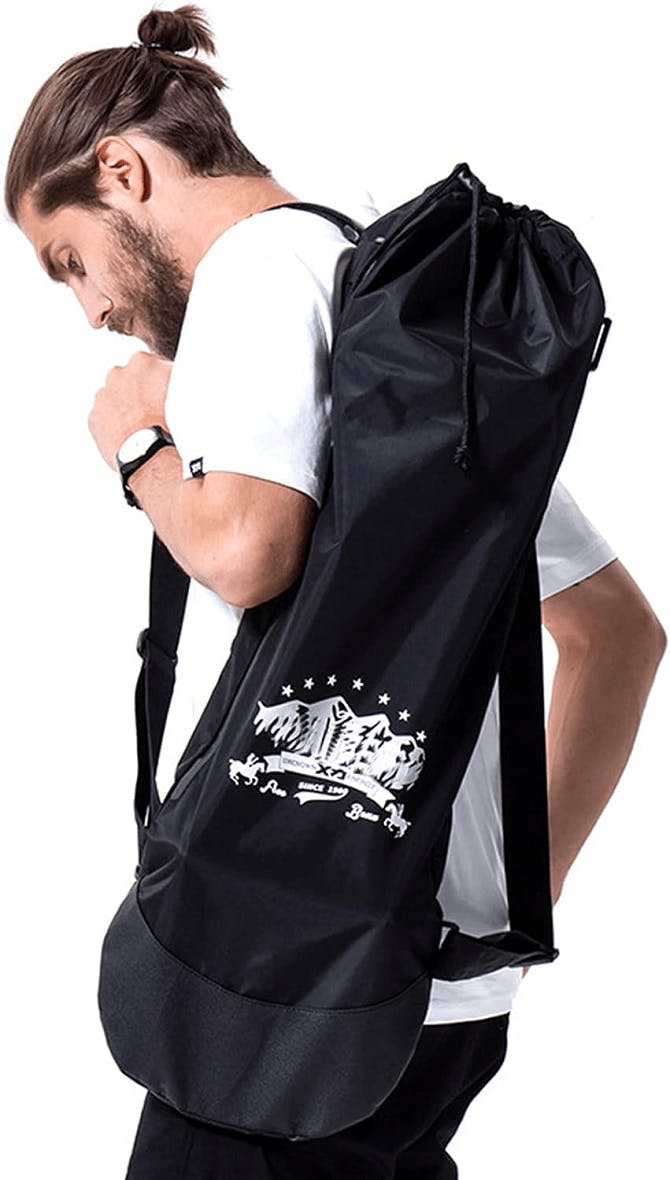 Reasons to BUY
Sturdy and strong material
Reinforced straps for comfort and board fit
Good value for the money
Reasons to AVOID
Zipper and stitching issues reported by some users
Specifications:
Color - Black
Extra Storage - Yes
The GoRide skateboard backpack is a versatile and stylish choice for skateboarders and outdoor enthusiasts. Crafted from a blend of 95% polyester and 5% cotton, it's not just a fashion statement; it's a practical and durable solution for all your skateboarding needs.
If you're a traveler, business professional, or college student, you'll appreciate the GoRide's dedicated laptop slot. It's designed to keep your tech gear safe and secure while you're on the move, making it a perfect companion for various activities.
This backpack doesn't stop at just skateboards. It features double bottle holders, ideal for outdoor adventures like hiking, and spacious compartments that transform it into a reliable daypack. The GoRide backpack is designed to hold most regular skateboards and mini electric skateboards up to 38 inches in length and 20 lbs in weight. Its fashionable design is suitable for all ages, ensuring you carry your board in style.
Comfort is a priority with the GoRide backpack. It features padded and breathable single-strap support for your shoulders, preventing strain or discomfort while carrying your skateboard. The extra foam padding throughout the backpack keeps your belongings protected, giving you peace of mind on your journeys.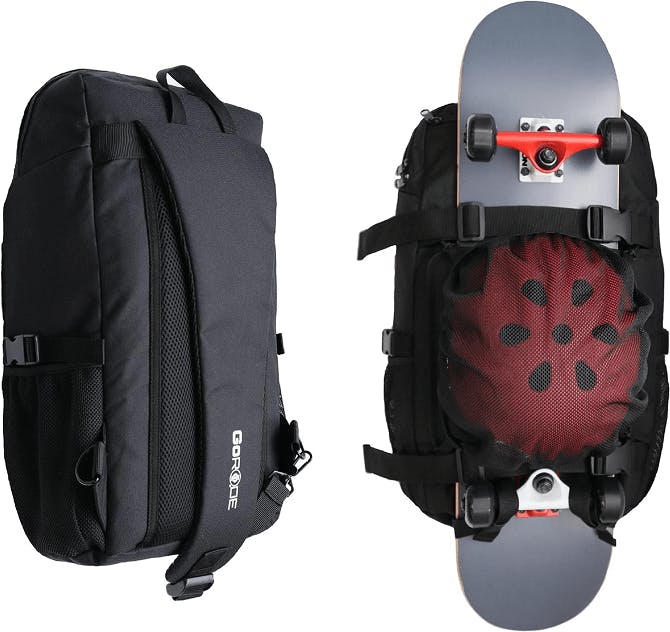 Reasons to BUY
It fits longboards and shortboards
Suitable for use as a gym bag
Comfortable and versatile design
Reasons to AVOID
The mouth of the backpack has limited opening
Specifications:
Color - Black
Extra Storage - No
The Cooplay Skateboard Backpack is a professional and highly functional choice for skateboard enthusiasts. Designed with precision and built to last, it's tailored to fit 31" standard skateboards, offering an upgrade in quality compared to previous models.
This backpack is specifically crafted to accommodate 31" standard skateboards, providing a snug and secure fit. It's worth noting that it can handle skateboard dimensions up to 32" in length and 8" in width (82cm x 22cm), making it versatile for various skateboard sizes. However, please keep in mind that it's not suitable for electric skateboards.
The Cooplay Skateboard Backpack features adjustable straps, allowing you to tailor the length to your preference for a comfortable and secure fit. The added cloth package is a thoughtful touch, providing a convenient space to carry your sportswear or additional items while you're on the go.
Crafted from thick and durable 600D nylon material, this backpack is built to withstand the rigors of skateboarding and outdoor adventures. The mesh pocket has been upgraded to a more robust pocket design, ensuring it's not easily damaged during use.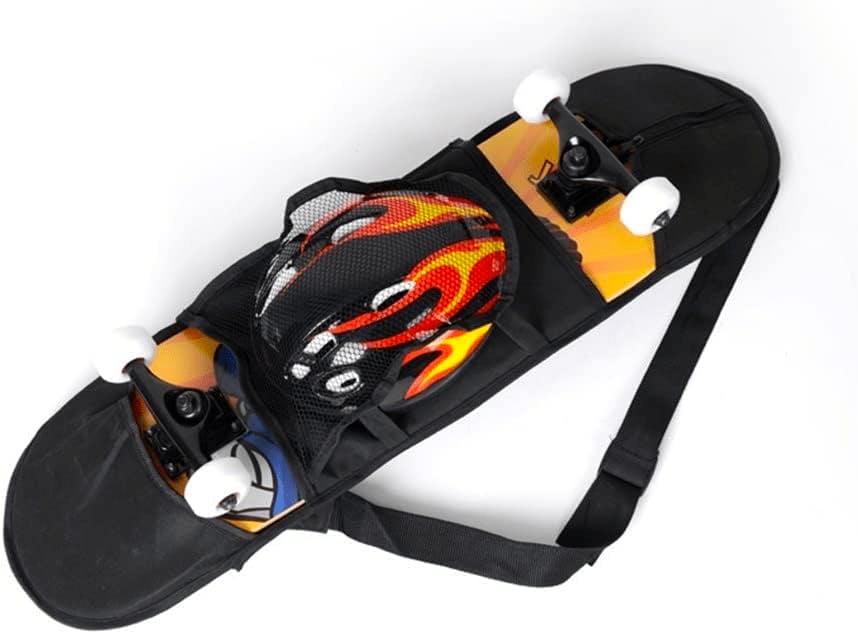 Reasons to BUY
Fits longboards and shortboards
Serves its purpose for the price
Reasons to AVOID
The strap may loosen and come undone when in use
Reddit Summary
"I have a 10 year old Vans backpack that has stood the test of time. It has the Velcro straps on the back. Haven't seen exact model in stores; been looking to get another one since it has held up so well. Willing to try a Vans Obstacle just because I love my older Vans one so much."
"I've got two different kinds, a cheap one from Decathlon and an expensive one branded Independent (as in, the trucks). Grip tape hasn't harmed either yet. But there's some things to be aware of.. the cheaper one has a lower loop as well as the two large clip loops around the middle of the board, and this lower extra loop stops the board from sagging down too far. The Independent backpack doesn't, and it's not easy to get the board into a good spot and keep it there. The Nike one seems to also only have two though the spacing looks better."
FAQ
How do you travel with a skateboard?
Traveling with a skateboard can be made easy and convenient with the right gear, such as a skateboard backpack. To travel with your skateboard, follow these steps:
Use a Skateboard Backpack: Invest in a skateboard backpack specifically designed to carry your skateboard. These backpacks usually come with adjustable straps and compartments to securely hold your skateboard during transit.
Secure Your Skateboard: Place your skateboard in the designated compartment of the backpack. Ensure that it is firmly attached and won't shift during travel.
Additional Gear: Depending on your needs, pack any additional gear, such as protective gear, tools, or clothing, in the backpack's compartments.
Wear Comfortably: Adjust the straps of the skateboard backpack to fit comfortably on your shoulders and back. Make sure the weight is evenly distributed to avoid discomfort during travel.
Travel with Ease: You can now travel with your skateboard hands-free, whether you're headed to the skatepark, school, work, or any other destination. The skateboard backpack provides a convenient and secure way to transport your board.
What features does the skateboard backpack offer?
A skateboard backpack typically offers a range of features designed to enhance your convenience and comfort. Some common features include:
Skateboard Straps
Durable Materials
Storage Compartments
Adjustable Straps
Water-Resistance
How do I choose the right size skateboard backpack for my needs?
Make sure the backpack is compatible with your skateboard's dimensions. Check the backpack's specifications to see the maximum skateboard size it can accommodate.
Consider how you plan to use the backpack. If you need it for school or work and want to carry a laptop, ensure it has a suitable laptop compartment. If you're an outdoor enthusiast, look for one with extra storage space for gear. Also, pay attention to the backpack's adjustable straps and padding. It should fit comfortably on your back, and the weight should be evenly distributed.
Conclusion
Whether you're a seasoned skateboarder or just getting started, investing in one of the top skate backpacks we've explored in this article is an essential gear upgrade. These backpacks are designed to cater to your unique needs, ensuring you can hit the streets with ease and confidence.
With the right skateboard backpack by your side, you'll no longer have to struggle with carrying your board, allowing you to focus on shredding the streets and elevating your skateboarding game to new heights. Say goodbye to the inconvenience of lugging your skateboard around and hello to the freedom of effortless transportation. Don't miss out on this essential gear upgrade that will make your skateboarding journey smoother and more stylish than ever before.