With a surge in anticipation for the new era of mobility, we break down the key considerations for prospective buyers and shine a spotlight on the hottest upcoming electric cars set to electrify our roads.
Features to look for before buying the upcoming electric cars
Just as with any piece of technology, the electric car market offers many options and specificities. Here are the features to focus on while on your quest for the perfect EV:
Vehicle Classification
Not all electric cars are created equal. Dive deep into the type you want. From fully electric and hybrid electric to plug-in hybrid electric and the budding fuel cell electric, each class offers unique benefits and trade-offs.
Range Mastery
Always keep an eye on the driving range - the miles an EV can deliver on a single charge. Given the embryonic state of the charging infrastructure, a decent driving range will save you from many potential inconveniences. Metropolitan regions are progressing, but charging hubs are not uniformly dispersed across all regions. The proximity and concentration of these charging units can deeply affect your EV experience.
Battery Essentials
The heart of any electric car is its battery. Modern EVs generally use Lithium-Ion batteries for their weight and efficiency. However, the battery's capacity will be a prime factor in determining the range. More capacity usually equates to a longer drive. It's worth noting that on-paper ranges might vary from real-world experiences.
Charging Dynamics
Delve into the charging specifics. While the battery's capacity is significant, how quickly it can be charged is equally vital. Are you willing to invest in a fast charger for rapid charging or content with the lengthier standard charging?
Acceleration Thrills
Modern electric cars challenge their Internal Combustion Engine (ICE) counterparts in acceleration, all thanks to the immediate torque from electric motors. Acceleration isn't just about speed; it's about the joy of driving. This often depends on the electric motors' count and power.
Power and Torque Deliberation
Power denotes the mechanical output from the stored electrical energy, typically measured in horsepower. On the other hand, torque gives a sneak peek into the acceleration potential of the vehicle. For a spirited driving experience, consider these metrics seriously.
Battery Assurance
The battery is your electric vehicle's backbone and also its most pricey component. Ascertain the warranty period and conditions offered on it, whether it's distance-driven or a set time. Secure yourself with an extensive warranty, ideally spanning at least 8 years or up to a 100,000-mile coverage.
Energy Efficiency Evaluation
Analyze the energy consumption metrics. An efficient electric car not only promotes sustainability but can also be more economical in the long run compared to traditional ICE vehicles.
Insurance
Given the elevated value and intricacy of electric cars, insurance isn't just a formality; it's a necessity. Unexpected damages might burn a hole in your pocket, so ensure your EV with a comprehensive policy.
Expenses and Incentives
The initial price tag of EVs might surpass that of gasoline vehicles. Nonetheless, deductions in the form of governmental incentives and reduced tariffs can alleviate the final expenditure. Always include these reductions when determining your budget.
Remember, an electric car is more than a vehicle; it's a commitment to a greener future. But this commitment doesn't mean compromising on convenience. With these points in mind, you're now equipped to make an informed decision and join the electric revolution.
5 upcoming electric cars
Specifications:
EPA Range: Anticipated 300-mile rating
Interior Space: Over 136.9 cubic feet
Wheels: Muscular 21-inch wheels
Tech Features:
undefinedundefinedundefinedundefined
Audio: Bose Premium 12 Speaker Audio System
Estimated release date: early 2024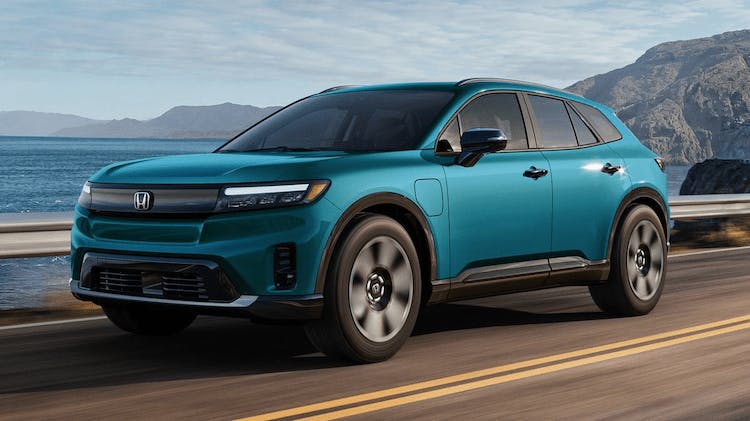 Launching in early 2024, the Honda Prologue SUV redefines electric elegance. Designed for sporty and sustainable adventures, it promises a seamless integration of style and technology. The upcoming electric SUV boasts an impressive anticipated 300-mile EPA range rating, ensuring you're equipped for longer journeys. With over 136.9 cubic feet of cabin space, it's perfect for those who crave roominess without compromising on style. Its tech-rich cabin featuring an 11.3-inch Center Display supports Apple CarPlay, Android Auto, and has Google built-in.
Specifications:
Zero-Emission Range: Estimated 500 km
Powertrain: 500 hp Electric Powertrain
Acceleration: 0 to 100 km/h in < 5 seconds
Displays: Two High-resolution Digital Displays with Google Integration
Navigation: Enhanced Google Maps for EV
Charging:
Fast DC Charging Compatibility
Gain 126 km in 10 minutes of charging
Estimated release date: 2024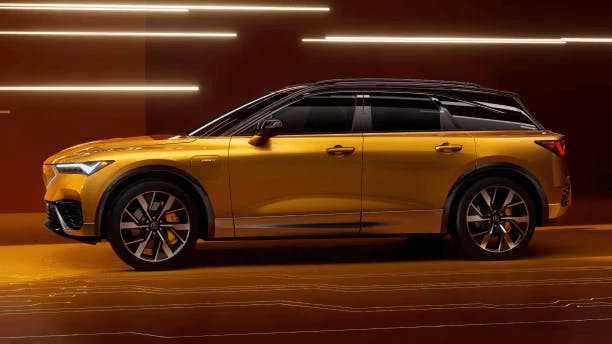 The all-new Electric ZDX is set to revolutionize roads in 2024. Being Acura's debut all-electric vehicle, the ZDX promises not just an astonishing zero-emission range of 500 km but also a thrilling, high-performance ride. Powered by a robust 500 hp electric powertrain, the Acura ZDX is expected to blaze from 0 to 100 km/h in under 5 seconds. Elegantly crafted by Acura Design Studio, its design philosophy, EV Precision, ensures that every curve and contour promises both aesthetics and efficiency. The ZDX A-SPEC MC and ZDX Type S MC models promise an evolution in precision-engineered performance and jaw-dropping style.
The Acura ZDX boasts dual high-resolution digital displays, tailored for a personalized experience. Elevating its technological prowess, Acura introduces its first-ever integration with Google, revolutionizing navigation for EV drivers. This integration aids in discovering charging stations, optimizing routes, and providing precise cooldown time estimates to destinations. With the Acura ZDX's fast DC charging compatibility, achieving 126 km in a mere 10 minutes becomes a reality. And, electrification doesn't end on the road. Acura introduces comprehensive charging solutions for both home and public spaces, details of which will be unveiled soon.
Specifications:
Engine: 2.9-liter, twin-turbocharged V6
Maximum Power: 505 horsepower
Maximum Torque: 443 pound-feet
Acceleration (0-60mph): 3.8 seconds
Maximum Speed: 191 mph
Transmission: 8-speed automatic
Estimated release date: 2025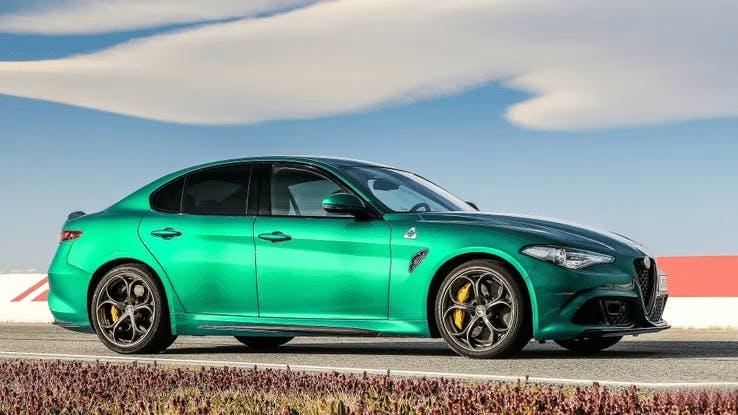 In 2025, the Alfa Romeo Giulia is set to reinvent itself, positioning prominently among the upcoming electric cars with an electric powertrain promising upwards of 1,000 horsepower and a commendable 500-mile range. This transition marks a pivotal moment in the brand's illustrious history, mirroring its broader electrification ambitions in the booming EV sector. Shifting from its iconic sedan silhouette, the Giulia will adopt a hatchback/station wagon design, yet it clings to its cherished aesthetic essence, integrating eco-conscious elements like green accents and recycled materials. Its cabin, redolent with luxury, might feature expanded touchscreens and avant-garde amenities like Apple CarPlay and Level 3 Autonomous Driving. While embracing electric propulsion, Alfa Romeo remains committed to maintaining Giulia's performance pedigree. The vehicle's engineering feats, from its potential tri-motor setup to its use of the expansive STLA frame, forecast a car that is as thrilling to drive as its ancestors while catering to the modern, eco-conscious driver.
Specifications:
Platform: Premium Platform Electric (PPE) with 800-volt architecture.
Powertrain: All-wheel drive with dual electric motors. Likely to be termed "Quattro".
Performance: Dual-motor prototype offers 375 horsepower, boostable to 395 horsepower. The SQ6 variant boasts 482 horsepower, with a Boost mode of 509 horsepower.
Battery: Estimated 93.0 kWh capacity.
Charging: Peak rate of 270 kW; 10 to 80 percent charge achievable in under 30 minutes.
Range: Estimated 372 miles (European WLTP test cycle); Approximately 315 miles using EPA methods (to be confirmed).
Wheels: 21-inch.
Estimated release date: 2024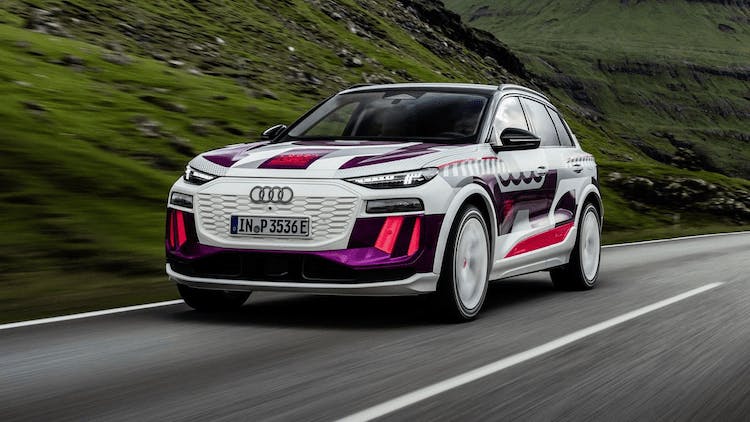 For discerning shoppers in search of an opulent electric SUV, Audi unveils the 2025 Q6 e-tron, one of the upcoming electric cars. Nestling between the Q4 e-tron and Q8 e-tron, this addition aims to elegantly bridge the gap for those yearning for a mid-sized luxury in the arena of upcoming electric cars. Introducing the Premium Platform Electric (PPE) architecture, this model boasts a robust 800-volt electrical system, destined for faster charging, and hints at the foundation of future Audi marvels like the Audi A6 e-tron.
This upcoming electric SUV will most likely be equipped with a standard all-wheel drive and a dual electric motor. The Q6 e-tron prototype showcases an impressive 375 horsepower, racing to 62 mph in an estimated under six seconds. With its 93.0 kWh battery, it promises charging prowess and a coveted range of approximately 315 miles based on EPA projections.
Specifications:
Power: Ranges from 335 to 593 hp
Torque: Ranges from 317 to 605 lb-ft
Battery: 81.2 kWh, liquid-cooled lithium-ion
Dimensions: 199.2 in (length), 74.8 in (width), 59.3–59.6 in (height)
Performance: 60 mph in 3.3–5.0 sec, top speed 120–143 mph
EPA Fuel Economy: 85–105 MPGe, range 240–295 mi
Estimated release date: 2024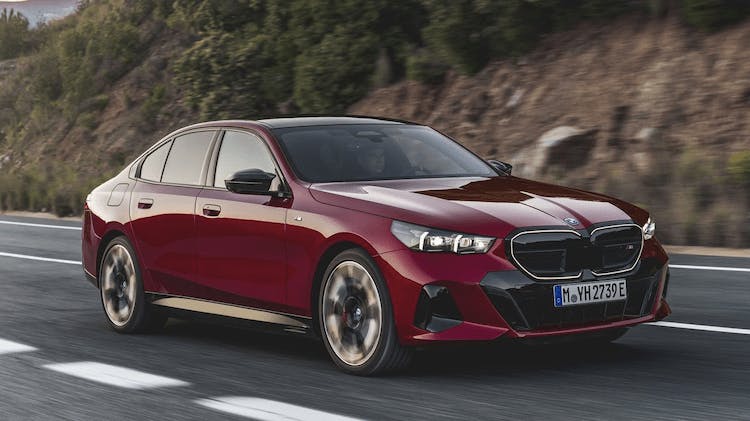 In 2024, BMW will electrify the mid-size sedan market with the introduction of the i5. This luxury sedan will bridge the gap between the acclaimed i4 and the premium i7 in the realm of upcoming electric cars. Offering two powertrains, BMW presents the eDrive40, boasting 335 horsepower. The dual-motor M60 xDrive takes it up a notch, delivering 590 hp. During initial tests, the M60 demonstrated agility and a potential to hit 60 mph in just 3.3 seconds. An 84.3-kWh battery fuels the eDrive40, ensuring an impressive range of 295 miles. The M60's range is slightly less at 256 miles. Every i5 purchase comes with a three-year free charging perk at Electrify America stations. Inside, the i5 mirrors the spaciousness of traditional gasoline models, introducing Veganza, a new faux-leather upholstery. A high-tech dashboard features a 12.3-inch digital display alongside a 14.9-inch touchscreen, all integrated with BMW's latest iDrive 8.5 system.
Reddit Summary
As the world gears up for a stream of electric vehicles, a Reddit discussion provided insights into what enthusiasts eagerly await in the realm of upcoming electric cars. The consensus? A move towards practicality and affordability. One user wished for "small hatchback/station wagon EVs that don't cost a fortune," emphasizing that not everyone needs a supercar for daily drives. Clearly, the future of EVs is shaping up to be as much about accessibility as it is about innovation.
But it's not all about modesty. Some users gushed about specific models: the Volkswagen ID.2 reminiscent of the sporty VW GTI, and the highly-anticipated Tesla Model 2. There's a call for uniqueness too, with vehicles like the Canoo truck being pointed out for their atypical design, free from the constraints of conventional gasoline engine designs. Meanwhile, the Honda e and the retro VW ID. Buzz received mentions, indicating a growing preference for compact, quirky designs.
Whether it's the need for electric vans or the nostalgia for a vintage design, the discussion highlighted the diverse tastes of future EV buyers. Yet, the underlying theme is clear: anticipation is high, and the upcoming electric cars have some big and varied expectations to meet.
FAQ
What advancements in battery technology can we expect in upcoming electric vehicles?
Advancements in battery technology are on the brink of revolutionizing the electric car industry, aiming to address the current limitations of electric vehicles. Three prominent breakthroughs currently under development are:
Solid-state Batteries: Unlike conventional batteries which use liquid electrolytes, solid-state batteries utilize solid electrolytes. This results in them being safer, more durable, and capable of holding greater energy. A substantial benefit is the potential to double the driving range of EVs and allow for rapid charging within minutes.
Lithium-Sulfur Batteries: This technology replaces the traditional cobalt in lithium-ion batteries with sulfur. This not only makes the batteries cheaper and lighter but also enhances their energy storage capacity by up to five times. Additionally, they stand out for being safer and more eco-friendly.
Flow Batteries: Unique in their design, these batteries come with an external electrolyte tank which can be recharged with ease. They promise greater sustainability and longevity, potentially enduring hundreds of thousands of miles.
These technological innovations are set to offer numerous benefits to the upcoming electric cars, including more affordable pricing, extended driving ranges, and notably faster charging times. More sustainable and environmentally friendly than their predecessors, these new-age batteries also prioritize safety, mitigating risks associated with traditional lithium-ion batteries. So a significant proportion of upcoming electric cars will be powered by these advanced batteries, paving the way for a more sustainable automotive future.
How are electric car manufacturers improving charging infrastructure to support their upcoming models?
Electric car manufacturers are keenly aware of the need for robust charging infrastructure to support the growing number of EVs on the road. Recognizing this, several nations are advancing large-scale plans to develop interconnected EV charging stations, especially along major transportation routes. Europe is at the forefront, with the EU's Alternative Fuel Infrastructure Directive (AFID) guiding the deployment of public EV charging stations. The ambitious EU Green Deal seeks to have 1 million publicly accessible chargers by 2025 and includes strategic roadmaps and potential revisions to current standards. The AFID also targets expanding chargers along the Trans-European Transport Network. Individual EU countries, such as Germany and France, have set national policies that offer fiscal incentives and support for both public and private charging stations.
Outside Europe, nations are also taking significant steps. China, with its vast digital infrastructure spending plan, is investing heavily in EV charging, with several cities setting aggressive installation targets. The US, too, has proposed a substantial infrastructure plan, which, when combined with initiatives from states like California, aims to significantly expand the charging network. Canada and India are focusing on creating national networks, with Canada emphasizing fast chargers and India promoting installations along key highways. In essence, as the adoption of electric cars increases globally, a collaborative effort between governments and manufacturers is underway to ensure efficient, widespread, and accessible charging infrastructure.
What kind of government incentives and rebates might be available for buyers of upcoming electric cars?
Governments globally have been keenly supporting the adoption of electric vehicles through various incentives and rebates. Initially, major EV markets like China, Europe, and the United States implemented policies to stimulate demand, such as vehicle purchase incentives. As these markets matured, with electric car sales shares growing rapidly, there's been a noticeable shift. Countries like China and some in Europe are decreasing or phasing out these incentives for electric cars and focusing more on segments like heavy transport and charging.
The majority of policies are geared towards the electric light-duty vehicle (LDV) segment, which is more mature and has a wider range of available vehicles. These policies encompass fuel economy and pollutant standards, zero-emission vehicle mandates, fiscal regimes, taxation, purchase incentives, subsidies, and bans on vehicles with only internal combustion engines.
However, there's an emerging policy emphasis on the heavy-duty vehicle (HDV) segment. By 2022, 27 countries pledged to achieve 100% zero-emission new truck and bus sales by 2040, highlighting the expanding scope of government incentives.
Another significant policy direction is towards electric vehicle supply equipment (EVSE) or charging infrastructure. Recognizing that the lack of this infrastructure is a barrier to EV adoption, nearly 80% of global EV sales now fall under EVSE-related policies.
Moreover, landmark policies, such as the European Union's new CO2 standards and the United States' Inflation Reduction Act, are set to further shape the trajectory towards zero-emission transport. Furthermore, emerging markets are crafting policies to boost domestic battery and EV production, illustrating the comprehensive nature of government support for the EV sector.
Conclusion
The journey of upcoming electric cars goes beyond transportation. It's about commitment, innovation, and paving the way for a future where mobility harmonizes with the environment.