SUVs, or Sports Utility Vehicles, are like the cool kids of the car world, and for a good reason. The upcoming SUVs are set to take the coolness to the next level with many new features and improvements. From advanced technology and enhanced fuel efficiency to refined off-road capabilities and sleek design, upcoming SUVs are the ultimate combination of form and function.
One of the key differences between SUVs and other cars is their size and body style. The upcoming SUVs are set to feature even more rugged, bold, and sporty designs, with larger dimensions, higher ground clearance, and more aerodynamic lines. These design elements will turn heads on the road and will allow the vehicles to handle rough terrain and off-road driving with ease.
In terms of technology, upcoming SUVs will come equipped with the latest infotainment systems, connectivity features, and driver assistance systems. Some models will also have advanced safety features like automated emergency braking, lane departure warning, and adaptive cruise control.
The future of SUVs is here and looks brighter than ever, with a host of new models set to hit showrooms in the coming months. From electric and hybrid powertrains to autonomous driving capabilities, the upcoming SUVs are designed to meet modern drivers' demands. Imagine cruising the streets in a vehicle that's not just a mode of transportation, but an extension of your lifestyle.
In this article, we will explore the best upcoming SUVs and their key features that will make them worth the wait. So, buckle up and get ready to discover the future of SUVs.
Features to expect from upcoming SUVs
The upcoming SUVs are expected to come equipped with a wide range of advanced technology and design elements that will set them apart from their predecessors. So let's discuss some of the key features to expect from upcoming SUVs
Electric and hybrid powertrains
As the world becomes more environmentally conscious, many manufacturers are transitioning to electric and hybrid powertrains to reduce emissions and dependence on fossil fuels. These powertrains are expected to offer better fuel efficiency and performance, as well as longer ranges for upcoming electric SUVs.
Advanced driver assistance systems (ADAS)
Features such as lane departure warnings, automatic emergency braking, and adaptive cruise control will become more prevalent in upcoming SUVs.
Connectivity technology
Many SUVs will come with built-in infotainment systems that offer internet connectivity, allowing drivers to access music, navigation, and other apps while on the road.
Autonomous driving capabilities
Some manufacturers are developing SUVs with advanced autonomous driving capabilities, such as the ability to drive themselves in certain situations.
Advanced safety features
The upcoming SUVs will have a wide range of safety features such as blind spot monitoring, rear cross-traffic alert, and automatic high beams.
Increased use of lightweight materials
Manufacturers are focusing on reducing the weight of SUVs to improve fuel efficiency and performance.
Stylish and sporty designs
The upcoming SUVs will have a more sporty, dynamic look and feel, with sleek lines and more aerodynamic shapes.
Increased interior space and comfort
While thanks to the lightweight materials used in construction the future SUVs will be nimble and efficient, the spacious interiors and luxurious materials will make them comfortable and inviting.
Last but not least, many SUVs will feature advanced infotainment systems with better integration of smartphones, voice control, and touch screens. Additionally, the advanced charging system for electric and hybrid SUVs will allow for faster charging and better range. So with advanced infotainment systems, you'll be connected to the world around you and with advanced charging systems, you'll have the freedom to go further.
Best upcoming SUVs
Specifications:
Powertrain: 280-hp, e-SKYACTIV®-G 3.3L Turbo Inline 6
Drivetrain: Rear-biased, i-ACTIV AWD®
Horsepower: 280 hp @ 5,000 rpm
Torque: 332 lb-ft @ 2,000 rpm
Towing capacity: 3,500 pounds
Electric motor: M Hybrid Boost (Mild Hybrid)
Horsepower: 16.6 hp @ 900 rpm
Torque: 113 lb-ft @ 200 rpm
Battery type: Lithium-ion
Battery capacity: 0.33 kWh
Release date: spring 2023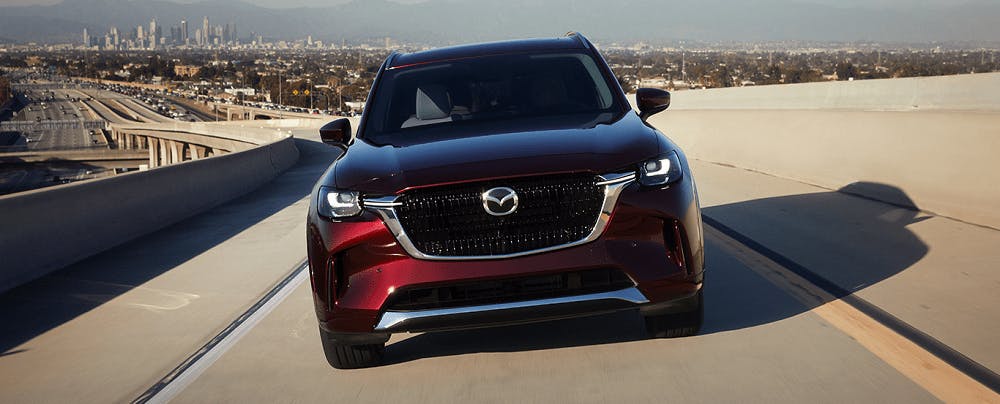 In 2023, the CX-90 will become a new addition to the Mazda line-up. It's uncertain whether the CX-90 will take the place of the current CX-9 or if it will be offered alongside it as a separate, smaller three-row model.
The CX-90 will feature a brand-new turbocharged 3.3-liter inline-six engine that is supported by a 48-volt hybrid system, marking the first time such technology will be used in a Mazda vehicle. According to the company, this powertrain produces 280 horsepower in non-S models and 340 horsepower in S models, making the CX-90 one of the cars worth waiting for. This move towards using an inline-six engine, a hallmark of premium SUVs like the BMW X5 and the Land Rover Range Rover Sport, indicates Mazda's intention to elevate its brand into a more premium market segment. A plug-in hybrid version will also be available, utilizing the same 323-horsepower setup used in the European-market CX-60 SUV, which includes an inline four-cylinder engine, an electric motor, and a 17.8 kWh battery pack. All versions come with an eight-speed automatic transmission, and like the rest of Mazda's SUV lineup, the CX-90 comes equipped with standard all-wheel drive.
Specifications:
Max Horsepower: 362
Max Torque: 400 Lb.-Ft.
Max Towing Capacity: 5000 Lbs.
Max Seating Capacity: 8
Max Cargo Space: 97.5 Cu. Ft.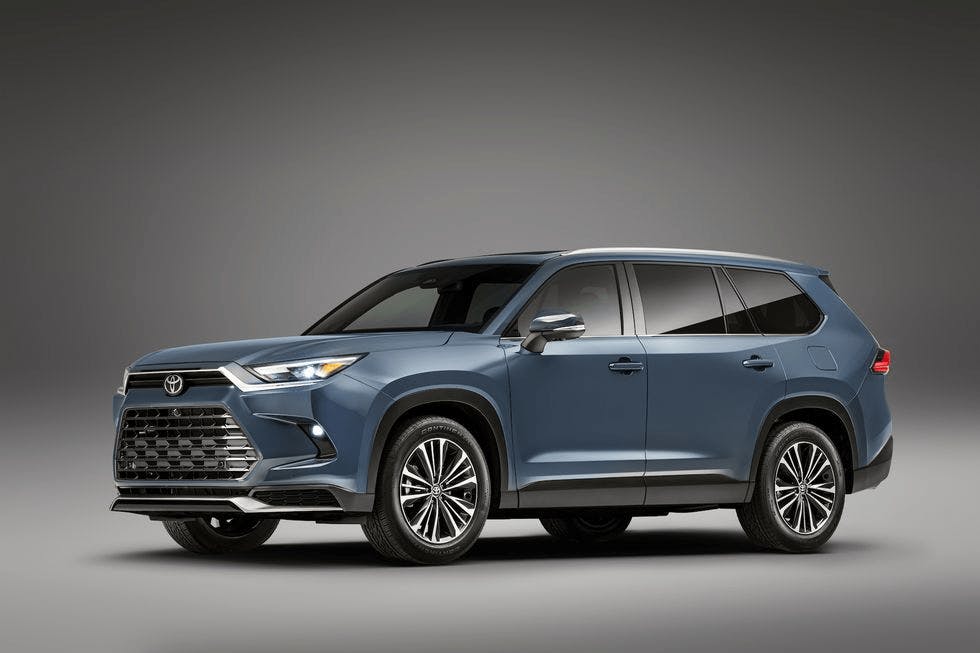 The 2024 Toyota Grand Highlander is the new SUV from the Japanese automaker that offers a spacious and comfortable interior along with three powertrain options. With dimensions that fall between the full-size Sequoia and the regular Highlander, the Grand Highlander boasts of an increased exterior that translates to a roomier interior with a comfortable third row.
The hybrid powertrain option, dubbed "Hybrid Max," is borrowed from the Toyota Crown and retuned for the Grand Highlander, making 362 horsepower and 400 pound-feet of torque. The Grand Highlander's design features a boxier profile with a mature look, while the interior offers a luxurious feel with soft-touch surfaces, attractive materials, and modern features.
The Grand Highlander offers customers a choice between a gas-only turbo four and a less powerful hybrid option, along with the exclusive Hybrid Max. With the Toyota new SUV, customers can expect a spacious and comfortable ride with a variety of powertrain options to choose from.
Specifications:
Engine Type: Turbo 1.2L I3
Bore x Stroke (in / mm): 2.95 x 3.54 / 75 x 90
Horsepower (hp / kw @ rpm): 137 / 102 @ 5,000
Torque (lb-ft / Nm @ rpm): 162 / 219 @ 2,500
Transmission: Hydra-Matic 6-speed automatic
Release date: spring 2023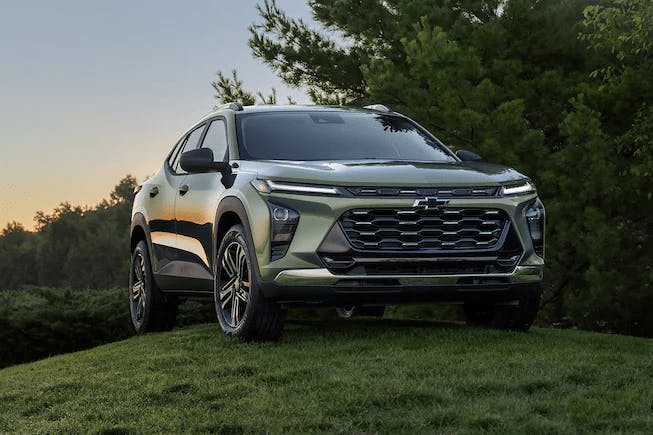 Introducing the all-new Chevrolet Trax 2024 - the perfect combination of compact car practicality and SUV utility. The Trax is bigger and better than ever before, offering more space for passengers and cargo, a wide range of standard and available features, and a starting MSRP of just $21,495. With five different personality-packed trims to choose from - LS, 1RS, LT, 2RS, and ACTIV - you're sure to find the perfect fit for your lifestyle. The Trax is packed with advanced technologies and safety features, including Chevy Safety Assist with six driver-awareness technologies, larger infotainment screens, wireless Apple CarPlay and Android Auto compatibility, LED headlamps, and more.
Powered by a 1.2L turbocharged inline-three engine, the Trax is both powerful and efficient. The sleek and modern design of this Chevy crossover SUV is inspired by the Chevrolet Blazer, featuring bold horizontal lines, slim Blazer-inspired headlamps, and a muscular presence. The new Trax also offers a technology-forward interior with a lightweight feel, an airy atmosphere, and a tech-centric design. With its longer, lower, and wider platform, the Trax provides a more composed ride, greater roominess, and improved outward visibility. Whether you're commuting to work or heading out on an adventure, the Chevrolet Trax 2024 has everything you need and nothing you don't.
The Honda Prologue 2024 is the upcoming electric SUV from Honda that has been co-developed with General Motors. This new vehicle is set to offer customers a choice in the midsize SUV segment and features a spacious interior with a longer wheelbase compared to its combustion-powered counterpart. The vehicle will be available with all-wheel drive and promises a smooth and undecorated body with simple details.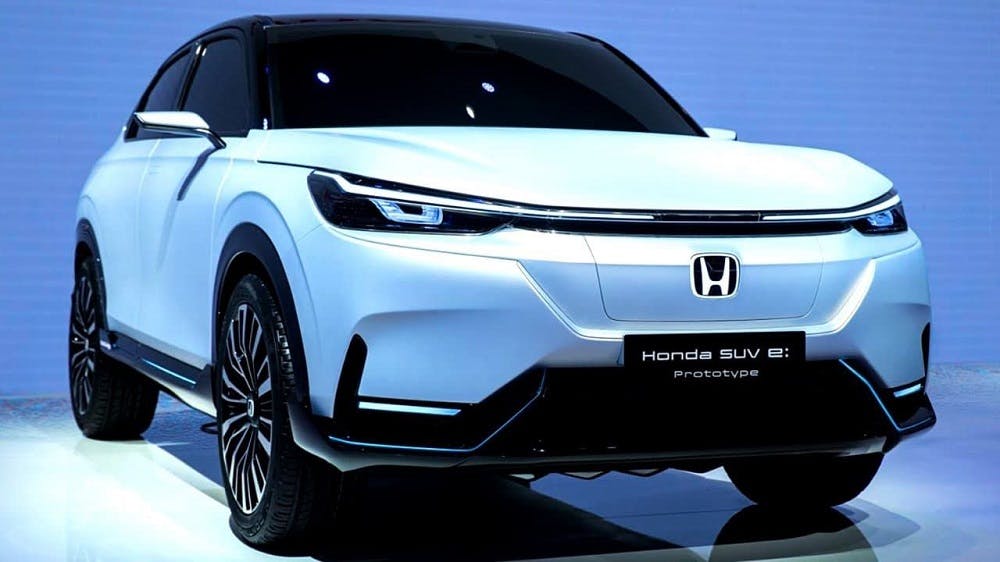 The interior of the Prologue is designed by a team of young Los Angeles designers and is inspired by the natural beauty of Lake Tahoe. The car also features a panoramic glass roof for natural light and new North Shore Pearl paint color. Honda plans to sell 30 new EVs by 2030 and switch to zero-emission sales only by 2040. The Prologue is set to go on sale in 2024 and will introduce a new typeface for its rear badging. Honda hopes that its hybrid-electric customers will eventually move into full-electric products, and with this in mind, has announced a new short-term two-year leasing offer on the hybrid CR-V. Overall, the Honda Prologue 2024 is a bold step into the electric SUV market and is poised to be a popular choice among Honda customers.
Specifications:
Engine: 2.0L standard, 1.6L turbocharged
Horsepower: 195
Torque: 195 lb-ft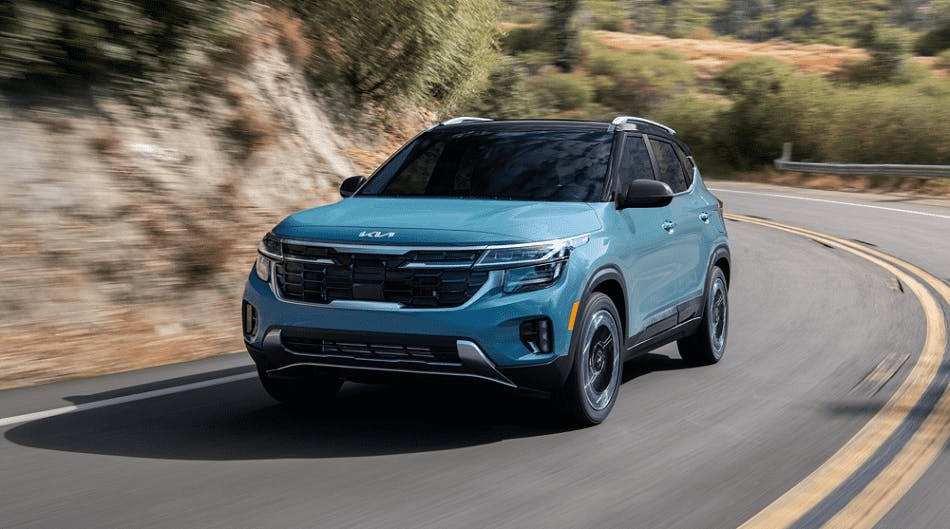 With an impressive Torque-Vectoring All-Wheel Drive System, that enhances traction and control in any condition, Kia's upcoming SUV comes for you to take on the road in style and power. Distribute power between the front and rear wheels, with the push of a button and easily navigate through any terrain!
This car offers two powerful engine options, including a 1.6L turbocharged engine that delivers an impressive 195 hp and 195-lb.-ft. of torque, giving you the power to take on any challenge. But the Seltos isn't just about performance - it's also packed with advanced features that will certainly improve your driving experience. With striking LED headlights, fog lights, high-utility roof rails, and new 18-inch wheels, the Kia Seltos is the ultimate in style and adventure.
Moreover, the redesigned interior offers more overall room and cargo space and will provide you with all the space you need to bring your gear and your friends along for the ride. It's a perfect combination of comfort and capability.
Step inside the Seltos and experience the luxurious seating materials, bold design elements, and intelligent convenience features. Additionally, with Smart Cruise Control, Bose® Premium Audio, and a wireless charging pad, you'll have all the technology you need to power the possibilities.
Not to forget about the advanced safety features. This car also offers Highway Driving Assist and Rear Cross-Traffic Collision-Avoidance Assist for you to sit back and enjoy the ride, knowing that you and your passengers are safe and secure.
Specifications:
Electric range: 300 miles
Horsepower: 290
Towing capacity: up to 1,500 lbs.
Release date: fall 2023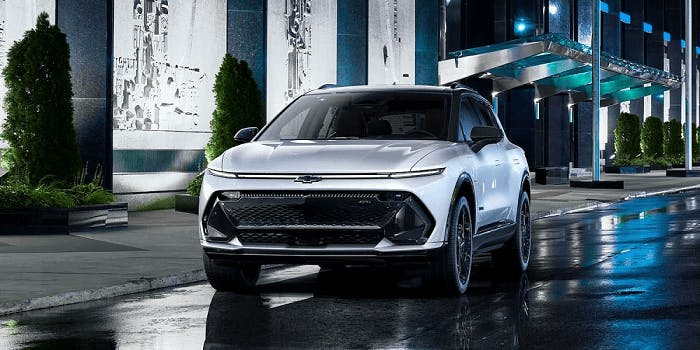 This upcoming SUV from Chevrolet offers exceptional SUV capability along with modern technology, all while being affordable and electrifying your daily drives.
Equipped with the Ultium Platform, the Equinox EV offers up to 300 miles of electric range on a full charge, which is perfect for both quick jaunts and long journeys. The electric powertrain also means near-instantaneous torque and the freedom of available hands-free driving.
The Equinox EV is not only sleek and modern on the outside but also spacious and practical on the inside. Its interior boasts comfortable seating for up to five people and a maximum cargo space of up to 57.2 cubic feet, with an innovative dual-height cargo floor. It also features tons of technology like an available massive 17-inch driver-centric freeform display, customizable ambient lighting, and heated front seats and steering wheel. And with intuitive controls within reach, you're always just a touch away from the tech you love.
Safety features include Chevy Safety Assist and Reverse Automatic Braking, which can alert you and automatically provide hard emergency braking to help avoid collisions with detected vehicles and objects directly behind you when you're in reverse.
With Super Cruise™ driver assistance technology and wireless charging, the Equinox EV is a modern and sophisticated upcoming electric SUV designed to make you feel like the center of attention.
The all-new Infiniti QX60 is an impressive upcoming SUV that's designed with ease of use and a modern driver in mind. This striking vehicle boasts an athletic, commanding presence, balancing powerful proportions with carefully considered details. Eye-catching digital piano key lighting adorns the front and rear, cutting an unmistakable shape against the dark. The signature double-arch grille was inspired by traditional Japanese origami, while the cabin is bathed in natural light through the panoramic moonroof, creating a feeling of space.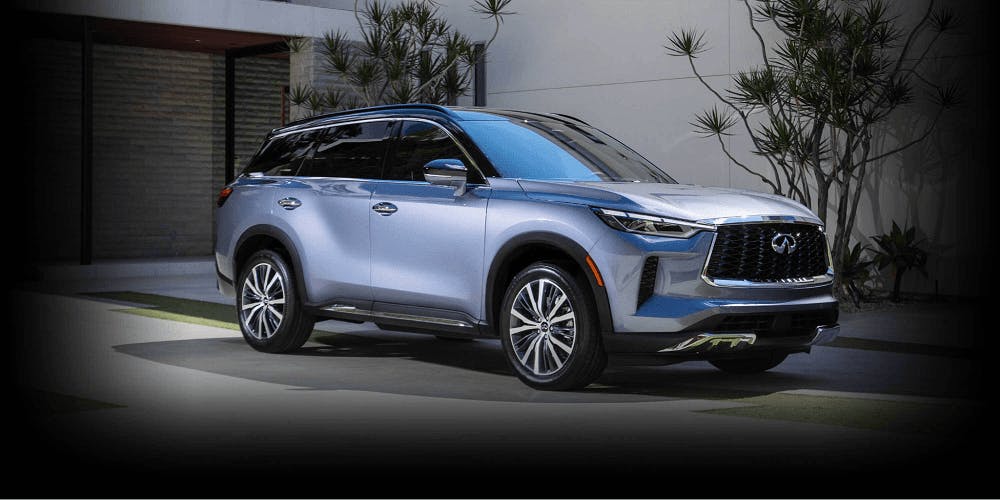 The all-new QX60 is designed to serve every challenge of life, with a spacious cabin featuring decadent materials and subtle, yet expressive details that create a warm, serene retreat for passengers. This futuristic SUV also comes with folding second and third-row seats, creating an expansive cargo area behind the driver, with up to 54.1 liters of cargo stowage in the underfloor storage.
Moreover, the QX60 offers advanced technology, including wireless Apple CarPlay® and USB-based Android™ Auto, displayed on a new 12.3-inch touchscreen. With a Wi-Fi hotspot for up to seven tablets, smartphones, or other Wi-Fi devices, USB ports in all three rows, and a BOSE® Performance Series sound system, your journey will be anything but boring.
And lastly, with its confidence-inspiring technology, such as ProPILOT Assist with Navi Link and Traffic Sign Recognition, you'll always feel safe behind the wheel.
Conclusion
The vehicles listed above are not just a ride but a statement of style and performance. With sleek styling, advanced technology, and off-road capabilities, they are perfect for exploring the great outdoors or conquering the city streets. We hope that our list of the best upcoming SUVs will assist you in finding the perfect one for your needs.