In the swiftly expanding landscape of the ebike industry, various global electric bike events serve as invaluable touchpoints for untapped potential. They foster an environment of information exchange, connection-building, and showcase the latest industry trends and breakthroughs.
As an ebike producer, knowing about these industry-leading events can help chart your course to success.
Overview of the Growing Electric Bike Industry
In 2022, the ebike industry, a rapidly emerging market, was valued at USD 18.66 billion and is projected to exceed USD 40.98 billion by 2030.
The expanding market is gaining momentum on a global scale, particularly within Europe and the US, where ebikes are being recognized as an eco-friendly means of transportation. As acceptance amplifies, the range of available options diversifies, from simple pedal-assist bikes to more intricate models featuring optional throttle activation.
One sector witnessing remarkable growth is the e-Mountain Bike (e-MTB). This segment benefits from a surge in adventure tourism and a renewed worldwide interest in cycling, positioning e-MTBs as significant influencers of market trends in the upcoming years.
In terms of technical aspects, hub motors have been a popular choice in the ebike market due to their simplicity and cost-effectiveness. Nevertheless, mid-drive motors, providing high torque, superior performance, and easier maintenance, are set to experience increased demand.
In the battery segment, lithium-ion batteries are forecasted to control the ebike industry with a projected CAGR of 12.9% from 2022 to 2032, due to their high charge density, excellent performance, and lightweight properties. Furthermore, ebikes are expanding their applications, with trekking and cargo ebikes expected to witness substantial growth.
ebikes cater to various rider requirements through their classifications – Class 1, 2, and 3).
Class 1 ebikes are appreciated for their power assistance and health benefits.
Class 2 ebikes, with their user-friendly design and throttle activation, are suitable for individuals with physical constraints.
Class 3 ebikes, often known as 'speed pedelecs,' provide a quicker alternative for commuters, contributing to the variety of the market.
Are you currently working on building your own ebike? Whether you're still in concept stage or prototyping, Prelaunch can help you test every aspect of your ebike - from features to pricing, positioning, design, and beyond.
Let's see if your ebike is ready for a successful launch before you spend additional money on R&D, production, and other areas.
Major Electric Bike Events for ebike Producers
Dates: October 11-13, 2023
Location: Virtual Event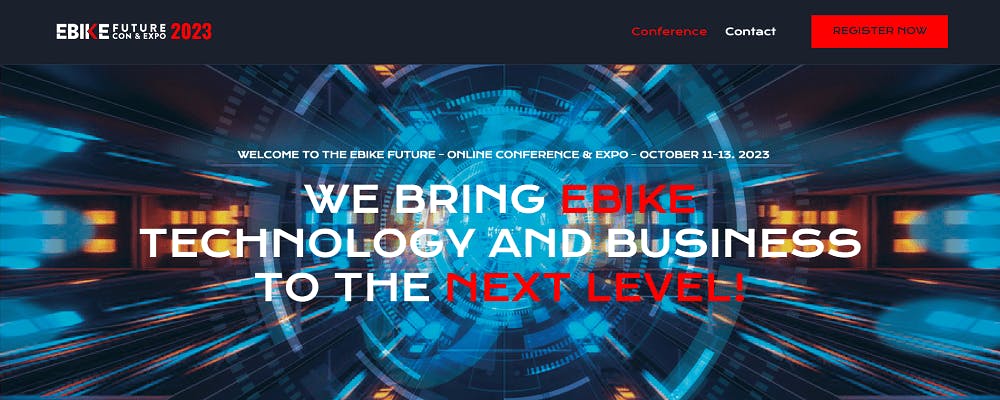 The Ebike Future Online Conference & Expo is a revolutionary online event designed to propel the ebike industry into new dimensions of growth and innovation. Gathering world-class speakers from various sectors, this conference offers unparalleled access to cutting-edge knowledge and insights in the realm of ebike business and technology.
Expect in-depth discussions on market trends, ebike opportunities, technological advancements, R&D, and the intersection of mobility and sustainability at the heart of the electric bike events.
Ideal for innovators, business professionals, and enthusiasts alike, attendees are also offered various participation packages, from free access to premium features including:
A virtual booth,
Business directory listing,
Extended replay access, and
Audio books.
An exceptional opportunity to engage, learn, and network with industry pioneers from around the globe, right from your own home or office.
Dates: June 17-25, 2023
Location: Messe Frankfurt, Frankfurt City and surroundings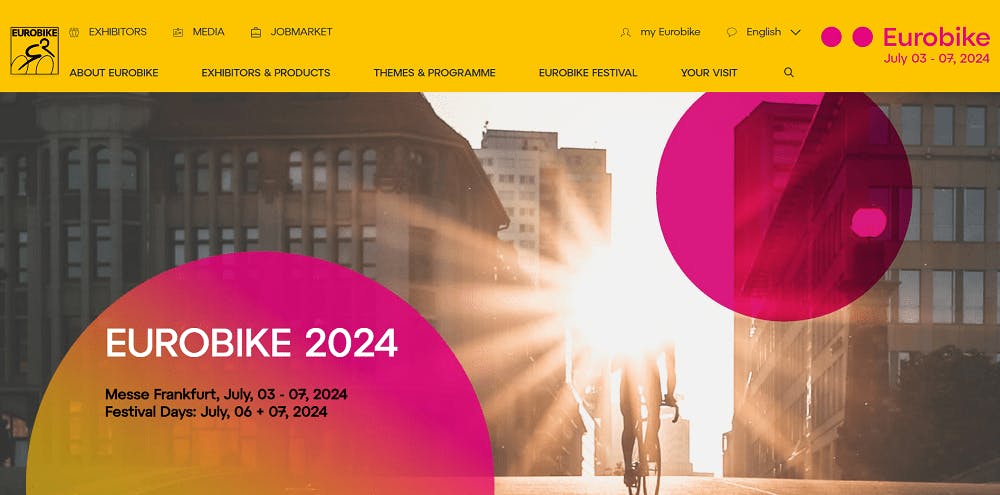 Eurobike 2023 marks the 32nd year of this world-leading bike and mobility universe trade show. Serving as a significant magnet, it draws over 100,000 visitors across more than 100 countries, making it the industry's beating heart.
In the seven halls and large outdoor area of Messe Frankfurt, 1500 exhibitors will be unveiling groundbreaking products, from ebikes to cutting-edge components and apparel - ideal for ebike producers to either showcase their work or get more insight into the industry.
Alongside, the Eurobike Cycling Week, enriched by the addition of electric bike events, turns Frankfurt into a cycling and mobility experience hub, culminating in the Festival Days. The event also hosts the prestigious Eurobike Award, rewarding excellence across varied categories, and includes career insights into the industry.
Dates: check the event's website
Location: Multi-city, across the U.S.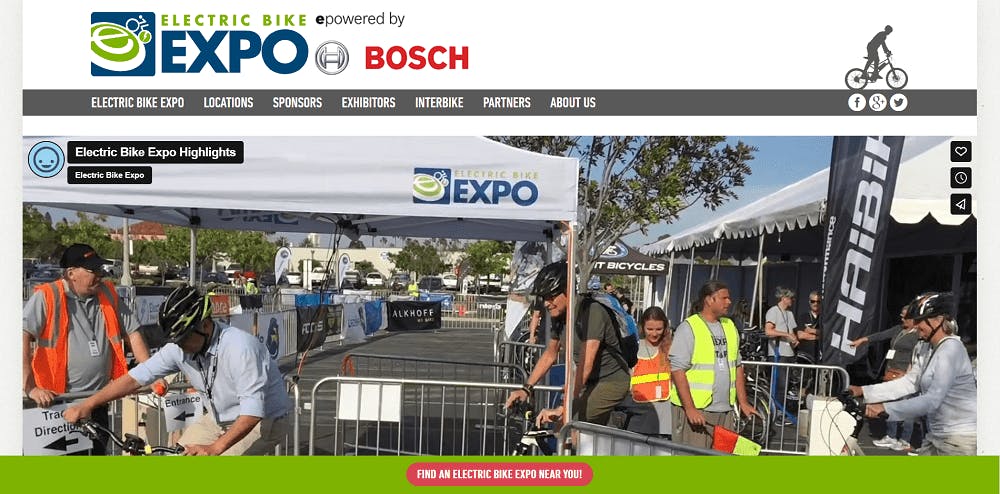 The Electric Bike Expo, one of the essential electric bike events, represents an unmatched series of roadshow ebike expo events for enthusiasts.
Organized by ExtraEnergy Services North America, Inc., this renowned electric bike expo combines education and entertainment in a unique format. It offers an exhilarating experience of power-assisted cycling, conquering challenging inclines with renewed vigor.
This ebike event showcases engaging educational sessions, comprehensive displays of ebike components, and provides test-riding opportunities, underlining the many benefits of electric power-assist bicycles.
This bike expo serves as a platform to comprehend the ebike movement and rekindle enthusiasm for cycling.
International Electric Bike Events
Dates: May 5th to 8th, 2023
Location: Shanghai New International Expo Center, Shanghai, China

China Cycle, hosted by Shanghai Xiesheng Exhibition Co., Ltd., is China's premier event in the cycling industry and stands as one of the most influential electric bike events.
With a 31-year legacy, this bike expo brings together both international and local market leaders, presenting a wide array of products from ebikes, children's bikes to manufacturing equipment, riding gear and more.
The exhibition is endorsed by various cycle and exhibition associations, guaranteeing a high standard of service. Attending this electric bike expo, you will gain thorough knowledge of the global two-wheel industry and learn about the latest trends. You'll also get unparalleled networking opportunities with key industry players, group buyers, bicycle enthusiasts, and experts.
Dates: March 6th to 9th, 2024
Location: Taipei, Taiwan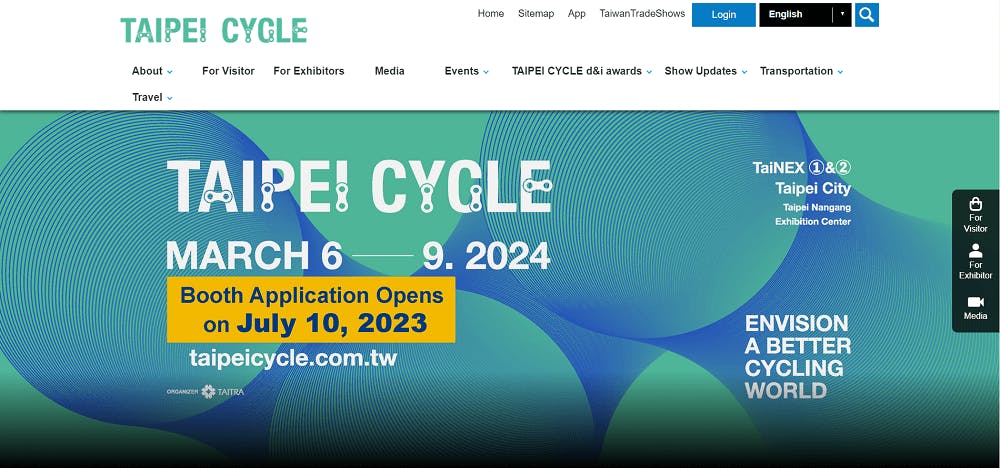 Taipei Cycle 2024, hosted by the Taiwan External Trade Development Council and the Taiwan Bicycle Association, is a central ebike expo in the cycling sphere, exhibiting cutting-edge progression in bike design and accessories.
As the industry sails through the post-pandemic era, grappling with novel hurdles such as inflation and shortages in materials, this platform catalyzes and encourages future industrial growth.
Highlighting sustainability, urban mobility solutions, and smart design, Taipei Cycle emphasizes the crucial role of innovation in this rapidly changing domain. An integral feature of this ebike show is the esteemed Taipei Cycle d&i awards, paying tribute to the finest and most innovative designs in the sector.
Dates: 18-20 June, 2024
Location: Messe Stuttgart, Stuttgart, Germany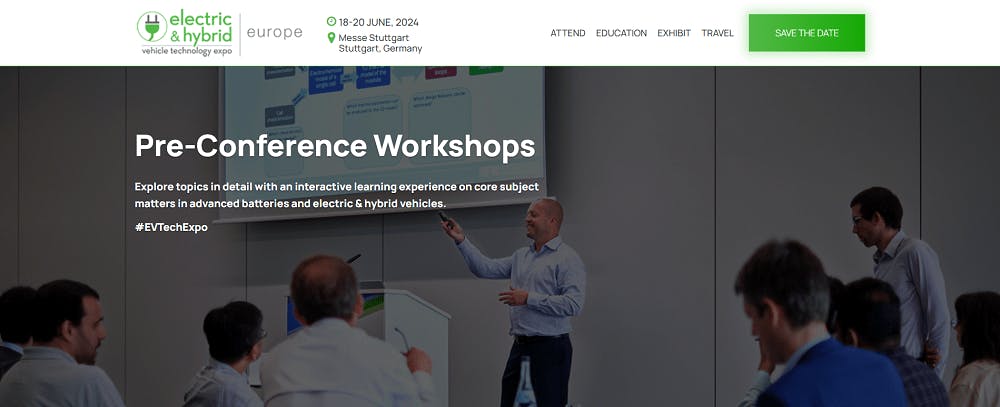 As the foremost platform for the exchange of ideas, this electrifying electric bike event offers a robust arena where over 16,811 professionals, encompassing battery manufacturers, suppliers, engineers, and decision-makers, interact and shape the future of the industry.
By attending this ebike expo you'll gain access to the latest technology from 766 industry suppliers, explore market innovations, and derive insights to enhance battery efficiencies and reduce manufacturing costs.
This ebike show provides a wealth of information and opportunities to learn from expert-led conferences, pre-conference workshops, and the Open Tech Forum, a hub for free education on the expo floor.
With all your supply chain contacts in one place, from raw materials to battery recycling, it's the ideal setting to connect and collaborate within the industry.
Dates: 9-12 May, 2023
Location: Leipzig, Germany

As an ebike expo of global resonance, Velo-city stands as a forum where advocates, industry leaders, policy makers, and researchers converge to shape the cycling industry's future. This preeminent electric bike event, annually organized by the European Cyclists' Federation, promotes cycling as a sustainable, healthy transportation method.
The conference brings together over 1400 "Velo-citizens" from over 60 countries, providing a platform for knowledge exchange, policy transfer, and the promotion of active mobility and sustainable urban development.
Velo-city exhibition, a key component of the ebike show, showcases cutting-edge innovations for an enhanced cycling experience in cities and beyond, attesting to its status as one of the leading bike expos worldwide.
Regional Electric Bike Events
Dates: May 19-21, June 24-25, July 22-23, Aug 12-13, Sept 9-10, Oct 14-15, Nov 10-12
Location: Long Beach, CA; San Francisco, CA; Washington, DC; Long Island, NY; Seattle, WA; Miami, FL; Austin, TX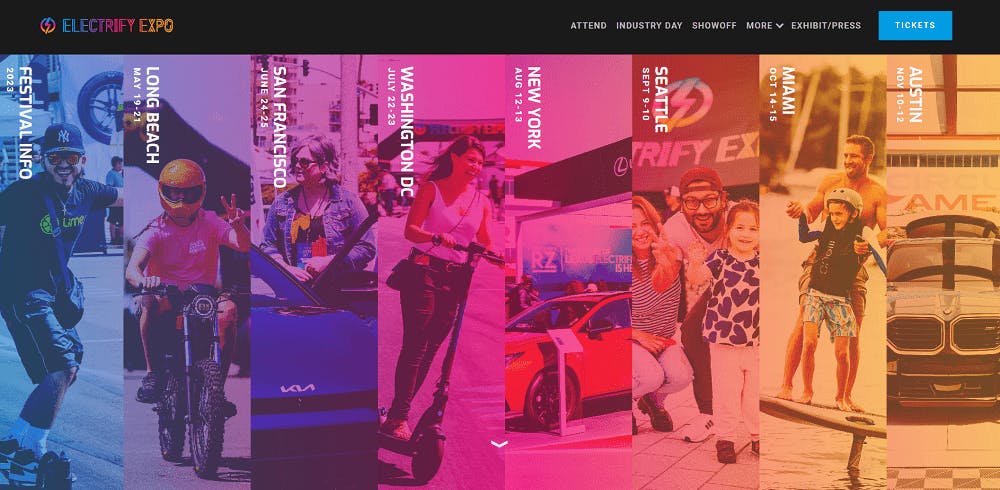 The Electrify Expo is a sprawling electric bike show and festival, showcasing the top brands in electric mobility. It's a full day of electrified fun where participants can experience and demo their favorite electric vehicles including ebikes, e-motorcycles, e-scooters, and even e-skateboards.
The event also caters to a younger crowd, with a huge Kids Zone filled with electric go-carts, ebikes and more. Food, drinks, and music create an electrifying ambiance, making this bike expo more than just an exhibition—it's a party for everyone!
Dates: 11-12 November
Location: The Cloud, Queen's Wharf, Auckland CBD

An annual beacon for change, the eBike Expo propels the future of eco-friendly transport and recreation, embodying the electric bike events' dynamism. As the ebike show mirrors the rapid evolution of the global industry, attendees dive into an exciting atmosphere that fuels interest in cycling hardware.
As an ebike producer, this event is perfect for enhancing your brand profile, demonstrating products, and connecting directly with customers, leveraging the electric bike expo as a robust platform.
Enriched with industry-specific showcases, the event nurtures networking, trend evaluation, and business opportunity creation, reinforcing its position as a linchpin in the ebike industry's growth narrative.
Dates: July 14-16, 2023
Location: Shimano Experience Center, South Limburg

The Ladies Event is a unique celebration of women in cycling and a highlight in the calendar of electric bike events, but more geared towards the attendants rather than producers.
This exclusive weekend offers everything from relaxed rides to DJ-powered parties. Friday sets the pace with an evening of food, music, and a bike and lifestyle market. Saturday is tour day, with signposted routes suitable for road bikes, ebikes, and city bikes, catering to riders of all experience levels.
Sunday is for relaxation. Extend the weekend with various packages including wellness, lifestyle, Maastricht, or Heuvelland.
This ebike show is designed to create an all-encompassing experience where every woman takes center stage.
Dates: May 6-7, 2023
Location: Tempelhof Airport, Hangar 4 and outside area, Berlin

VeloBerlin, one of the most captivating electric bike events, brings together exhibitors from various cycling and mobility areas under the unique urban ambiance of the historical Tempelhof Airport.
Get an opportunity to explore a diverse array of mobility products, accessories, and digital solutions. The event boasts extensive test tracks and fun parcours, inviting attendees for extended test rides – all opportunities to showcase your own work or gain industry knowledge. Besides, the vibrant festival program features inspiring talks, thrilling shows, and grand cycle races.
Established in 2011 and organized by fairnamic GmbH, VeloBerlin annually witnesses a massive turnout of visitors, creating an energetic platform for mobility discussions and participation.
Dates: Spring Show - March 8 to 10, 2024 | Fall Show - September 23, 2023
Location: Spring Show - The International Centre, 6900 Airport Road, Mississauga | Fall Show - Exhibition Place, Enercare Centre, 33 Manitoba Drive, Toronto

As one of the world's largest consumer bicycle and electric bike events, the Toronto Bicycle Show and ebike Expo present an impressive lineup of exhibitors from manufacturers to distributors, retailers, tour companies, and clubs.
Visitors are offered a sneak peek into the latest trends for 2024 in bicycles, accessories, and clothing, including a broad selection of electric bikes.
The event stands out with its 2,500-feet test track designed to accommodate all types of bikes. The Fall Blowout Sale is a rare opportunity for great deals on end-of-season stock. event is a must-attend if you're working on building an ebike..
Electric Bike Industry Association Events:
Dates: 5 September 2023
Location: University of Oxford, Blavatnik School of Government

The ebike Summit is a prime example of electric bike events at their finest, serving as a strategic platform to boost the ebike industry. This top-tier forum brings together global leaders in government, business, and industry to shape the sector's trajectory and foster influential partnerships.
Panel Partners enjoy ownership of a business unit at the summit, unlocking vast opportunities for marketing and business development in the B2B sector.
Headlined by Auto Trader, UK's leading automotive marketplace, the 2023 summit is set to address key narratives of growth, investment, and decarbonisation, fortifying its status as a significant event in the electric bike landscape.
Dates: July 13th and 14th, 2023
Location: Online - Google Meet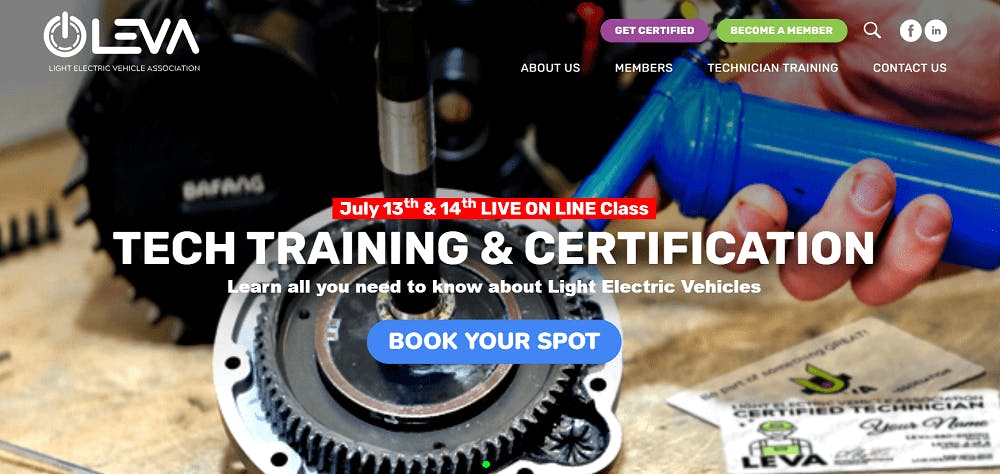 The Light Electric Vehicle Technician Training event is a comprehensive course held live online that caters to the burgeoning ebike industry. The course, running across two days, is designed to save participants time and money by offering valuable insights and certification from the comfort of their own homes.
It covers four levels of training, from safety protocols to sophisticated software diagnostics, offering comprehensive knowledge about controllers, displays, motors, batteries, and circuitry. Participants will also receive an Electric Bike Maintenance Manual, access to instructional videos, and other industry resources..
This event is a perfect place for you as an ebike producer as you can directly access a pool of people interested in ebikes as well as learn about what your product needs to incorporate to be the best in the market.
Are you currently working on building your own ebike? Whether you're still in concept stage or prototyping, Prelaunch can help you test every aspect of your ebike - from features to pricing, positioning, design, and beyond.
Let's see if your ebike is ready for a successful launch before you spend additional money on R&D, production, and other areas.
Unlocking the full potential of networking, market exposure, and collaboration for success in the electric bike market
Participating in electric bike events is the backbone of a successful business in this rapidly evolving industry. These events serve as a strong accelerator, expanding opportunities for networking, market exposure, and collaboration – all crucial to creating a thriving ebike company.
Strategic networking in these gatherings unlocks access to a global pool of industry leaders, experts, and enthusiasts. These connections foster meaningful conversations, leading to potential partnerships, alliances, and mentorships that can help navigate the complexities of the ebike industry.
Networking can provide first-hand insights into emerging market trends, consumer preferences, and industry benchmarks, refining business strategies and ensuring a competitive edge.
Market exposure achieved through participation in these events amplifies brand visibility and credibility. By showcasing products, ideas, and innovations, businesses can engage with their target audience, receive immediate feedback, and foster customer relationships. This exposure extends beyond the event itself, creating a ripple effect of brand awareness and reputation enhancement.
Collaboration is another significant boon of these events. The shared platform encourages cross-industry partnerships, fostering co-creation and shared learning. Collaborative efforts can lead to innovative solutions, joint ventures, and shared advocacy, driving the industry towards sustainable growth and development.
Electric bike events serve as a catalyst, not only for individual business success but also for the collective growth of the industry.
Conclusion
Electric bike events provide a dynamic platform for ebike producers to establish a robust network, gain in-depth market insights, and amplify their brand's visibility.
As the industry continues to evolve, these events will remain instrumental in shaping its future, making them an indispensable tool for any ebike producer seeking to thrive in this burgeoning market.
Related articles
How Prelaunch.com Predicted Dragonfly Hyperscooter's Success
Product Validation Process: Why Is It So Important?