If you're a product creator looking for a great way to fund and validate your products, you've come to the right place. Did you know that you can get both funding and validation from just 1 platform? Enter: crowdfunding.
As a crowdfunding platform, Kickstarter is very popular and loved. Nevertheless, there are other Kickstarter alternatives you should consider - each with its industry specification, audience, and benefits.
Want to find out which platform will work best for your product? This Kickstarter alternatives guide will explain everything you need to know about alternatives to Kickstarter as well as 8 Kickstarter competitors.
Keep on reading through to learn about the pros and cons of many product funding and validation platforms.
What is Kickstarter?
Before jumping into Kickstarter alternatives, let's learn all about Kickstarter itself. So, what is Kickstarter? Kickstarter is a crowdfunding platform that helps product creators generate funding to launch their creations.
Kickstarter is best for creative projects such as design, art, fashion, games, technology, and more.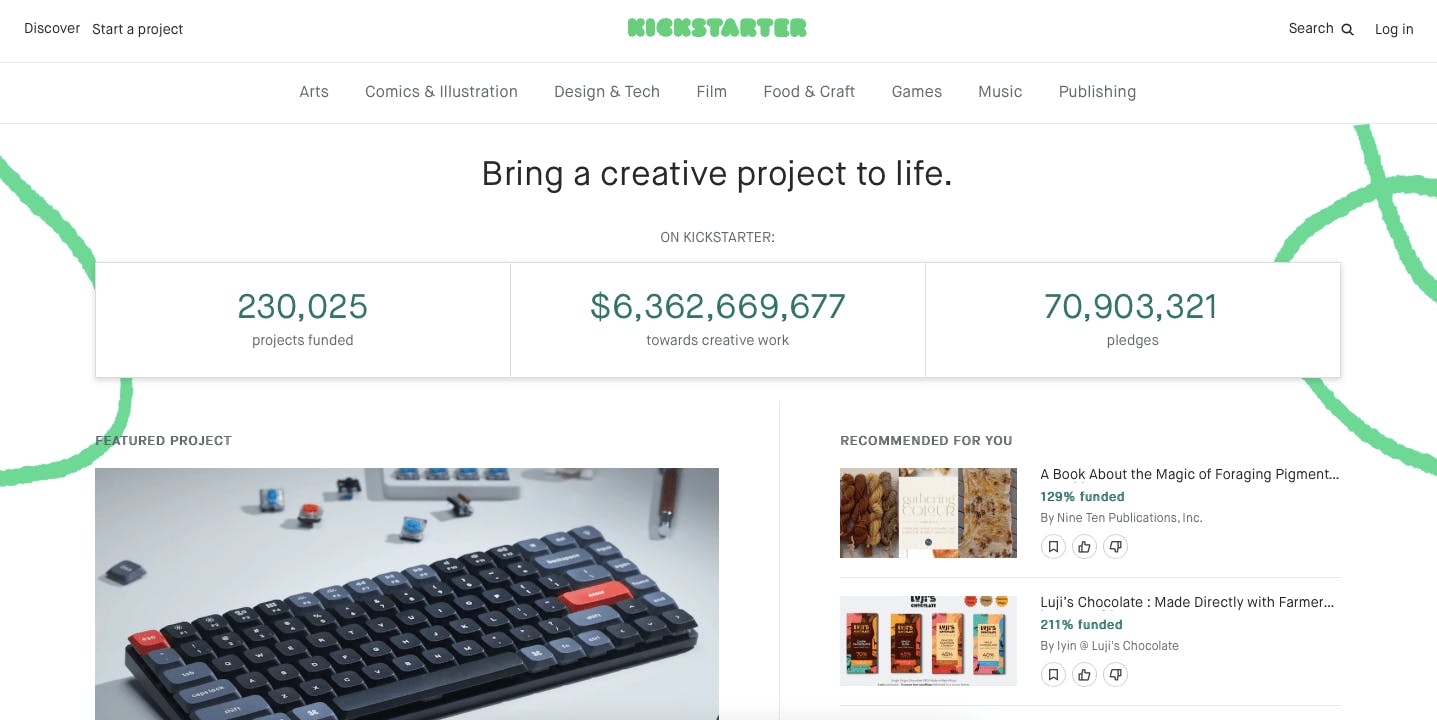 If you've never heard of crowdfunding platforms, you should definitely take note. From all the different ways of raising funds for your startup (e.g., angel investors, VCs, grants, etc.), crowdfunding is the one that can help you kill 2 birds with 1 stone. But how?
As the name suggests, crowdfunding means generating funding from a crowd. In this case, instead of taking on 2-3 investors with big investments, you take on hundreds or thousands of investors for a smaller price.
When a user backs your product, they will be paying for a perk, which is most often the product itself. In other words, you're pre-selling your products to future users of your product. In doing so, you are also validating your audience's willingness to pay as well as demand for your product.
Since Kickstarter is one of the most popular crowdfunding platforms, let's check out the pros and cons of using Kickstarter for businesses.
Advantages of using Kickstarter
If you're going to use Kickstarter for your crowdfunding campaign, consider the following advantages of Kickstarter.
Easy to use. The Kickstarter interface is very intuitive, even for newcomers.
The popularity of the platform. You get a huge platform where you can reach lots of potential backers.
Highly functional. Kickstarter has features that other platforms might lack (e.g., subscription campaigns)
Disadvantages of using Kickstarter
When it comes to the cons of using Kickstarter for your business, here's what you need to know:
Fixed funding only. You will only get funded if your project meets its goal.
Highly competitive. Standing out among bigger campaigns might pose a challenge.
Not for charitable causes. Kickstarter is only for creative products in specific categories (15).
Now that you know a bit about Kickstarter let's dive deeper and talk about the 8 best Kickstarter alternatives.
Indiegogo
Indiegogo is one of the 2 household names that best represent crowdfunding. The other one is Kickstarter, so if you are looking for the best alternatives to Kickstarter, listen up.
Indiegogo is best for technology, fitness, home improvement, and outdoor products. It is similar to Kickstarter in essence, but it has a slightly different target audience and capabilities.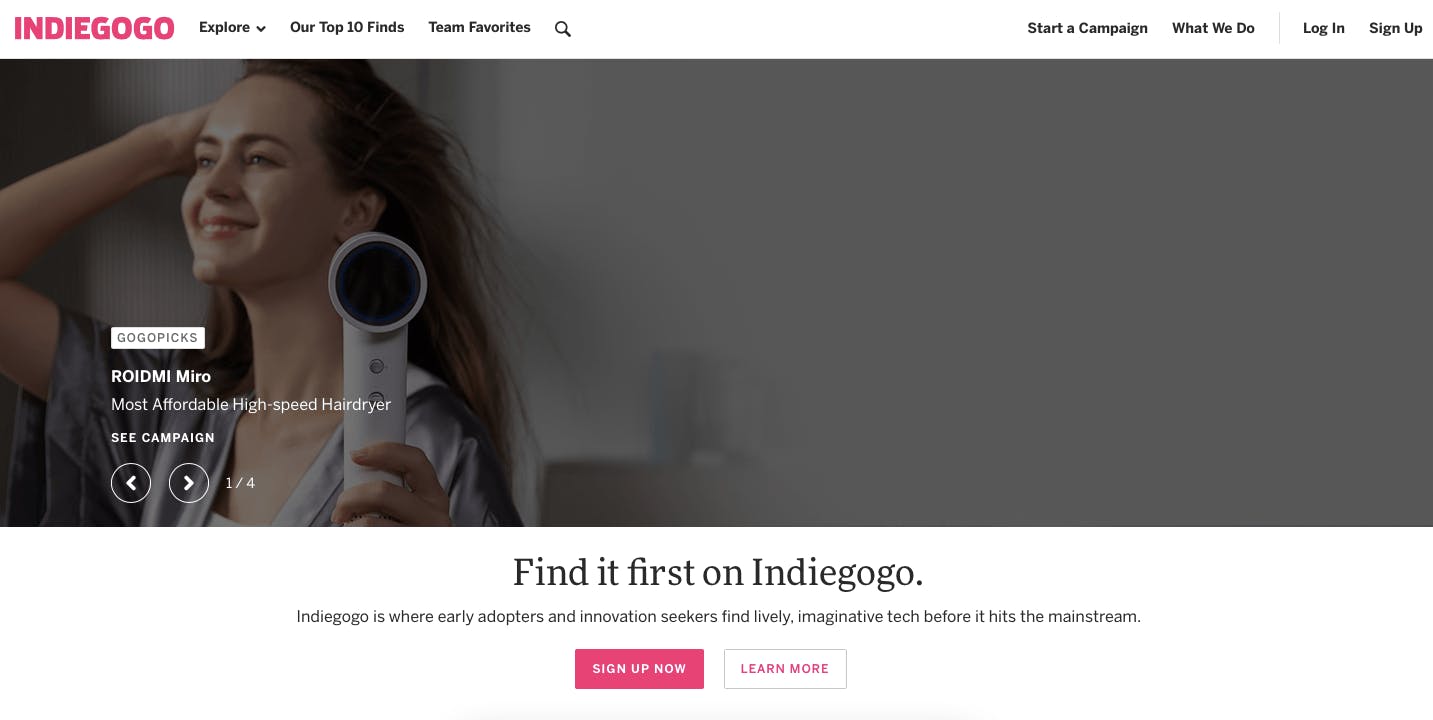 Let's check out the pros and cons of using Indiegogo for your funding and product validation campaign.
Advantages of using Indiegogo
Indiegogo has helped in bringing over 800K successful projects into the market. So, it must be good, right? Let's see what advantages you get with Indiegogo.
Accessible for almost any type of campaign. From non-profits to tech gadgets, Indiegogo hosts 28 different categories of products.
Both fixed and flexible payment options. You can get your funds regardless of whether you meet your goal or not.
Longer campaigns with InDemand. Indiegogo has a special feature with which you can keep raising funds for your product even after your standard campaign deadline ends.
Disadvantages of using Indiegogo
Now that you know the benefits of using Indiegogo let's look at its disadvantages.
High fees. Indiegogo fees can go up to 9% compared to Kickstarter's 5%.
Less popular than Kickstarter. In terms of traffic, Kickstarter gets 4 times more exposure than Indiegogo.
Obligation to send rewards to backers. If your project fails to meet its goal with a flexible payment option, you will be obliged to send the rewards to users who have already backed you.
Crowdfunder
Crowdfunder is a website like Kickstarter, but it has many different features. Unlike Kickstarter, Crowdfunder allows you to run non-profit and personal cause campaigns. In general, it offers the most simple crowdfunding features.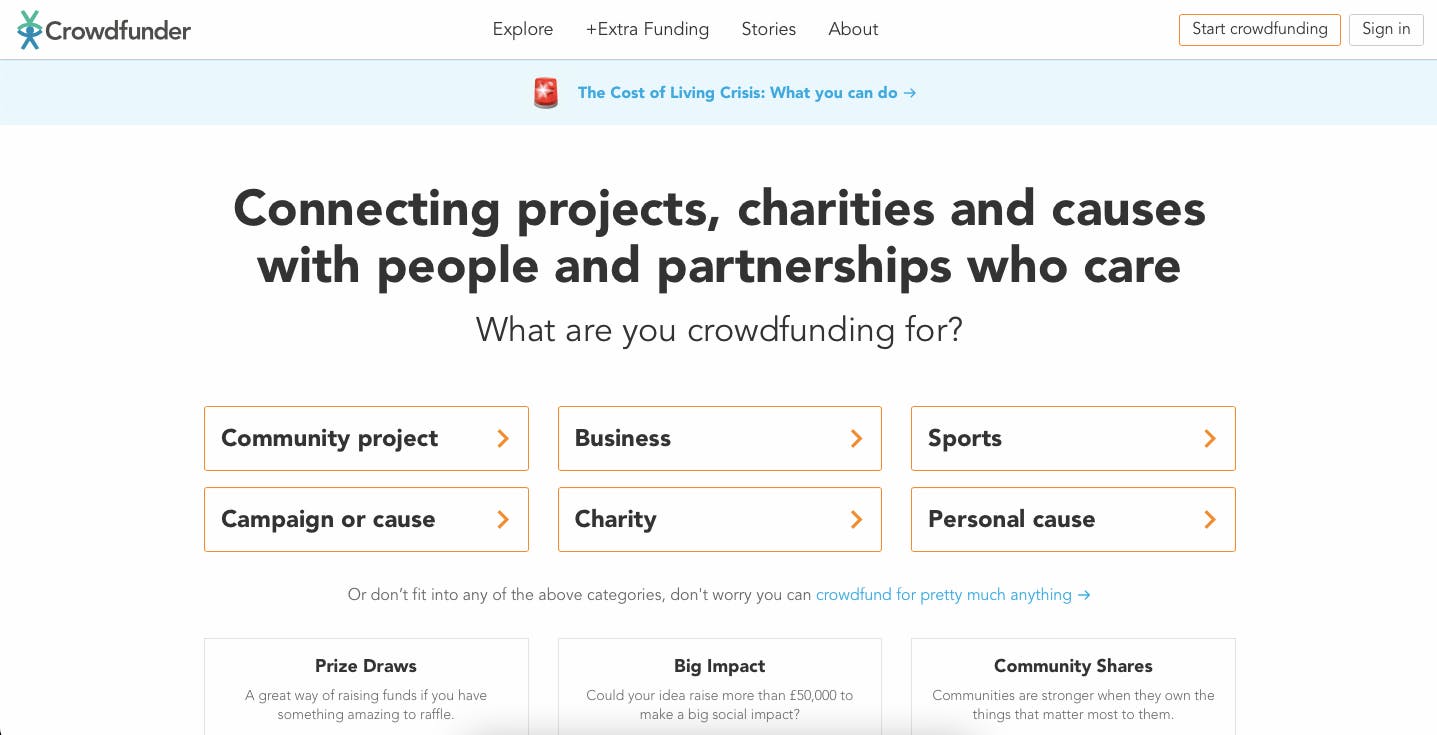 Although you can run charitable campaigns, Crowdfunder is more targeted at startups and entrepreneurs.
Let's check out the pros and cons of Crowdfunder and see if it's the right platform for your product.
Advantages of using Crowdfunder
If your business targets the niche UK audience of Crowdfunder, here are some benefits you can get from running your campaign on this platform.
Both fixed and flexible funding options. You can keep whatever amount you raise, even if you don't meet your goal.
Flexible fees for charities. If your campaign qualifies as a non-profit cause, you will pay no platform fees.
No mobile app. Since the platform isn't as developed as other Kickstarter alternatives, it has no mobile app.
Disadvantages of using Crowdfunder
We covered the good parts of Crowdfunder. Now let's talk about the bad.
Small user base. Compared to the giant Kickstarter, Crowdfunder's audience is only around 175,000.
Lacking in customer support. There is no phone support or live chat, only an extensive FAQ section.
Short campaign term. Crowdfunder campaigns can last only up to 8 weeks.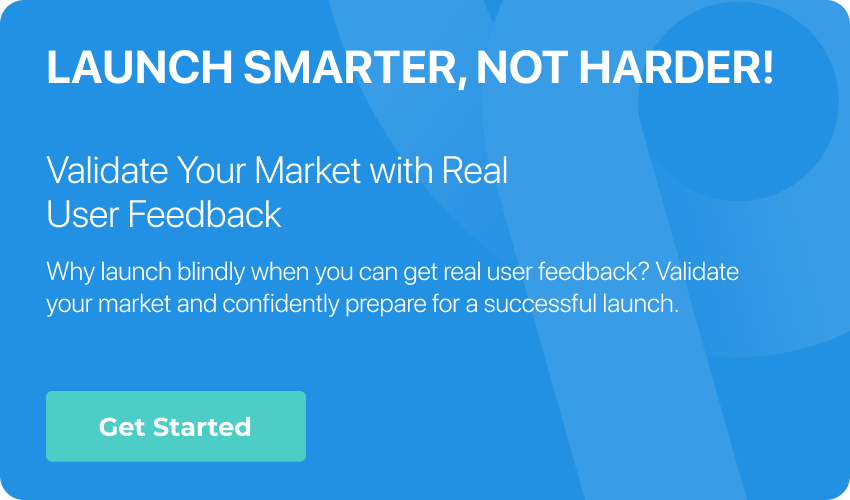 SeedInvest
Next on our list of companies like Kickstarter is SeedInvest. With an investor base of over 700K, this is a great platform for startups and small businesses.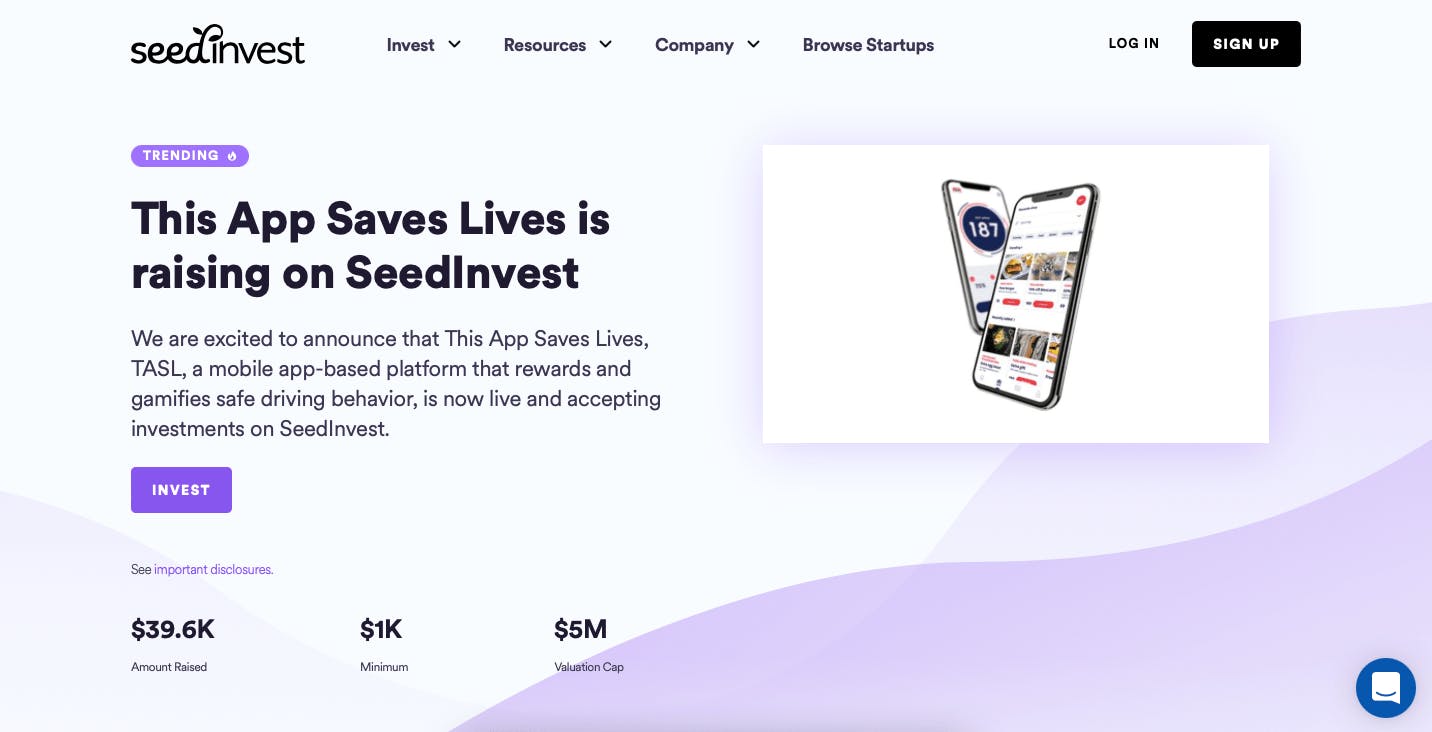 SeedInvest is best for seed-stage startups looking to get their idea off the ground, but you'll have to pass a screening process to get in. Let's check out the pros and cons of using SeedInvest to see if it's the right platform for you.
Advantages of using SeedInvest
When it comes to the benefits of SeedInvest, here are the 3 pros you need to know.
Exposure to VCs and Angel Investors. The platform's audience is highly relevant for startups looking for funding from VCs and Angel investors.
Highly selective screening process. SeedInvest is serious when it comes to vetting startups.
No fees in case of failure. If you fail to raise funds on SeedInvest, you pay nothing to the platform.
Disadvantages of using SeedInvest
High placement and equity fees. SeedInvest has a placement fee of 7.5% as well as an equity fee of 5%.
No mobile app. The platform is only available on desktop.
Shorter campaign term than Kickstarter. SeedInvest campaigns for startups can last up to 60 days compared to Kickstarter's 90 days.
WeFunder
Similar to SeedInvest, WeFunder is also a platform for startups where you can raise funding from investors. Plus, all investors invest in one fund, making the logistics of fundraising much easier.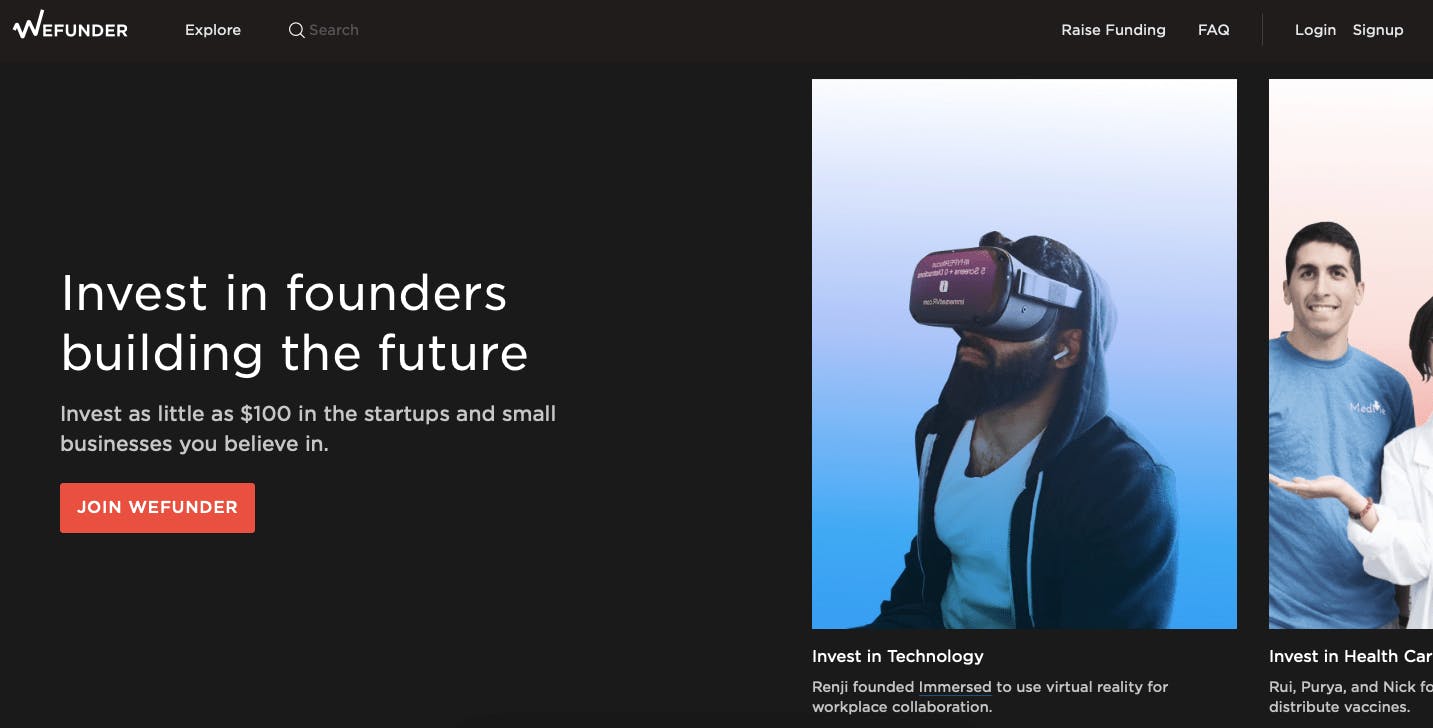 The company launched in 2012, and they claim to be the first movers in the market. They created this investor-to-funder crowdfunding idea. Let's see what the pros and cons of WeFunder are.
Advantages of using WeFunder
If you have a startup and want to raise money from investors, consider these benefits of WeFunder.
Fast campaign setup. WeFunder claims that you can have a campaign up and running in just 15 minutes.
No strings attached (at first). If you fail to raise funds on WeFunder, you won't be charged any fees.
Valuable exposure. WeFunder has a massive network of high-value investors. Getting exposure in those circles can do wonders for your startup.
Disadvantages of using WeFunder
Now, let's talk about the drawbacks of WeFunder as a high-level crowdfunding platform.
Obligation to publicly disclose financial information. The law requires you to disclose your financials to the public.
High fees. The platform takes 7.5% of what you raise in platform fees.
Longer campaign term. Unlike other Kickstarter alternatives, WeFunder hosts rounds of funding like a VC.
StartEngine
Similar to WeFunder and SeedInvest, StartEngine is an investor-based equity crowdfunding platform. It's a mix between traditional crowdfunding and funding through VCs or investors.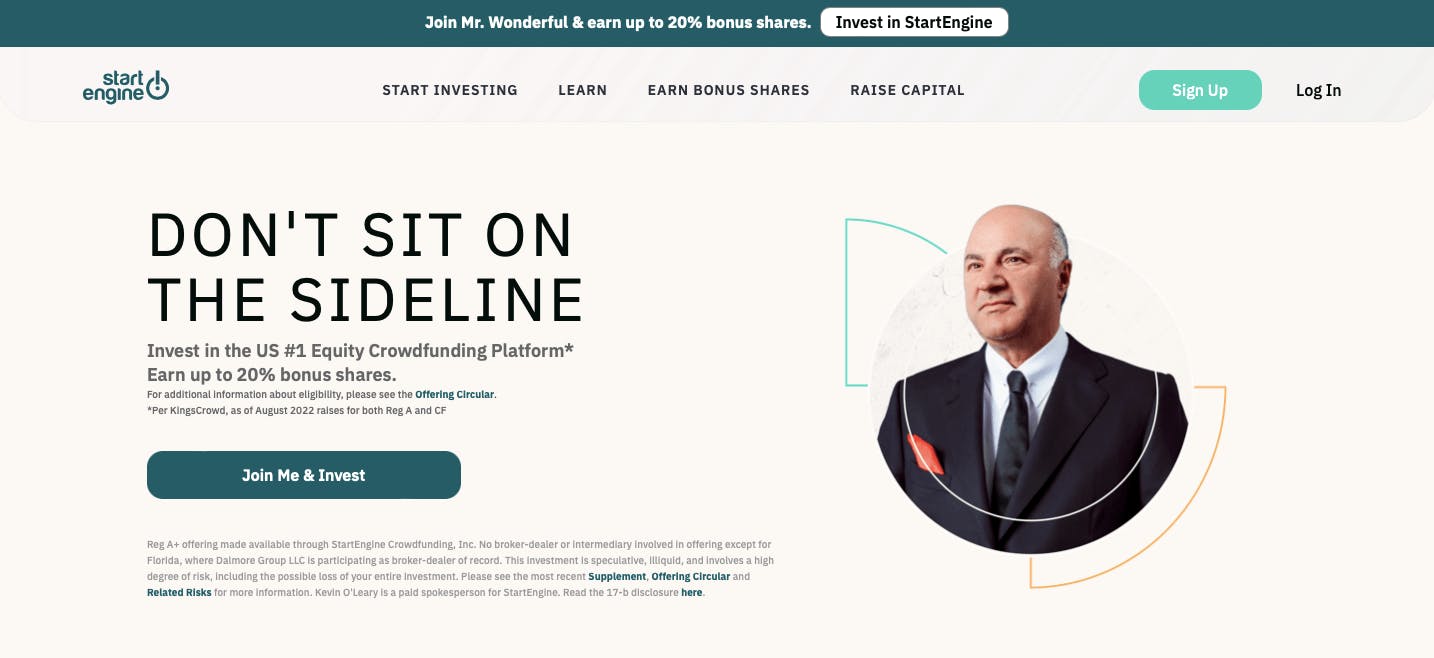 As one of our Kickstarter alternatives, StartEngine is a great investment opportunity for backers, but it's also a great platform for startups. Let's take a look at the pros and cons of StartEngine.
Advantages of using StartEngine
If you're still unsure if StartEngine is the right platform for your project, consider these benefits.
Mobile version available on the App Store. Keeping track of your funding is made easier with the StartEngine mobile app.
Set your own valuation. Although you're raising funds from investors and the general public, you get to decide your own valuation.
Connect with investors in real time. The platform is very dynamic in terms of investor-founder communication.
Disadvantages of using StartEngine
If you're considering applying to StartEngine and raising funding for your startup, take note of these drawbacks of the platform.
Mandatory disclosure of legal documents. Raising funds on StartEngine requires you to disclose Incorporation Articles, Board Resolutions, Executive information, and other legal documents.
High initial fees unless you meet certain criteria. Prepare to pay around $4,000-$10,000 for financial reviews and legal documentation.
Long pre-launch period. It usually takes 4-6 weeks to launch your campaign, but it can go up to 110 days in some cases.
Pozible
Pozible is another one of the Kickstarter alternatives you should keep in mind when crowdfunding. It is an Australia-based platform that is similar to Kickstarter in its fixed funding options (all-or-nothing).
Pozible is best for artists and Australian community causes. It supports projects across 15 different categories - from music to tech. Want to know if this is the right crowdfunding platform for you?
Let's check out the pros and cons of the 6th platform on our Kickstarter alternatives list.
Advantages of using Pozible
If you fit into the categories of Pozible and need a little more info, consider these benefits.
All-or-nothing funding. If your campaign fails to meet its goal, you won't receive any funding, but you will also be under no obligation to send out rewards to your backers.
Adequate fees. Unlike other Kickstarter alternatives, Pozible's platform fees (5%) don't reach the skies.
Subscription pledge feature. Similar to Kickstarter, Pozible also features subscriptions for pledges to be paid on a regular basis.
Disadvantages of using Pozible
Now that you know the benefits of this Kickstarter alternative check out its disadvantages to make an educated decision.
Largely Australian audience. Since Pozible is based in Australia, its startups and backers are also mostly from that area (60%). If you are based in Australia, this point can be considered an advantage for you.
Small network. As one of the best Kickstarter alternatives, Pozible hosts a much smaller audience you can capture.
Login required for backers. Unlike other Kickstarter Alternatives, Pozible requires that backers create an account to make a pledge.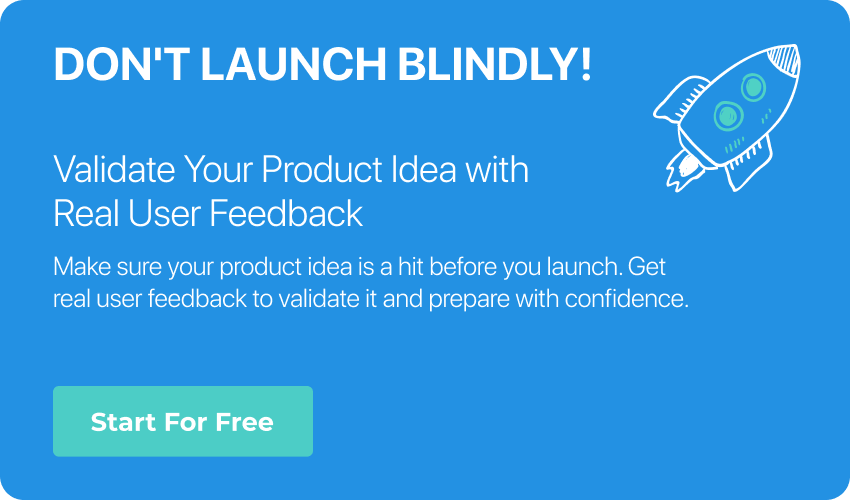 Fundable
The penultimate platform on our list of Kickstarter alternatives is Fundable. It is a very flexible crowdfunding platform that allows 2 forms of raising funds. You can use a rewards-based format just like Kickstarter and other Kickstarter alternatives, or you can choose to run an equity-based campaign - selling shares in your company instead of rewards.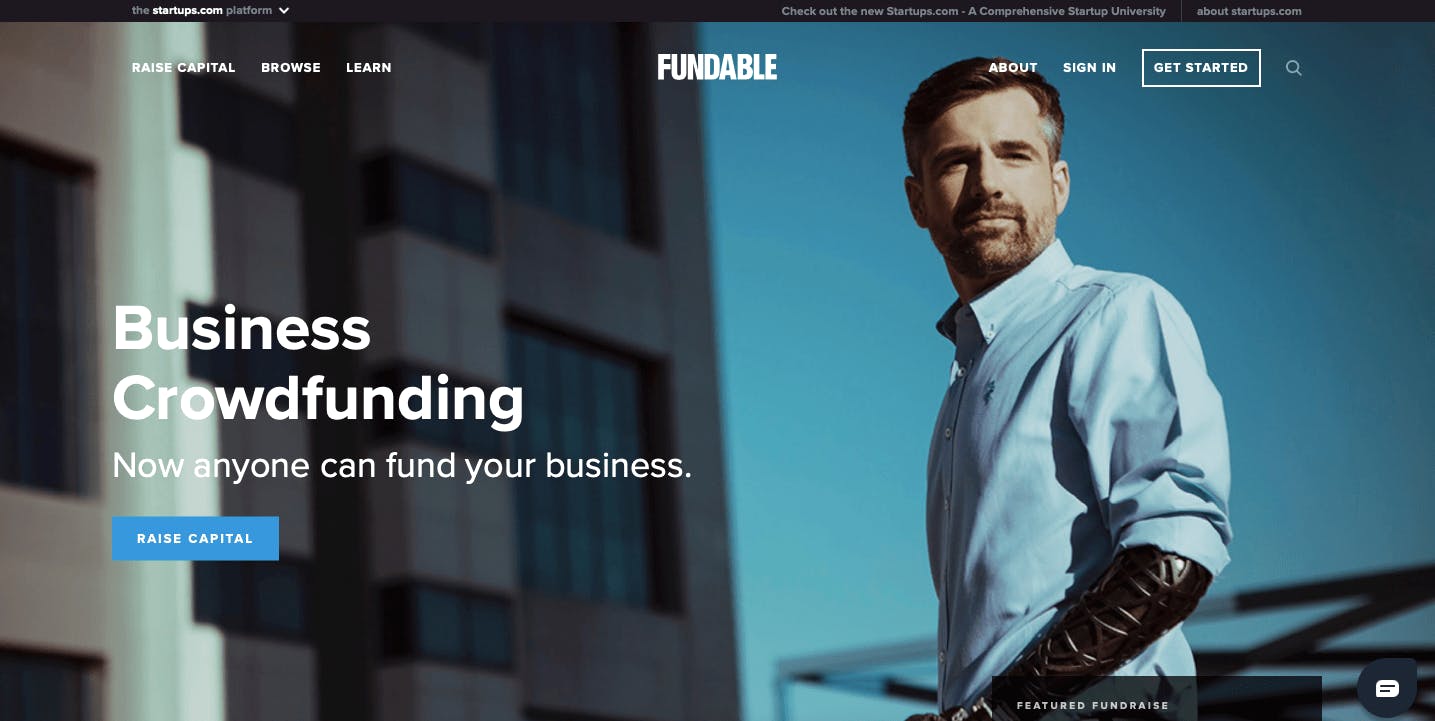 Fundable is best for small businesses. If you want to open a local brewery or launch an online store for handmade products, Fundable can be the one for you.
Let's check out Fundable's pros and cons to see if it's a good match.
Advantages of using Fundable
If you're still deciding between platforms, consider these 3 Fundable benefits.
Responsive customer support. If you're new to crowdfunding platforms, the customer support team of Fundable will help you out a lot.
Both reward-based and equity-based formats. The platform supports both formats for funding your project.
Low fees for successful campaigns. Paying a fixed $179/month for your campaign can turn out to be cheaper than a percentage fee if you are successful.
Disadvantages of using Fundable
Now that you know the advantages of the platform let's see where Fundable is slacking.
Fixed funding. In other cases, this all-or-nothing funding format would be an advantage. However, due to fixed fees, unsuccessful campaigns come out with a loss.
Extensive screening process. Especially for equity funding projects, screening and vetting are highly selective and time-consuming.
Monthly fee instead of a percentage fee. Instead of taking 5-9% in platform fees like most Kickstarter alternatives, Fundable charges you $179/month while your campaign is active. If your project is successful, this can turn into an advantage.
Prelaunch.com
Last but not least, let's talk about Prelaunch.com. This platform is at the end of our Kickstarter alternatives list because it is not a direct alternative. Instead, it is an idea validation platform you simply need to succeed.
Ultimately, it doesn't matter which platform you use as a Kickstarter alternative, and you must use an idea validation platform like Prelaunch.com before launching your product on any crowdfunding platform.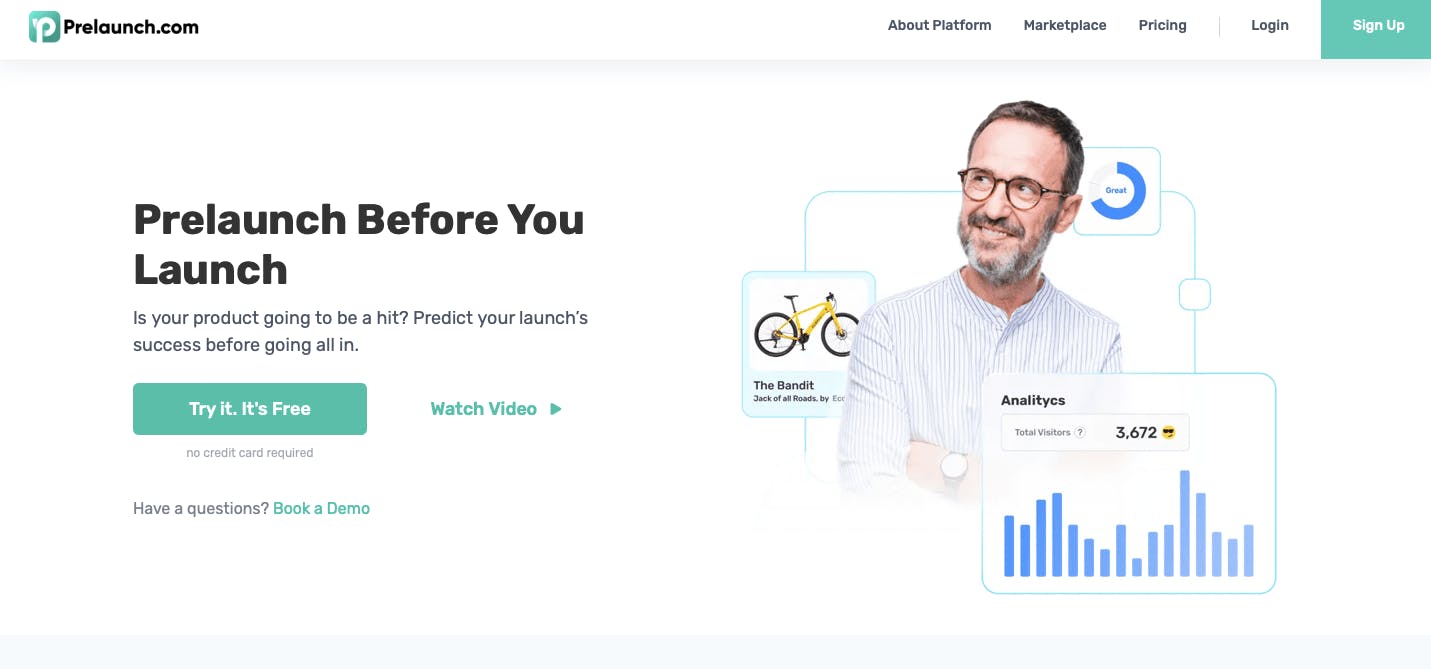 Before you start raising funding for your invention, you need to make it a worthwhile product for its users. This is where startup validation tools come into play. If you don't know how to validate a startup idea, you can leave it to the experts at Prelaunch.com to be your guides.
With Prelaunch.com, you can test out your market and make sure that your product will succeed before launching. You'll find out if there is demand for your product, what your customers are willing to pay for it, along with other valuable customer insights.
Startup idea validation is as crucial as it gets, so let's check out the pros and cons of Prelaunch.com to see if it's a good fit for you.
Advantages of using Prelaunch.com
Whether you choose one on another startup validation platform is up to you. We are simply here to help you make an educated decision. So, let's dive into the benefits of Prelaunch.com.
Affordable. Compared to other idea validation platforms, Prelaunch.com is cheaper with prices varying from $0-$413 per month. That's right - there's a free version.
Easy-to-use. Testing your products with Prelaunch.com requires no coding knowledge or experience.
Relevant benchmarks. Prelaunch.com uses smart benchmarks to rate the performance of your idea or product.
Predicative analytics. Aside from extensive insights into your performance, you also get to iterate different combinations for your positioning, visuals, and more.
No prototype is needed. You don't need to have a prototype or an MVP to test out your startup idea.
Risk-free/Guarantee. Prelaunch.com uses tried and tested methods to help find your product-market fit.
Disadvantages of using Prelaunch.com
Lastly, let's talk about the disadvantages of Prelaunch.com as an idea validation platform.
Not designed for funding. Prelaunch.com is mainly a startup validation tool, and it's not designed to be a crowdfunding platform.
New brand. Prelaunch.com is a relatively new brand, so you might not trust it at first. Nevertheless, we've tested it out, and it can do wonders.
No reservation is provided until shipping. Product reservations can be canceled at any time before you start shipping.
Final Thoughts
And there you have it - our complete list of 8 Kickstarter alternatives you should consider for your next crowdfunding platform.
Kickstarter is a shark in the market, but there are other platforms with specific audiences and features that can sway your opinion. Launching your product on a relevant platform can make or break your success, so choose carefully.
Each product is different, and choosing the most popular option might not be the optimal decision for your startup.
If you're launching a new tech gadget, Indiegogo might be a better option for you. If you're based in Australia, you should consider Pozible. If you're looking for equity funding, consider SeedInvest or WeFunder.
In the end, don't forget to validate your idea, market, and price before launching a crowdfunding campaign.
We hope this Kickstarter alternatives guide helped you make a decision, and we wish you good luck on your next campaign!
Related Articles
Top 22 Platforms for Your Crowdfunding Promotion
Launching a Product: 3 Core Product Launch Stages