Market research is a process that follows your business throughout all its stages of operation. From developing products and building them to marketing and maintaining their relevance, analyzing your market is crucial. Not only does it help to understand what your audience wants and gauge your demand, but also how you should present it and what gaps it should fill. Market research can also answer the big question of whether or not your product will work. Ultimately, you'll know what you're getting into and how you can prepare for it.
Whether you're new to research, are going to develop your first ever product, or just want to improve your skills, don't be scared of market research. There are thousands of market research tools out there that can help and guide you on your journey.
If you want to learn more about the best market research tools out there, keep reading. We'll teach you all about market research and why it's important for your business or startup and let you in on the 10 best market research tools you can find online.
What is Market Research?
To give a short definition, market research is the collection of all the methods companies use to gain information and insights about their target market and users. Without market research, companies would be going into the field without any knowledge about their most valuable business assets – customers. In general, market research is your source of knowledge. The more knowledge you have, the more mistakes you'll avoid.
It's important to understand that the market doesn't only refer to quantitative observations like the number of potential customers or annual sales. The market in question refers to your potential customer segments, their pain points, demographics, and other qualitative measures like interests and opinions.
Market research can be divided into 2 stages. Firstly you'll gather secondary or preliminary information from relevant sources, and second, you'll conduct your own research and gather info directly from your target. In other words, you'll first learn the facts, then understand the "why."
The best part is – you can do it yourself with the help of online market research tools.
Why Is It Important?
Here's the deal – if you don't do market research, you won't know what your customers want. Sure, you can have your hypotheses, but without proof, they aren't worth much. If you care about your business succeeding, you're going to want to make informed decisions. The only risks you should be taking are calculated ones. Otherwise, you'll just be playing a guessing game. In fact, 35% of startups fail because there was no market need for what they were building.
If you still don't believe that market research is a worthwhile investment, here are some major reasons why you need it:
Helps determine the key features of your product.
Makes it easier to decide on pricing, design, sales channels, and marketing tactics that will help you find your product-market fit.
Helps identify market trends and stay ahead of the game.
Keeps track of competitors and market needs.
10 Best Market Research Tools
Now that you know why you must do market research before going to market with a product, let us teach you about some amazing market research tools you can use. From quantitative to qualitative data, primary to secondary research, we've identified those that can benefit you most. Read on to find out about the 10 best market research tools you can find online.
Google Trends
Google is the biggest search engine in the world, with around a 92.47% market share. Considering their power and knowledge, any product they offer for your success is automatically fantastic. In this case, Google Trends is their keyword research tool that helps you determine and compare the relative search volumes of your keywords.
Google Trends helps identify trends, spikes in interest that took place due to certain events. It allows you to discover the relative search volumes in different locations and time periods, relating to text or image searches, YouTube searches, and Google Shopping.
Google assigns a score to your search out of 100, which "grades" your search relative to all the searches in your specified time and location. This way, they normalize the data, presenting it with a scale rather than an absolute number.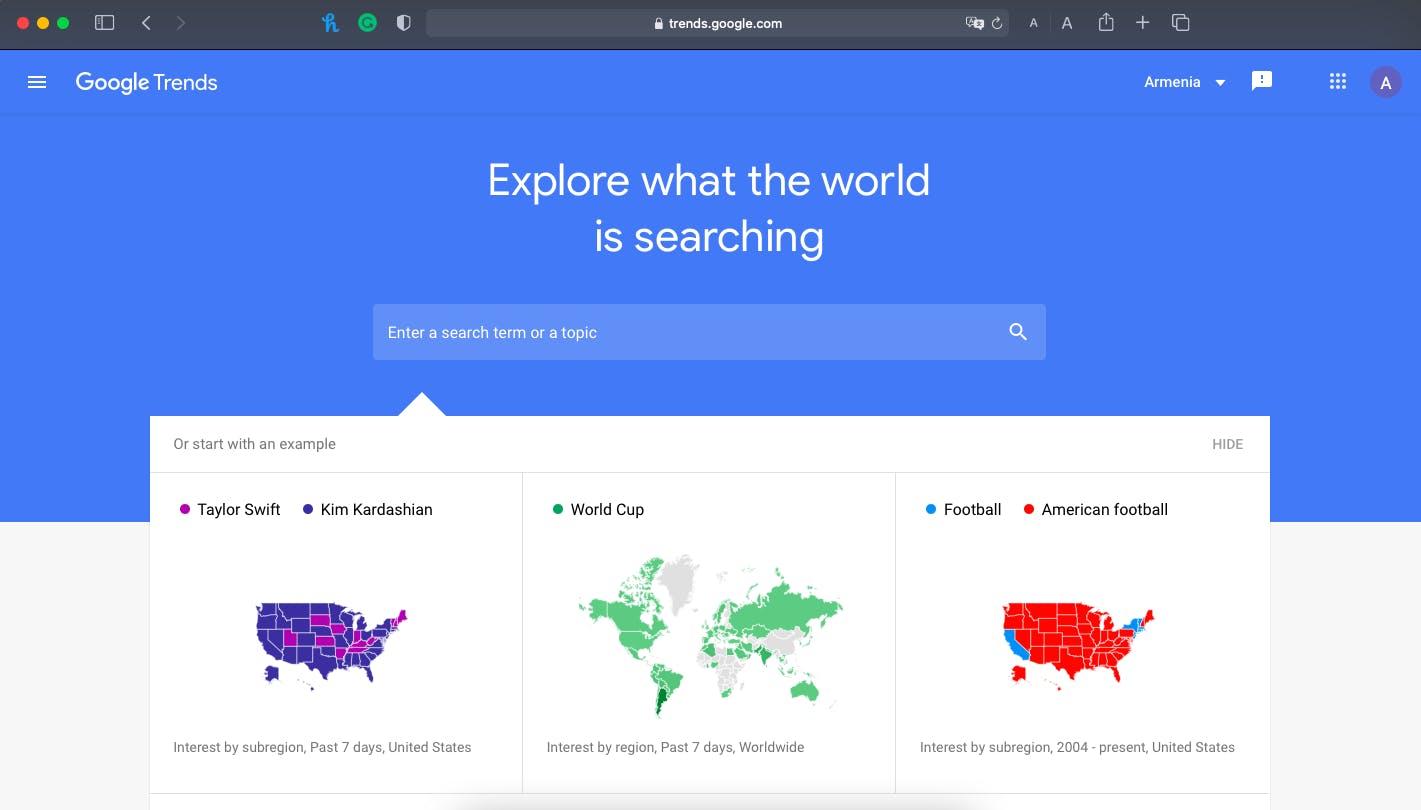 Being one of the best free-market research tools, Google Trends can help you in competitor research, general trends, and so much more. You can also gauge how much to invest in marketing during different times of the year by comparing the popularity of various holidays. For example, if you were to compare the worldwide searches for "Halloween," "Christmas," and "Easter" during the past 5 years, here's what you would see.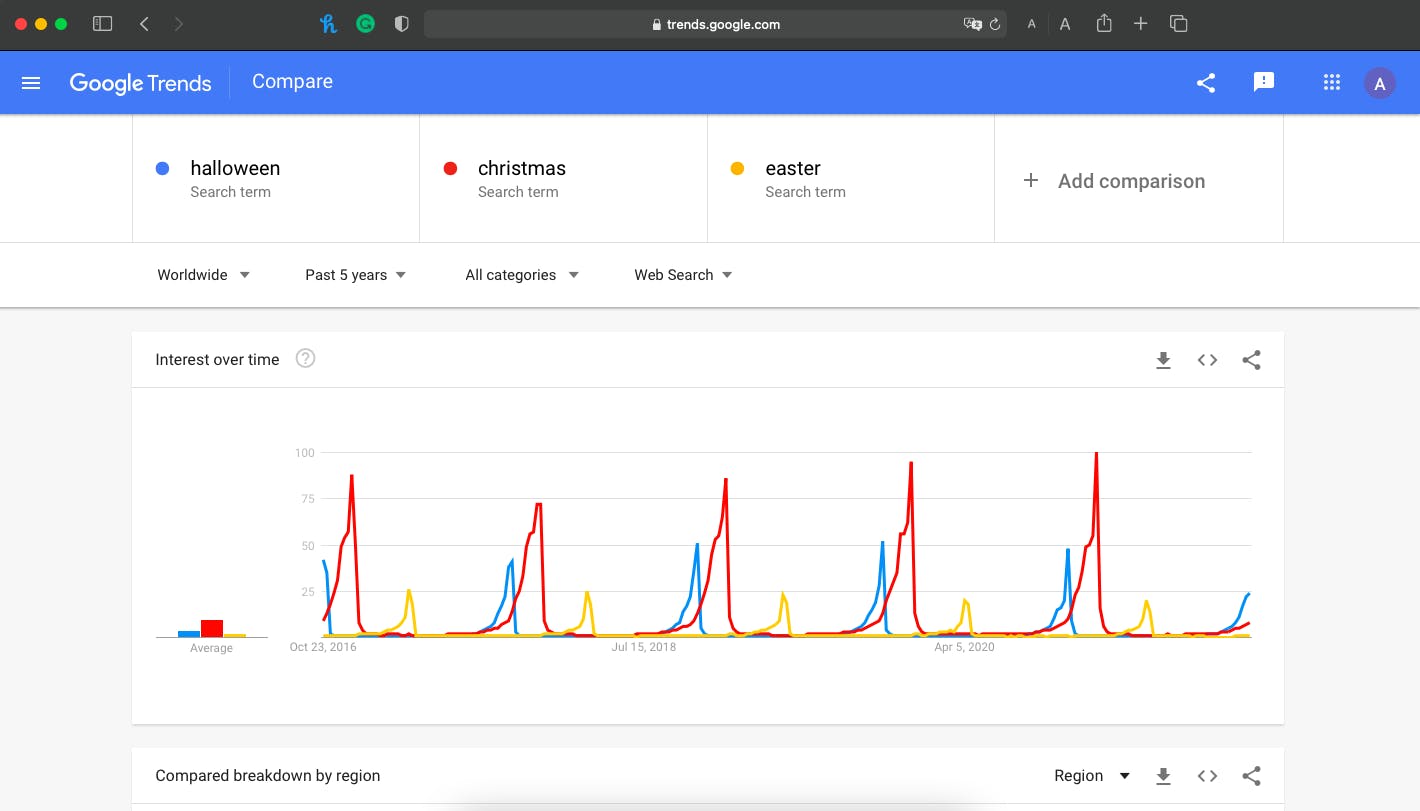 Ultimately, you can see that Christmas is the most popular one, followed by Halloween, then Easter. You can also see that search volumes increase leading up to the holiday, then drop immediately after the day.
This market research tool can give you deep insights into what is popular where, at each point in time. You can use it however you like, to gain whatever info you want.
Pros:
Compare up to 5 terms
Set custom dates and locations
Simple to use and understand
Visually appealing and comprehensive data charts
Shows data for related topics to your search
Can view separate data for mobile and desktop
Cons:
Shows a relative search volume rather than a specific number
Related search terms are not always accurate
No demographic variations are available
Location filters only by country
Pricing: This invaluable tool by one of the biggest corporations in the world is completely free for anyone to use.
Make My Persona
Make My Persona is a market research tool by Hubspot, a leading marketing company for software products in sales, inbound marketing, and more. The tool ultimately allows you to create your buyer persona, who is your ideal customer. This helps to visualize your target market, get in the mindset of your potential buyers, and deeply sympathize with their pain points to ultimately be able to solve them. Built by leaders of the market, the tool knows exactly what questions to ask.
First, the market research tool allows you to humanize your customer by even asking you to name them and give them an avatar. Once you fill out the demographic characteristics of your persona, you need to also fill out some information about their career.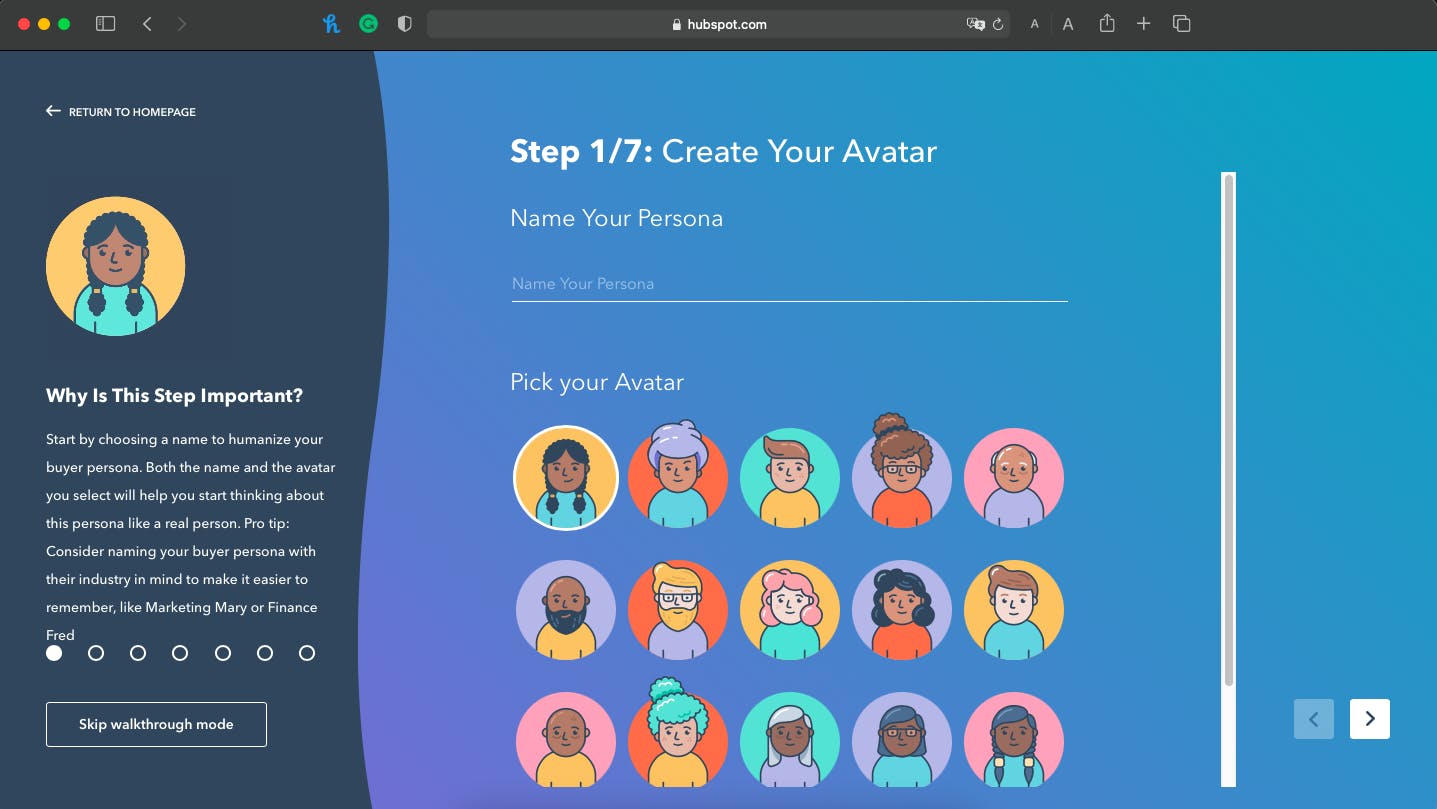 Building your buyer persona takes time and insights. Make My Persona asks questions that can later be analyzed to help you in marketing products to them in a better way. In the end, you get a detailed personal form, similar to a CV, containing all the relevant information about them.
Make My Persona seems to be more fitting for B2B products, as the questions are heavily related to the buyer's career and industry.
This is one of the free market research tools that gamify your process of defining a buyer's persona, making it more fun and visually pleasing.
Pros:
Beautiful, modern interface
Allows for creativity
It Set the mood to get into a buyer's shoes
Humanizes your persona
Asks relevant questions
Cons:
No further suggestions or insights about persona's behaviors
Pricing: This little market research software is free for anyone on the web to use and benefit from.
BrandMentions
BrandMentions is a market research platform that tracks how a keyword is performing on social media. Simply search for a keyword, and the tool will let you in on the latest social media posts containing that keyword along with its context. This allows you to track your and even your competitors' performance on social platforms. You can view data for the past 30 days with their Quick Mention Search Tool.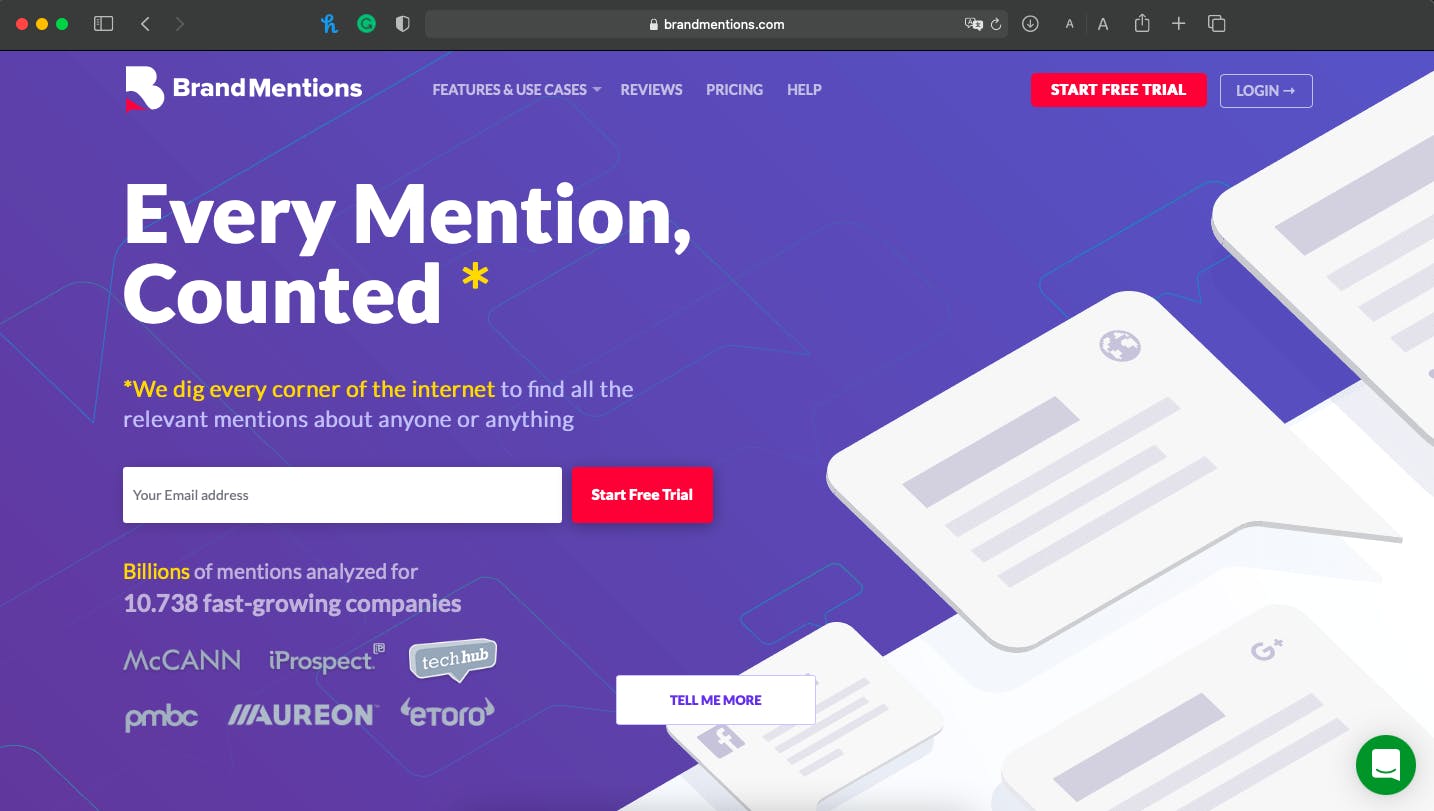 If your brand uses generic words, the tool uses smart filtering to recognize and disregard irrelevant posts. Plus, this smart market research tool conducts sentiment analysis to identify the tone of each mention (positive, negative, or neutral). You also get real-time email alerts when your specific keyword is mentioned in a social post, plus reports based on weekly and monthly performances. Last but not least, you get historical mention recording, so you can go back to any mention you want.
For brands that want to track their website links, the platform offers to monitor your website traffic. Overall, the tool is extremely useful in determining social media trends, gauging the buzz around topics, and tracking the performance of your own keywords.
Pros:
Real-time alerts about mentions and links
Website traffic monitoring in real-time
Automated reports
Sentiment analysis to gauge attitudes
Cons:
Pricing: BrandMentions offers a 7-day free trial to show what they can do for you. After they wow you with the experience, you can subscribe to 3 packages – Growing Business ($99/month), Company ($299/month), and Enterprise/Agency ($499/month).
Tableau
Tableau is the ultimate data visualization market research tool. It helps you view and displays your data in a way that anyone in your network and organization can understand. It's a business intelligence suite filled with market research tools focused on visual storytelling. Whether you're an analyst, an IT professional, or an executive, Tableau claims to be for you.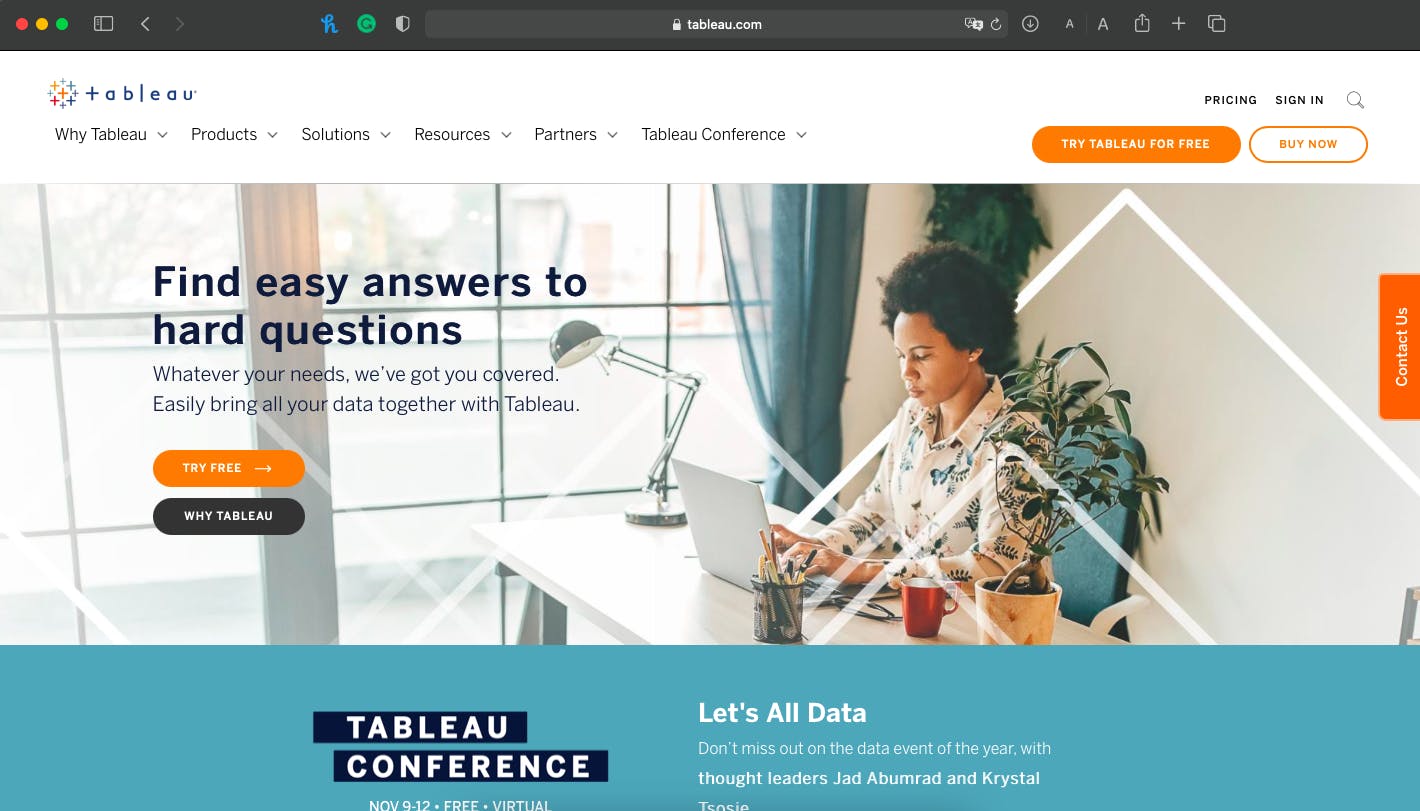 Tableau can be deployed in the cloud, on your premises, or integrated natively with Salesforce CRM. Tableau also provides smart, AI-driven forecasts and helps identify quantitative data trends.
Pros:
Mobile-friendly
Fantastic data visualization
Various data source connections
Cons:
High price
Time and resource-consuming staff training
Pricing: Tableau offers 3 pricing packages (billed yearly) for different types of users.
Tableau Viewer ($12/user/month) allows simply viewing and interacting with Tableau dashboards.
Tableau Explorer ($35/user/month) allows exploring data and finding answers to your questions with self-service analytics.
Tableau Creator ($70/user/month) allows you to discover deep insights about your data and get access to a strong product suite.

Statista
Statista is one of the best market research tools that you can find online. The platform aggregates data from reputable sources and presents it in bite-size visual graphs for anyone to understand. They have over 1 million statistics relating to 80,000 topics. You can even find data about super narrow fields.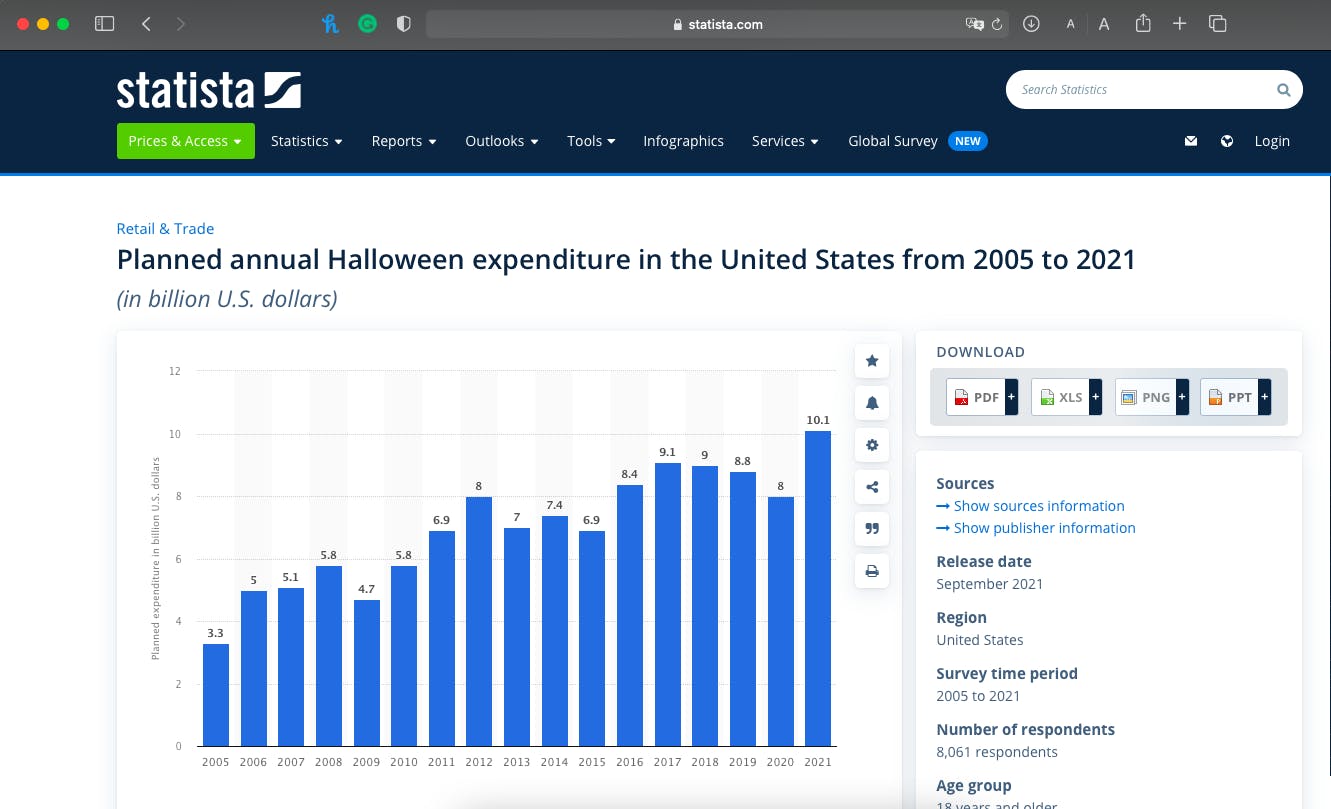 2 million users from various fields are using Statista. This online market research tool gives you information that you can use directly in your presentation, to impress an investor, or even in a school project.
Statista should be your go-to-market research tool when you're looking to get a general overview as well as specific data about a topic.
Pros:
Comprehensive data charts
Year-on-year updates to view trends
80,000 topics to explore
Temporal and geographic data
Cons:
Poor customer service
High price for full access
Pricing: Being one of the best market research tools to gauge market size, trends, and other insights, Statista offers 3 payment plans.
You can use the tool for free with limited access to statistics and no further valuable insights.
You can also subscribe to a single account for $59 or $39 if billed annually, giving you access to premium data statistics.
Lastly, you can buy their Project Account plan for $1,950 and receive full access to the platform for 30 days.
Typeform
Typeform is a simple, sleek, and modern research survey builder. Their product aims at making surveys, forms, and quizzes fun to fill out. They make the process easier and prompt users to finish the form by only asking one question at a time. This way, it feels more like a conversation, and the answers turn out more thorough.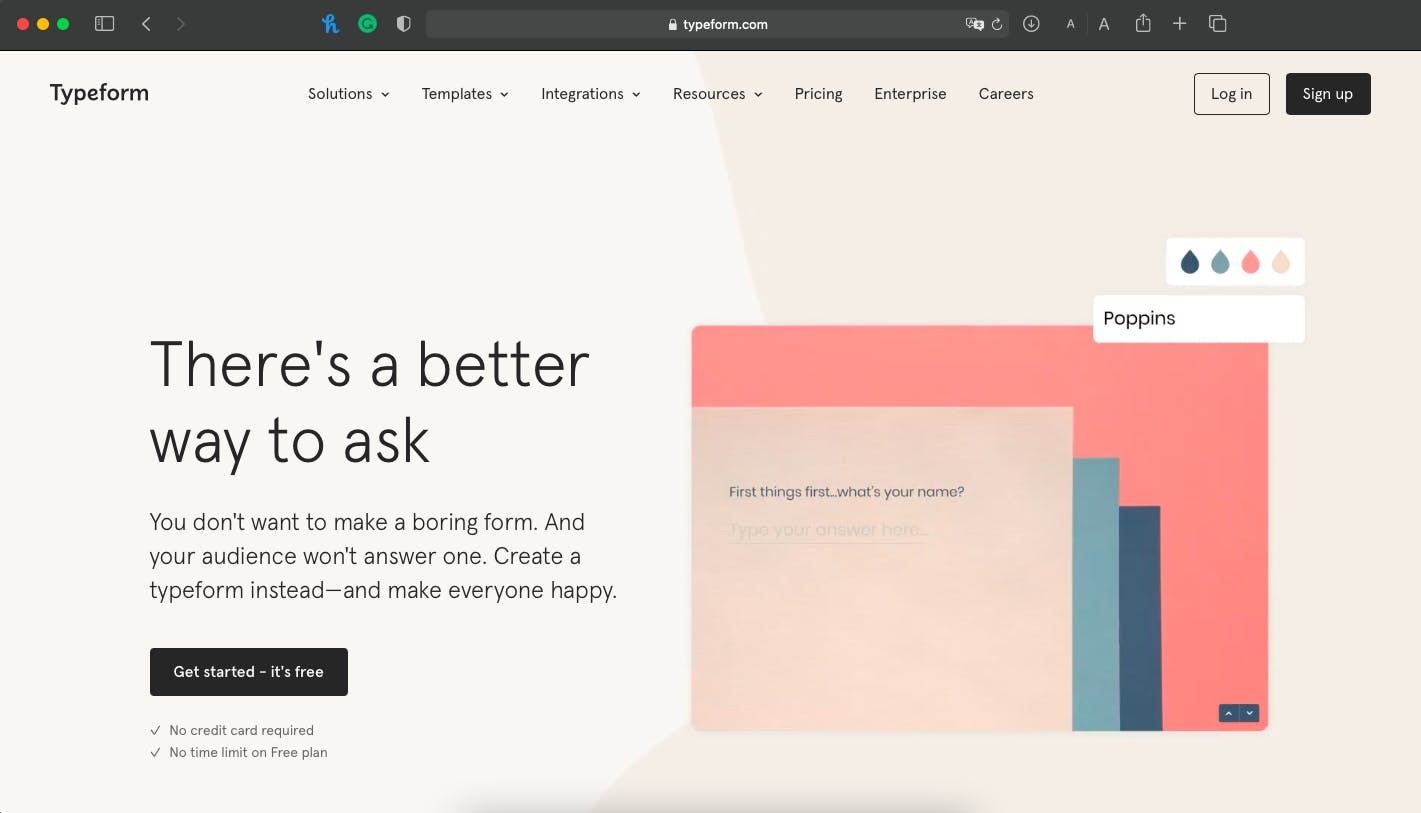 One of the best qualities of this market research tool is its design. Their forms turn out so beautiful that respondents can't help but fill them in.
Pros:
Easy-to-use
Mobile-responsive
Fantastic design
Allows to use conditional logic in follow-up questions
Cons:
Informal if you're targeting C-suite respondents
Pricing: To give you a taste of what their product can do, you can use Typeform for free, but your survey responses will be limited to 10 people. After deciding to subscribe, you can choose from 3 yearly plans:
Basic ($25/month) with up to 100 respondents.
Plus ($50/month) with up to 1,000 respondents, your own branding + subdomain, and more.
Business ($83/month) with up to 50,000 respondents, conversion tracking, priority support, and more.
Pew Research Center
Here is another one of the best free-market research tools. The Pew Research Center is an amazing source for gathering secondary information about your market segments. You can get both quantitative and qualitative data about your target. Plus, Pew Research Center relies strongly on survey results, so their information is based on data, not bias.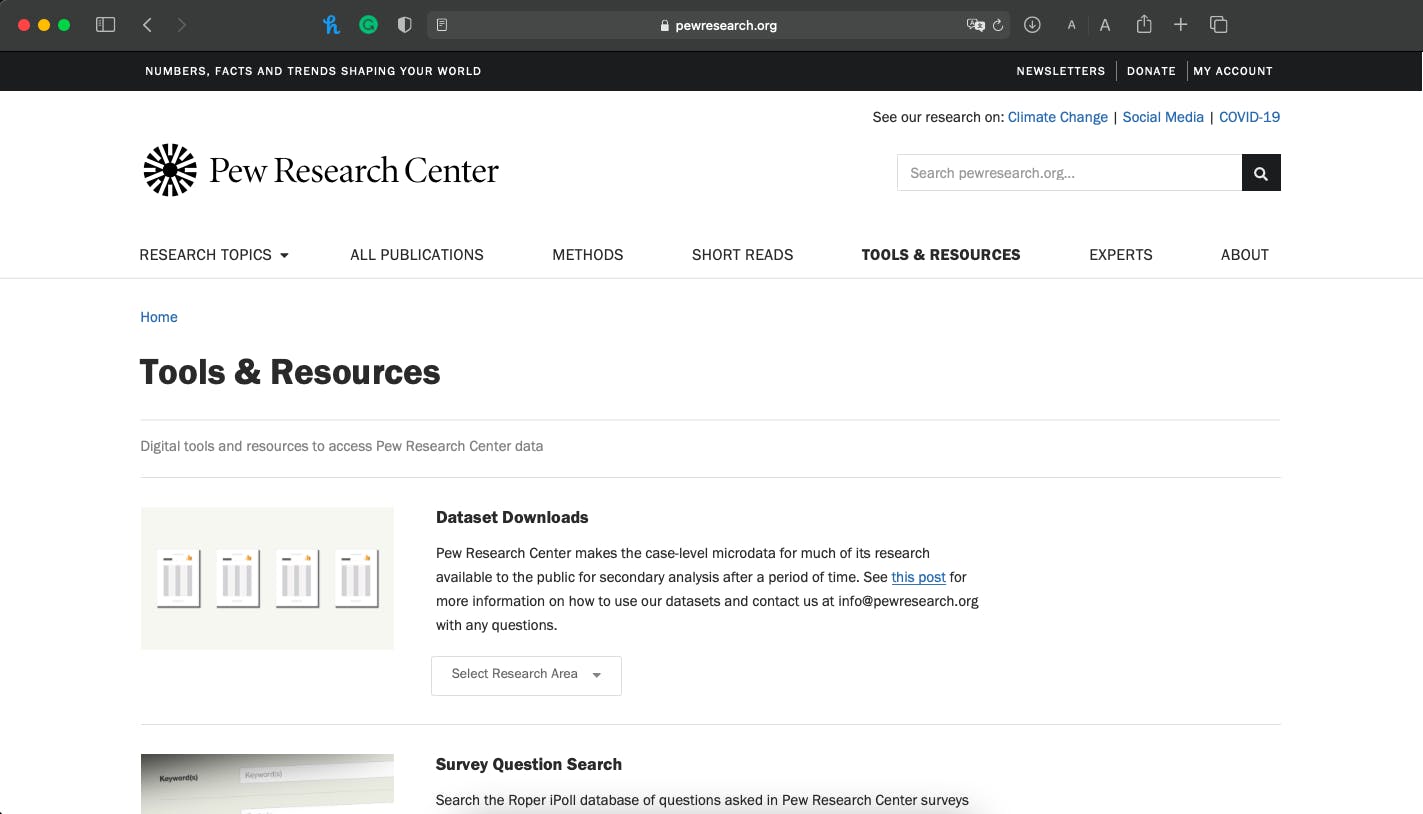 Focusing on American consumers, they aim to reflect the people's opinions and attitudes regarding politics and policy, journalism and media, internet and tech, science and society, religion and public life, Hispanic trends, global attitudes, and trends, plus social and demographic trends. From social media usage to political stances, the Pew Research Center can be a great source to help you get a grip on your market.
Pros:
Unbiased data regarding attitudes on various topics
Free access
Interactive articles
Cons:
Relatively small research projects
Pricing: This fantastic source of data on the attitudes and behaviors of Americans can be accessed completely for free.
Qualtrics Market Research Panels
Qualtrics is a data collection and survey market research tool made for those who can trust the pros or don't know much about surveys. This market research software ultimately provides you with market research panels that can give you full reports on questions you want to know answers to. Whether you want to track trends in your market or get a grip on the attitudes of people regarding your product, Qualtrics wants to do the heavy lifting for you.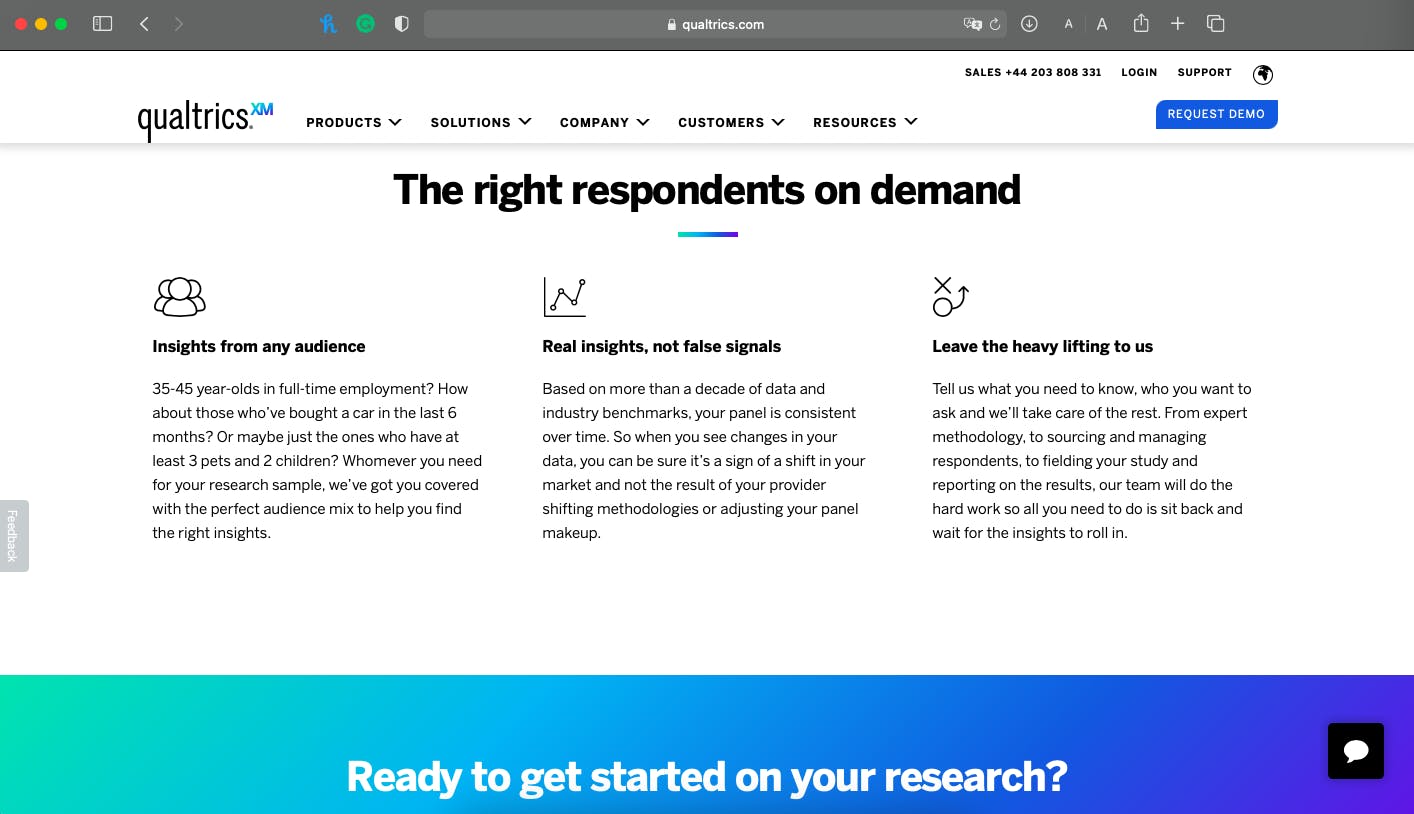 This is one of the market research tools that can save you a lot of time and struggles. Since they provide you with representative samples of people you want to survey, you no longer need to go out there looking for them. Qualtrics needs only 2 things from you – who you want to ask and what you want to know. From customer experience to opinions and needs, this market research tool claims to have the answer.
Pros:
Easy-to-use
Amazing software
Great customer support
Cons:
Very complicated and thorough, only for in-depth analyses
Pricing: Being an enterprise solution, this market research tool doesn't disclose its pricing. You can get a quote from them after a discussion with their insights experts.
Ahrefs
Ahrefs is an SEO market research tool suite with powerful software, allowing you to do keyword research, link building, competitor analysis, site audits, and rank tracking. This market research platform is extremely popular, not only because they do their job well, but also due to the thorough academy courses and blogs they feature.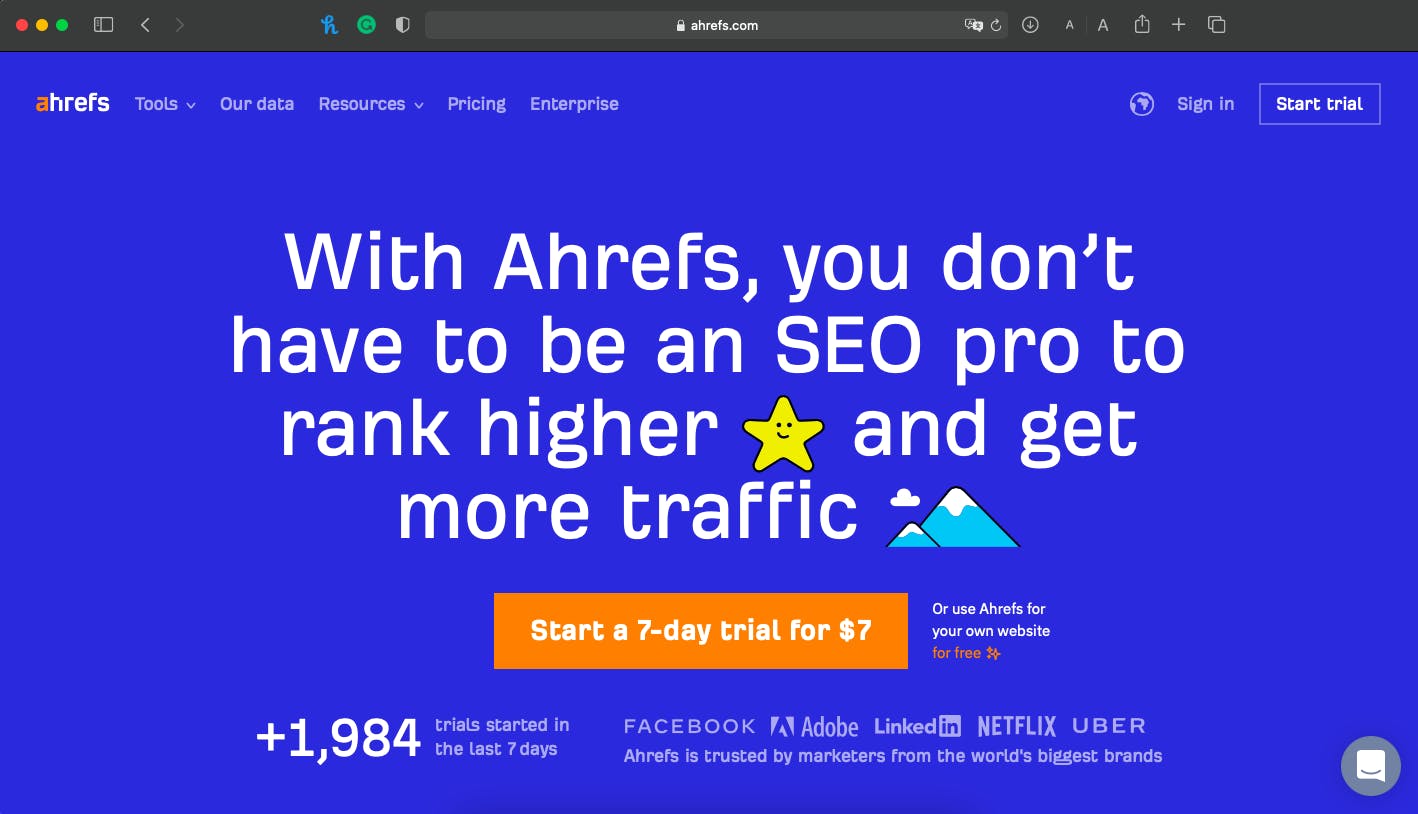 Simply enter your website's URL, and you can view a comprehensive overview of its SEO performance. From the number of backlinks you have to what keywords you're ranking for, you'll get an analysis of your current state as well as recent performance metrics. Whether the tool is for you or your SEO specialists, it will definitely provide valuable insights about your market and help you stay on top of your game.
Ahrefs is a tool for professionals, but if you're just starting on your SEO journey, there's a lot you can learn on the platform. Since the price may be out of budget for some users, you should only take the leap when you are serious about it and ready to get the most out of it.
Pros:
Search volumes and click metrics for all keywords
Comparison with competitors
Comprehensive data about backlinks (new, broken, etc.)
Cons:
Somewhat steep learning curve
Premium price
Pricing: If you're just starting off, you can get a 7-day trial for $7. After that, you have 4 pricing plans to choose from:
Lite ($99/user/month)
Standard ($179/user/month)
Advanced ($399/3 users/month)
Agency ($999/5 users/month)
All these packages have different amounts of crawl credits, keywords tracked, and much more.
SurveyMonkey
SurveyMonkey is a very well-known survey creation tool used by thousands of companies worldwide. Essentially, this market research tool allows you to gather information from your potential clients and answer vital questions that can make or break your success. Not only does it help you gather data, but it helps analyze it and harvest actual insights.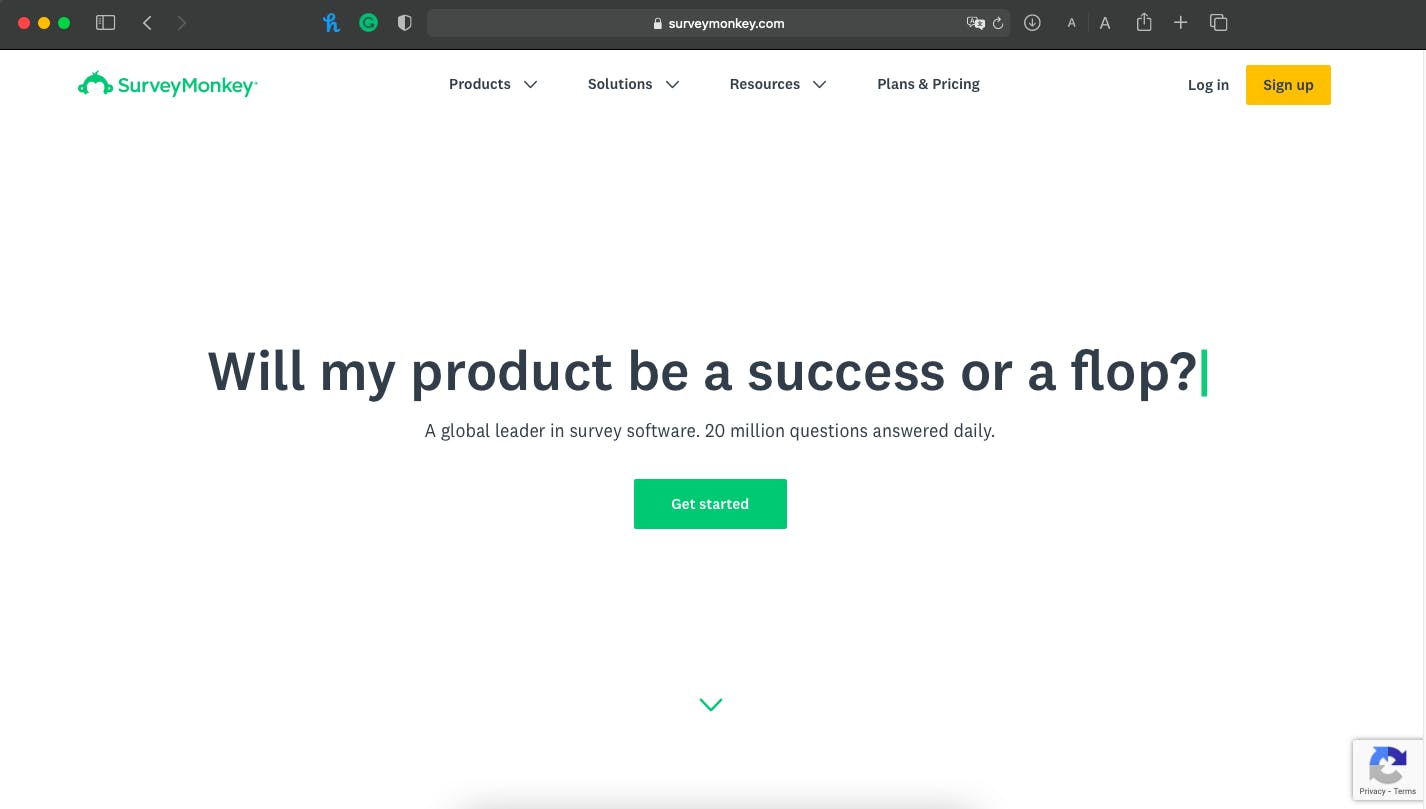 SurveyMonkey offers various market research tools like survey translation, deep analytics, the ability to A/B test, a global survey panel, and much more for its professional users. Whether you want to check your target's attitudes towards a new feature or get comprehensive feedback on what impression your customer experience leaves, SurveyMonkey can help you achieve it.
Pros:
Easy-to-use
Deep analytics
Allows for custom branding
Flexible pricing models
Cons:
Somewhat limited design capabilities
Pricing: You can access this tool with limited functionality and analyses for free.
If you're looking for personal packages, they have 3 options:
Standard Monthly ($35/month)
Advantage Annual ($34/month)
Premier Annual ($99/month)
As for packages dedicated to businesses, you can choose from these:
Team Advantage ($25/user/month)
Team Premier ($75/user/month
You can also talk to their specialists regarding enterprise solution pricing.
Conclusion
You can't take a product to market without conducting market research first. Since it's a complicated process, you're going to need the help of amazing market research tools like Google Trends, BrandMentions, SurveyMonkey, Statista, and many more.
You can always choose to use free market research tools, but if you're serious about finding your product-market fit, paid market research software can give you immeasurable value in the form of insights. Make sure to gather both secondary and primary information straight from your potential customers. In this user-centric era, you can't afford to listen to your market.
Related Articles
How to Determine Market Demand for a Product
Product Competition: What is it and How to Beat Your Competitors?