Turning a small idea you had in your head into something you can hold in your hand and take to market is a complex process. Where do you start? How do you make sure you cover every aspect? How do big brands do it? All of your questions have answers, and luckily, you've come to the right place.
Regardless of your industry and what kind of product you are developing, you're going to follow a product development process.
If you're interested in learning how to create a product and how a new product development process looks, this guide is perfect for you.
Key Takeaways
Product development is the process of bringing a new product to market, from ideation to commercialization.
There are three types of projects that require a product development process: new product development from the ground up, renewal of products that already exist on the market, and launch of existing products into brand new markets.
The seven steps of the product development process are: idea generation, product definition, research, design, development, testing, and launch.
The product development process involves collaboration between different teams, including design, UI/UX, marketing, engineering, programming, and manufacturing.
During the research phase, it is important to evaluate the landscape and conduct competitor research to get a clearer understanding of the market.
It is crucial to have a concrete understanding of your product's core purpose and functions, and to clearly convey this to team members.
Higher-level executives and managers should always follow the trends and identify good ideas as they come.

What is Product Development?
Before getting to the exciting parts, you should learn the basics. First, what is product development? In a nutshell, it is the combination of all the steps you take to finally take a new product to market. This journey includes everything from brainstorming for ideas all the way to introducing them to the world.
There are 3 types of projects that require a product development process:
New product development from the ground up
Renewal of products that already exist on the market
Launch of existing products into brand new markets
In all 3 types of projects, your teams need to join their forces together to craft something fantastic, something your customers will love. So, you should create and implement a clear step-by-step process for consistently creating reliable products on a cyclical basis.
Although most of your product development journey leans on creativity, it's still possible to plan, conceptualize, and fit it into the time-space continuum.
It's better to learn from the best, right? Product development cycles are constantly evolving, but there are some best practices you can follow. One of those models is the 7-step NPD process, which you can learn about in this ultimate product development guide.
Product Development Process Main Steps
Developing products is not a one-person job. It requires time and effort from so many specialists. You will need to involve all your teams of design, UI/UX, marketing, engineering, programming, manufacturing, etc. Through teamwork, they will get through specifying details, designing, building, testing the product until ultimately launching it into the market.
For a first-timer, product development can be insanely confusing and complicated. That's why this article includes a step-by-step journey you can take to bring your idea from your mind into the real world. It will guide you through the 7 stages of product development, giving you a clear picture of each phase.


So, from ideation to commercialization, these are the 7 product development process steps
Idea Generation
Before getting started on your product, you first need to decide what you wish to create. This is virtually the most creative process you and your team will go through. Here is where you need to brainstorm away and produce those innovative ideas. But, as much as this is one of the most fun product development steps, it's also one of the toughest. Coming up with revolutionary products is not a piece of cake.
Unless you already have your idea for the next big thing, these actions can get your juices flowing:
Research trends and try to identify market gaps.
Check out what other inventors are creating.
Listen to your customers, identify their needs & pain points. Can you find a solution?
Think of trendy products you can improve and build upon.
Survey your customers about brand new ideas.
Look for inspiration in Google Trends.
Teams & responsibilities: In general, all teams should be on the lookout for game-changing ideas. Your marketing team should keep an eye on the market and analyze competitors. Engineers should also ideate on new breakthroughs. Most importantly, higher-level executives and managers should always follow the trends and identify good ideas as they come.
Product Definition
Once you've generated ideas about what you want to create, it's time to define the specifics. Choose between the alternative options, give the product a personality, and toss out the inferior ideas.
Primarily, your mission is to have a concrete understanding of your product's core purpose and functions. Then, you may go into details and hash out the more minor additions. These are the 3 areas of the product that need to be defined:
It is crucial to have it all written down and conveyed to team members. All your specialists should clearly understand what they are building and what is their role in each of the stages in product development.
This stage shouldn't be confused with the product planning. Consider the result of this to be as a preliminary outline of the product instead of a perfectly accurate description.
Teams & responsibilities: At this stage, almost all your teams will be involved. Engineers can outline the product's technical side. Managers will figure out the business value and vision. And lastly, your marketing team should understand what market they should be looking into.
Research
Step 3 in this product development guide is research. Although you should implement research in all stages of your multi-step product development process, here's where you map out the market and start picturing where you fit. Evaluate the landscape and look for all possible growth opportunities. In this stage, you should also conduct competitor research to get a clearer understanding of the market.
A simple online search won't cut it here. So, here are some ways to gather feedback and key insights on your product:
Ask your friends and colleagues
Talk to market experts and mentors
Perform a company-wide anonymous survey
Lookup search volumes for your keywords to assess demand
Investigate the ins-and-outs of competitors
Perform a SWOT analysis
The research phase of your product development process also guides your development teams and managers towards the final product outline. This means figuring out specifics like which alternative feature is worth keeping, what color would work better, and what price ranges competitors cover.
Teams & responsibilities: The main responsibility at this stage falls on your marketing team. They need to gather insights about the market and finalize competitor research results. Ultimately, they will need to identify the main customer pain points. Higher-level executives and project managers can also get their hands on insider information about up-and-coming markets and products.
Product Planning
After gathering the vital stats about your potential market and product specifics, it's time to put it on paper and finalize the preparation phase. At this point, you're going to be defining everything about your product and actually getting ready to make a prototype.
It doesn't matter if you're building a physical product or software – you will need to create a plan for it. Get your design team together and start drawing your sketches or wireframes. Prepare to build your MVP.
Finally, you have to identify the quality of materials, calculate costs, decide on the price range, and measure profitability.
Teams & responsibilities: First, project managers and engineers finalize product differentiation features and put them on paper. Second, your design team comes in with sketches, preparing to build your first prototype. Lastly, the business analysis team should take care of the financials and project feasibility.
Required cost estimates: Your business analysts will need marketing cost estimates, so your marketing team also plays a role here. Plus, you will need to know approximate development and material costs, along with other variables.
Product Prototyping
Step number 5 in your product development cycle is the most inspirational. Your engineers get creative with building, finally bringing the idea to life. Ultimately, you get to feel a sense of accomplishment and hold the result of your hard work in your hands.
Product prototyping is vital during your product development cycle. Your initial prototype will definitely not be your final version. You build it to see what works and what doesn't. You test it, gather feedback, then iterate again until you invent the perfect one. You can also perform hands-on surveys (taste tests, try-on experiments, blind reaction trials) to get reactions from actual customers.
Teams & responsibilities: Product prototyping is essentially done by engineers and developers. Of course, they require the approval and guidance of project managers, but they are the ones who get the job done. They are the ones who know how to develop a product.
Validation/Testing
As with any other brand new project, you need to test out your ideas before going any further. So, once you have a semi-definite picture of the product, it's time to validate it.
Here, your ultimate goal is to achieve a Proof of Concept (POC). Internally, you'll understand if your team is capable of building such a product. Externally, you'll find out if your customers want what you are building, along with their willingness to pay.
You could do it with the old manual way, which will take up almost all of your time and budget. Luckily, we're living in the era of powerful tech. So, you should choose a new way to validate your product with Prelaunch.com. With this all-in-one platform, you will be able to forecast the demand, along with the perfect price of your product. Ultimately, you'll figure out if people actually need and want what you're building.
The platform helps you prepare for validation by giving you a custom landing page with a native builder and other testing tools. Here's just a couple of the platform's benefits:
Discover your ideal price range: The platform has various dynamic price testing features, so you no longer have to play the guessing game.
See how your landing page is performing: You'll get analytics and insights about traffic, essentially allowing you to gauge demand, reservation rate, avg. session duration, and much more.
Recognize most-loved features: By analyzing your customers' actions on your page, you can truly identify what grasps their attention.
Compare with market benchmarks: Prelaunch.com gives you access to reliable market benchmarks, so you can stay ahead of the game and perceive where you stand in your industry.
As a newcomer to developing products, it's crucial to keep costs low and be efficient. Prelaunch.com will open the doors to validating your product in a smart and innovative way.
Once you've tested, validated, and finalized your creation, it's time to enjoy the fruits of your labor – take it to market.
Teams & responsibilities: Testing involves almost all teams. Project managers, developers, business analysts, and marketing experts should all be aware of the assessment and improve any shortcomings.
Commercialization
The last phase of this guide is commercialization. In other words, it is when you launch your product and make it available for purchase to your customers. It starts when your design and development teams hand the final manufactured product to the marketing team. This is when your experts fire up all their marketing and sales channels to roll the product out with fireworks.
If you're a newcomer to marketing and sales, these best practices will help you effectively launch your product:
Start email marketing and alert your subscribers about your launch.
Collaborate with influencers to create a buzz around your invention.
Launch on Product Hunt and become #1 Product of the Day
Use social media marketing and PPC ads to raise awareness
Teams & responsibilities: This last step falls in the hands of project managers, business analysts, and marketing experts.
Product Development Examples
There are endless development cycles that companies can use. Some of them have already perfected their versions and become well-oiled machines with the shortest cycle times. On the other hand, you have companies that are just starting off and need guidance on how to create a product and launch it.
Since there are so many types of product development cycles, let's talk about 2 examples – 1 for hardware products and 1 for software products.
Hardware Product Development Example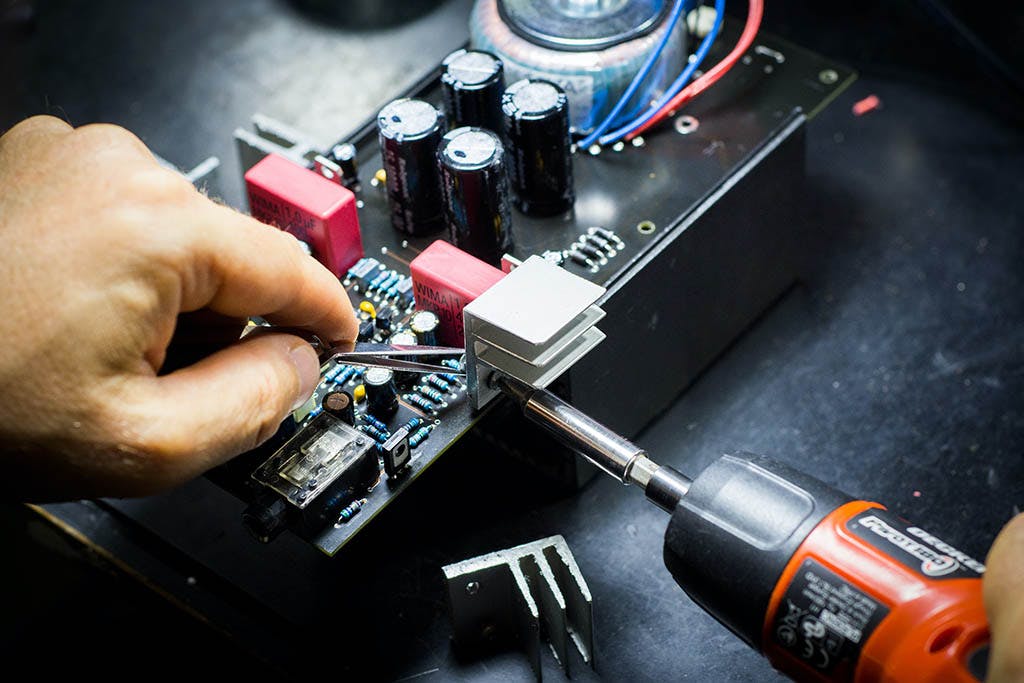 Hardware products go through a manufacturing process, so it's different from software, the maintenance of which simply requires human resources. Here, you will need raw materials, custom-made machinery, and engineers to create what you want.
Although all product development processes contain similarities, this is a rough step-by-step example of developing hardware products:
Find the perfect idea that solves a need
Research your market and identify gaps
Plan out and draw exactly what you want to build
Define costs, opportunities, and profitability
Create an initial prototype
Test, test, test
Manufacture and roll it out
Naturally, the product development of different products will vary from one another, but through trial and error, you will find your most fitting hardware product development cycle.
Software Product Development Example
When developing software products, your final product is going to be intangible. As you can probably tell, you won't be dealing with any raw materials or high variable costs. Consequently, your product development cycle will be different from hardware products.
If you're building a new software product, here's a step-by-step example you can follow:
Brainstorm and come up with your genius idea
Research your market, analyze competitors, and identify user pain points
Figure out your requirements for developing your product
Design a catchy UI with a friendly UX
Code, code, code
Pass it over to the QAs for testing and make sure the product is near perfect
Deploy
Regularly update and keep up the maintenance
Remember that the more you work with your team, the better you will understand each other and create an even smoother product development cycle.
Final Thoughts
The perfect product development process doesn't exist. It is always based on your company and your product. Nevertheless, there are some best practices you can follow until you come up with yours. This ultimate guide to product development showed a 7-step cycle from generating ideas to finally commercializing and rolling them out. Whether you're creating hardware or software products, this guide will definitely come in handy.
Related Articles: