Releasing a new product or updating the existing ones is one of the top priorities of every company. The planned effort of introducing a new product or updating the existing ones is called a Product Launch.
Further in this article, we will break down the most important 6 points of creating a product launch checklist.
We will also provide you with some insight on every point so you can have a full understanding of what to do. The points that we consider the most important are:
Performing market research
Defining the target audience
Prototyping
Customer Validation
Go-to-market strategy
Planning post-launch strategy

Rest assured, when reaching the end of this article, your understanding of product launching will be much better, and you will surely be fully capable of creating a product launcher checklist on your own.
So, what exactly is a product launch checklist?
No matter how good you think your product is or how much support you have, one can never be 100% sure about all the things that can happen when launching a new product.
Planning is an integral part of dealing with uncertainties. Of course, there is also a ton of work associated with the release of the product.
So, in order to simplify and make it easier to manage, you break all of those things into smaller tasks, individually distributed between all associated departments.
Those may include, for example, tasks for the engineering department, design team, marketing and sales team, etc.
And the list of tasks you get is the product launch checklist. This, first of all, helps you organize and manage your tasks.
More importantly, it helps you schedule your launch more precisely and have the ability to track where you are in your schedule and adapt accordingly.
The product launcher checklist also ensures better cooperation and communication among many departments that are included in the product launch process.
There are many templates of product launcher checklists, both purchasable and free of charge, available online.
But of course, you can create one for yourself. Depending on your wants and needs, you do not need to copy one at all.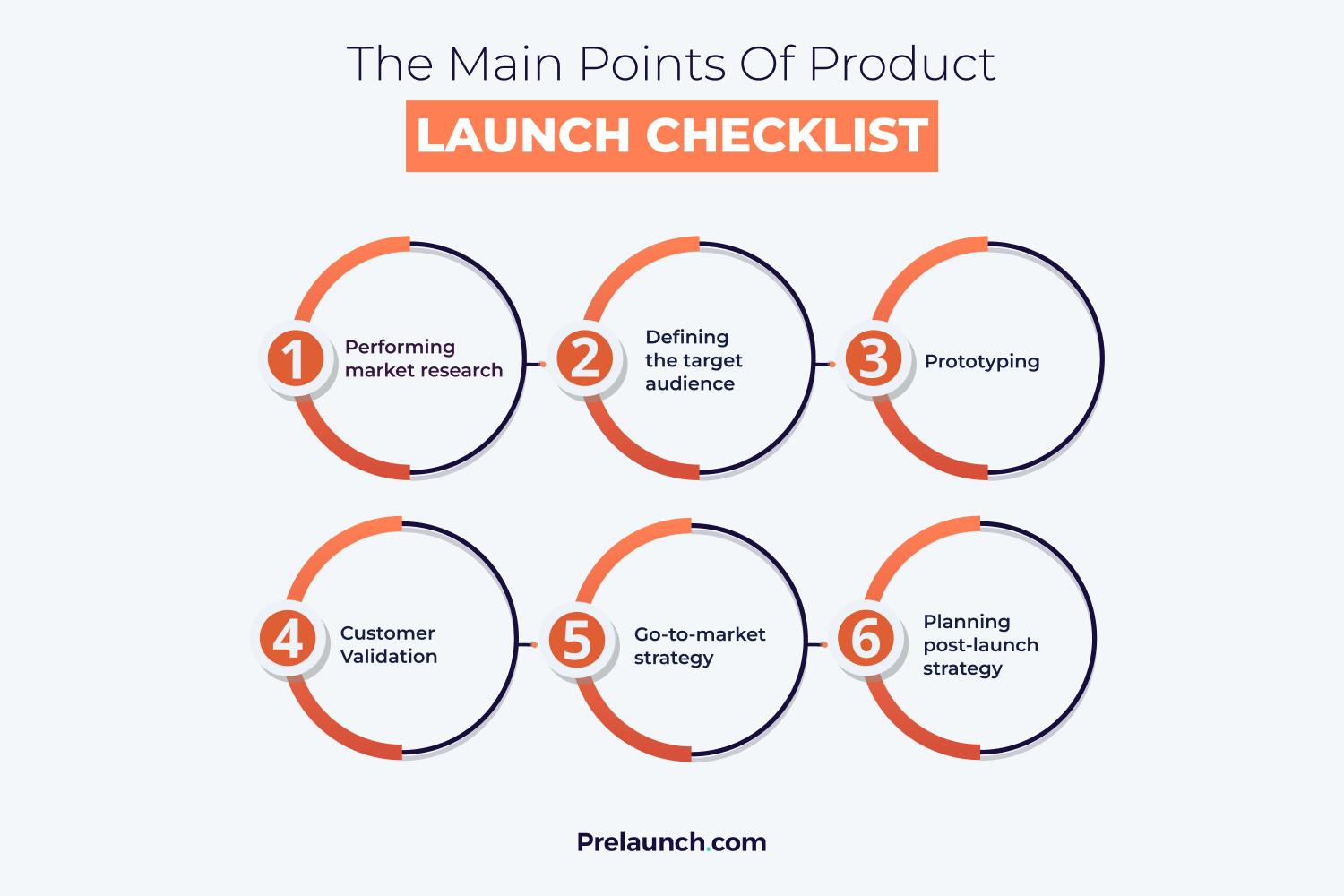 Perform market research
With every business decision, numerous risks will always exist. So when taking a risk, it's crucial to have a plan in place to determine whether the likelihood of success will outweigh the probability of a negative consequence. To come up with that plan, thorough research is needed.
Market research is all about gathering, analyzing, and interpreting information about the industry where you're planning on launching your product. Conducting market research allows you to find answers to various questions such as:

Is my business feasible? Is there enough demand for my product?
Who are my potential customers? Do they exist?
Who are my competitors? How can I differentiate my product?
What are the market conditions and marketing trends?
What key messages should I convey, and how can I do it?
When and where should my product enter the market?

Developing a marketing strategy is not a guessing game and isn't reliant on instinct. All the information that market research provides enlightens the marketing activities and enables business owners to compete more effectively and eventually succeed in the market.
To better understand the importance of conducting market research, let's discuss some of the objectives you're aiming to achieve.
1. Know your customers
The ultimate goal of every business is to find its customers and communicate with them successfully. As the saying goes, 'if you're selling to everyone, you're selling to no one.'
The hope and the assumption that everyone will be willing to buy what you're offering is simply an expensive, ineffective, and time-consuming approach.
Thus, in order to locate your target market and potential customers, first, it's important to do market segmentation. Dividing up a huge customer base into more manageable groups will make it easier to pinpoint your target market and launch campaigns to the most pertinent individuals via the most pertinent channel.
All in all, segmentation enables companies to better utilize their marketing budgets, better understand their client's needs and wants and eventually gain a competitive edge over competitors.
What's more, it provides companies with the opportunity to assess product demand by identifying the segments that are most likely to buy their products.
Grouping your customers into clusters can be done under various categories, such as demographic, geographic, behavioral, psychographic, etc. Nonetheless, an inaccurate or misinformed understanding of the customer base can lead to broad and imprecise segmentation.
Harvard Business School professor Clayton Christensen notes that 30k new products are being launched every year, and the majority of them fail because of ineffective market segmentation. [hbs.edu]
Overall, by performing in-depth market research, you'll be able to know your customers and group them into segments, which should be one of the initial steps in your product release checklist.
2. Know your competitors
Another important component of market research is competitive analysis. Analyzing how your potential competitors operate and their strengths is the best way to position your product accordingly and adopt a differentiation strategy.
Consecutively, competitive analysis helps to estimate the potential success of a project.
If the market is saturated by competition with too many offers and not enough demand, or if it is monopolized by one or a few companies, even the most relevant tools and the best marketing strategy might not help to impose the product there.
Therefore, don't forget to put the step of identifying and studying your competitors in your product release checklist. By starting the game without analyzing your opponents, you surely risk being left behind.
3. Know the problem your product is solving
The product you're offering has to be valuable for your customers and somehow different from the ones that already exist in the market. And for it to be worthy for your clients, it has to fulfill their unmet needs that are waiting to be satisfied.
By understanding the issues that your customers face, you'll be able to tailor a well-crafted solution, which will stand out on the shelf next to the substitutes of your product.
"Why should my buyers choose my product?", "How am I any better than the others?", and "What am I offering more?" are the questions that need to constantly find their answers even since the birth of your idea. And those responses are the key messages you'd want to convey to your audience.
Take your time in developing the key information you want your customers to grasp and retain. It has to be compelling, simple, and concise. Make sure to provide your customers with an appealing and clear explanation of the value of your product.
Keep in mind that different customers are trying to solve different problems by choosing your product.
Simply put, the reasons behind their purchase vary greatly. Therefore, consider carefully your consumer's buying decisions and convey your messages accordingly.
Define your target audience and position your product
Once you've created different segments by dividing your customers into groups, then you have to assess the segments that align best with your offerings.
Within your market targeting phase, you are aiming to evaluate the potential and commercial attractiveness of each segment in order to choose one or more.
In addition to identifying the segments that you are going to target, you will also need to customize your messaging to better resonate with them. If done in the right way, reaching your potential customers and convincing them to buy your product will become way easier.
So let's explore the irreplaceable steps that you should have in your product launch checklist to leave a lasting and special impression on your customers.
4. Write a positioning or product messaging statement
Once you have defined your target audience, your goal is to draw up a plan to position your product and establish its identity. Hence, you'll be able to stand out from competitors, cut through industry noise, and affect how your target audience perceives you.
The positioning of your product refers to how it compares to competing goods in the marketplace and how your consumers perceive it.
Thus, make sure to put developing a market positioning plan as well as crafting a thoughtful product messaging statement in your product launch plan checklist.
There are various templates that you can use to draft your positioning strategy. Here we provide you with our template based on our years of expertise. [positioning template]
Your positioning statement has to describe how your product meets a particular need of your consumer in a way that your competitors don't.
To be able to pen your statement of differentiation, first, you need to clearly define your target, their needs, and the key benefits of your product, representing a compelling reason for your customers to buy your product.
5. Know how to reach your audience
After developing your positioning statement, the next point in your product launch checklist should be identifying the ways to reach your audience.
Start with defining your communication activities to effectively reach your targeted customers, and tell them what you are bringing to the table.
From the numerous activities, such as events, content marketing, direct mail, media relations, etc, choose the ones that suit you and your target market best.
Next comes creating engaging communication materials. They should serve to quickly attract the attention of your audience and drive maximum interest.
Moreover, for your product to gain credibility, your content has to be professional and trustworthy. Taking the time to craft thoughtful materials will surely pay off in the end. Get creative and demonstrate your authenticity.
The most appealing positioning strategies and messages are doomed to failure if the communication activities and materials are not well-tailored.
6. Know your story
Storytelling is a widely used marketing technique to make communication with the targeted audience more effective, entertaining, and memorable.
It consists of telling narrative stories that evoke emotions and bring the product closer to its customers.
Nowadays, customers are pretty much resistant to advertisements, so consider the advantages that storytelling offers and add designing a story to your product launch plan checklist.
Be aware that your story has to be unique and original, like the product you're offering. It has to be easy to understand but also touching.
The success of your product is granted if you succeed in designing a story where your targeted customers identify themselves. Nonetheless, making mistakes here might be fatal, as the image of your product highly depends on your story.
7. Pitch your positioning to stakeholders
The final step in your product release checklist related to positioning is pitching it to stakeholders. After all, you need their feedback to move forward with your strategy.
First off, point out the reasons behind your decisions and choices. Keep in mind to highlight the strong points of your whole campaign. Make it simple, clear, and easy to understand.
Remember, you're aiming to deliver a compelling and convincing presentation, so gather up all your efforts and remember that fresh perspectives are overly encouraged.
Prototyping
Prototyping is the first step in the product launch checklist that evolves the ideas into drafts or actual physical products.
The prototype is your ideas' physical application. It might be a sketch on a sheet of paper or maybe a more digital expression, even a constructor engineering.
Prototyping provides a very elegant solution to many problems that might come during product development.
The many benefits of prototyping include the ability to better communicate your team's ideas, understand the flaws of different aspects of the product, lower the risk for investors, see what improvements are possible, and much more. In a sense, your path to launching your product becomes much clearer after prototyping.
You can also read:
How To Make A Prototype: A Definitive Guide


8. Creating a prototype or an MVP
Now, after ascertaining that prototyping is quite beneficial, let's talk about creating a prototype or a minimum viable product, an MVP, what their differences are, and which should you go for.
While both prototype and MVP are early versions of the product, there are distinct differences between them.
So, with a prototype, all you're doing is drafting your idea in any way. Then you can change it any way you like. Hence, you can be flexible and adaptable to any sort of reviews you might get.
While with MVP, you are kind of more committed to the purpose and the function your product is going to accomplish.
The purpose of MVP is just to get a cheaper and easier-to-create product that solves the same problems your end product is going to solve. It's an early version of the product that is just enough to demonstrate its features and be useful but is often very far off the target final product.
In most cases, the prototype is more for internal feedback. It will be useful for your different teams to come up with reviews or additional ideas.
While with MVP, you are targeting your potential market in order to determine the usefulness and functionality of your product or maybe get your investors more into the idea that you are trying to sell.
With all this said, they both have their merits and can provide you with much-needed time and information. Simply be aware that whatever you choose, always be flexible with the information you get.
Prototyping's main feature is having a cheap and fast version before the actual product and developing accordingly. So don't be afraid to change your ideas, even bury the idea entirely and start from scratch.
Then again, how can you be sure that your idea is not as good as you thought?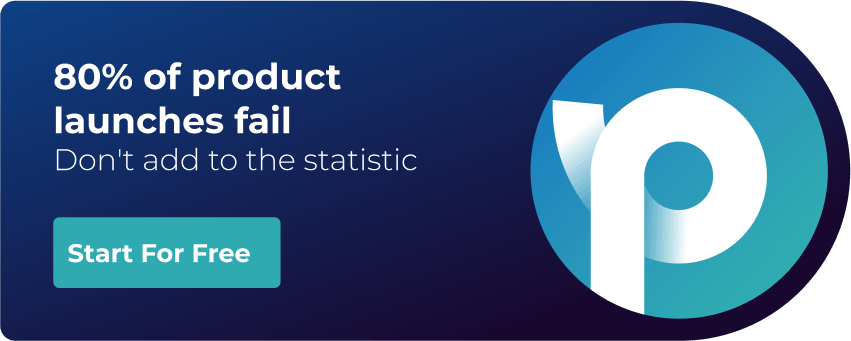 9. Keep testing it!
This is the only answer to the aforementioned question, period.
Data in general, but especially when prototyping, is never conclusive. More often than not, it's just a guideline. Furthermore, you can never be sure about the sample size of your data.
So, no matter what reviews you get at first, never surrender too early. Keep testing and improving your idea, make little changes, and adapt to what your audience needs.
And the best thing about testing your product before its launch is that it creates this snowball effect, where you keep getting data and improve and then get data on the improved version and improve upon that.
This will always be able to keep you inspired and determined. And once you think that the data you have collected is enough, you are ready for the next step.
10. Start planning the final version.
After getting enough data and having a clear vision for the final product, it is time to plan the final version. At this point, you should have gathered enough data to take your idea to the market.
There are some intangible things to do when planning the final version, like the final design and engineering of the product. Also, it is always recommended to use your marketing and sales team to further increase market awareness of your product to make the actual launch as profitable as possible.
It is important to note that while this is the last step where you can customize your product, many changes may occur after your product's launch. Evolving and adapting are two things that are constant and always need to be accounted for.
11. Launch internally
Launching a product is the most crucial step for a company. It is, after all, what you have been working on. All your time and passion, and resources have been directed for that one exact moment. And, of course, it is a must in your product launch checklist. Knowing that your team members know all about it and have the chance to appreciate it before anyone else is a very important and beautiful thing.
Launching your product internally before the actual launch accomplishes just that. Schedule a meeting, maybe do a little demonstration of the product and give your team a chance to be your first consumers. Maybe hear their first thoughts, and discuss further courses of action. All of this will reassure all of you that you are on the same team and will surely help towards further development of the product as well as all future projects.
Customer validation
Why should people buy your product? Will they? These are the most important questions for any entrepreneur. Understanding and answering these questions should always be a part of your product launch checklist.
After doing market research, defining the target audience, and polishing and refining your ideas through prototyping, it is now time to reach out further to ascertain the market's need for your product.
12. How to validate your product
Every product's validation varies depending on many factors and niches. Some general methods of product validation are
Market research
Concept testing
Customer validation
It needs to be noted that you should have gotten some degree of product validation before getting to this point. Every piece of feedback or review you get on your product is, in one way or another, a validation of your product.
Now you just need to put more emphasis on building your community of supporters who are going to be your customers or users. In a word, it is time to work on your customer validation. The most widespread methods of doing so are
Creating a social media account
Utilizing third-party website
Offering supporters early access or discount
Conduct surveys or expos
Check this example of a website showcasing product info.mytully.com/.
13. Create a free trial or demo
Creating a free trial or demo is usually useful when the product you are going to introduce includes features that customers need to try or be demonstrated to fully understand.
While a free trial is usually considered a better option for introducing a product to your customers, demos might be the better option in some cases. Those cases are associated with a product that is not quick and easy to use.
Such examples are when the customer needs some level of knowledge to be able to utilize the product or when there are some requirements or setup needed to utilize the product.
Having it in your product launch checklist helps you integrate your potential customers into your project and helps them further understand the problems which your product solves. This, in turn, makes them more likely to acquire your product.
14. Offer early use incentives.
Another effective method of drawing attention to your product is offering early use incentives. Those are growing more and more popular by the day, and for a good reason.
Customers that get additional benefits when acquiring your product are more inclined to be loyal. Discounts, bonuses, free samples, and free items, all of that form a connection between you and your customer.
Offering your customers early use incentives just might be the nudge they need to purchase your product, and it might as well be the factor for them to stick with it.
Especially when competing in a large market with many competitors, these incentives will be the deciding factor for your market's consumers to at least try out your products.
As a matter of fact, early use incentives don't need to apply only to the purchase of your product.
Referrals, social media follows, shares or other forms of subscription can be subject to rewards as well. There are times that despite the effort you put into your product's social media page, you just can't get the traffic you expected.
Offering people incentives will more often than not provide the traffic you need to guarantee your product's successful launch.
Check out the example of Sgast. Sgast is a walkie-talkie & bone conduction headphone. The company offered a limited 50% discount to its early subscribers. [prelaunch.com/projects]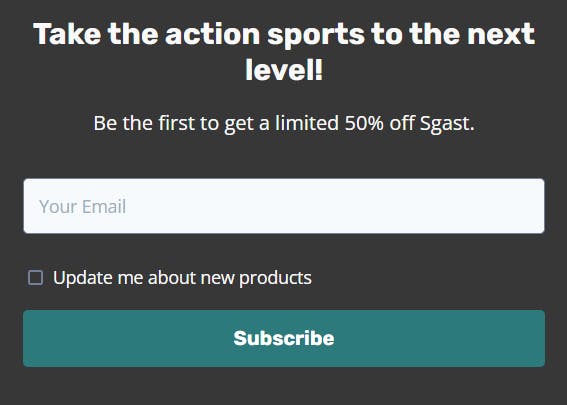 15. Understand the buyer's journey
A key point in a product launch checklist is understanding the buyer's journey. How did the buyer decide that he needed something, and why should he choose your product over your competitors? It is widely accepted that the buyer's journey is divided into 3 steps.
This is when an individual gets aware of a problem they are having, and they understand that something needs to be done to solve this problem.
At this point, the individual has narrowed down both the problem and the solution and is researching the available options he has to make a final decision.
The final step is where the individual has already decided on the solution and explores the differences or advantages that different products provide in order to purchase the most suitable product for his problem.
Understanding these steps and being able to reflect upon them from the entrepreneur's point of view is important in order to achieve success upon launch. It is of utmost importance to provide your potential customers with appropriate information no matter what stage they are in currently.
Go-to-market strategy (GTM strategy)
Whether you're launching a new product in an existing market or an existing product in a new market, you'll need to add building a go-to-market strategy to your marketing checklist for product launch.
Surely, for your strategy to be effective, it should be based on thorough research. The initial steps in your product launch checklist will provide you with almost all the necessary knowledge for you to be able to put together a comprehensive strategy.
We've created a free template to assist you in designing your own Go-To-Market strategy.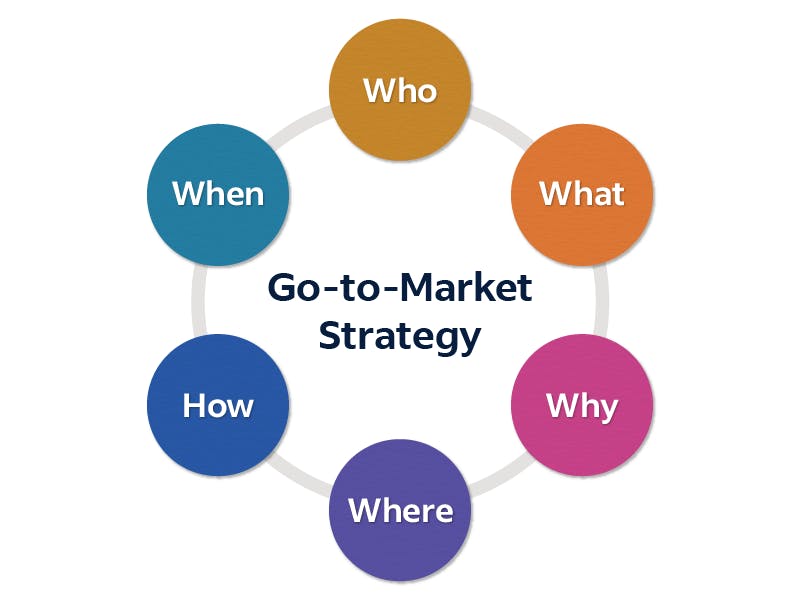 The precise answers to these questions will become your guide in successfully launching your product. However, there are still some points that should be added to your product launch plan checklist. Covering them will allow you to finalize your GTM strategy. So what are those steps?
16. Decide a launch date.
Another important component of your product launch checklist is deciding on a launch date.
There are several factors to consider before determining the right time for your product to go live. Above all, your decision should be based on the readiness of your product.
According to some experts, it's best to launch your product and start profiting as soon as it's performing the stated function. Then you can refine and hone them to sell the upgraded versions later. In other words, don't lose time and enter the market to make some money once your product is viable.
Nonetheless, make certain to have enough time and energy to concentrate on launching your product.
It's crucial to have an all-hands-on-deck approach, as you only get one opportunity for a successful launch.
Moreover, take into account that the launch date of your product might have a huge impact on its sales if there's a particular time when your clients will prefer to use it. Undoubtedly, you'll regret introducing a new winter coat in summer.
Overall, you're ready to launch your product when you've completed all the steps in your product release checklist and verified the predefined launch conditions.
17. Create promotional content
This step of your product launch checklist is more important now than ever. Forget about growing your business only by providing a good product. For your business to succeed, you need to make your audience hear about your product. Thus, you need to create good promotional content.
You won't get somewhere if the sole purpose of your content is to attract potential buyers. It has to be both informative and entertaining. Moreover, it needs to be easy to retain. There's no use in creating promotional content if no one is going to enjoy reading it.
Thus, base your content on the information you have about your target audience. Consider their characteristics to create unique, relevant, and appealing promotional content.
18. Create a press release and send it to the journalists
You should think about putting "Generate press coverage" in your product launch plan checklist. Media coverage is a valuable tool to spread the word and build buzz around your product.
Press releases grant companies the opportunity to get their story published in one of the most efficient and cost-effective ways. All in all, it's a remarkable way to promote the business and eventually even drive sales.
Check our example of a press release.
19. Set a goal for the launch
In advance of your product launch, you have to outline the objectives you want to attain. It will ensure that everyone knows the exact point where they are heading, and they will concentrate their efforts toward the same outcomes.
Therefore, don't skip this point from your product launch checklist. Remember that it's important for your goals to be clear, measurable, and attainable. Moreover, they need to have an expected timeframe. Thus, everyone in your team will know what they must do.
Some of the product launch goals are
Sales goals
Prospect goals
Product awareness goals
Customer goals

By setting these goals, you answer some important questions, such as
What are your sales expectations? How many units of your product do you anticipate selling within a given period?
How many prospects do you expect to identify after launching your product?
What level of awareness are you going to build with your marketing efforts?
How many customers would you like to attract?

Setting goals will help you track how you're doing concerning your goals and measure the product launch results.
20. Secure your online identity
Studies show that the majority of customers base their purchase decisions on the research they conduct online. So most probably your customer will search for your product on the internet before buying it.
What's more, they will not spend a lot of time looking for it. Instead, your customers have to be able to find your product with a simple Google search.
To build a strong digital presence, secure your online identity before launching your product. First off, buy a domain for your website. A lot of companies even change their brand names according to the available domains.
Here are some of the top domain registrars that you can buy your domain name from: Domain.com, Bluehost, Network Solutions, and HostGator. After getting your domain, start creating a credible and informative website, as it's going to be one of the ways for you to connect with your audience.
Don't forget about the social media pages as well. They will help you to get to know your customers and showcase your product.
Never underestimate the power of the online presence, and don't skip putting this step in your product release checklist.
Plan Your Post-Launch Strategy
Successful product launch goes beyond introducing a new product and moving forward. It's an amazing opportunity to study the results, learn from the flows, and further improve your product.
There are always going to be some burning priorities after every launch, but don't ignore the importance of assessing your efforts and measuring what's working and what's not. Thus, what are the points that you should consider adding to your product launch checklist?
21. Evaluate the first result
No matter how good your prelaunch analysis was, you'll always need to keep your diagnostic and predictive research going to find out the occurred issues as soon as possible.
It'll give you the conviction to continue with your planned activities or enough insight to figure out the necessary changes. The sooner you find the issues, the sooner you'll be able to take the right course.
So spend some time evaluating the outcomes of your decisions, and comparing them with your goals and estimations. Thoroughly analyze the reasons behind the differences and base your upcoming decisions on that information.
22. Analyze customer behavior
By analyzing customer behavior, ultimately, you'll be able to understand whether your expectations met reality or not. It'll help you evaluate the efficiency of your marketing campaigns, find out if you've targeted the right audience, and point out what worked well and what needs to be improved.
23. Get feedback from your customers
Never underestimate the value of collecting and studying customer and product feedback. After launching your product, you must interact with your customers as much as possible in order to find out if their expectations are successfully met and if they're getting all the promised features and benefits.
Rest assured, the customer-centric approach will give its perks. We can never argue against the importance of the customers.
Nonetheless, understanding that there's a gap between how you think you're doing and how your customers feel about it is also crucial. And customer feedback is what will help you bring those two close to each other.
24. Learn and make your product better
After launching your product you get multiple resources to get information about how well your product launch went. Employ all the means and put enough effort into collecting and analyzing as much information as possible.
If treated properly it'll become your north star and will further guide you in your decision-making. Thus, learn from your previous results and keep working and improving your product.
25. Adopt everything you do
The last point in our product release checklist is adopting everything you do. Keep in mind that market conditions constantly change, so your research should be an ongoing process. Keep improving your product, analyze the results, and draw conclusions.
It's an endless loop and an amazing opportunity to learn about your targeted audience and the market you're selling into.
Closing thoughts
The market is growing by the day. Majority of new ideas that people have nowadays have been thought of before and failed. Sure, failures are just a part of the journey, and it's always good to learn from past mistakes. But those mistakes need not be yours. Just never be overconfident with your idea.
Nothing is guaranteed to succeed. Even the best idea can fail without proper care. Always be planning, researching, and analyzing.
And having a good product launcher checklist is the best tool at this moment to always stay on track and never stop developing. We sincerely hope that the one that we provided today will guide you towards your success.
Remember, you need not dream of success; you need to strive for it.
Related articles:
Launching a Product: 3 Core Product Launch Stages
7 Most Successful Product Launch Examples to Learn From