Launching a product is no easy task. There are so many moving parts in the process that it's easy to get lost in the details. If you've already built a great product, the next big step is announcing it to the world, and one of the best ways to do it is through a new product launch email.
But what is a product launch email campaign? In short, it is an email about the launch of your new product that is sent to anyone from existing users to journalists.
In this guide, we're not just going to show you how to create a product launch email. We're going to guide you through the process, providing tips and best practices, and sharing real examples to inspire you. With our help, you'll be able to create an email that informs, excites, and inspires your audience.
So, are you ready to start crafting your product launch email? Grab your pen and paper, and let's dive right in.
3 goals of a well-crafted product launch email
Launching a new product is a thrilling experience, but it's essential to have a clear understanding of your objectives before crafting your product launch email.
Your email should be more than just an announcement. It should have a purpose and specific goals that you want to achieve. By setting measurable objectives, you'll be able to track the success of your email campaign and learn valuable lessons for future endeavors.
Goals
The key goals you should set and track for any campaign, especially a product launch email campaign are:
Whether it's website visitors, social media followers, or general buzz about your product, it's all worth measuring. After all, one of your main goals for your product launch email is to spread the word about it, right?
Specific metrics for measuring reach and brand awareness include:
Social media profile visits
Social media post reach
Newsletter subscribers
Delivery and open rates for your email
General traffic directed to the website
Measuring these metrics will allow you to gauge the effectiveness of your campaign. Now, let's narrow down and talk about the website traffic you're able to generate from your product launch email.
Generating traffic means that you'll be one step closer to converting a potential customer. In other words, you'll have yet another person going down your sales funnel.
It's not a secret that you'll definitely link to your website from your product launch email. So, tracking these micro-conversions will be beneficial for multiple reasons.
Not only will you be able to gauge the relevance of your email for your audience, but you'll also be able to track their actions on the website and pinpoint bottlenecks.
Last but not least, let's talk about the final step and your main goal - conversions.
Now, let's talk about your main goal for your product launch emails - conversions. Whether you're trying to generate pre-orders, make sales, or get backers for your crowdfunding campaign, conversions truly matter.
Measuring your conversions with regard to your open rates can tell you a lot about your audience. If they're converting easily, then you're doing something right. However, if your conversion rate is lower than your industry benchmark, you'll need to make some changes either to your email, your CTA, or your website.
Now that you know more about the goals you should set for your product launch email, let's talk about the metrics you should measure.
Metrics
After setting your goals, it'll be time to run your campaigns and track the most important metrics. We've set 3 specific metrics you should track for an amazing product launch email.
The open rate of a product launch email is the percentage of people who opened your email compared to the number of people you sent the email to. So, if you send your campaign to 1000 subscribers and 500 of them open your email, your open rate will be 50%.
But how do you know what is a good open rate to target for your email campaign?
Firstly, consider the way your email list was built. If you've gathered a list of people who have been interested in your product at some point, chances are higher that you'll have a good open rate. On the other hand, if your email list includes a random collection of friends, family, journalists, and newsletter subscribers, your results might be disappointing.
If you have built a valuable list of emails from people who have previously shown interest in your product, you can target an open rate of around 20-30%. If your metric turns out to be higher, then you'll know for sure that your email list is extremely well-built.
The click-through rate (CTR)
The CTR is a critical metric to track for multiple reasons. Ultimately, it shows you the engagement rate of those who received your email. This can give you an approximate rating for the content of your email.
To calculate the click-through rate, simply divide the number of clicks on your main CTA by the number of contacts in your email list. So, following our previous example, if you send your product launch email to 1,000 people and get 200 clicks, your CTR will be 20%.
Leads that are nurtured have a higher chance of converting. But in any case, how do you know what is a good CTR to target for your product launch email campaign?
Generally, getting a CTR of above 10-15% is considered great. Getting people to click a button in your email is tough, so don't be too disappointed if your numbers are in the single digits.
You can also dive deeper into the CTR and track the metric for those who actually opened your email. This way, you can know whether your content was enticing enough or if you should revise it.
Last but not least, let's talk about the conversion rate. This metric is calculated by dividing the number of people who purchased your product by the number of people on your mailing list. Ultimately, this shows the effectiveness of your campaign in selling your product.
The conversion rate is the most important goal you'll be setting for your campaign. After all, the purpose of your product launch email is to generate sales, bring in customers, and boost your brand awareness.
Let's take our previous example. If you sent out your product launch email to 1,000 people and got 10 sales, that'd give you a 1% conversion rate. Remember that you must also track the revenue you generated from those sales. Converting customers into buyers of more expensive products is tougher.
So, how do you track the conversion rate and what is a good conversion rate to target?
You can use UTMs for your links (created using Campaign URL Builder) to track all actions of users through Google Analytics. This way, you can know for sure that the conversion came from your product launch email.
Your goal for a conversion rate is highly dependent on your industry, product pricing, positioning, and a lot more. That's why nobody can tell you a concrete benchmark - because generalizing this sort of data is not accurate. Overall, we can tell you that conversion rates that are in single digits should not scare you.
Now that you've set your key goals for your product launch email, it's time to learn about some best practices for writing one.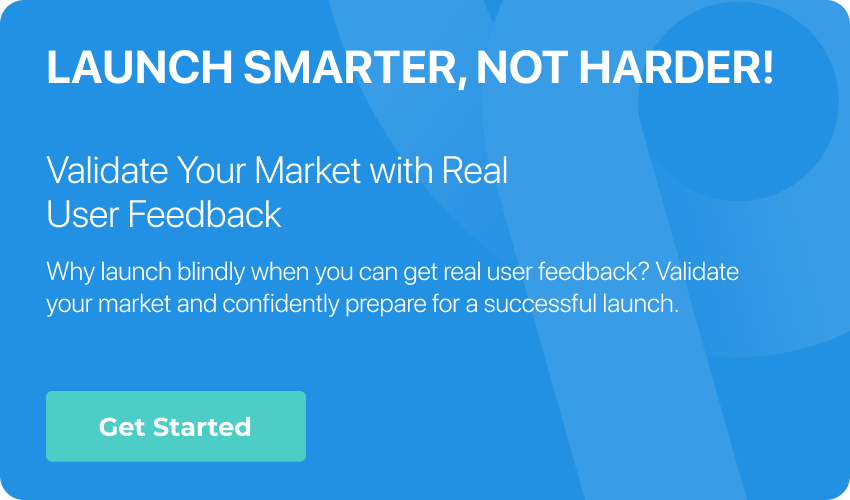 5 tips on writing product launch emails
There is no new product announcement email template for writing the perfect email because each launch is unique in its own way. One tactic can work better for your own product than it did for someone else. Nonetheless, there are some guides you can follow.
In our experience, the best product launch emails have a good subject line, are short and to the point, have a storytelling aspect to them, and are informative enough to convince the reader to be interested.
We've put together a list of 5 tips on writing product launch emails and we're ready to share our wisdom with you.
1. Hook in the reader with a catchy subject line
The subject line of your email is the first thing people see. It's basically the determinant of whether someone will open your email or not. Your open rate is somewhat of a measure of the quality of your subject line.
Product launch email subject lines need to be short and hook the reader. If you want to write stunning subject lines, follow these simple guidelines:
Do not go over 8 words or 40 characters.
Although your subject line is allowed to be longer, it doesn't need to be. In fact, it's better to keep it short enough to be visible on various browsers and device versions.
Do not use general statements - be specific.
Given the short nature of subject lines, it becomes easy to keep your statements general. However, general statements won't be enticing for readers. Be specific and put value in your words.
Write what your readers want to hear.
It's critical to consider the preferences of your audience when writing product launch email subject lines. What tone will entertain them? What would they actually want to hear in order to open an email?
Think outside of the box.
Your subject line doesn't have to be a full sentence, it doesn't have to be a statement. It can be a question, a personalized movie reference, and so much more. So, don't limit yourself when brainstorming for product launch email subject lines.
2. Keep it short but sweet
As much as you want to tell your readers every little amazing detail about your product, your time to convince them to love your invention is limited. People don't have the attention span necessary to learn everything about your product, which is why you need to cut to the chase.
Here's a general structure you can use.
A personal introduction - Make it known how important this launch is for you. Keep it on a human level to invoke emotions in your readers.
Talk about your product's benefits - Give the reader a reason to become interested and click your call to action. Mention the biggest value points of your product.
Call-to-Action (CTA) - This is where you get to the point and call the reader to action. Whether your button will lead to your product page or website in general, your CTA should complete your main goal.
A side note, if necessary - At the end of your email, you can have a side note, possibly thanking the reader for supporting your launch and other such things.
Considering that you've nurtured your email list leading up to your product launch email, this should be enough to push them over the edge and nudge them to convert. The longer your email, the faster you'll lose the interest of your readers.
3. Use images to enhance the reader's visual experience
A picture is worth a thousand words, right? Well, the combination of words and a visual piece is magnificent. Using images of your product in your product launch email is a no-brainer.
Keep in mind that the use of bright colors and the overall design of your email will also play a role in convincing readers to click the CTA. After all, your email should be aesthetically pleasing and avoid looking like spam. This will instill trust in your readers and make them more likely to convert.
4. Talk about your product's key benefits
As mentioned before, you should keep your email short and sweet, but still, talk about your product's key benefits. Granted, if you've been nurturing your audience for a while, they'll know about the benefits of your product already. Nevertheless, if you want your product launch email to convert readers into actual buyers, you'll need to remind them why they should do it.
Whether you talk about delivery terms, how much better and faster your product is at doing something, or that you donate $1 from every purchase to charity, mentioning your benefits is critical.
And after all that, it'll be time to close the deal with a good CTA button.
5. Don't forget to add a killer CTA
There is a subtle art to writing a CTA that'll convince the reader to take action in just a couple of words. Usually, people won't think to take action unless you explicitly ask them to. So, it's critical to end your product launch email with a CTA. This is ultimately why you are sending out your email - to get them to click that button at the end.
Side note: You can have multiple CTAs in your email to make sure people know what the next step is.
Whether you want to offer an interesting deal, mention your biggest benefit, or give them free shipping for a limited time, your CTA needs to be specific. Here are a couple of CTA examples for a product launch email:
Include an "Order Now" button next to the price or a visual of your product.
Write "Learn More" to send your readers to your website where all the additional info is available.
Offer a "14-Day Free Trial" for your service to hook in potential buyers and boost the number of your users.
Say "Get a Demo" if your sales reps are ready to hop on a quick call or send over a quick intro video.

Side note: Define your product launch email sequence
Your product launch email should rarely be a standalone promotion material. Instead, you should nurture your leads with a prelaunch email campaign, have your product launch email, then follow up with a post-launch email campaign.
In general, leads that were nurtured with prelaunch emails are way more likely to convert. There'll also be tons of people who opened your product launch email but weren't yet convinced to purchase. This is where your post-launch emails come in to save the day.
3 examples of awesome product prelaunch emails
Now that you know the basics of how to write a product launch email and what goals to set for your campaign, it's time to check out some examples. Many choose to use a product prelaunch email template, but we always find that customizing it and making it your own yields better results.
Take these product prelaunch email examples as inspiration for your own product launch email and good luck!
Prelaunch reminder (SMS)
Before we check out a "how to introduce a new product example," you need to set up your prelaunch email. This is done to get your audience amped about your launch. The emails you send in the prelaunch stage of your campaign are meant to nurture your mailing list.
To get a better idea of how to craft an awesome prelaunch reminder email, let's check out a version we created for GigaDrive - The World's Fastest External SSD.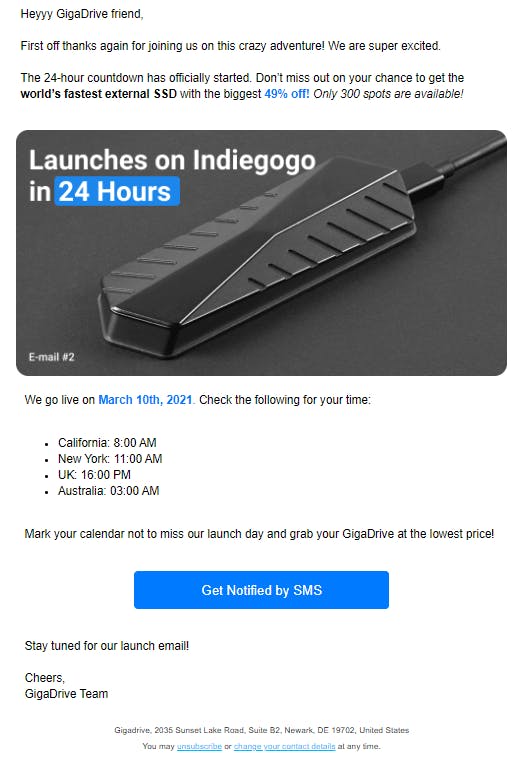 As you can see, this email is only a couple of sentences long. We've used visuals to get the point of this email across easier, and the CTA is written in a big blue button at the end.
It starts off with a personal message (that the audience will love to read), then jumps right into what value this email is giving to the reader. Ultimately, everything is short and sweet.
This CTA helped us generate a big list of SMS subscribers, and once we went live, they received a notification. And guess what - around 60% of the SMS notification subscribers converted within 2 hours!
Another prelaunch reminder (Surveys)
There are tons of prelaunch email campaign examples out there, but you should only get inspired by the ones that bring you and your reader tons of value. As for this prelaunch email we sent out, it aims to gather survey responses in exchange for $10 off. Plus, those who complete the survey get access to our private Telegram channel.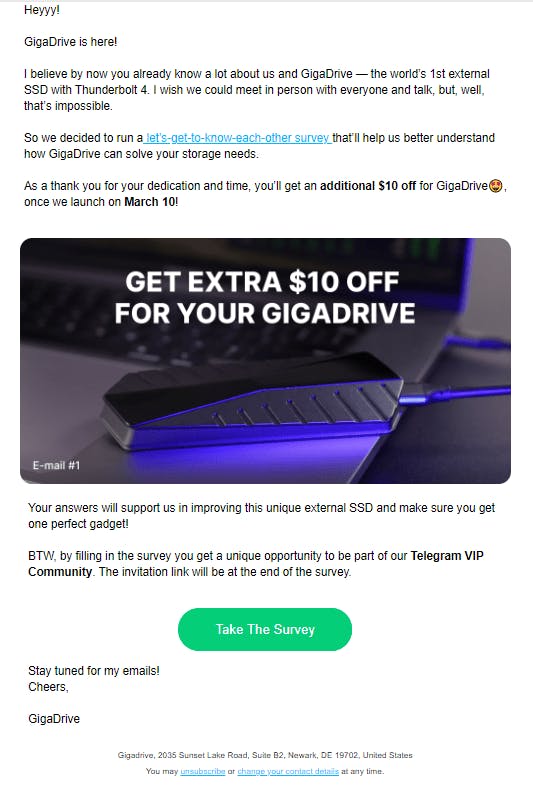 This is definitely a win-win deal for both you and your subscribers. You get to grow your community and gather valuable feedback while the subscriber saves $10.
VIP Facebook Group Invitation
Last but not least, here's a product launch email sample that'll help you prepare for an exciting launch. Just like we gave GigaDrive's subscribers access to a private Telegram channel in exchange for filling in a survey, this is another example of how to create a community and feed them information about your product.
Here's an email we crafted for UVMask, inviting subscribers to a secret Facebook group. We phrased it as a "VIP invitation" to add a bit of psychology to our content.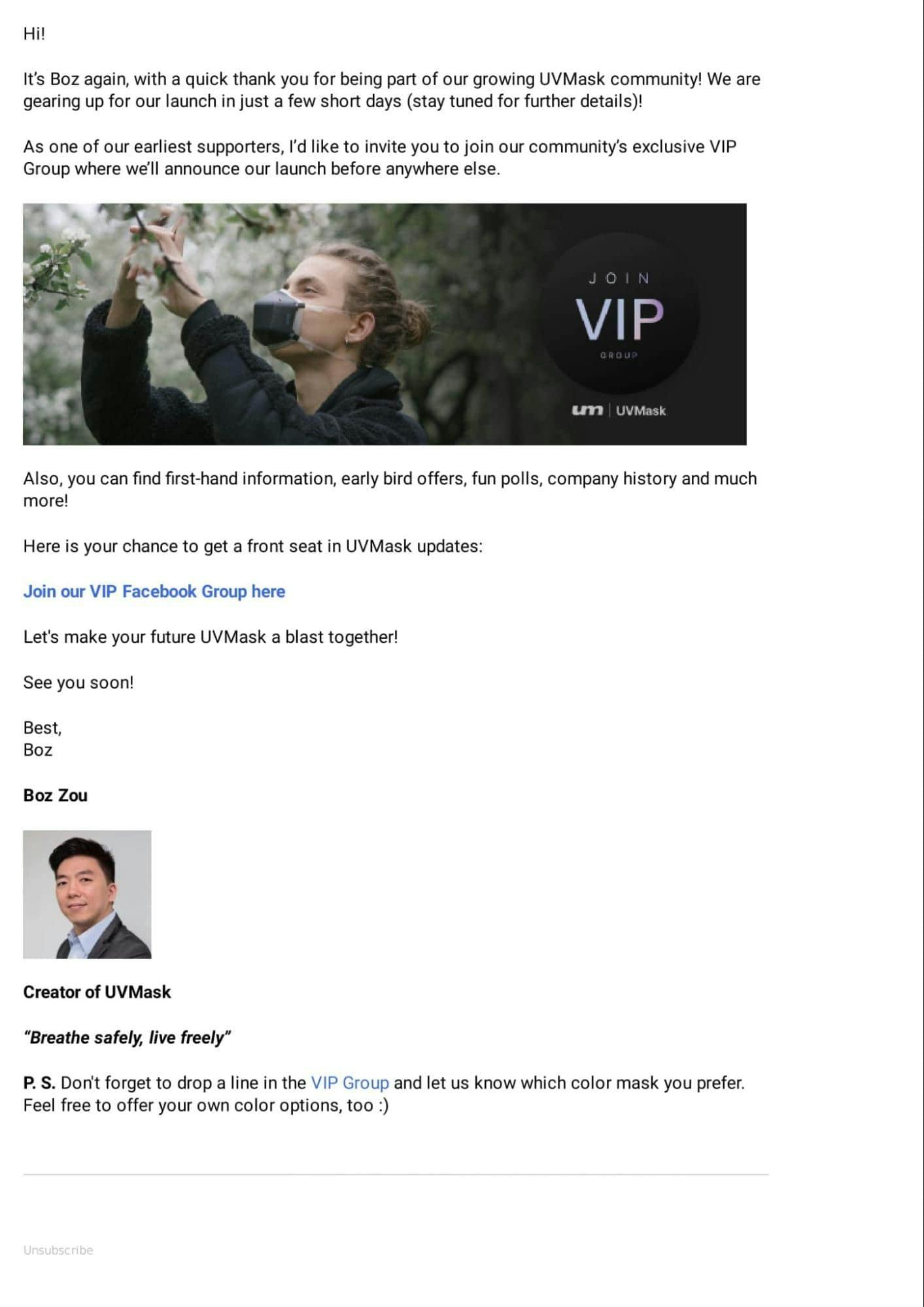 After sending out this email, we saw a big tendency toward conversion. Of about 2,000 subscribers we sent this email to, 30% opened the email, and 160 of them joined the group.
Conclusion
And there you have it folks - our ultimate guide to a product launch email. We taught you how to set the right goals for your campaign, gave you our best tips on writing a product launch email, and showed you what a proper launch campaign looks like.
If you don't have time to go through the whole thing, here's what you should remember:
Set goals and track your open rates, CTRs, and conversion rates.
The quality of your email list will determine the success you're likely to see.
Subject lines, CTAs, and keeping your email short are critical for a product launch email.
In case you do want a holistic view of crafting an awesome product launch email, we recommend checking out the examples we mentioned at the end of this article.
We hope this guide helps you put together a great product launch email, and we wish you the best of luck on your upcoming launch!
Related articles
Prelaunch.com | Idea Validation Platform For Your Next Product
10 Product Launch Metrics to Help You Validate Your Idea