Prelaunch marketing is one of the most vital concepts you need to familiarize yourself with if you're in the planning stage of your go-to-market strategy. Why?
Because without a proper prelaunch strategy, your bigger goal is doomed to fail. Don't get us wrong, we're not trying to scare you here. We're merely trying to emphasize just how important it is to prepare for your product launch.
That being said, we're also here to make sure you know all bits and pieces of what needs to be done for a good, no, scratch that, amazing prelaunch marketing strategy.
We've got a lot to cover here, so let's dive right in without beating around the bush.
What is prelaunch marketing?
As the name suggests, prelaunch marketing is essentially all the marketing activities you do in preparation for and before your actual product launch.
The main point of a prelaunch marketing campaign is to raise awareness and anticipation about your launch and gather a community of people who are excited about your product.
And finally, prelaunch preparation ensures that by the time you actually launch your product, you'll have intel on what promotional strategies are most likely to work, as well as get an initial boost in sales by your warmed-up audience.
Why is it important to start your marketing at the prelaunch stage?
We already hinted at why prelaunch marketing is important above, but let's go into detail about what you'll get through this strategy.
Awareness and buzz
Products don't just "sell themselves," even though Kevin Systrom, Instagram's co-founder, once said so. Sure, there are products that, once in a while, explode and go off the charts, but they are the exception, not the rule.
So, do your due diligence to save yourself from disappointment and waste of resources.
Prelaunch marketing activities must be implemented to, first and foremost, inform your target audience that your product exists and is on its way.
Regardless of what you're planning to launch, let people know and create a buzz, especially if you're trying to get into a competitive niche. Build ground to base your post-launch promotion on, and don't try to go with the flow and see where the waters will take you. You might straight up sink.
Valuable leads
Imagine planning a concert and not selling your tickets, hoping the audience will just show up at the event. You'll end up singing in front of an empty hall or, if you're lucky, a couple of people who randomly found out about your gig.
This is exactly what'll happen if you don't do lead generation before your launch. Gathering leads is essentially like selling your tickets, so the audience is there for your performance.
This will give you a guarantee that in the first crucial hours and days of your launch, you'll gain momentum and, hopefully, keep building on that.
Validating the product-market fit and what channels will work
The most overlooked and yet vital reason why a prelaunch plan is so important is to understand who your target audience really is, whether or not they need your product or service as it is, and how you need to reach them.
This is where you can get creative, broad, narrow, humorous, or serious as you want with your marketing channels, tone of voice, messaging, etc.
Doing this will help you understand and take into account the specificity of your audience and marketing channels.
How to do and what to consider for your prelaunch marketing
Each product is different, so there is no one way to get the prelaunch marketing just right. That's why, to get you started on prelaunch marketing planning, we'll give you a step-by-step rundown of all the foundational activities you need to include in your plan.
We'll also go deeper into each activity, so you know how to do them right and tailor your plan based on this information.
List of main prelaunch marketing activities
In this section, we'll dive into each prelaunch marketing channel we recommend implementing for a successful launch. Whether you'll end up using them all or eliminating one or two, make sure you familiarize yourself with all of them.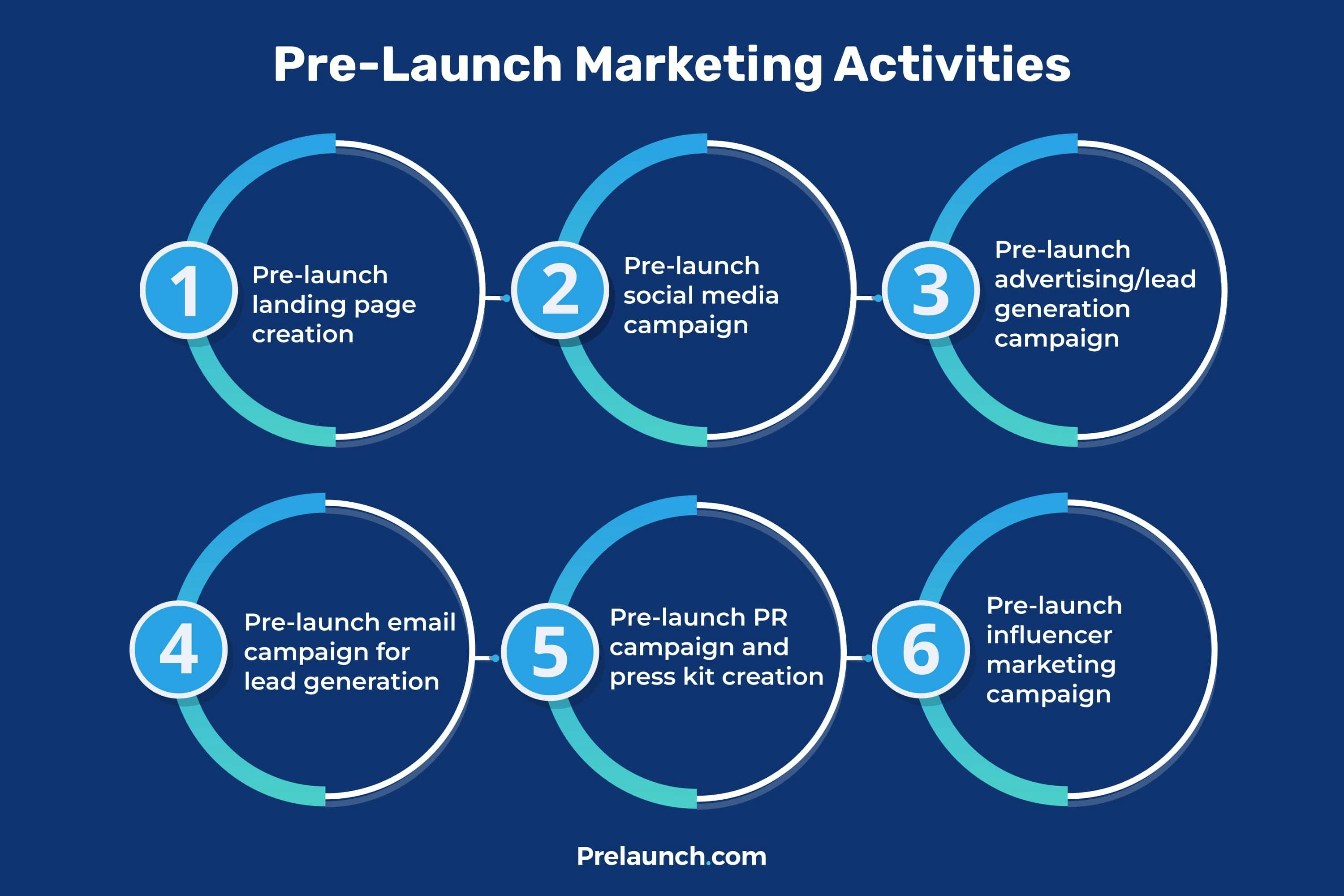 Prelaunch landing page creation
Landing pages, also known as lead capture pages, are the first place your visitors "land" after seeing your ads. It's also the first and most comprehensive place for them to learn about your product and offer.
In the prelaunch stage, landing pages have one simple goal – get people's email addresses. With this goal in mind, you need to craft your page to communicate your product's features, benefits, and why you're asking visitors for their email addresses.
To make your landing page as converting as possible, make sure to offer a win-win solution for your audience. This means that the entirety of your page, your offer, and your ask should first lead your visitors to a beneficial outcome so that they can repay you with their contact information.
Related articles
How does Pre-Selling a Product Work? Tips for Preselling Successfully
Pre-Order Products: Finding Pre-Order Customers and Best-Practice Marketing Strategies
Let's discuss an example from one of our successful campaigns - Dragonfly - World's First Hyperscooter
Start with your "Above the fold" section, where you present your product in its best light. It should be catchy and clear so the visitors know what to expect when they scroll down.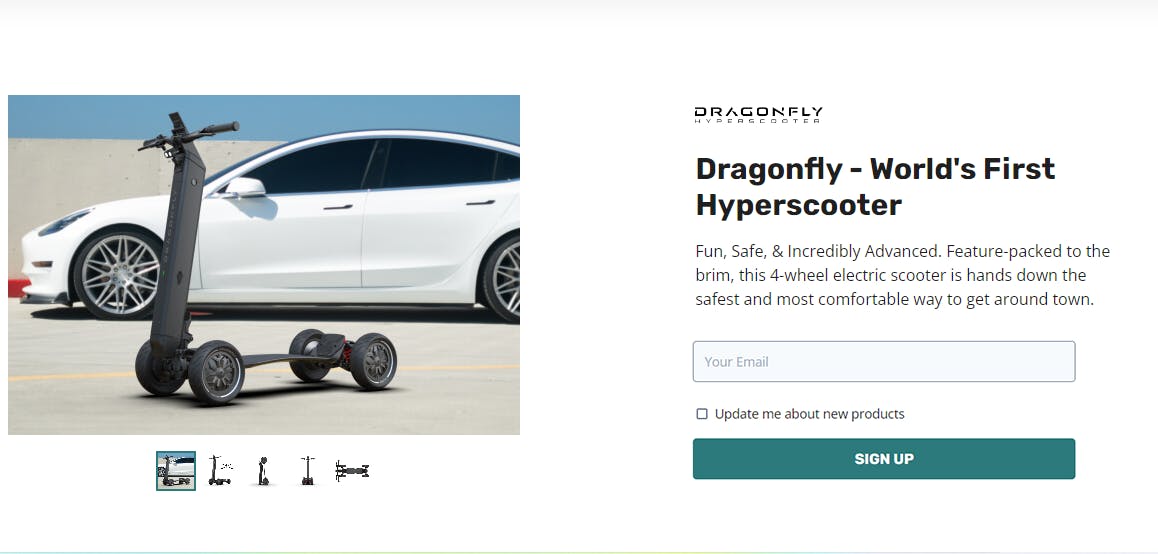 Section your landing page in a way that will identify the problem your visitors experience because they lack your product, and smoothly transition into the solution. Speak about the user's benefits from their POV and do it in their language.
Use visuals that resonate with your visitors and perfectly demonstrate your product. The landing page should answer all the immediate questions and potential objections your visitors may have.
Explain your product's features and how they work, and, if possible, provide use cases, so it's easier for leads to identify themselves with your product.
Check Dragonfly's example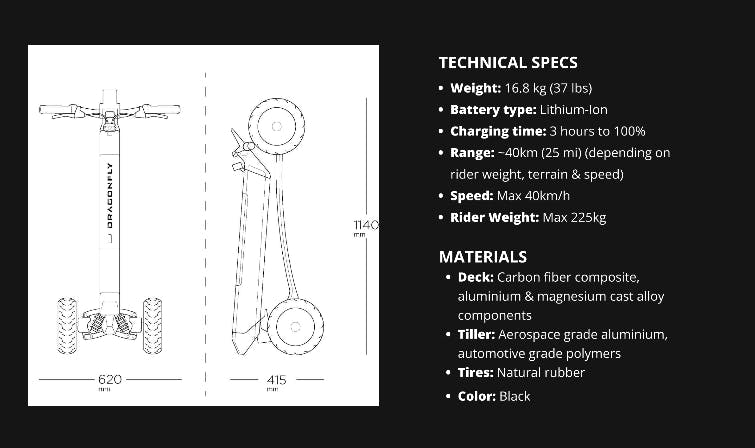 Once you've successfully covered the basics, the most crucial step is going to be your offer to them. What will the users gain by giving you their contact information?
Personal information is something no user gives out freely these days, so to make an ask like that, you need to give them something that makes it worth their while.
Here is a detailed guide on creating a highly converting landing page.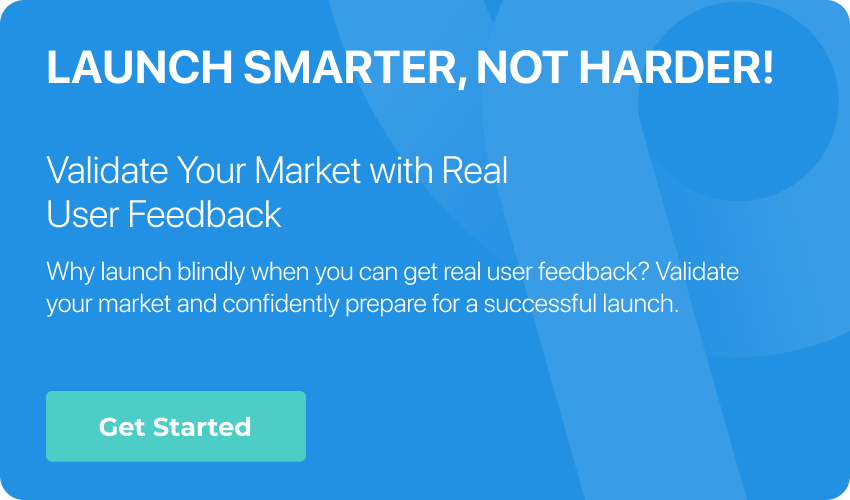 Prelaunch social media campaign
Social media is a huge part of any prelaunch and post-launch strategy. So let's take a look at what needs to be done in this area.
Start with a social media marketing strategy where you underline why people should follow you. Identify who your followers will be and what content they need to see.
To create a basic social media strategy, you need to go over the following topics:
What are your goals here? In the prelaunch stage, your main goals for social media are community building, high community engagement, brand awareness, and gaining website visitors & conversions.

Do a competitive analysis. Here you need to understand the main differences between you and your competitors on social media. What content strategy do they have, and which type of content is working? Use tools like Popsters to analyze your competitors' content. Collect content ideas and create a plan based on those topics.

Define your target audience. Similar to all of your marketing channels, social media also requires you to attract people who will be interested in your product. Write down the demographics of your audience and the behavioral characteristics too. Understand what type of content they are interested in consuming on social media. Write their pain points, fears, and needs regarding your product category. You will use those insights when creating content.

Choose the social media platforms where you are going to build a community. Pick the ones where your target audience spends most of their time․

Create your content strategy. It should be based on your target audience's content interests and business needs. The content that gives value and education is a "must" to include in the content plan. You should also entertain and inspire your audience. The best outcome results from mixing educational content with entertainment. Alongside your value-driven content, you should post promotional content as well, which will have its own specific goals and CTAs. In our case, the goal is to register for the product launch. Work on a content plan that will answer the what, when, and how (how should the content look like) questions.
How to implement all of these in your prelaunch strategy:
1. Create and optimize your pages based on the SMM strategy

Make sure to fill all relevant fields and provide relevant information that can be interesting to users. Set up your profile picture and covers as well. Write a compelling Instagram bio. And create useful and informative story highlights (e.g., about your product, company, product features, PR mentions, etc.)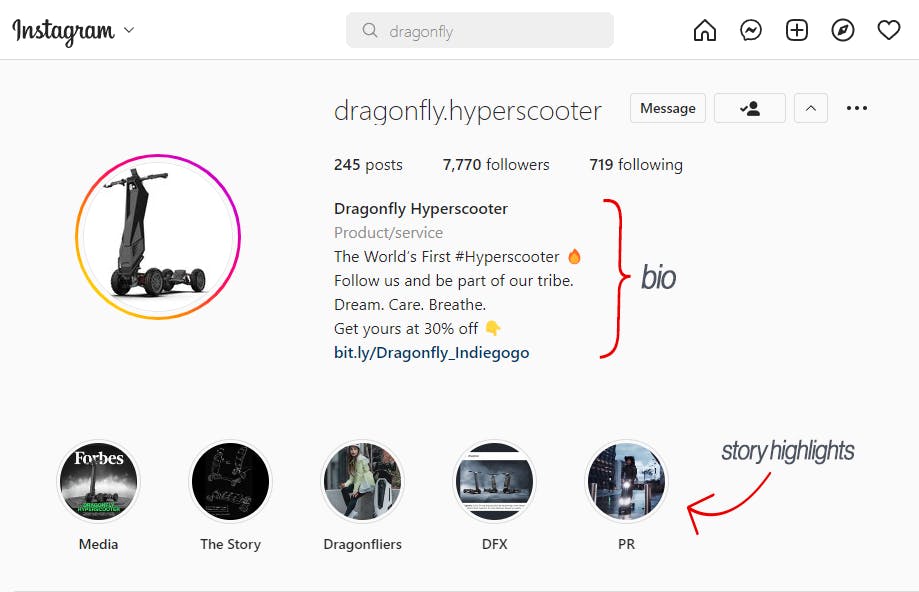 2. Use social media icons on the website and anywhere you are in touch with your prospects, like emails.
Example from Dragonfly's website.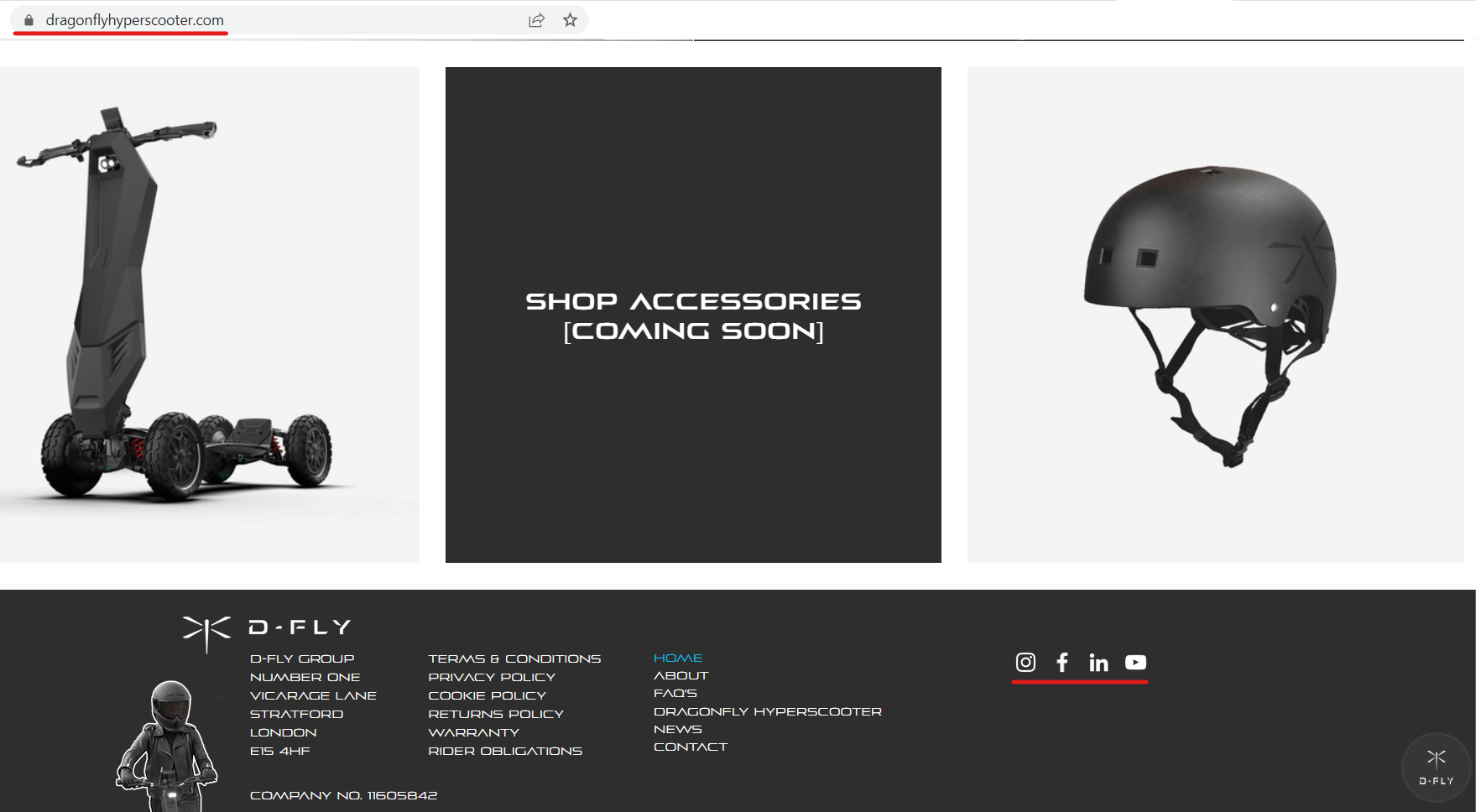 3. Create a 3D filter of your product on Instagram, if relevant.
You can ask your followers to use the filter to see it in 360 degrees and in front of them. It's a real-time experience that increases the connection and desire to obtain your product. Start getting your first 1000 relevant followers via both paid and organic ways.
4. The easiest and fastest way to collect your first followers is to use Tiktok and Instagram Reels and create entertaining content around your product.
You can ask your friends and relatives to follow you. You'll need to use paid advertising to grow your follower base as well.
5. Use tracking links (UTMs) on each social media platform to measure the results and know when it's time to switch up strategies.
6. Be consistent in your content production.
Consistency is key, most importantly for TikTok and Reel formats.
Talk about the benefits of your product and how it solves people's problems. Use this content map to get content ideas.
7. Warm up your audience and incentivize them to be ready for the launch by promising special offers and gifts to first buyers.
Example from Dragonfly's prelaunch social media campaign.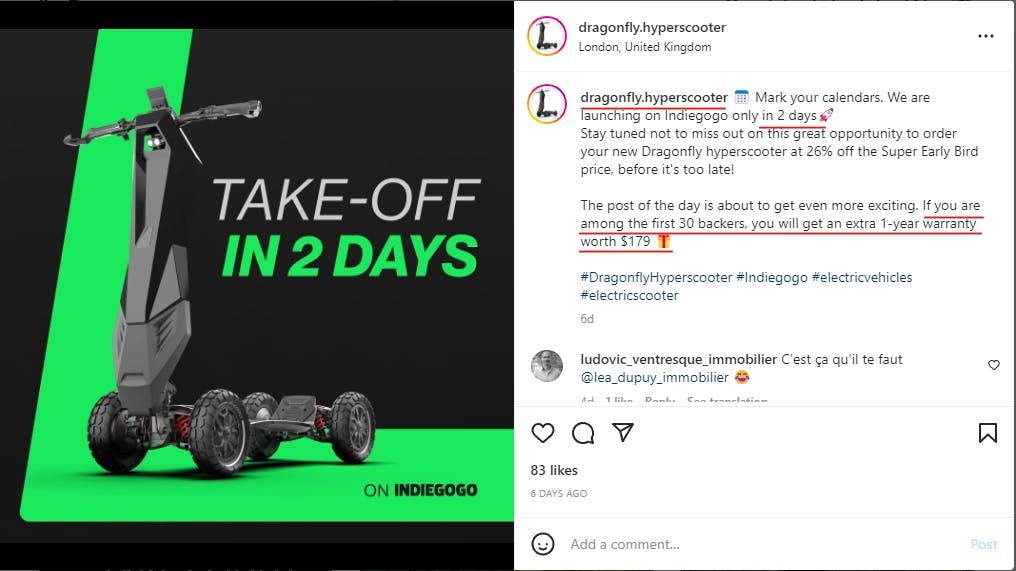 8. Create events about your launch on Facebook and Instagram.
You can create events on both social media pages. On Instagram, you can create a reminder/countdown event and integrate it with posts about your product launch, so people can create a reminder and get a notification on the app when you launch it. On Facebook, it's just a Facebook event that you'll need to promote.
9. Make sure you answer all messages and comments instantly.
This is very important. People follow brands and search for brands on social media to get answers to their questions. So speed here is important.
10. Use video content and especially short-form videos (Reels, TikToks, Youtube shorts), to reveal your product's benefits and advantages. Test different formats and trends and double down on the ones that get more views.
11. Proudly announce the launch and promote that post to reach all your followers.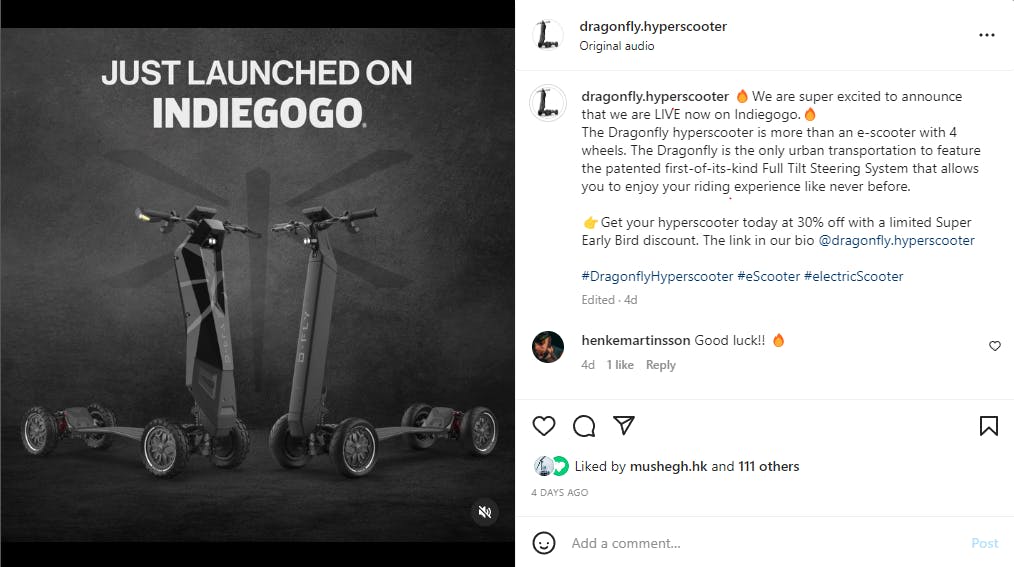 Prelaunch advertising/lead generation campaign
Just like with all marketing activities, you need to start with research here as well. Analyze your competitors and their ads. You can use Google trends, SpyFu, AdSpy, Ads Targeting, Swipewell, and other tools.
Next, you need to create a broad buyer persona. Create a customer strategic map (CSM). Creating this map is one of the most important steps for your launch. With CSM, you'll be able to understand who your customers are, which product positioning is better, and in which direction you should scale your efforts. The CSM consists of four parts:
The customer's pain points,
The unique selling points,
The hooks, and
The CTAs
Together, these elements compose the Angle of that project. Each angle is the main direction for your ads. By writing up 3 to 4 angles, you can deliver the right message to the targeted audience. Combine the audience's interests with the CSM angles and start testing.
After testing, analyze the ads and find the angles that worked and the ones that didn't. As a result, you'll have the main directions for your ads, the best working creatives, hooks (copies), and CTAs for the campaign. Now that you have the main assets, you need to scale your ads and watch them convert like crazy.
On a different note, depending on what you want – more reservations or more low-cost leads, optimize your ads. You can choose to make them lead-optimized or purchase-optimized.
Use the lead-optimized ads to decrease your cost per lead. However, if your main goal is the reservation, which is used to get leads with higher purchase intent, you should go with purchase-optimized ones.
Check examples from Dragonfly's prelaunch advertising campaign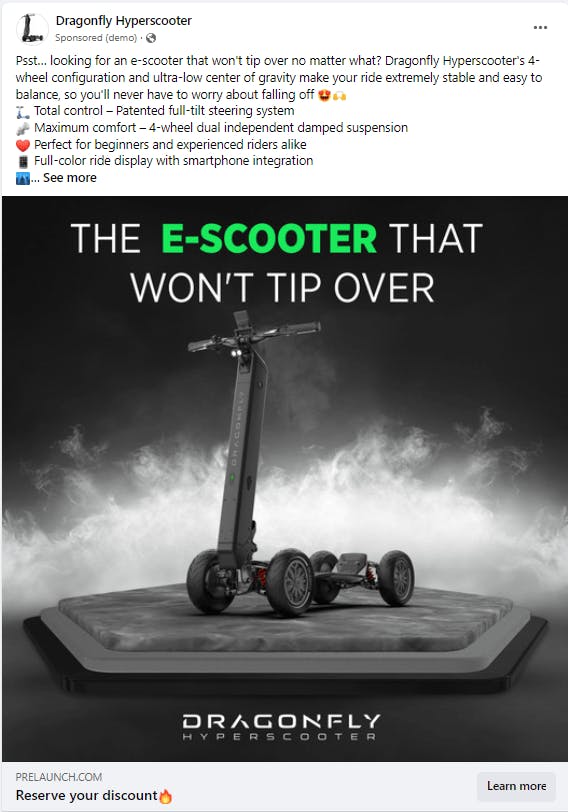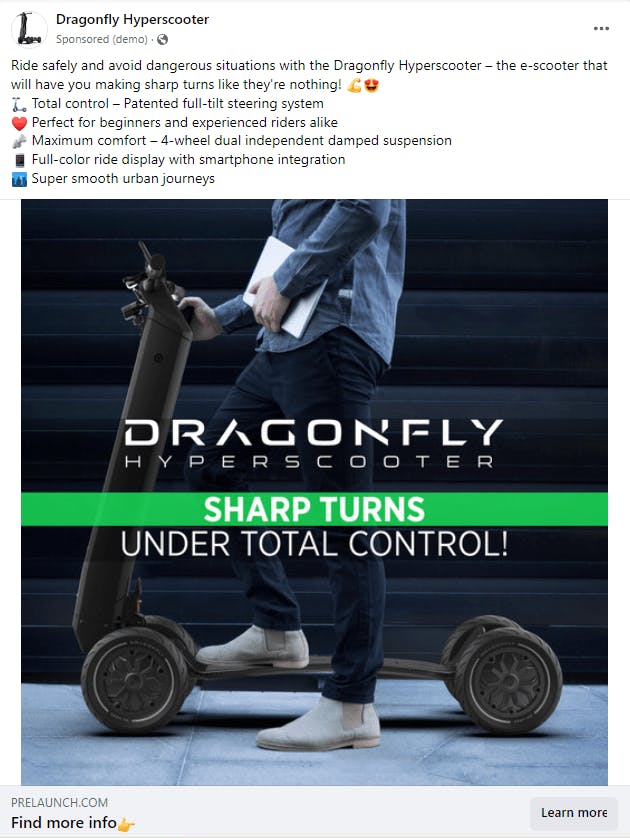 Finally, analyze your ads constantly, kill the ones that aren't bringing you results, and create new ones instead. There's no point in investing in ads that don't bring you desired results.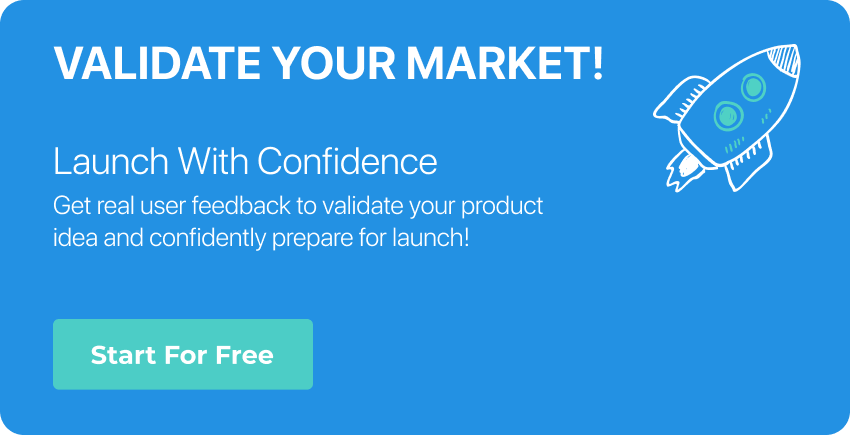 Prelaunch email campaign for lead generation
Email marketing should be at the top of your list if you're about to launch a new product or service. And there are many reasons why.
First off, what's the use of putting all that hard work into gathering qualified leads if you're not going to nurture and prepare them for your launch?
But simply blasting out a general newsletter to your entire list will not cut it. To get people excited about your product and upcoming launch, you need to create a specific prelaunch email sequence. This sequence will need to do three things:
Introduce your product or service to your leads,
Explain how it solves a problem they're facing, and
Build up credibility and social proof so they're more likely to buy from you when you launch.
Luckily, crafting an effective prelaunch email sequence is not as difficult as it might sound. We'll walk you through everything you need to do to create a sequence that sells. So let's start at the very beginning of your sequence.
Welcome Email
The first step is to introduce yourself and confirm the lead's subscription. In this email, you want to ensure your subscribers know who you are and that they have just secured the best offer for your product.
This is also a good time to remind them that they subscribed to hear from you specifically about your launch, so they shouldn't unsubscribe if they want to be the first to receive launch updates.
An important note here: even though this is technically the "introductory" email in your sequence, resist the urge to make it too long or give too much away in terms of information about your product or service.
Remember, the goal of this first email is simply to introduce yourself and build the foundation of your relationship with your subscriber so that by the time you get around to making your pitch (in a span of 2-4 emails), they'll already be predisposed to wanting what you have to offer.
Welcome email takeaway:
When someone subscribes to your list, send them a welcome email immediately.
The welcome email should introduce yourself and confirm your lead's subscription.
The email should also remind them why they subscribed in the first place.
In the body of the email, you can include a link to a freebie or another offer that's exclusive to subscribers.
The email should also let them know when you'll be sending future emails (so they don't unsubscribe out of boredom).
Tell Your Story
Next in line in your prelaunch email campaign is your story. What led you to create this product or service? What problem were you trying to solve for the end user? Why do you believe your product is the best solution?
If possible, try to make your story personal. People are more likely to connect with you if they feel like they know you and the struggles you've gone through to create this solution. Plus, it helps to build up trust and credibility, which are key factors when selling a product or service.
Company Story email takeaway:
In email 2 of your sequence, tell your story.
Explain what led you to create your product or service.
Make it personal and share why you believe in your product.
Use this email to build trust and credibility with your subscribers.
Don't forget about the CTA. In this case, it could be something like, "Can't wait to hear more? Check out our website."
Now that you've told your story and explained what led you to create your product or service, it's time to start sharing more information about your product. After all, people are more likely to buy from someone they resonate with and know what they are getting.
More about product
The third email in the prelaunch sequence is all about giving your subscribers the details they need to make an informed decision when you do eventually launch.
This is NOT the time to be sales-y or pushy. Just give them the facts and allow them to reach their own conclusions. If your product is truly as great as you believe it to be, then the facts should speak for themselves at this stage.
Include a brief overview of your product or service, how it works, and the benefits for the users.
List any unique selling points that make your product stand out from the competition. By providing this helpful information upfront, you'll set the stage for a successful launch down the road.
Product Info email takeaway:
In email 3, provide detailed information about your product.
This is not the time to be sales-y. Just lay out the facts.
Include things like features, benefits, USPs, and pricing info.
Be sure to include a CTA
Moving towards the launch sequence
The final step is letting them know when you go live!
Make sure your subscribers know exactly when your product or service will be available, and give them one last call to action encouraging them to do what you want them to do before launch. This can be anything from joining your VIP group, answering a survey, sharing your campaign on socials, or some other meaningful CTA.
And then...you're done!
You've just crafted an effective prelaunch email sequence designed specifically to convert your leads into buyers.
The beauty of email marketing in this stage is that it's your best shot at establishing rapport with your audience, so use this resource wisely.
Prelaunch PR campaign and press kit creation
When it comes to PR, the prelaunch stage is the most important since this is when the team should have all the assets ready to start the outreach after the official launch. Here's the list of activities you need to complete during the prelaunch stage:
Research
Start looking for and collecting information about journalists that are most likely to feature your product. The first step of this process is keyword generation. An easy way to do this is to look through the product brief or messaging doc and separate the most commonly used phrases that best describe the product.
Another way is to use keyword generation tools like keywords everywhere. It will recommend alternatives or keywords relevant to the ones you provide as an example.
Collect all your keywords in Google sheets (cause we all love it) and start looking them up on Google. You will likely find hundreds of articles, and all that's left to find the authors of these articles along with their contact information. Logically, if they covered this topic once, they are likely to do it again.
Use extensions like Nymeria and RocketReach to easily find their email addresses from LinkedIn. Create a separate outreach database and collect the following information about journalists:
Name
Email
LinkedIn page,
Article link,
Media outlet name,
Alexa rank (or any other tool you use for measuring the traffic rank of a website)
You can have more information fields if you'd like, but these are generally enough to move forward.
Another great way to find journalists relevant to your product is, unsurprisingly, competitor research. Once you identify your main competitors, try to look up their media presence with a quick search on Google. Same logic here, if a journalist did a story on a competitor in the same niche, they'll be interested in covering other products in the same niche.
Pitches
Put shortly, a pitch is a short tailored message that outlines what your product is and why it's worth being published. It's the best way to reach out to a journalist and make yourself known.
There are a few important aspects to crafting the perfect pitch, and one of them is that it has to provide a short but engaging product description so journalists are intrigued to learn more. Here you can find examples of pitches that have worked great for our team in the past.
The other aspect is that while you can write the perfect pitch from one try, you shouldn't limit yourself to just one variation of it. Write up a few and test them along the way.
Next, keep in mind that journalists receive hundreds of pitches daily, so it's easy for your story to slip through the cracks. To remind them about your product, send follow-up emails.
Do not send more than 3 follow-ups to one journalist, and make sure to keep them at least 3 days apart.
Follow-ups should be 3-4 sentences long at most and not contain the same information included in the pitch. So try intriguing them with different information or any news that comes along the way.
Sources
In case your pitch was of interest to the journalist, they will most probably want to learn more about the product.
The best way to provide this information is to make sure you include relevant sources. This can be either the website/landing page of your product or the press kit.
Think of the press kit as the one-stop media shop for everything related to your product – official press release, product information doc, visual materials, etc. The purpose of a press kit is to provide journalists with all the necessary assets to learn about your product and visuals to create a story on your launch with less hassle and back-and-forth.
Going forward, keep your press kit up-to-date with new materials that could be of value to journalists. Add resources like customer reviews, founder interviews, new visuals as they come up, etc. Here is an example of a press kit.
With these assets in your possession, you're now ready to start your PR activities.
Prelaunch influencer marketing campaign
By now you won't be surprised if we start the prep for our influencer marketing strategy with research. It's the first step in doing anything, really, so let's get to it.
Market research
Start by understanding which category your product falls into and which type of influencers cover that niche. Since you most likely have identified your competitors long before getting to this stage, research which influencers talk about them. Look through your competitors' websites and social media pages as well as search their names on YouTube.
Influencer research
Once you've identified the topics, methods, and strategy for your influencer marketing efforts, start researching your influencers through these means:
Influencer research on Instagram
Influencer research on TikTok
Influencer research on YouTube
Influencer research on other platforms
Email pitch and follow-ups
The cornerstone of all outreach campaigns is the pitch, the follow-ups, and the media assets. We've already covered them in the PR section of this article, so we'll only list the most actionable to-dos here.

You can use this template for easier pitch creation
----------------------------------------------------------------------------------------------------------------------------
Hey [influencer's name]
This is [your name] from [campaign name], which is a [main message of your product].
It solves one of the most urgent problems of the time – [describe the problem in a few words].
[Your product's name]'s unique technology is what [it does that none of your competitors does].
We are currently live on [Indiegogo/Kickstarter/ Prelaunch] and have raised over [$X] with the help of [a number of your backers].
I was looking through your [YouTube channel/Instagram page] and was excited to learn that we share the same [values/interests] towards [mentioning something that connects you, the reason why you think they fit your brand].

We are pretty confident you will dig this, as well as [Youtube channel's name/Instagram fans] will be thrilled to learn about our product.
Let us know if [we can send one over/you'll be interested in covering it/you'd like to test it earlier than anyone else ].

Here's the [Kickstarter/Indiegogo/Prelaunch] link again.
Best,
[Your name]
----------------------------------------------------------------------------------------------------------------------------
Warm up the email addresses you'll be using for your outreach:
Find newsletters and subscribe to them to keep your inbox active. Here are several newsletters you can subscribe to
After you receive newsletters, respond to them with "Thank you" or other things
Use tools like Gmass or Warm up your email by Mailshake

Set up your bulk outreach automation tools such as Streak or Mailshake
Final thoughts
Now that we've finally made it to the end of our prelaunch marketing checklist, so to speak, it's time to wrap up what we've learned. Prelaunch is a crucial stage in your go-to-market strategy.
As we've already mentioned, you can't launch your product on a whim and let it flow with the wind. You need to be prepared for your launch and the most effective way to do it is by informing your audience about yourself, gathering leads who are interested in your offer, and laying the ground for all your marketing channels.
This will help you quickly test multiple things, understand what works best for your product, and, last but not least, gain momentum once you launch with the audience you've gathered and warmed up.
Now go get 'em.
Related articles
The Ultimate 25 Step Product Launch Checklist with Templates
How to Create a Prelaunch Landing Page [with Free Templates]