Are you ready to launch your new product? Have you been working tirelessly to validate your product and prepare it for a strong and successful launch? Before you're ready to click the launch button, we'll tell you what you need to do to guarantee that sweet, sweet success.
One of the most important and impactful channels you should utilize when launching a product is Social media!
Prelaunch social media posts are a great way to generate buzz and excitement around your product before it even hits the market.
In today's digital age, utilizing social media to spread the word about an upcoming product launch can take your business to unimaginable heights. And in this article, we'll tell you all about how to do prelaunch social media marketing right.
Why is it important to use social media for a new product launch?
Social media is an essential tool for introducing your product to the world. It's a platform that gives you access to millions, if not billions of people who could be interested in what you have to offer. According to data from July 2022, 59% of the world's population uses social media.
Needless to say, you have to utilize this information to your product's advantage. With the right strategy and execution, social media can help you reach more people than you could reach with other channels.
The key, though, is to put in the work beforehand. This work includes researching and understanding your target audience and what they like to see on the platforms they're using.
A step-by-step guide to creating a social media campaign strategy
Now, to build a solid prelaunch social media strategy, we'll need to break it down into components and go over each independently.
1. Define your goals and audience
First things first, you need to identify the goal you're pursuing by investing in social media. Given that you're about to introduce a new product to the market, the most attainable goal in the prelaunch stage is to use social media to build anticipation.
Building anticipation is an umbrella goal, consisting of multiple objectives that will ultimately bring you closer to success. These objectives are going to be:
Raising brand awareness
Building a community of excited users
Maintaining the community's interest
Driving traffic to your product page

Secondly, understand who your target audience is on social media. If you've done your share of research and validated your product, you should already have your buyer persona and specific target audience.
Now each target audience demonstrates different behavior depending on which social media channel they're on. From the tone of voice to the visual aspects and styles of your content – you need to know how to attract your potential customers.
2. Do a thorough competitor analysis
How engaged are their followers with the brand? What language does your competitor use to communicate with them? Are they trying to directly sell or are they using educational content to inform and nurture their audience? Do they use giveaways and influencer collaborations?
Researching what your competitors are doing is crucial for more than one reason. It will give you insight into how your audience thinks and feels. Don't feel bad for taking inspiration from the success of your competitors. Utilize some of those to your benefit.
You can analyze your competitors' content by using tools like Popsters. You'll need all the help and creativity to collect good content ideas and create high-quality content on those topics later on.
3. Create your content strategy
Your content strategy is how you plan on communicating with your audience and informing them of all important pieces of information about your product and its launch. The content strategy should be based on both your target audience's content interests and your business needs.
As a general rule of thumb, content that educates and gives value is a must to include in your content plan. You should also strive to entertain and inspire your audience. Mixing educational content with entertainment provides the perfect balance.
Simultaneous with your value-driven content, you should post promotional content as well, which will have its own specific goals and CTAs (call to action).
Let's assume we want people to sign up on our landing page so they get a discount upon launch. In this case, the goal is to convince them to register for the product launch updates and that sweet discount. Create an elaborate content plan which will lead the visitors through that journey via your prelaunch social media posts.
4. Choose your social media platforms
There is a social media platform fit for anyone's taste. The key to choosing the right social media channels for your product is to know your audience. What age range is your audience? Which platform do they use the most? Which one influences their purchasing decisions the most?
Depending on the answers to these questions, you can then narrow down your choices to 2-3 platforms, such as Facebook, Instagram, and TikTok. At the same time, the beauty of social media is that it's both independent and interconnected between platforms.
Since social media is mostly about visual content, you can always repurpose your visual materials for other platforms. For example, if you make a TikTok video, you could also reuse that content on YouTube shorts or Instagram reels without spending any more effort on it.
Product launch social media posts examples
We know it's hard to picture the various types of visual content that you could incorporate into your prelaunch social media marketing strategy. In theory, it's easy to imagine one or two product launch social media posts, but we're bringing you real examples from different successful launches to serve as actionable inspiration.
1. Prelaunch countdown posts
Nothing, and we mean nothing, gets the blood pumping like counting down the days for an exciting event. Social media is by far the best place to make countdown posts in all shapes and forms while building hype but not being as intrusive as opposed to, for example, sending daily emails with countdowns.
Take a look at the following prelaunch social media posts examples for a better idea.
You want to be cautious not to tire your audience, but the best way to go about countdowns is to announce the date and start the clock on these types of posts during the remaining 3 days. If you're extra impatient, you could also do a 1-week countdown.
While you can opt for an actual post on any of the channels you're using, like Instagram and Facebook, most platforms have all the necessary tools to maximize your reach by other means. For example, Instagram stories with their countdown stickers are extremely effective and engaging. Viewers will have the option to set a reminder and be notified when the launch occurs.
All engagement on social media has a domino effect – your reach will grow beyond measure as more people interact with your content.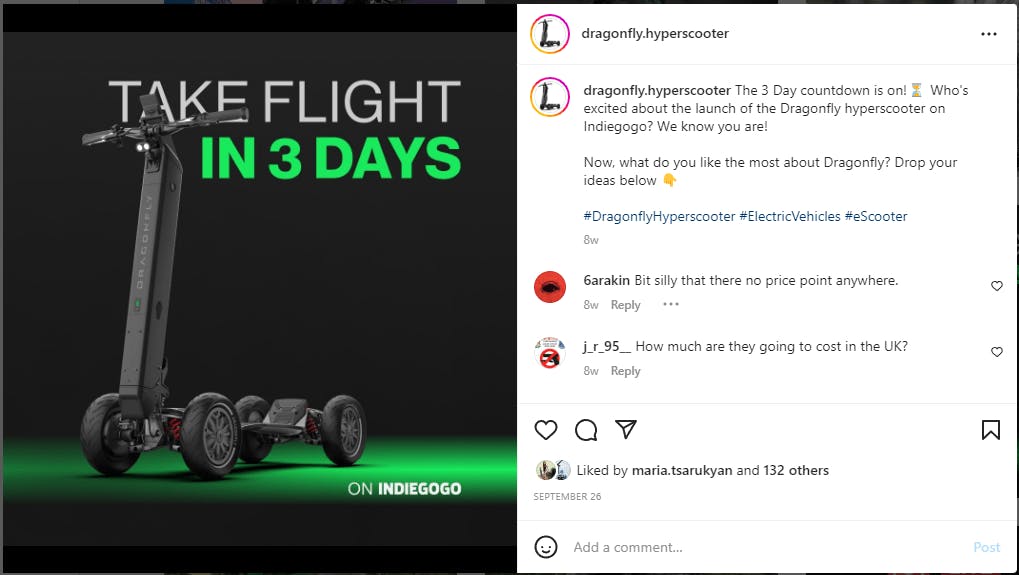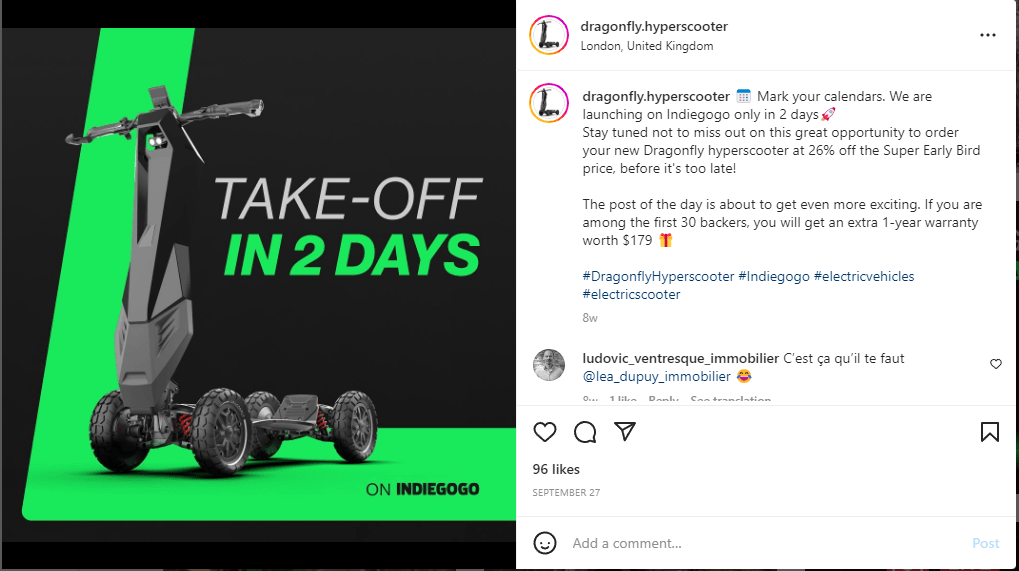 2. Show your upcoming product's benefits
All creators take pride in the outcome of their hard work. So show it to your audience. An effective example of product launch social media posts is one highlighting the product benefits.
Be creative with the visuals and captions – it's important to structure your content in a way that's engaging enough for people to stop and take a look while scrolling.
As you know, Instagram is a platform where you see the visual asset first and then only look at the caption. So synchronize both for better results.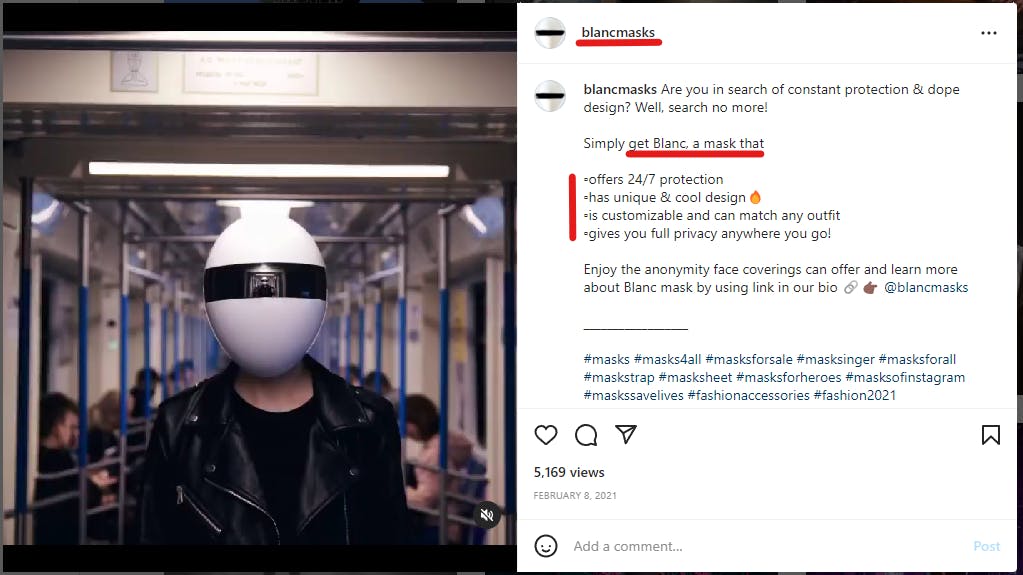 3. Create a 3D filter of your product on Instagram
Filters are something that has been widely used across platforms – from Snapchat to Instagram and beyond. Lots of people explore and try copious filters out of boredom or because they see someone they follow using it.
Our team was once working on a face mask, Blanc, in times of the Pandemic. With most masks in the market having common physical attributes, this one stood out because it was, well, different.
To convey the message and the promise of Blanc, our team created an Instagram filter for people to get a sense of how the mask would look on them.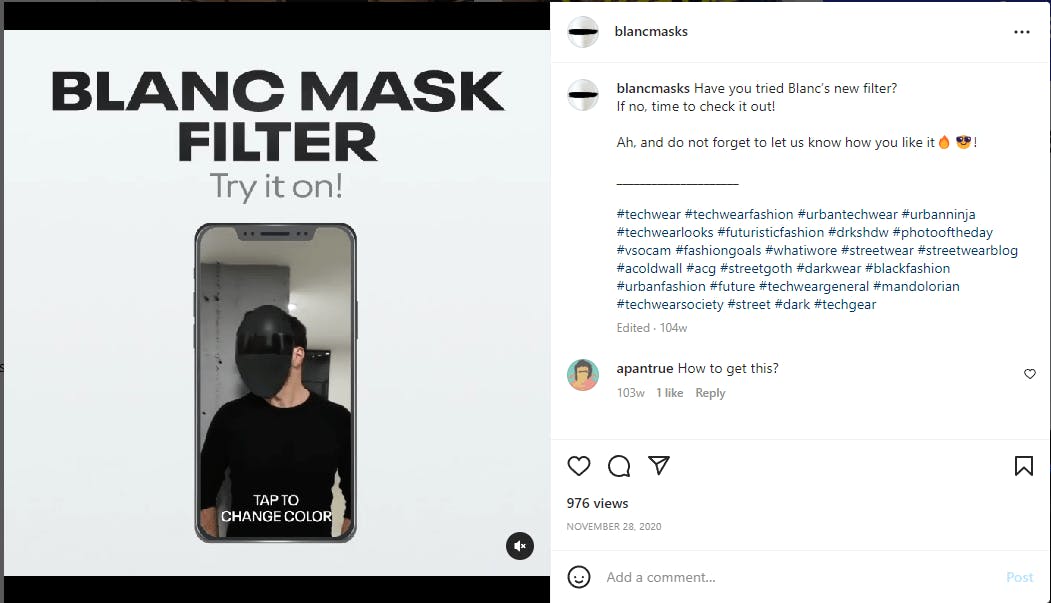 But creating the filter and asking your followers to use it is not where you should stop. Here's the interesting part. You can play around with various strategies such as organizing giveaways and setting the entry requirement to posting videos with your mask. Another great option is to work with influencers to incorporate the filter into their promotional prelaunch Instagram posts and maximize its use.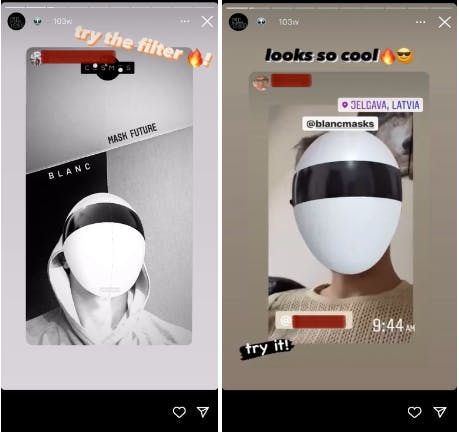 All in all, there are a ton of ways you can get creative to encourage your followers to use your assets.
4. Use long and short forms of video content
Whether you're a fan of longer or shorter forms of video content, you'll have to utilize them all in your quest for success. From Instagram reels to YouTube shorts, short videos are incredibly powerful and have the highest chances of a viral outcome.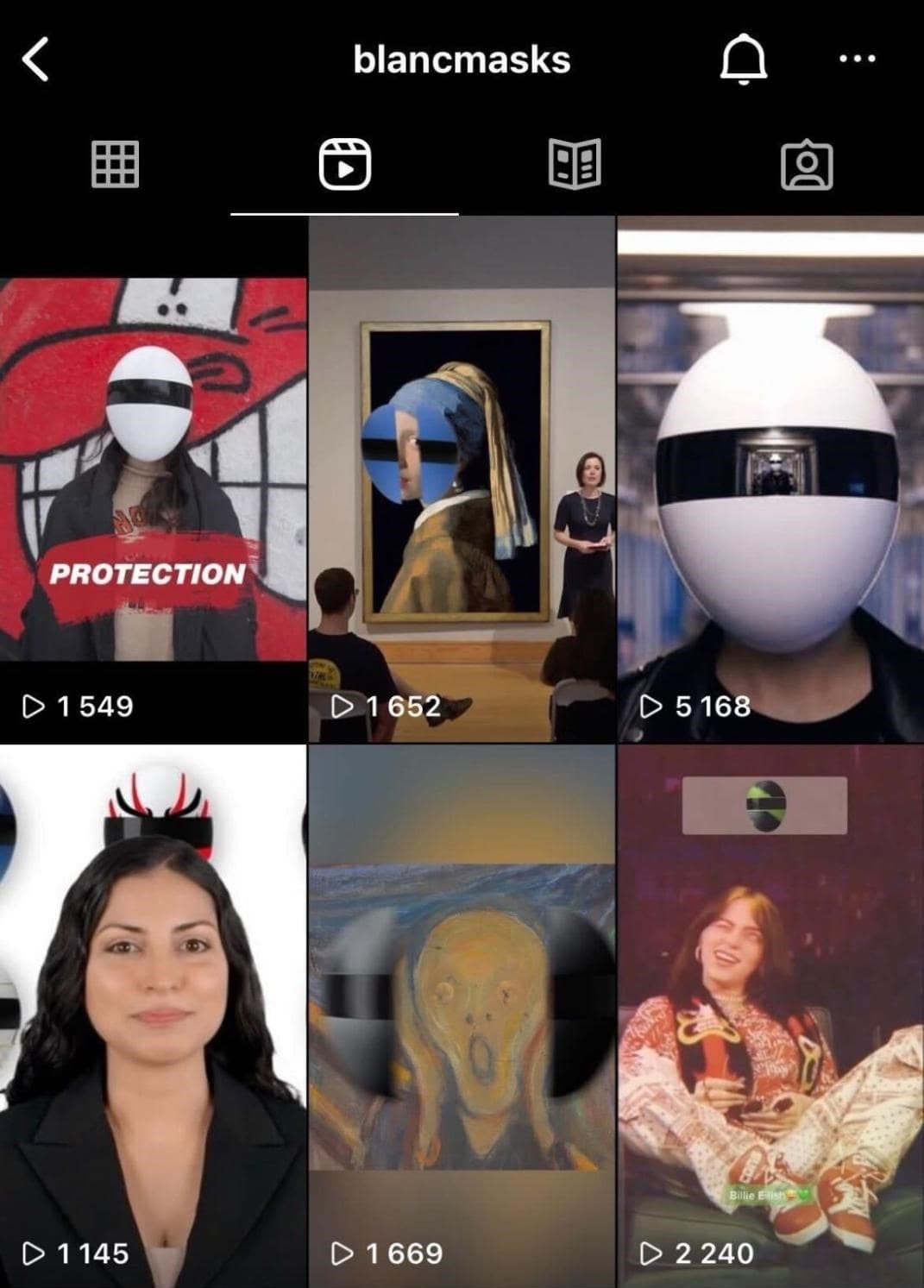 Sometimes, all you have to do is create a beautiful video with the most trending sounds and your post will appear in everyone's explore section.
5. Make reminder posts on Instagram
All social media platforms are continuously enriching their feature stacks to help creators reach their audiences better. Instagram went a step further by introducing prelaunch Instagram posts with reminders for various events.
This feature allows visitors to choose to set a reminder for your event and stay informed. Users will receive a series of notifications about your event 24 hours before, another notification 15 hours before your event, and a final notification when your event, in this case, your product, is live.
To create these posts, all you need to do is tap the "Add reminder" button when you're creating a new post. Mention this in your post captions so users can opt-in for receiving these notifications, and voila, another effective prelaunch post example.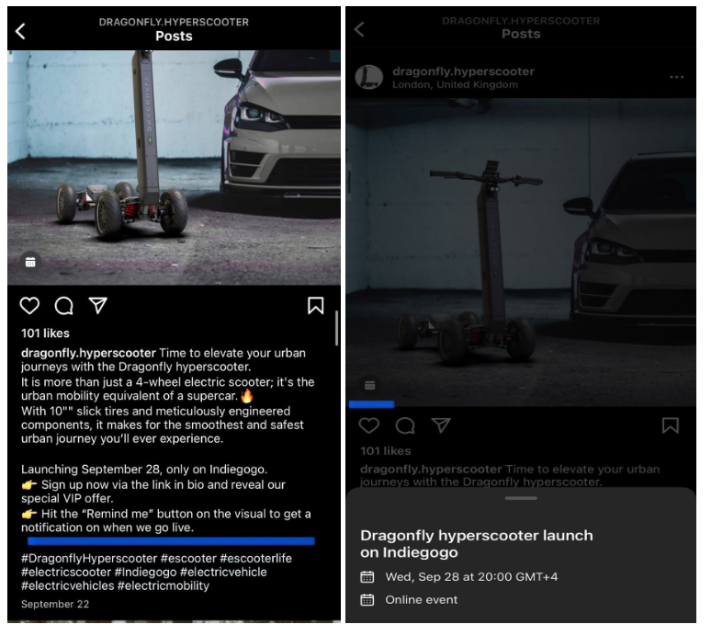 6. Create a live stream event with founders
Whether you're both the creator and the marketing force behind your product or you're outsourcing this task to marketing experts, people need to know who's behind the brand. Live streams with product founders are the easiest way to instantly establish a connection with the audience.
Set up a live event and promote it using all social media channels and your email list. Encourage people to join and ask all their questions regarding the product, features, pricing, launch date, and more, directly to you.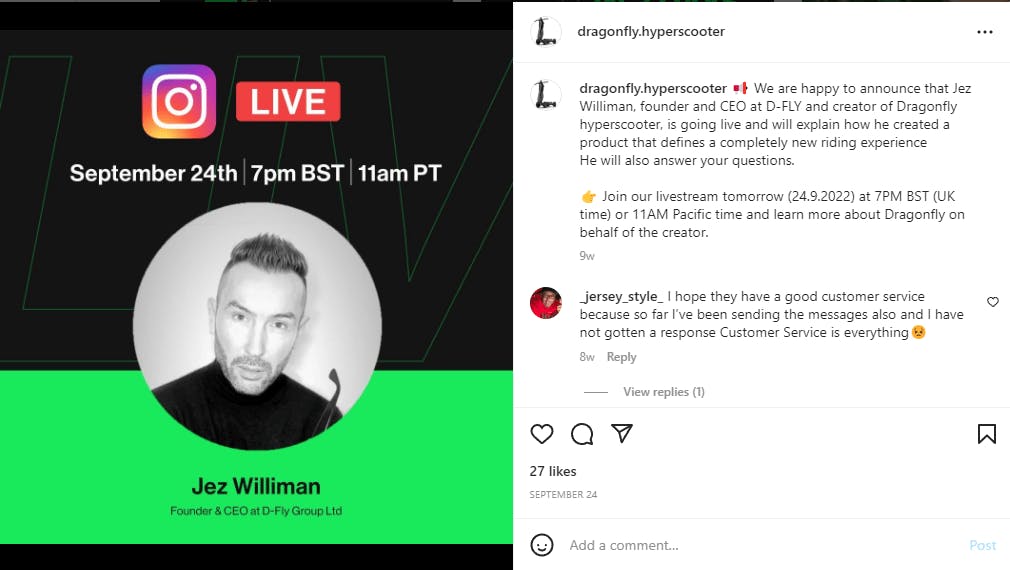 Build rapport with your followers before you even launch, so they can associate your product with a real human who's put so much effort into making it happen.
7. Storytelling posts from founders
This one is not necessarily an alternative to live streams, but a meaningful way to connect with your audience is a post that's written by the person behind the creation.
Write a genuine post that resonates with your target audience – tell the story of how you came up with this idea and talk about your challenges and struggles. You can post it across all your socials, including LinkedIn. These posts are by far the best way to earn the trust of the community you're trying to reach.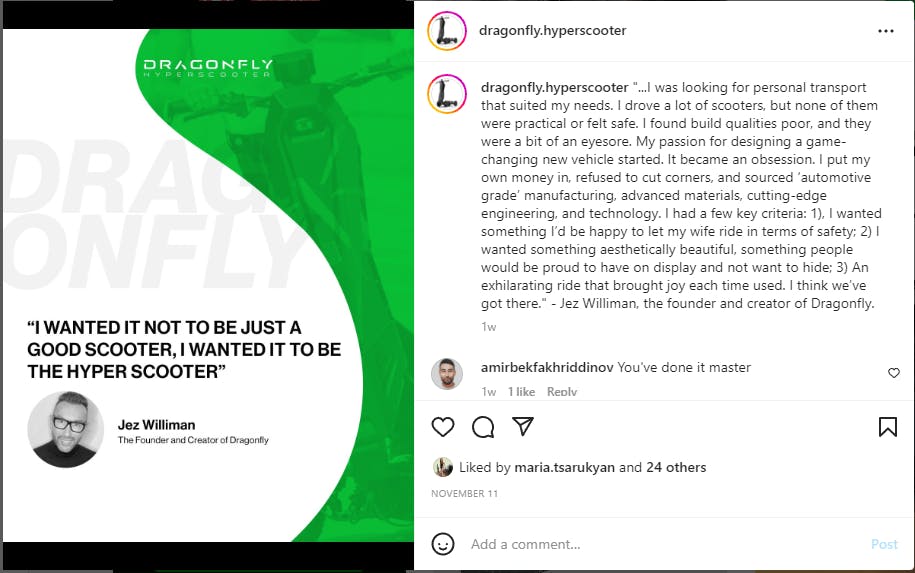 8. Hashtags work. You just need to use them right
Instagram's biggest feature for discoverability is hashtags and that answers the question of why you need to use them. This, of course, is not only limited to Instagram, but perhaps it's where they are most effective.
When people search for something in the app, the immediate results that pop up are hashtags. But what are the best hashtags to use? How can you use them? Let's take a look.
If you find some of the content interesting, you might click on those posts and read about the product or go to an Instagram account and follow it to see future content. So it's crucial to use hashtags to increase visibility and reach new audiences.
If you manage to get on the top of the hashtag explore page, your chances at discovery increase tremendously.
But how do you choose the right hashtags to reach these goals? Well, first you need to do a little research based on your target audience and your competitors. Analyze the keywords and hashtags that your target audience is using – this is how you'll learn to speak their language.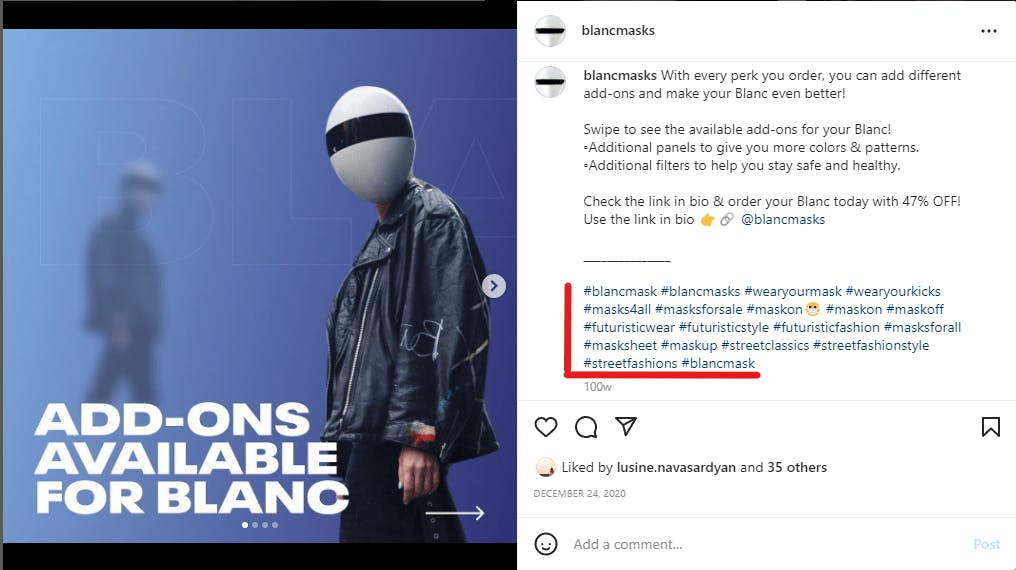 Next, always look at what hashtags your competitors are using to see what else you could add to your list. Looking at competitors or posts from other relevant accounts will serve as a continuous source of inspiration for new and relevant hashtags to use in the future.
9. Create a VIP group for more exclusivity
Making scheduled posts on your social media channels is not the only way to utilize socials. One of the most effective strategies to create a sense of community around your product is by creating a VIP group.
There are numerous reasons why community-led growth is important, but we'd rather focus on how you can best utilize them with the right content.
For example, you can create a community using Facebook groups or create one on WhatsApp or Telegram – whichever works better for your audience.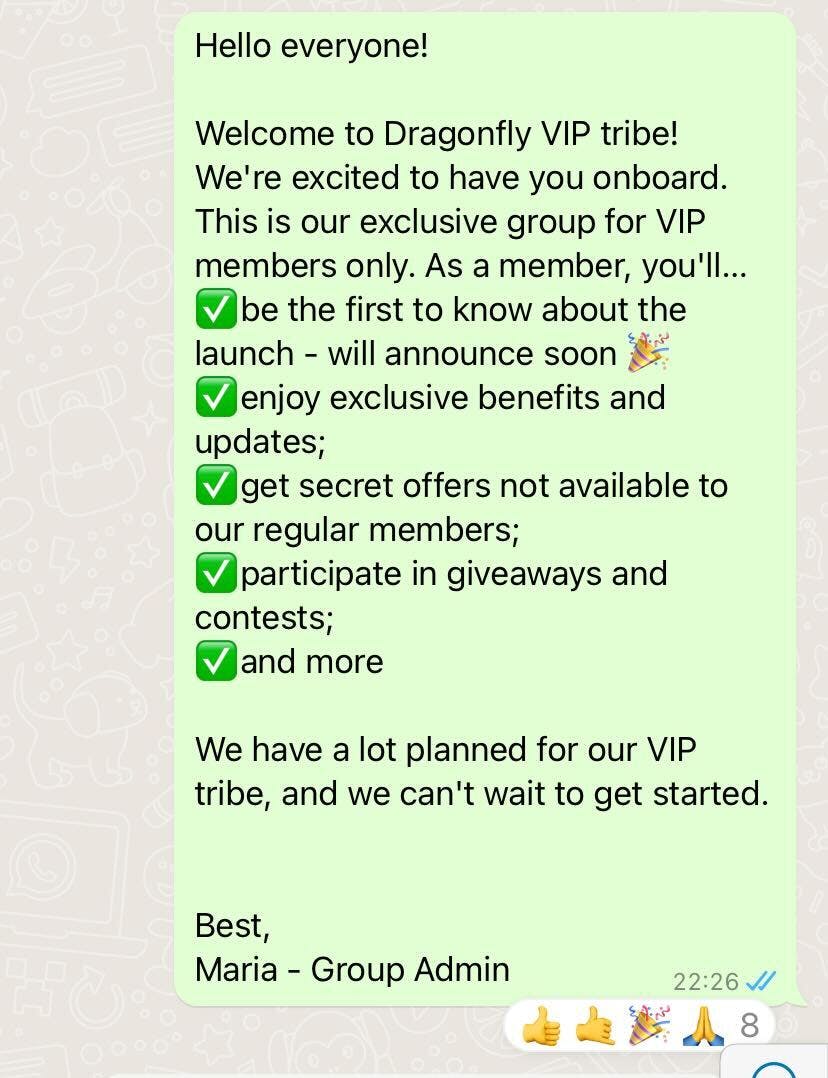 You can use this platform to form meaningful connections with your members because those who take the time to join it are the ones with the highest purchase intent and brand dedication.
From there on, use your community groups to:
Gather valuable feedback and insights on your target users,
Host Q&A sessions,
Create polls,
Give them teasers and product updates sooner than to the general public, and
Offer them an extra discount for their dedication.
10. Proudly announce the launch across all channels
Once you've decided on your final launch day, use your social media channels to announce when the big day is going to be. Of course, you can also do it through blasting an email to your subscribers, which you should still do, but posting on socials serves as an extra reminder to both the same community and whoever is not on your list.
Anyone who doesn't follow you on social media or simply stumbled upon your product will be able to see the announcement and save the date.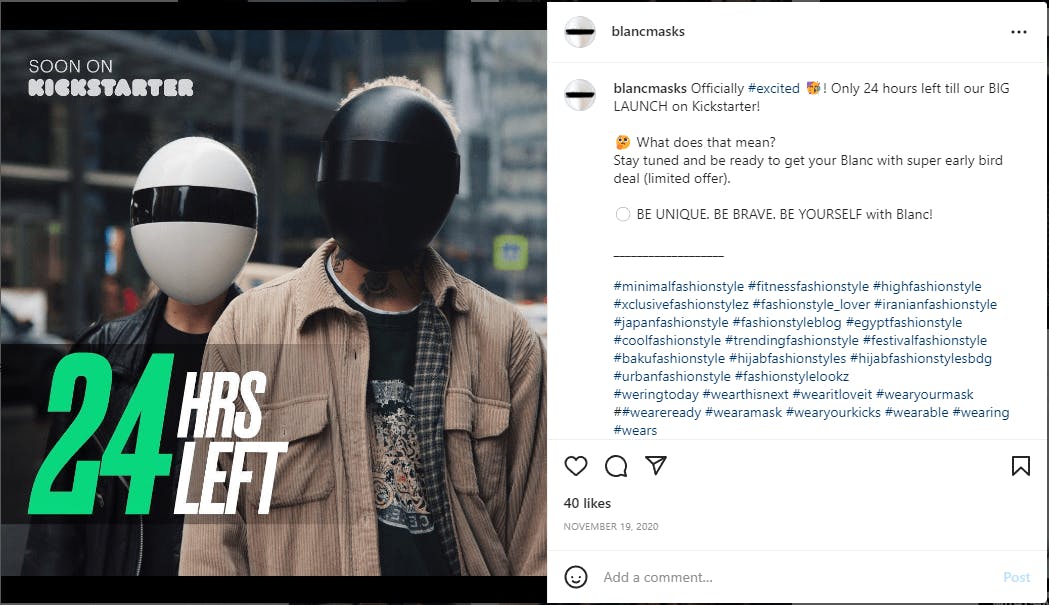 And, last but not least, announcing the launch day also ties well with the countdown posts. So use this opportunity to turn it into an exciting post series.
Final thoughts
Now that we've reached the end of this article, it's time to sum up what we covered above. Leveraging social media when launching a product can be powerful beyond measure.
Social media can be used to inform potential customers about what's coming and generate interest in your brand. It will allow you to connect with existing followers, build relationships with them as well as engage in conversations about your product.
Plus, social media is an affordable way to keep doing market research and understanding your audience better before and after your launch. It lets you gauge customer feedback, which is invaluable in making sure your product is a success.
The best part? It's free! Utilizing social media during the prelaunch stage can be a powerful tool for any business looking to get ahead in the competition. So, why wait?
Related articles
10 Product Launch Metrics to Help You Validate Your Idea
Learn From These 20 Product Launch Failures: Top Reasons and Tips for Success