If you want your project page to show up on Google search results, there are a couple of best practices you can implement.
Optimizing your Prelaunch project page takes a couple of steps, after which your project's page will be almost entirely equipped to tackle the search engines.
The essentials of SEO for your Prelaunch project
The meta title of your project page must be the name of your project.
The meta description of your project page must be the description of your project.
Your thumbnail must be the main/first photo of your project.
The word count on the page should be around 1000-1500 words.
Your primary keyword should be the name of your project.
The primary keyword/project name should be used around 10-15 times throughout your content.
Have separate blocks for images and text. It's not optimal to use pictures with text on it.
Best practices for optimizing your Prelaunch project page
After you've completed the basic SEO steps for your project page, it'll be time to dive deeper into details and use the following best practices to optimize your page further.
Use relevant keywords
As you already know, the primary keyword for your project page is your project title. However, to organically optimize your whole page, you must use secondary keywords throughout your content. These secondary keywords must be relevant to your project.
But how do you choose relevant secondary keywords? Ultimately, you should think about the types of phrases your potential/target customers might search for when looking for your product.
Once you've chosen around 10 secondary keywords, it'll be time to incorporate them into your content. For optimal performance, use these keywords in your titles, subtitles, and descriptions.
Come up with a catchy project title and description
The perfect project title has a formula. It must:
Include your brand name
Include relevant keywords
Be informative yet catchy
For example, if your company's name is Iron-Clad and you're building an electric bike, it'll be smart to include your main differentiation point and brand name in your title, e.g., Iron-Clad: The Sturdiest Ebike in the World.
Pro tip: Make sure to keep both your title and description short and memorable.
After you've got your project title down, it'll be time to write your project's description. This small text must be convincing and comprehensive.
Include a detailed explanation of your product/service, highlight its unique features, main advantages, and give a reason to the reader as to why they should buy it.
Remember that your project description will be your meta title. So, you should ensure that it hooks the readers in.
Use high-quality images to produce an attractive project page
A picture is worth a thousand words. For your project, using high-resolution images, videos, and graphics will make sure that your project page is optimized for a delightful user experience.
We recommend using JPEG files to ensure that your page speed doesn't slow down and that you give a smooth browsing experience to your visitors. Alternatively, you can use WEBP files that are optimized for web performance. The maximum file size for Prelaunch projects is 3MB.
Optimize the Alt text for images
To optimize your images for search engines, you must include an Alt tag or Title for them. Alt tags describe the contents of a picture in words to ensure that search engines can find them.
Your alt text for images should be descriptive and keyword-rich (up to 50 characters).
When setting up your project page, look for the following section to add your image title/alt tag.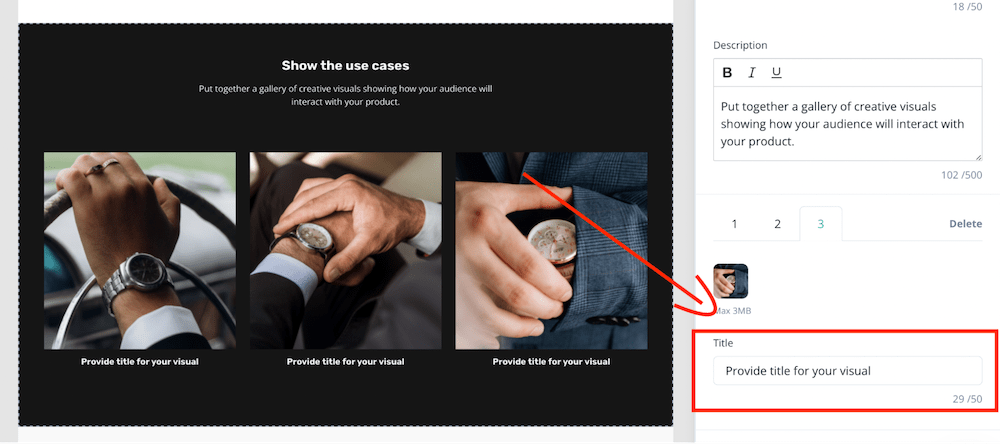 Include a Frequently Asked Questions (FAQ) section at the end of your page
Last but not least, it's a best practice to include an FAQ section at the end of your project page. This will increase the chances of your content ranking for search engine snippets.
You should include 5-7 Frequently Asked Questions to ensure that you answer some common questions your potential customers might have about your product. Focus on more general questions about your project and keep your answers short but sweet.
If you're struggling to find relevant questions for your project, consider using Google's "People Also Ask" section as a guide.
To add an FAQ section, here are the steps you must follow.
Navigate to the "+" button at the top left corner of your page builder.


Click on the FAQ button at the bottom of the available content blocks, then add it to the page.


Add the relevant questions and answers to the content block, and you're done!

There you have it folks! Optimizing your project for search engines will be an amazing driver of traffic to your website. We hope you got all the answers you needed, and good luck with your next project!