Every creator wants the same thing: validation. A sign that they're on the right track and that their idea will resonate with many people.
Until now, the closest was launching on Kickstarter… and seeing if pre-orders rolled in. But for that, you need a working prototype, an advertising budget, a list of engaged subscribers, a team… and a lot more!
Blanc had none of that.
Blanc Mask was an egg-shaped full-face mask intended to cover your entire face. It had interchangeable modular panels that could easily be attached to the mask with magnets, making it suitable for any user.
There had been a number of successful masks on Kickstarter in 2020, including the $5M UVMask campaign. But Blanc Mask was totally different. And past campaigns were not enough to predict their own campaign's success.
So they turned to Prelaunch.com to see if there was a market for their product.
Blanc Mask was probably one of the most controversial of Prelaunch.com's campaigns during the past 2 years. No one — literally no one — ever thought that the egg-shaped face mask would get this popular. It defied all expectations and became a massive hit.
Why did this happen? And how did Prelaunch.com predict it? Read on to find out.
Identifying the Right Position
Putting aside marketing prowess and amazing design, there's a simpler reason Blanc Mask became so popular — the market position that Prelaunch.com helped its creators identify.
The position is the place that your product occupies in the mind of your ideal customer. In one sentence, it captures your ideal buyer persona, their need, and how your product matches it. Much like Ferraris offer an exclusive driving experience to the ultrarich, or Volvo offers a safe driving experience to you and your family.
It's key to marketing your product — after all, nobody would buy a $500k Ferrari if its position were safe driving!
So how did this work out for Blanc?
As Blanc was not an ordinary face mask that protects the wearer from viruses or bacteria, we decided to test a few positions and directions to finally identify the right one. After many tests and experiments, here's what we found:
The mask was for creative individuals who wanted to push the boundaries, with a full-face armor that goes above and beyond, to protect the wearer from bacteria, viruses, and also give them privacy and protect their identity!
Design & Copy to Compliment the Position
With products that are heavily driven by their design and appearance, you need a page that matches their aesthetic. So, the first step in the Blanc mask Prelaunch.com campaign was to capture its visual essence on-screen.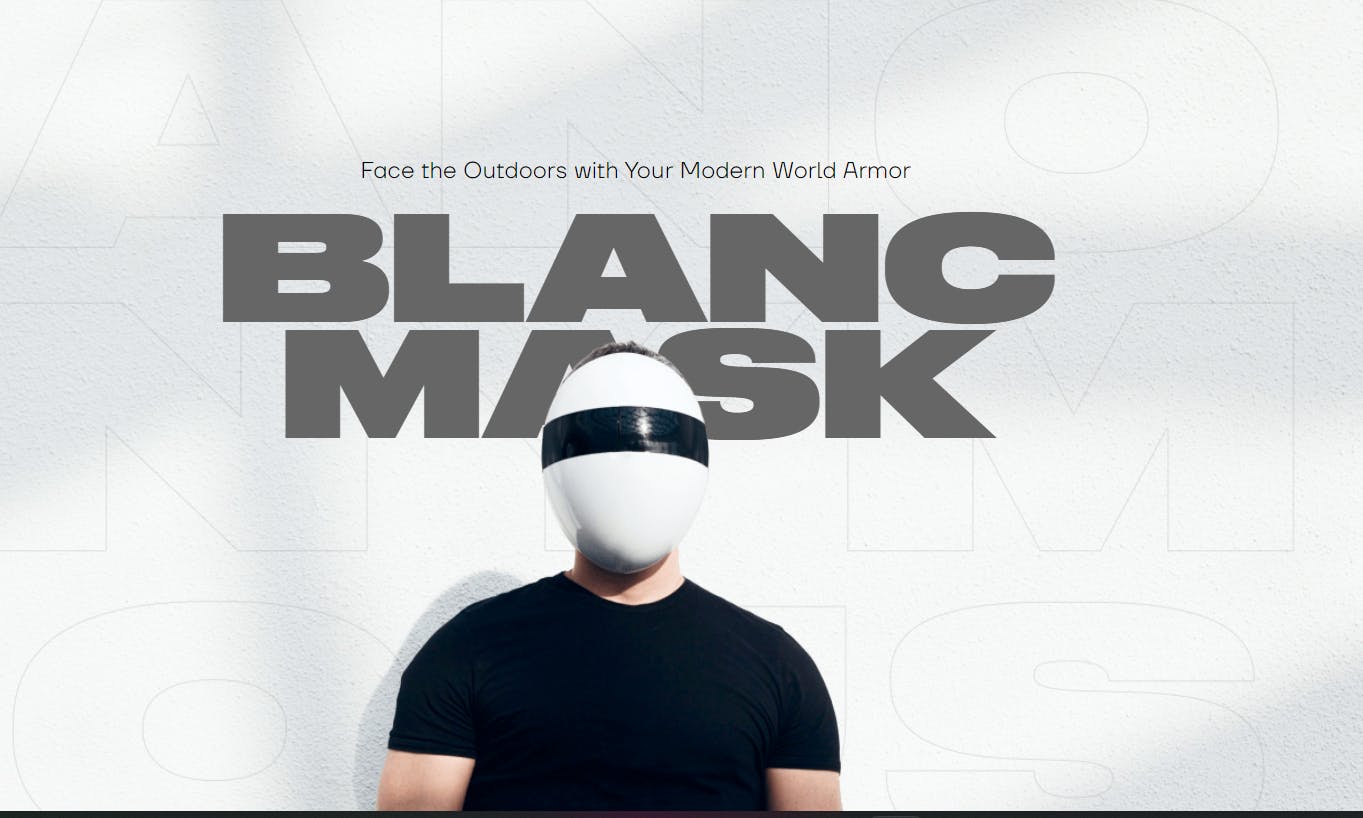 This page captured its exclusivity and anonymity. And the "Uniquely Anonymous" copy would end up resonating strongly with page visitors.
We wanted people to realize immediately that it was more than just a regular face mask. As a result, we ended up having an exclusive dark page with creative and eye-catching copy, which somehow implied some kind of secrecy. Just like the product.
And we were right — people responded well to the position!
Ads to Validate the Position
After having the right design and copy in place, it was time for its validation — do people really want to use this mask as "armor"?
To validate our position and identify the interest countries, age limits, and possible target directions, we started running ads for the prelaunch campaign on Facebook.
Some of the top-performing countries for our ads were the USA, Canada, Italy, the UK, Spain, Singapore, Netherlands. (These countries ended up proving to be successful once the campaign went live too!)
For other masks that ran in the same price category, the typical buyer was 44 or older — but for Blanc, this was different. We saw high interest from younger users, between 25 and 44. And lots of typically younger interests, like manga, anime, comics, or superheroes. That's exactly the opposite of what the creators were expecting the position and audience to be for this particular mask.
The creators of Blanc Mask were sure that their mask was solely designed to protect people from viruses and bacteria. Luckily they didn't proceed with this narrow position!
Price Validation through Reservations
As Blanc Mask was not an ordinary face mask, the creators aimed to sell it at a premium. From experience, we suggested they lower the price however much was economically feasible, as people would feel uncomfortable with paying so much for this new type of mask.
We ended up testing two price points — one at $79, and a higher one at $99.
Our price validation funnel is composed of two steps, with a single action on each page. This funnel is focused on validating the market interest through reservation. The first step allows us to understand how many people like the product, while the second step helped us validate the actual market interest and readiness to buy the product.
This funnel showed a significant increase in the Reservation rate — from 1.24% to 2.37%, with over 140 leads reserving Blanc Mask.
The Final Outcome
This prelaunching market validation helped the Blanc Mask creators understand which directions they needed to take during their campaign, who their audiences (age, countries, gender, interests) were, the pricing. And most importantly, how much they could potentially raise.
Before launching a product, creators want to be sure that their campaign will achieve success. Prelaunch.com uses a ton of data, metrics, and benchmarks to forecast how much a product will raise at launch.
For Blanc Mask, the metrics that stood out and served as predictors of its coming success included:
Cost per lead, which in Blanc's case was lower than $0.7.
Cost per reservation was lower than $7.
Cost per landing page view, as low as $0.17!
And of course, the number of reservations was off the charts. Blanc had over 140 reservations in total within the short testing period time.
On top of carrying out market validation activities, Prelaunch.com also offers creators the opportunity to forecast the campaign revenue.
As a result, Prelaunch.com predicted that Blanc would generate between $300K and $500K sales. Guess what the raise ended up being?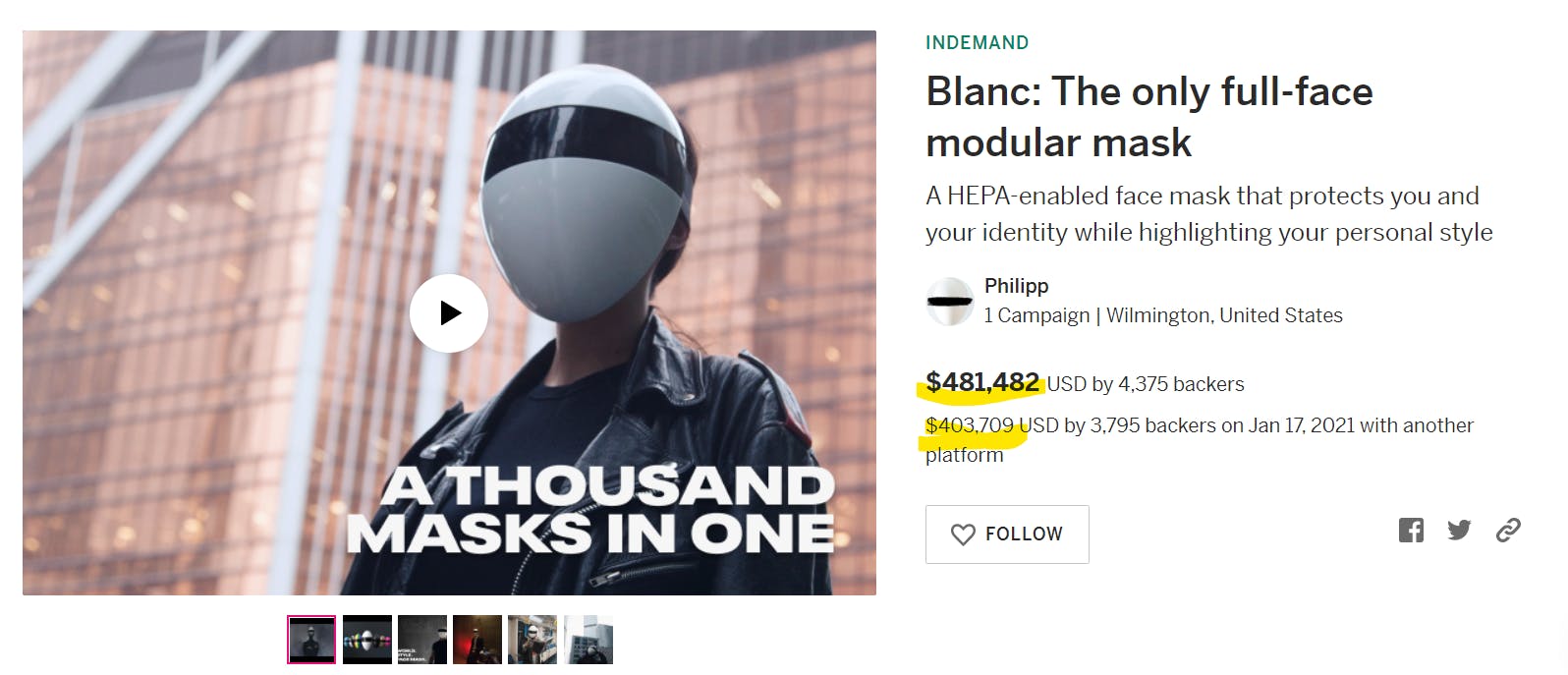 Related Articles: