Over the past years, CIGA Design — an award-winning Chinese watch manufacturer — has successfully launched a number of crowdfunding campaigns on Indiegogo.
Two of those crowdfunded campaigns — the Black Hole from the U Series and the Eye of Horus from the X Series — were successfully validated with Prelaunch.com.
How the collaboration started...
Validating the Black Hole from U Series
The journey began with the Black Hole watch design from the U Series, a groundbreaking concept in watch manufacturing. CIGA Design, never one to shy away from innovation, introduced the world's first watch with a mechanical design inspired by the black hole concept. This staggering piece of art was not just a timepiece, but an epitome of cosmic mystery wrapped around the wrist.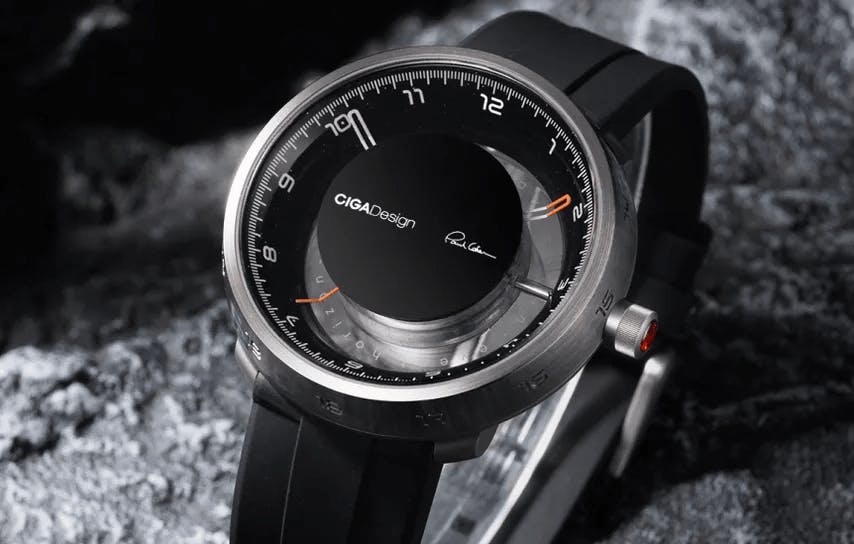 The dynamic black hole pattern on the watch's face, paired with its sleek, minimalist design, offered a unique blend of science and aesthetics, a true testament to CIGA Design's commitment to pushing the boundaries of watch design.
2020 came with unparalleled challenges for the global economy, and the watch market was no exception. Uncertainties and logistical constraints imposed by the pandemic disrupted the production and supply chains, making it difficult for brands to keep up with their operations. Even within this tumultuous environment, CIGA Design was steadfast in its mission to continue introducing innovative designs in the market.
Recognizing the volatile market conditions, CIGA Design exercised caution when introducing its new watch design in 2021.
Before committing to full-scale watch production, the company chose to validate the market reception of the new watch design. CIGA Design decided to collaborate with Prelaunch.com to test the waters before spending a significant amount on watch manufacturing. This approach allowed them to gauge consumer interest and acceptance of the new design, efficiently mitigating financial risk while remaining true to their commitment to innovation.
As a result of the collaboration, CIGA Design gained valuable insights into the market demand for their new design. The positive response from Prelaunch.com's pre-launch validation phase gave them confidence in moving forward with a full-scale crowdfunding campaign, ultimately raising $141,536 USD from 460 backers.
How it went onwards...
Validating the Eye of Horus from X Series
The journey of design innovation did not stop with the Black Hole watch; instead, it paved the path for CIGA Design's next venture, the Eye of Horus watch from the X Series. This timepiece, a true embodiment of mythology and modern watch design, was inspired by the Egyptian god Horus, symbolizing power and protection. The Eye of Horus watch was a testament to CIGA Design's continued commitment to challenge the status quo and push the limits of watch manufacturing.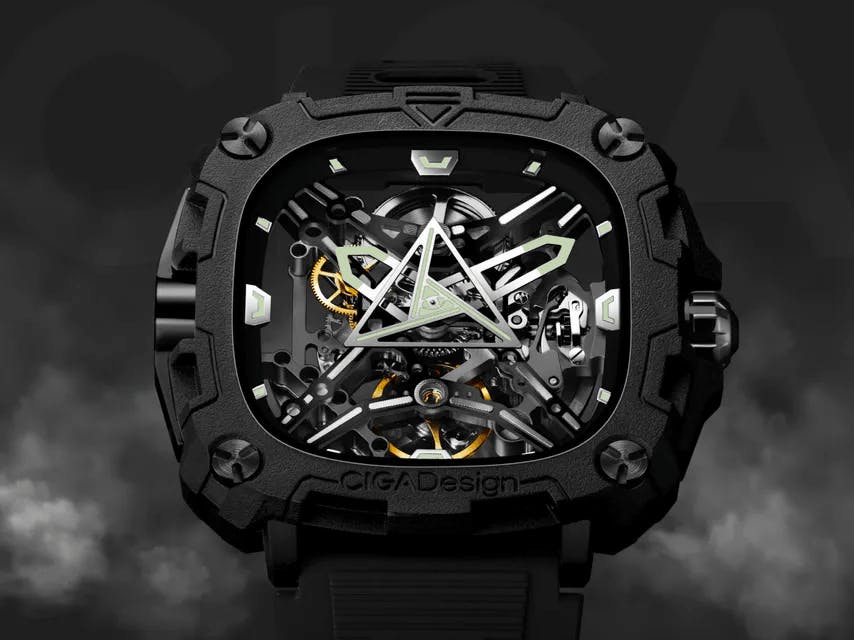 The decision to validate this new design came from the changing behavior of consumers and the evolving dynamics of the global watch market. Over the past few years, the consumer's appreciation for unique and aesthetically pleasing watch designs has significantly increased. Yet, with this growth, the watch industry has also seen an influx of new entrants, making the market landscape highly competitive.
NOTE: In 2023, the global watch market held an impressive value of about 101.05 billion USD. To give you an idea of how rapidly this market is expanding, experts predict that this figure will increase to an incredible 129.96 billion US dollars by 2028. This rapid growth indicates enormous potential for financial success in this industry. However, it also suggests that watch brands must work hard to distinguish themselves from the competition to take full advantage of this opportunity.
Given these factors, CIGA Design understood the importance of market validation before proceeding with large-scale production and launch. Risking an immense investment on watch manufacturing without a clear understanding of market demand could jeopardize their financial standing.
Recognizing this, CIGA Design once again turned to Prelaunch.com to test the market reception for the Eye of Horus watch.
Through Prelaunch.com's validation process, CIGA Design was not only able to ascertain the demand for their new design, but also gain crucial insights into consumer preferences and behavior.
The 3 Direction Validation Process
Even though CIGA Design's heart beats in China, its vision extends well beyond its home. Over the years, the company's creations have captivated watch enthusiasts worldwide, including spots as diverse as Indonesia, Russia, the United Kingdom, Malaysia, and Switzerland. Since 2019, CIGA Design has been steadily ticking on the wrists of international consumers, marking a significant advance in the global watch market.
When CIGA Design started its validation on Prelaunch.com, the primary objective was to evaluate the interest and potential demand for their new watch designs in the international markets. They wanted to ensure that their product would not just be another item in a saturated market but a unique offering that consumers would eagerly anticipate.
To achieve this, we divided the entire validation into three key directions:
Market Validation: The goal was to understand the demand and primary markets for the Eye of Horus watch.
Price Validation: We wanted to determine the ideal price tag for the Eye of Horus watch.
Consumer Insights: The most gratifying watches reflect the wearer's personality, so we wanted to understand our audience and their preferences.
Market Validation
Prelaunch.com's comprehensive validation process involved various stages that gave CIGA Design valuable market feedback. The first step involved creating a landing page where consumers could see the design and register their interest in purchasing the watch. This allowed Prelaunch.com to collect data on the potential demand for the product.
At Prelaunch.com, we carefully crafted the product positioning for the Eye of Horus watch to underscore its distinguishing features, adaptability, and prime quality. By merging innovative craftsmanship with a rich cultural narrative, the timepiece stands apart as a model of superior workmanship and endurance.
We aimed it at consumers who seek more than just a watch, but an investment in a captivating story — a blend of rarity and affordability. This strategic positioning is designed to resonate with those who respect the artistry behind watchmaking, who value the unique blend of aesthetics and craftsmanship, and who desire a unique timepiece that offers more than a simple function — it narrates a story.
Once the page was up and running, we strategically targeted countries where the potential demand for watches was considerably high. Leveraging data from robust sources such as Google Trends, Facebook Ads Insights, Statista, and various industry-specific reports, we narrowed down the top markets for our product. This data-driven approach ensured that our efforts were focused on the regions with the highest likelihood of substantial demand for the Eye of Horus watch. It was a calculated move designed to optimize our resources and maximize the potential success of the product in the international watch market.
The Eye of Horus was introduced to carefully selected markets, including the United States, France, the United Kingdom, Singapore, Bulgaria, and Germany. The response was immediate and enthusiastic, underlining a promising potential for this unique timepiece across these regions.
Price Validation
The first in the X Series by CIGA Design launched in 2021, and has raised over $1 Million. The price for the watch was $309 and more. Following the success of the X Series, CIGA Design wanted to understand if the market would support a higher price tag for their new creation or whether they were not ready to pay for the watch.
To determine an ideal price point for the Eye of Horus watch, we leveraged the expertise of our experienced team at Prelaunch.com. We aimed to strike a balance between maintaining the premium stature of the brand and ensuring the price point still appealed to our target customer base. The current product price of $179 was established after careful consideration of these factors. This base price was determined to be an attractive proposition for our target audience, offering them a unique blend of superior craftsmanship, innovative design, and cultural narrative at an accessible price.
This pricing strategy was designed to optimally position the Eye of Horus watch in the global market, respecting both the value of the product and the expectations of our customers.
Consumer Insights
As mentioned earlier, CIGA Design believes that the most satisfying watches are those that embody the personality of its wearer. This belief is why we pay attention to consumer insights to understand customer preferences and behavior better. Through Prelaunch.com's validation process, we collected valuable data on what features and characteristics appealed most to our target customers, what they are speaking and what they are thinking about the products that we are validating.
Throughout the validation process, Prelaunch.com also used surveys and discussion forums for gathering deeper insights. Interactive surveys were available on our page and sent to our subscribers to gain a deeper understanding of consumer behavior, preferences, and expectations towards the new watch designs by CIGA Design.
Additionally, a dedicated discussion section on the Prelaunch page and under the ads provided an open platform for potential customers to voice their opinions, raise queries, and interact with the brand.
These discussions served as a rich source of qualitative data, providing an authentic narrative of consumer sentiment towards our products. The insights derived from these discussions were incredibly useful for fine-tuning our product development and marketing strategies.
At Prelaunch.com, we understand the importance of data analytics in shaping a successful launch, and we leverage cutting-edge technology to attain this. We've embed an AI-based tool to analyze survey responses right inside our Dashboard, which significantly streamlines the process of data interpretation.
The AI system was capable of segmenting the data and delivering deep insights about different customer profiles, their preferences, and their outlook towards our product. This level of detail was instrumental in allowing us to further tailor our watches to the unique tastes and preferences of our target customer segments.
All these practices combined echoed the commitment of CIGA Design and Prelaunch.com to not just create another watch, but to design a timepiece that resonates with consumers on a deeper level.
A watch that embodies their personality, preferences and serves as an investment in a captivating story.
Conclusion
The collaboration between CIGA Design and Prelaunch.com is a testament to the power of strategic market validation. By leveraging innovative technology, data analytics, and creative positioning strategies, we were able to successfully validate two watches - the Eye of Horus and the X Series, and bring them to the global market. The positive response from our target customers highlights the effectiveness of this approach in shaping a successful product launch and establishing a strong foundation for future growth.
At Prelaunch.com, we believe that every watch should tell a unique story, and we are committed to helping brands like CIGA Design create timepieces that captivate consumers with their rare blend of design, cultural significance, and craftsmanship. With our data-driven market validation process and expertise in the watch industry, we are confident that together with CIGA Design, we will continue to bring innovative and culturally significant watches to the world.
So, if you have a unique watch design that you want to validate in the global market, let Prelaunch.com be your partner in success. With our proven track record and passion for exceptional watch designs, we are committed to helping you achieve your goals and bring your vision to life.