In the pursuit of sustainable and efficient transportation, electric bike brands have emerged as game-changers. In this article, we'll explore the giants that are redefining this sector.
List of Influential Brands in the Ebike Market
Bosch
Specifications
Market launch: 2021
System approach: Connected platform approach: maximum compatibility of eBike components – for more flexibility in retrofitting and customization
Degree of digitization: High: Connected to the eBike Flow app thanks to 100% connectivity of all components
Updates and new functions: New functions can be uploaded to the eBike via smartphone – a few isolated updates are uploaded by the eBike dealer
Shimano
Specifications
Max torque: 85Nm
Nominal output: 250W
2.6kg
AUTO SHIFT (*optional)
FREE SHIFT (*optional)
Yamaha
Specifications
Total weight: 23.9kg
Wheel size: 700C
Vehicle category: Pedaling assistance
Battery: ML500
Max assist speed: 25 km/h
Fork: NEX-E25 15QLC 700C-30mm, 63mm travel, 100mm steerer 1.5" tapered to 1-1/8"
Wheels: 700C aluminum alloy
Technology: Aluminum alloy
Tires: CST C-1996 27.5 x 2.00
Giant
Specifications
Engine: SyncDrive Pro, 85Nm, powered by Yamaha
Screen: RideControl GO integrated into TT, RideControl Ergo 3
Battery: EnergyPak Smart 400 EnergyPak Plus range extender compatible
Frame: Advanced-grade composite frame, Aluxx SL-grade rear triangle, Advanced forged composite upper rocker, 140mm Maestro suspension system
Fork: RockShox 35 Gold RL DebonAir, 150mm travel, 44mm offset, MotionControltm rebound and lockout control, 15x110 Boost, Maxle Stealth, e-MTB optimized
Shock absorber: Rock Shox Deluxe Select R, DebonAir, 185x52.5mm Trunnion mount, custom tuned
Front derailleur: MRP HD2 co-molded chain guide
Rear derailleur: Shimano Deore 12-speed
Brakes: Shimano BR-M420, 4-piston, hydraulic disc, 203mm
Brake levers: Shimano Deore, I-spec EV
Tires: Maxxis Minion DHF 29X2.50" Foldable, TLR, EXO [F] Maxxis Dissector 27.5x2.4" Foldable, TLR, EXO [R]
Trek
Specifications
Frame-fork assembly: High-performance hydroformed alloy, integrated removable battery, Range Boost compatible, internal cable routing, Motor Armor, Post-Mount disc, 135x5mm QR
Fork: SR Suntour Mobie25, 45mm travel, preload, rebound and lockout, tapered alloy steerer, Post-Mount disc brake
Maximum compatible fork travel: 63mm
Front hub: Bontrager sealed bearing, 32 hole, 15mm thru axle
Rear hub: Enviolo Trekking, 32 holes, 6-bolt disc, 44T
Battery: Bosch PowerTube 625 Wh
Charger: Bosch standard 4 A, 220-240 V
Engine: Bosch Performance CX, magnesium motor body, 250 watts, 85 Nm, assistance limited to 25 km/h
Brake: Shimano MT200 hydraulic disc brakes
Brake disc: Shimano RT56, 6-hole, 180mm
Aventon
Specifications
Top Speed: 20 MPH
Motor Power: 350W
Turn Signals: Integrated Lights
Range: Up To 46 Miles
Payload Capacity: 300 lbs
Phone App: iOS, Android
FUELL
Specifications
Motor: Mid-Drive VALEO
Motor Nominal Output: 750W(US), 250W/750W (EU)
Torque: 130 Nm
Max Speed: 20mph (US)/ 25kmh (EU)
Throttle: Yes, up to 20mph, 32kmh (not available in EU)
Range: Up to 225 miles/ 350 kms
Battery Type: 2 removable batteries
Battery Capacity: 2000Wh
Battery Voltage: 51.8V
Battery Charger: 3Amp Fast Charger
Recharge Time Home: 80% charge in 4 hours, 100% charge in 6 hours
Frame Material: Aluminum Alloy
In the rapidly evolving ebike market, numerous influential brands have paved the way with innovative products. But behind every success story, there's often a stage of thorough research. If you dream of having your brand name among these electric bike companies, start by validating your idea.
Prelaunch.com offers you the opportunity to validate not only your product concept but also determine pricing, preferred colors, and your target audience. Don't rely on gut feeling or random opinions. Instead, engage potential customers who are willing to commit by reserving your product. This offers a tangible metric for potential success.
Dream big, but start smart.
Major Players Who Have Shaped the Ebike Landscape
Bosch
Since its inception in the ebike domain in 2011, the company has carved a prominent niche for itself in the burgeoning landscape of electric bicycles.
With an unwavering commitment to innovation and user experience, the electric bike company introduced a versatile drive system in 2011, which was suitable for both relaxed city cruises and sporty country escapades. This system boasted four riding modes, innovative 3-sensor technology, and an efficient battery system, reflecting Bosch's intent to cater to a wide array of cyclists.
In 2012, Bosch further impressed the ebike community by introducing its high-performance 'Drive unit Speed' system, setting a new standard by offering riders the thrill of support speeds of up to 45 km/h.
A year later, in 2013, the company added a touch of intuitiveness to the ebiking experience with the Bosch Intuvia on-board computer, which simplified ride mode selection and made essential metrics easily accessible to riders.
The years 2014 and 2015 were monumental for Bosch. The electric bike company rolled out the Active and Performance Line drive systems that delivered unparalleled efficiency and dynamism to users. Further, the introduction of the Nyon onboard computer in 2015 ushered ebikers into a networked world, equipped with advanced features like GPS and individualized fitness training options.
Bosch continued its trailblazing journey in 2016 by showcasing its adeptness in energy management. They revealed batteries with the capacity to power rides for up to 90 kilometers. Then, in 2017, the minimalist-designed Purion on-board computer was unveiled, followed closely by the groundbreaking dual battery system. This innovation ensured riders could embark on longer journeys without the need for frequent recharges.
Safety and aesthetics merged in 2018 when the electric bike company took a revolutionary step in ebike safety. The company introduced the world's first production-ready ABS for ebikes. This commitment to safety was complemented by the launch of the aesthetically pleasing Active Line Plus and the redesigned Active Line.
As the decade drew closer to its end, Bosch showed no signs of slowing down. In 2019, the company launched Kiox, a robustly designed training companion with a vibrant color display for passionate riders. This was followed by enhanced digital connectivity options through the SmartphoneHub and a reinforced commitment to security through the 'Lock' function in 2020.
Entering the 2020s, Bosch's vision became increasingly future-oriented. In 2021 and 2022, they unveiled their 'smart system', marking a new era where ebike components seamlessly integrated with the digital realm.
From the long-range PowerTube 750 battery to the comprehensive ebike Flow app, Bosch was at the forefront of merging machines with digital experience. The Performance Line CX drive unit, tailored explicitly for sporty eMountain biking, further attested to Bosch's dedication to optimizing the ebiking experience.
Bosch's decade-long journey in the ebike domain has been characterized by relentless innovation, robust design, and a forward-looking approach. From advanced drive systems to user-friendly digital interfaces, Bosch has been instrumental in shaping the modern ebike experience.
Shimano
Shimano's journey into the thriving ebike industry is characterized by the company's devotion to preserving the pure joy of traditional cycling.
At the heart of this vision is Shimano's belief that ebike components should solely "assist" the rider, enhancing the natural pedaling process without overshadowing it. This philosophy led to the creation of Shimano Steps, a series of systems designed to offer power assistance without compromising the inherent comfort of bicycle riding.
The electric bike company initiated its ebike design by placing the motor unit in the front wheel, complemented by a lithium-ion battery and regenerative braking system. This strategic placement minimized alterations to the traditional frame design, emphasizing the company's commitment to keeping the original essence of bicycles intact.
However, as the ebike market leaned towards sportier options, Shimano transitioned its focus to midship-type systems, ensuring that the core attributes of bicycles were maintained while enhancing assist performance.
2014 marked a significant milestone for Shimano with the introduction of the E6000 series. Comprising a suite of components like a drive unit, lithium-ion battery, cycle computer, and others, this series was particularly noted for its nuanced assistance. Using an innovative control system, the series delivered a linear assist force according to the rider's pedaling, thus ensuring a seamless riding experience.
By 2016, the company expanded its horizon to cater to mountain biking enthusiasts with the E8000 series. This was a testament to Shimano's adaptability, as the series was optimized for rugged terrains, resisting harsh vibrations and mud, all while retaining a lightweight and compact design.
In 2018, Shimano broadened its offerings with the E7000 series, targeting potential off-road riders daunted by challenging terrains. The same year saw the debut of the E6100 series, a successor to the E6000 series, built to serve diverse purposes ranging from trekking to city commutes.
2019's E5000 series was a testament to Shimano's mission to democratize ebiking. With an emphasis on cost-effectiveness and user-friendly features, this series stood out for its lightweight drive unit and a wide-display cycle computer, making city commutes even more pleasurable.
Shimano's innovation journey continued into 2020 with the EP800 series, a leap forward for e-mountain bikes. This system combined power, lightness, and a natural pedaling sensation, offering riders an unprecedented degree of customization through the e-tube project.
Shimano's journey in the ebike realm reflects a delicate balance between harnessing technology and preserving the intrinsic appeal of cycling. As ebikes continue to redefine urban and off-road mobility, Shimano's contributions remain important, ensuring that electric power merely "assists" the timeless enjoyment of cycling.
Through the Shimano Steps series and beyond, Shimano upholds its reputation as one of the innovative electric bike manufacturers, pushing ebiking possibilities while keeping the rider's experience central.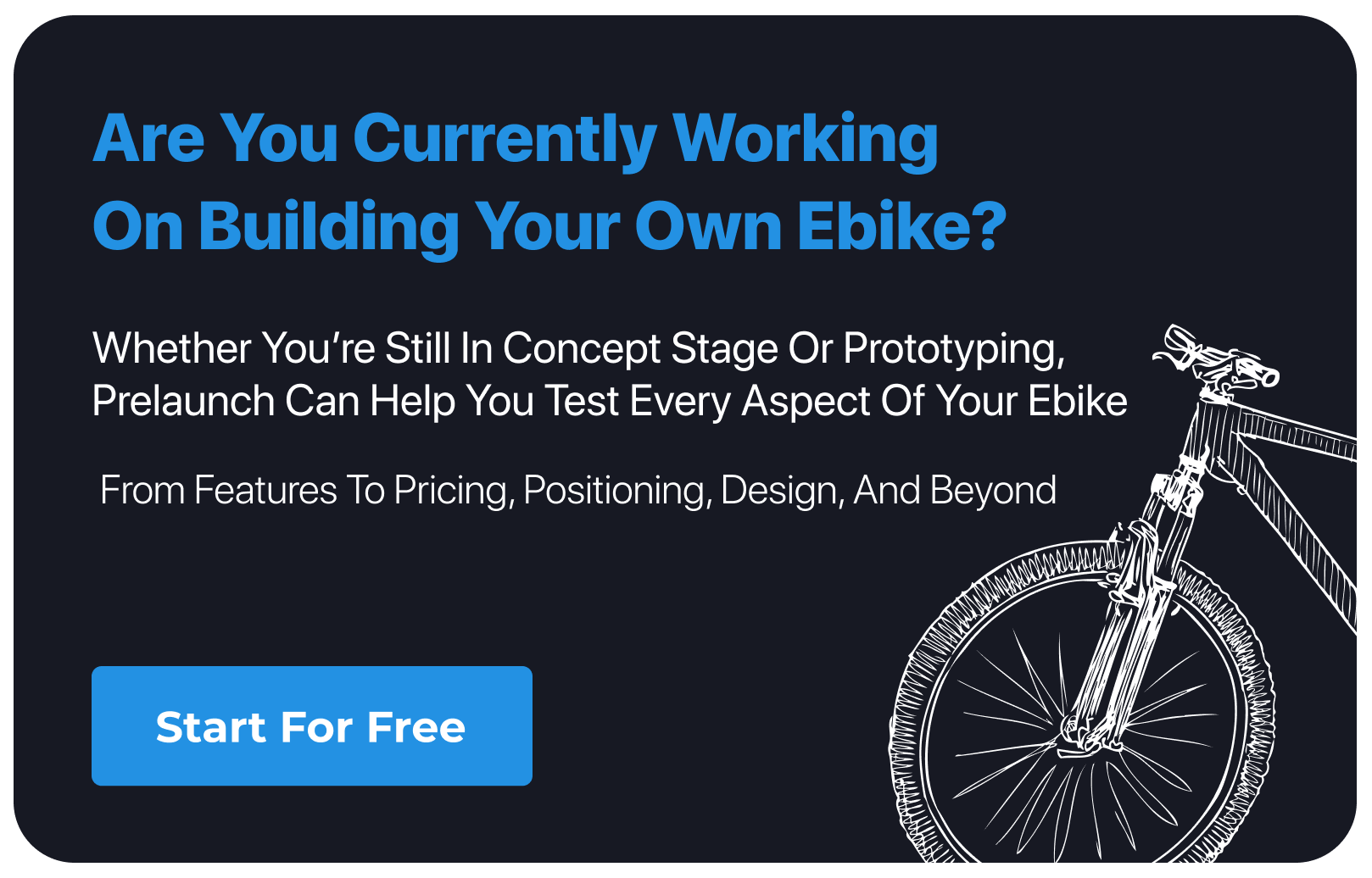 Yamaha
Yamaha stands tall as one of the most innovative electric bike manufacturers in the industry, with a rich history of leading-edge advancements that have significantly shaped electric biking.
Its journey began with a quest to reinvent the conventional bicycle, addressing challenges like uphill climbs and facing strong winds. The brand's exploratory vision dates back to the 1970s, evident with prototypes mounting small gasoline engines on bicycles.
However, the real shift occurred with the rise of compact batteries and electronics in the late 1980s. Yamaha envisioned an integration of human and electric power - a bicycle that assists the rider.
By 1989, Yamaha made strides by developing the first-ever prototype featuring their groundbreaking "Power Assist System." Their relentless R&D efforts aimed to not only establish this innovative technology but also to define a completely new vehicular category that balanced the essence of traditional bicycles with the power of an electric motor.
This journey, however, was not without challenges, especially when it came to regulatory acceptance.
Positioning their new creation in accordance with Japan's vehicle and traffic laws wasn't easy. Yamaha's commitment to societal benefits such as energy-saving and emission reductions eventually led to the recognition of their electrically power-assisted bicycles as a new extension of the traditional bike.
By 1993, the Yamaha PAS, proclaimed as the "world's first product", had its introduction in Japan. The success story of the PAS spurred other Japanese bicycle manufacturers to venture into this category, exponentially expanding the market.
Over the subsequent decades, Yamaha's dedication to innovation remained unwavering, as evidenced by their numerous milestone achievements. From introducing the Intelligent Flexible Energy System (IFES) in 1999 to the development of the Triple Sensor System in 2013, Yamaha consistently elevated the ebiking experience to offer the most "natural and organic" pedaling sensation available.
Today, with over 2 million ebikes and 4 million drive units sold globally, the electric bike company continues to be revered as one of the trailblazing leaders among electric bike manufacturers. Their contributions to the ebike market are clear proof of their commitment to reliability and superior performance in both ebike technology and riding.
As Yamaha Power Assist Bicycles make their way to the US, outdoor enthusiasts can anticipate embarking on thrilling adventures powered by Yamaha's ebike technology.
Giant
Established as one of the world's leading electric bike manufacturers, Giant stands as a testament to the possibilities of innovation, design, and passion. Founded in 1972 as a part of the Giant Group, the electric bike company has seamlessly combined the beauty of craftsmanship with cutting-edge technology and innovative design, setting a high bar in the global ebike market.
From its early days, Giant embarked on a mission to redefine the norms of cycling. They challenged the status quo by replacing the industry-standard steel with lightweight yet robust aluminum frames. Soon after, they ensured that carbon fiber bikes were no longer a luxury but accessible to enthusiasts across the globe.
Their Compact Road technology shaped the dynamics of modern road racing bikes, while their Maestro Suspension brought a novel touch to off-road performance bikes.
But for Giant, these innovations transcended the mere act of winning races or setting speed records. They were a manifestation of Giant's deep-rooted belief, that the joy of the journey is just as exhilarating, if not more so, than the final achievement.
As of today, the spirit of innovation at Giant is evident. Beyond its impressive array of bicycles, the electric bike company offers a collection of gear and apparel, honed and perfected with insights from top pro racing teams and athletes. Its industry-leading ebikes are reimagining the horizons of what cyclists can achieve, regardless of their skill levels.
However, Giant's pursuits are not just about crafting superior machines or winning races. It's about the journey, the shared passion, and the collective celebration of every milestone achieved.
As a brand, they recognize that the thrill of the ride often rivals the satisfaction of the destination. This philosophy is embedded in their brand purpose, "Ride Unleashed," where they champion the idea of being limitless, optimizing every cycling experience, and nurturing a global community of cycling enthusiasts.
Diving deeper into their ebike technologies, Giant's innovations are noteworthy. Their latest EnergyPak battery systems are smoothly integrated into the ebikes, resulting in a modern, sleek profile.
The Hybrid Cycling Technology seamlessly combines electric power with human effort, ensuring a powerful yet intuitive ebiking experience. This combination is made possible by a suite of integrated technologies like the RideControl control unit, SyncDrive motor, and various RideControl variants, each designed to cater to different rider preferences and needs.
From the ergonomic design of RideControl Charge to the sleek and state-of-the-art RideControl EVO, and the all-new RideDash EVO with its enhanced display functionalities, Giant ensures riders have all the control and information they need at their fingertips.
Globally recognized, Giant's reach spans across more than 12,000 retail stores worldwide. Whether you're a Tour de France competitor, a weekend trail enthusiast, or a daily commuter, Giant has created an ecosystem tailored to your needs, ensuring that every ride is an adventure, and every journey memorable.
Their immense contributions to the ebike market have undeniably left an indelible mark on the world of cycling.
Trek
With its origins traced back to Waterloo, Wisconsin, Trek Bicycle Corporation exemplifies the spirit of innovation and the ambition for perfection in the cycling domain. From its modest beginnings in a barn to its expansion across continents, Trek has continually redefined and enhanced its product offerings, cementing its place in the records of cycling history.
Trek was founded in December 1975 with an initial investment of $25,000 by Dick Burke. Targeting the dominance of Italian and Japanese steel touring frames, Burke envisioned creating the world's best bikes. It took until 1982 for the company to manufacture its complete bicycle.
The subsequent years saw a flurry of activity: the introduction of their first mountain bike in 1983, the launch of the Trek Components Group (TCG) in 1984, and ventures into aluminum and carbon fiber technologies between 1985 and 1986. Their expansion wasn't just limited to technology; by 1989, Trek marked its international presence with subsidiary offices in the UK and Germany.
The early 1990s was an era of a technological frontier for Trek. The launch of the full-carbon frame bikes, the 5500 and 5200, in 1992 showcased the Optimum Compaction Low Void (OCLV) frames, which boasted being the world's lightest production bikes.
Alongside this, 1992 also saw the introduction of the 900 series, Trek's first full-suspension mountain bike. The acquisition of Gary Fisher Mountain Bikes in 1993 further consolidated Trek's standing in the off-road cycling domain.
Trek's journey has not just been about bicycles. Their mission evolved to encapsulate a broader vision: "Help the world use the bicycle as a simple solution to complex problems."
Championing the cause of sustainable mobility, the company's "1 World 2 Wheels" campaign in 2006 advocated for bicycle use for short commutes. Their commitment to environmental responsibility is also evident in their zero coal emissions and carpool-only parking spaces at their headquarters.
True to its innovative spirit, Trek embraced the ebike revolution with fervor. Almost all of Trek's traditional bike lines have ebike counterparts. This range includes eHybrid, eMTB, and eRoad bikes, each of which incorporates Trek's hallmark design and engineering principles.
Key models like the Allant+, Verve+, E-Caliber, Rail, Powerfly, and Domane+ are equipped with Bosch ebike systems, ensuring cutting-edge technology and performance.
Moreover, Trek's subsidiary brand, Electra, offers comfort-focused electric models, including the Townie Path Go, Attitude Go, and the hybrid Vale Go.
From Trek's inception to its present-day ebike lineup that spans a wide price range, the electric bike company continues to be an influential force in the cycling industry. By merging their rich heritage with technological advancements, Trek Bicycle Corporation remains an emblematic player in shaping the future of ebiking.
Aventon
Established in 2013, Aventon emerged as a game-changer in the cycling world. With a mission to enable individuals to find happiness through motion, Aventon's core message has always been simple yet powerful: "Ride More. Be Happy."
Aventon's entrance into the industry began with the release of the Mataró, a design masterpiece that showcased aerodynamic design and weightless performance. Their integration of hydroform technology made what was once deemed unattainable in bike design, very much a reality.
By 2015, Aventon's global reputation was solidified with a win at the Red Hook Crit in Barcelona, propelling them as a recognized name in fixed gear cycling.
However, Aventon's true disruption in the industry began in 2018. Recognizing the enormous potential of electric bikes, the company introduced its first ebike, the Pace 500. It was distinctive, being one of the first ebikes to resemble a conventional, sleek bicycle.
Over the years, Aventon's commitment to the ebike industry became more pronounced. 2019 saw the launch of their second electric bike, the Pace 350. By 2020, their exponential growth led to the expansion of their warehouse and team. Their in-house manufacturing approach, overseeing every detail from welding to painting, allowed them to introduce diverse models like the Level and Sinch.
2021 marked another significant year with the introduction of the Aventure, an all-terrain powerhouse, showcasing Aventon's continued innovation and dedication to quality. A year later, in 2022, the electric bike company expanded its ebike fleet even further, introducing cutting-edge models like Soltera, an upgraded Sinch, and integrating breakthrough technology with the introduction of a torque sensor in Level.2.
Fast forward to 2023, the electric bike company is driven by a forward-looking vision. While they remain mysterious about their future offerings, their commitment to breaking barriers in electric mobility is evident.
With a blend of innovation, quality, and design, Aventon is not only a major player amongst electric bike companies but a pioneering force that's pushing the boundaries of what's possible in the world of e-mobility.
FUELL
In the ever-growing world of ebikes, the FUELL Flluid range has set a benchmark. With promises of unprecedented range, innovative technologies, and a design to die for, the new Flluid family of ebikes promises to be a game-changer in the realm of two-wheeled electric transportation. And, the idea behind this marvel was first tested and validated on Prelaunch, gathering genuine customer insights and creating a product truly designed for success.
The Flluid-2 makes distance a mere number. With its incredible 225mi / 350km range courtesy of 2 batteries boasting 2,000Wh capacity, it stands out as the world's longest-range ebike. Whether you're in the US, Canada, or the EU, the Flluid-2S variant offers a thrilling experience with speeds reaching 28mph, though it requires specific safety measures like a helmet, plate, and insurance.
For those looking for a slightly more subtle yet equally powerful experience, there's the Flluid-3. Featuring a user-friendly step-through design and a commendable 110mi / 180km range from its 1kWh battery, it's perfect for everyday commutes and weekend getaways alike.
FUELL Flluid's marvel isn't just about the distances it covers. At its core is the VALEO Cyclee Mid Drive motor, introducing automatic shifting and predictive terrain adjustments, ensuring a smooth and intuitive ride experience. Users can forget about fumbling with gear shifts, especially when tackling those uphill battles. Furthermore, with the embedded connectivity system and a dedicated smartphone app, users can track, secure, and gather data on their ebike wherever they are.
Designed to be visually striking and functionally efficient, the Flluid-2 and Flluid-3 e-bikes are a testament to how aesthetics and performance can go hand-in-hand. They are not just any ebike. They are premium machines made up of Tektro hydraulic disc brakes, a maintenance-free Gates Carbon belt drive, and a robust aluminum alloy frame. With a design accommodating a broad range of riders and available in three chic colors, the Flluid family ensures a perfect fit for almost everyone.
The mastermind behind the FUELL Flluid's brilliance is none other than motorcycle legend, Erik Buell. An ex Harley-Davidson engineer, Buell's legacy in motorcycle innovation is legendary. From developing racing machines to introducing groundbreaking features in commercial motorcycles, Erik's expertise is evident in the Flluid ebikes. Not just another product, the Flluid range is the embodiment of Buell's decades of expertise, channeled into creating an ebike that truly stands out.
Before this innovation hit the streets, its potential was validated on Prelaunch.com. Instead of basing decisions on mere speculation, the platform provides valuable insights from potential customers. By making a financial commitment, future users signify their genuine interest and provide authentic feedback. With over 35 data points recorded per visit, the companies can confidently move forward, backed by real-world data. This thorough process played a pivotal role in shaping the Flluid into what it is today.
The FUELL Flluid e-bike range isn't just a product; it's an experience. Born from the genius of Erik Buell and validated by genuine customers on Prelaunch, it's set to redefine the future of e-biking. The world of ebikes might be saturated, but FUELL Flluid shines brilliantly, promising a ride like no other.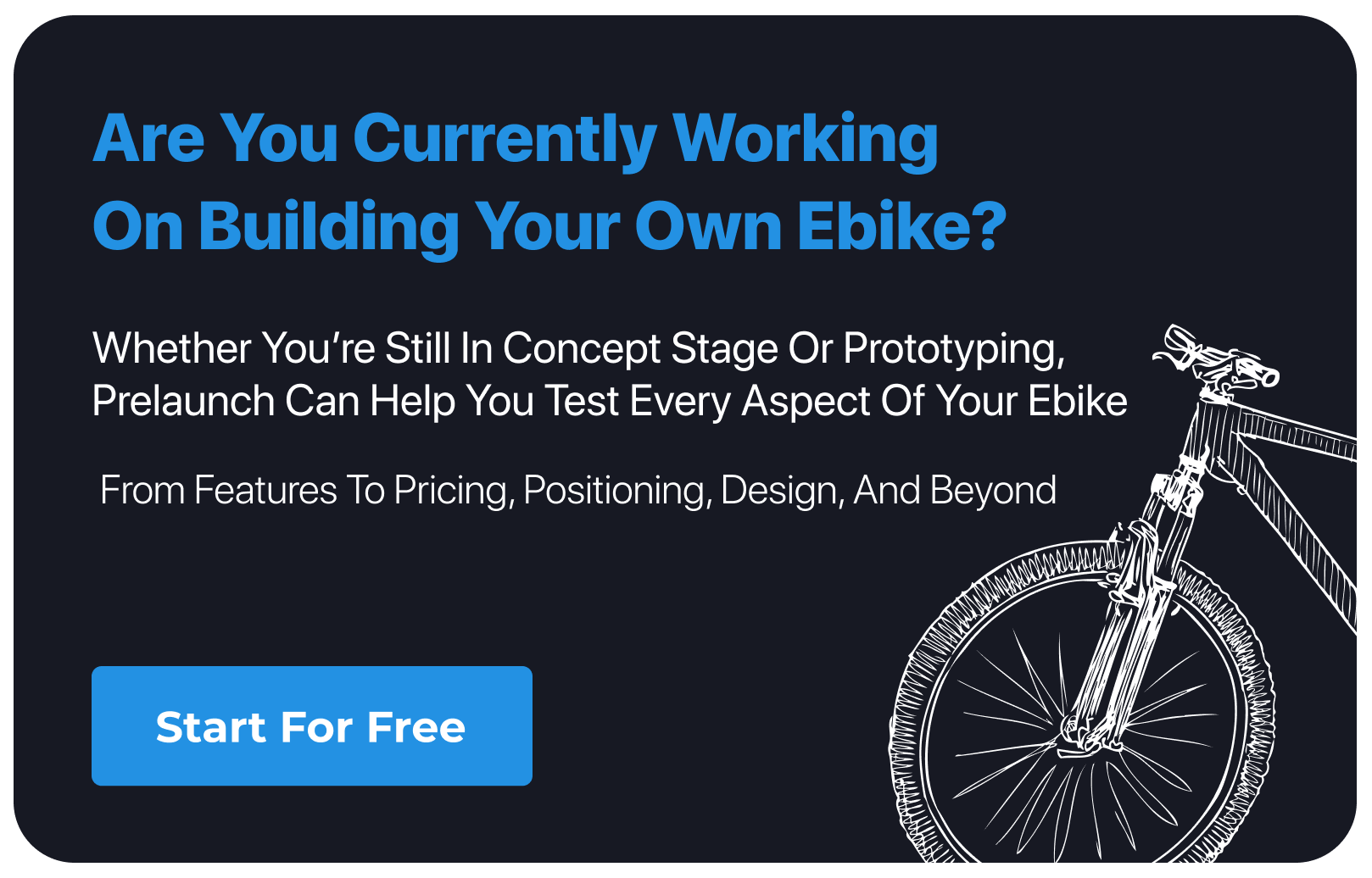 Other Electric Bike Companies
The market is dotted with several other electric bike brands, each with its unique offerings and legacy, catering to the diverse needs and preferences of the riding community.
Brompton
A London-based electric bike company with nearly five decades in the business, Brompton is renowned for its top-tier folding ebikes.
Despite only having a single ebike in their collection, their commitment to quality and functionality makes them a noteworthy contender in the ebike market. Their design, primarily focused on urban commuting, promotes effortless storage on public transport, ensuring a seamless journey for city dwellers.
Lectric ebikes
An embodiment of value-for-money, Lectric ebikes offers the Lectric XP 2.0, a versatile model with both high step and step-thru variations. The electric bike company not only caters to a diverse range of riders but with its extensive list of add-ons and folding capability, it's an irresistible choice for those seeking affordable quality.
Volt
With roots in the UK, the electric bike company places emphasis on green and health-conscious transport solutions. Volt, as one of the key electric bike manufacturers, provides a diverse range of ebikes, from folding to mountain ebikes.
GoCycle
Designed by a former McLaren engineer, Richard Thorpe, GoCycle's bikes are a combination of innovative design and top-notch functionality. Recognized for their distinctive look, these bikes promise a seamless ride, even on challenging terrains. Their cable-free design and ability to fold neatly make them an ideal choice for city commuters.
Raleigh
Once the preferred choice for Tour de France cyclists, Raleigh has now transitioned into the ebike sector. Their electric bikes are not only functional but also a statement of style and elegance. With designs tailored for both daily commuting and long-distance journeys, the electric bike company ensures there's an ebike for every enthusiast.
Conclusion
Electric bike brands have come a long way in revolutionizing how we see and use transportation. With each brand bringing its unique touch, the future of eco-friendly commuting looks brighter than ever.