Setting your crowdfunding campaign on Kickstarter or Indiegogo is one thing. But crowdfunding campaign promotion is quite a different story.
Where to promote Kickstarter? How to promote your Indiegogo campaign? Which platform can serve as a crowdfunding promoter? How to make the best of crowdfunding advertising? These are some of the questions you may ask yourself as a campaigner.
In this article, I'll give you insights on crowdfunding statistics to make sure you know which countries are crowdfunding-friendly and worth targeting. Also, I'll go over different crowdfunding promotion channels like PR, social media, etc., and give you a listing of useful resources available for each section. All this will give you a good idea of how to promote Kickstarter or Indiegogo campaigns in the best way possible.
Some Crowdfunding Statistics
If you're someone living in Mozambique, chances are pretty small you have ever bought anything through crowdfunding.
This isn't something we say, but what data shows, at least with regard to the reward-based crowdfunding we do through Kickstarter and Indiegogo.
The same data suggests that the situation is quite different if, by any chance, you're someone from the US, UK, or Brazil! As seen from the bar chart below, these three countries are leaders in crowdfunding according to their crowdfunding volume in 2020, being followed by European and Asian countries.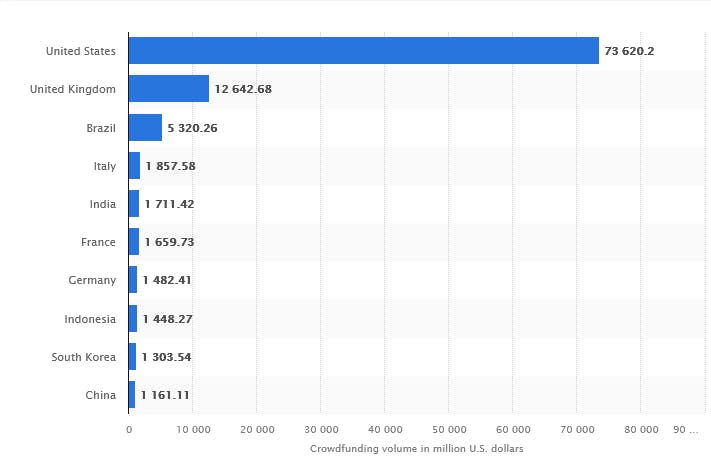 And if we focus on Europe, we see that the UK, France, Germany, and Poland are leading in this region.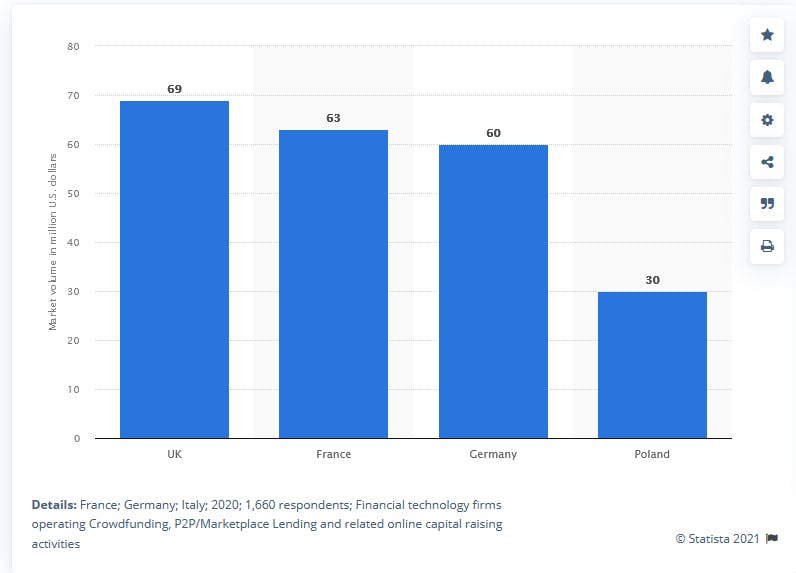 All this suggests that when doing your crowdfunding promotion, you should know exactly which countries to target (sorry and bye, Mozambique!) for crowdfunding advertising in order to take your product to people who will actually want to buy it!
Promoting Your Crowdfunding Campaign: Getting Started
Once you launch your campaign on Kickstarter or Indiegogo, don't expect the whole world to come and back it.
Not because your product is bad but because people don't know anything about it!
Here comes the need for crowdfunding advertising and Kickstarter or Indiegogo promotion. Thus, all you need to do is to spread the word with the right messaging through the right channels where your potential backers hang around.
Currently, there are lots of crowdfunding promotion channels like that and the good thing is that many of them are free!
So, to make your job easier we've made a list of places where you can easily promote your crowdfunding campaign. Let's go!
Promoting in Communities
One of the best places to talk about your project is the communities of people gathered around common interests. Here is the list of such communities where you can get people excited about your product.
Reddit
Reddit is a platform that allows users to create and exchange content on various issues, from what pet to own to how to clean your shoes and everything in between. Any registered user can submit content, while others can upvote and comment on it. The community is also divided into subreddits where you can see specific topics, including crowdfunding, Indiegogo, Kickstarter, etc.
Now there are two ways you can use Reddit for crowdfunding promotion purposes. You can either self-promote yourself early on in the subreddits most related to your campaign or you can ask people from your team to kind of put the word out to the public.
For some campaigns, such as the Tabletop Simulator by Berserk Games, Reddit has been a source of over $13,000 in their Kickstarter pledges.
KickstarterForum
KickstarterForum is a platform where you can not only get answers to your questions regarding crowdfunding and other topics but also post about your project. If you present your campaign in an appealing way, you may get a few conversions from users here too! Sometimes they also offer a free tweet on @crowdcrux's Twitter account, so check out if similar options are available the moment you post about your project.
Promoting via PR
There's no way people would know you've launched your product unless you let them know about it. And what can be better for doing this than publishing a press release?
Press release not only exposes you to a larger audience but also serve as a good source to send to journalists and get ranked in search engines for keywords related to your product.
CrowdfundingPR
CrowdfundingPR is another place you can talk about your project. From the webpage, you can directly post on Disqus and get noticed by many users fond of innovations.
PR Newswire
Campaigns that invest in PR, get better reach and thus conversions. One of the best platforms to publish your press release is PR Newswire. It helps you easily and effectively spread the word out to your target audience.
Other options include Press Release or PR Buzz which can help you quickly and easily promote an Indiegogo campaign or your Kickstarter project.
Blogs
Featuring your product in blogs is another crowdfunding marketing option you can go after. So one thing you need to do is find the right blogs and bloggers. Here is a list of some of the best blog directories to help you in doing this:
Blogarama is the oldest blog directory that has stood the test of time. Here you can find various interesting blog posts of any taste. What's more, you can look for specific categories out of the 140,000 listings, including Technology, Education, Finance, Fashion, etc. Each category is in its turn broken into subcategories to help you find the exact topic of interest to you. And, of course, you can also directly type in the search field for more exact results.
AllTop, founded by bestselling author Guy Kawasaki is a depository of all the top headlines from all over the web. All the blogs and websites are with RSS feeds, bringing all the links to relevant content in a single location. The directory also categorizes the blog posts and articles according to topics, such as Health, Travel, Fitness, etc. Besides, you can set up your own My Alltop page and directly get new blog posts with RSS feeds from your preferred sources. This way, you get a great chance to get to know bloggers relevant to your product and connect with them on social media.
Bloggernity is another handy blogger search directory, which covers only blogger blogs. The 30+ categories are constantly updated so you can always find something interesting and new there. Discover anything from Books and Literature Blogs to Environmental and Financial Blogs and anything in between. You can also use the search engine directory for better results.
Promoting with Social Media
Currently, there are about 3.78 billion social media users worldwide. This makes social media one of the most popular and effective crowdfunding promotion channels. While it may be nice to promote your project across all of the social media channels, in reality, you need to choose from among them and go with those that best work for your project. Here is the list of the most widespread social media channels:
Instagram: This social media channel is getting more and more popular every day, leaving behind even Facebook. It's especially good for products that have a visual appeal. The platform has rich options for content format such as feed posts, reels, stories, IGTV, etc. to supercharge your crowdfunding marketing. What's more, you can find influencers to promote your campaign and also use paid ads to make the most of it.
Twitter: If your product has the potential to create a newsy buzz, Twitter might work perfectly for that purpose. If you have a relevant network and a few good influencers, you'll be able to build a good conversation around your product and spike your audience's attention.
Facebook: This is an important website for branding your product. On Facebook you not only establish your presence via your page, but also use the powerful Facebook ads for Kickstarter or Indiegogo to promote a crowdfunding campaign of any kind. .
TikTok: This website has gained lots of popularity recently and is another source of reaching new audiences if you can integrate engaging and creative elements in your marketing.
Pinterest: People often undervalue Pinterest, although this platform can be a goldmine for spreading the word about your product! You can either create your own boards, use hashtags or join other boards. If choosing the latter option to promote your crowdfunding campaign, you should make sure you've joined the right board. For instance, if your product has to do with toys for kids, you should look for a board related to toys. The board below related to vintage toys has almost 260K followers and 5,000 pins.

Promoting through Other Marketing Channels
Apart from communities and PR, there are other important channels as well. Here it's worth mentioning two strategic crowdfunding promotion channels, like email marketing and Facebook ads. Both are powerful and require lots of creative effort for good results.
Email Marketing
According to WordStream, email campaigns can attract traffic with an average conversion rate of 4.29%, this being higher than the same average for traffic from social media and search. Personalizing messages and designing a compelling email campaign for your campaign will warm up your audience and create a buzz around your product. Thus, email marketing can be crucial for crowdfunding promotion.
Facebook Ads
Facebook ads for Kickstarter and Indiegogo are powerful tools that help you narrow your focus and capitalize on your target audiences who are interested in your product. It also allows you to create lookalike audiences, retarget pixels, and custom audiences. This means that no matter whether you're using Indiegogo or Kickstarter Facebook ads, you get a great chance to boost your results! In fact, crowdfunding ads in general often account for the largest part of conversions during the campaigns.
Spreading the Word through Promotion Platforms
Apart from all the channels mentioned above, there are also other platforms that are especially good for promoting crowdfunding projects. Here's a must-know list for you:
BuzzFeed
Another cool platform for crowdfunding promotion is BuzzFeed—one of the most popular websites in the US and around the world. It's especially good if your product's design is for the younger generation. To submit content to BuzzFeed, you first need to register on the platform. Then you can create a post on your user dashboard.
One of the successful examples of crowdfunding promotion on BuzzFeed is the well-known Coolest Cooler campaign on Kickstarter, which managed to become popular on Facebook through its publication: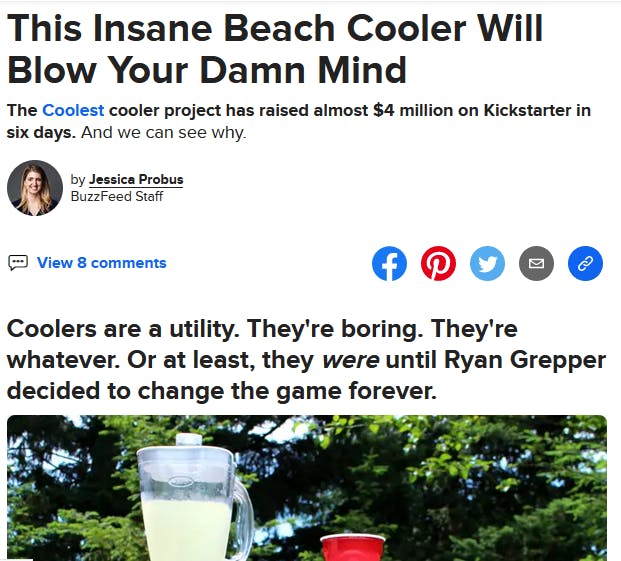 BackerClub
If you need to get access to serial crowdfunders, BackerClub is the place to find them. All you need is to simply submit your project and offer your potential backers a good deal in the form of an add-on, exclusive pledge, or discount. The price for the service is $379, but if you don't manage to raise at least the same amount, BackerClub won't charge you anything.
Hyperstarter
This is a great platform for Kickstarter campaign promotion.
Hyperstarter allows you to not only test your campaign page quality by providing deep insights but also helps you reach your audience, find influencers to promote your crowdfunding campaign.
CrowdReach
CrowdReach helps you validate your Kickstarter campaign by finding out what the Kickstarter community thinks before you launch, as well as helps you with the subscriber list generation and targeted Indiegogo or Kickstarter ads. The idea behind this platform goes back to 2014 when Zack Brown raised $55,000 for his potato salad campaign.
GadgetFlow
With GadgetFlow you can spread the word about your product not only to your niche audience but to a more mainstream one. They take into account the time-sensitive nature of crowdfunding campaigns and tailor their promotional timeline around your campaign to ensure maximum exposure.
Crowdinsight
They say "To be prepared is half the victory." This can't be more true when it comes to crowdfunding campaigns. In fact, the most known reason crowdfunding campaigns fail is because of improper preparation in terms of marketing. Crowdinsight by Gadget Flow gives you a unique chance to get sincere and unbiased feedback from potential backers regarding the design of your page, structure, pricing, photos, videos, etc., as early as in the prelaunch stage or during a live campaign.
Green Inbox
If you want to boost your Kickstarter campaign, you might need to target Facebook ads for Kickstarter or Indiegogo. Here Green Inbox can step in for help. With heavy technology in the background to manage the ads and optimize return on spending, this platform increases your conversions really fast and effectively. Besides, you can use it to customize and send personal messages to your entire list of Facebook, Twitter, and LinkedIn contacts in only one go. Using the same technique for ads allows you to discover the best working audience for your campaign.
Krowdster
Being the largest database of over 3.5 million Kickstarter and Indiegogo backers and super backers, Krowdster also provides full-service crowdfunding press release writing and distribution to major media outlets and customize media lists containing journalists and bloggers relevant to your niche. Finally, they also do Twitter marketing, bringing highly targeted Twitter followers to your campaign page.
Kicktraq Banner Ads
This popular platform is a great place to tell about your product to visitors interested in crowdfunding and Kickstarter. It also shows news and analytics about new projects and provides targeted crowdfunding ads.
Conclusion
Promoting your product as a Kickstarter or Indiegogo campaign is indeed a full-time job. It's not something you do intuitively based on your gut feeling. Everything about the product plan should be thought of beforehand and be in line with your marketing strategy. It's also important to remember that each project is different and requires an individual approach: there is no one-size-fits-all approach to how to promote your crowdfunding campaign. Thus, before jumping into the crowdfunding promotion stage, plan your activities thoroughly to save your resources and use them as effectively as possible.
Related Articles:

10 Advantages of Crowdfunding: An Ultimate Guide for Startups
Kickstarter Alternatives: Funding and Validation of Products