People often overlook the effort that needs to be put in during the product launch stages. Product launch incorporates all the important and necessary steps needed to improve your chances of success.
Product launch is a crucial step for the success of your product. Over 90% of products fail because of poor product launch planning. Further in this article, we'll break down the 3 main stages of product launch.
While having a good product is always beneficial, planning, analyzing, good teamwork and good execution are all mandatory if you want to succeed. Defy the odds by following the instructions and advice we will provide further in this article.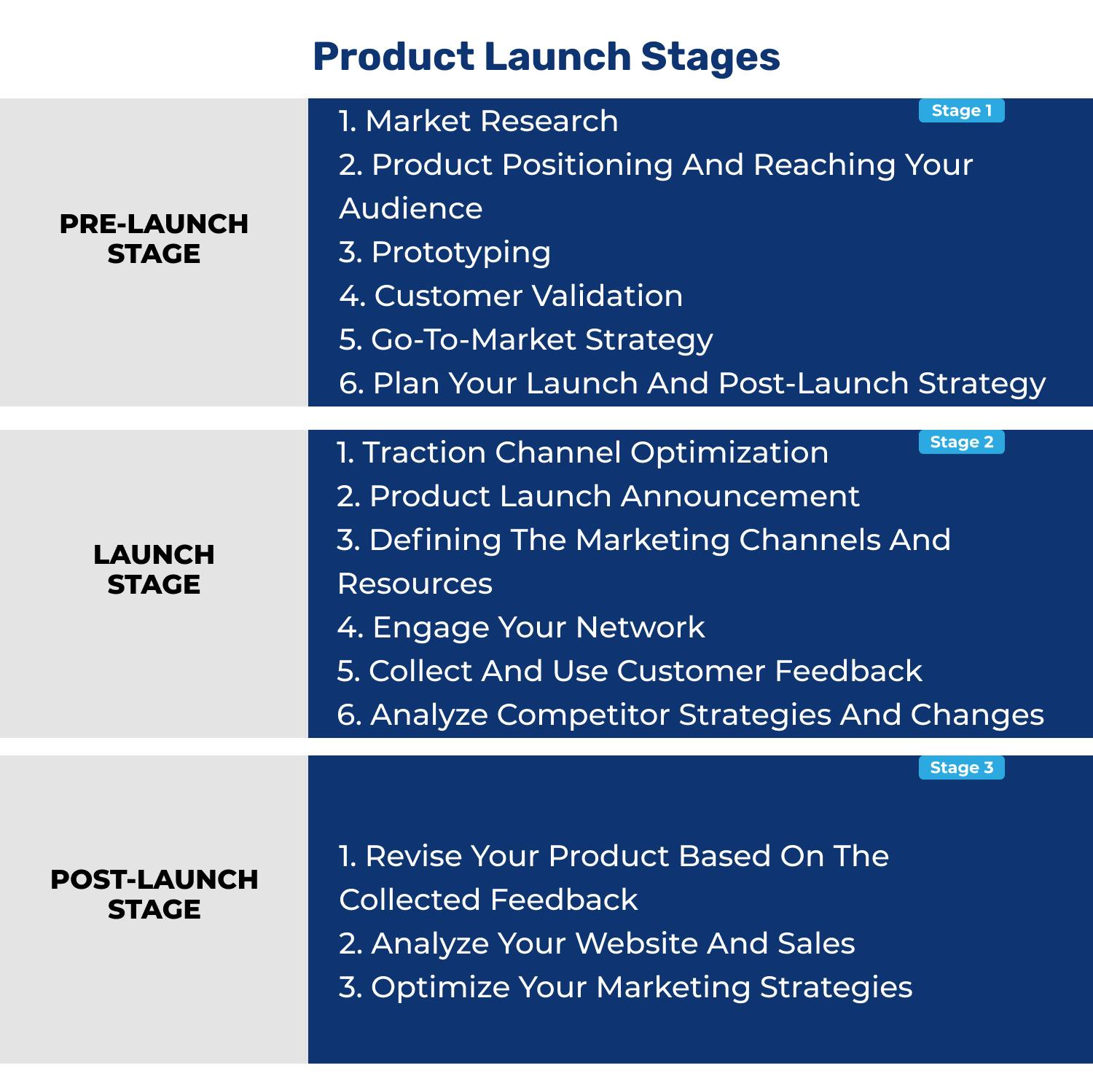 1. Prelaunch stage
To achieve success, you need to prepare for it. This is what the prelaunch stage is all about. There is so much that needs to be done before launching the product.
Nowadays, it is most common to create a product launch plan, also referred to as a product launch checklist, which enlists the tasks and deadlines associated with each of them.
We have covered this in-depth in another article. If you are interested in further clarifications, make sure to check it out (Product launch checklist). This makes the prelaunch stage very organized and eliminates the risk of forgetting something.
Market Research
The core idea behind separating a prelaunch stage from your product launch stages is to validate your product and bring more recognition to it.
So, the most optimal step to start your prelaunch stage is to conduct thorough market research. It doesn't require any product investment and provides much-needed information regarding your further steps.
It might even tell you that you are not prepared altogether and save you a ton of time and resources. All in all, it helps you assess your risks with minimal resources and is the most optimal way to start your new product launch.
We recommend dividing this stage into 3 steps.
Know you customers
Know your competitors
Know the problems that your product is solving
By addressing these 3 key points, you will have the most information needed to assess your risks and be able to further develop your product.
Product Positioning and Reaching Your Audience
After understanding the market that your product is going to occupy and the problems it is going to solve, it is now time to define your product's positioning and how to reach your audience.
Not everyone is going to need your product. That is why you need to direct your efforts toward those who might. This is what positioning your product is all about.
Correctly defining the target audience is tightly connected with market research, and it will both reduce your marketing expenses and help you strategize better.
After defining your product's positioning, it is important to understand how you are going to reach your audience. Knowing people who are interested in your product means nothing if you don't know how to reach them.
There is a multitude of ways of accomplishing this, such as social media, direct mail, organizing events, and many more.
Prototyping
With this amount of information gathered and having decided on our product positioning, it is time to create an actual physical representation of your product. There are two ways of prototyping.
Prototype
MVP (Minimum Viable Product)
The MVP is a product that has a minimum set of features to meet the needs of its initial users and aims to collect feedback from its users.
Unlike the MVP, a prototype (POC) isn't made with functionalities. It can be a simple sketch or a draft just to showcase the product you envisioned.
Customer Validation
After prototyping, it is a good idea to start working on customer validation. Customer validation is the step where you build your community of people interested in your product. There are many ways of doing so. More common ones are
Creating a social media account
Utilizing third-party website
Offering supporters early access or a discount
Conduct surveys or expos
We also recommend lead generation and presale. Lead generation is convincing people to buy your product through various offers, and presale is selling the product before its launch.
These trending marketing tools help you reduce your risks tremendously and, at the same time, gather early feedback from your future customers and make your product even better.
If you want to know more about generating resources before your product's launch, make sure to check out our article on pre-selling.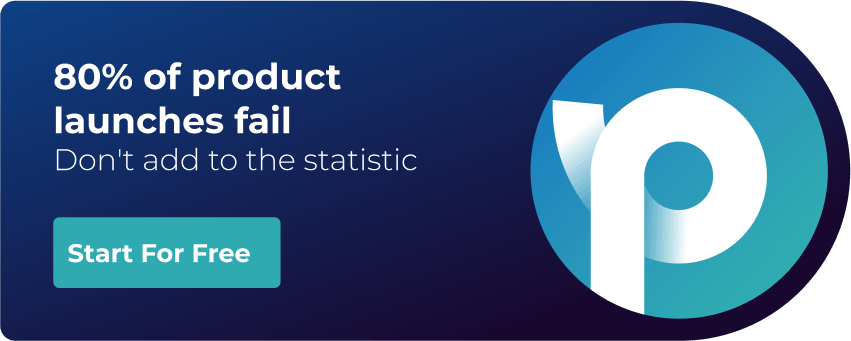 Go-to-market Strategy (GTM strategy)
The go-to-market strategy is about strategizing around the challenges the market will present. And the challenges are more than you can imagine.
GTM strategy aims to answer 6 questions; Who, What, Why, Where, When, and How. Many of these questions get answered while doing the other steps.
But still, some need to be mentioned and done accordingly during this step in your product launch plan. Those steps are.
Deciding a launch date
Creating promotional content
Creating a press release
Setting a goal for the launch
Securing your online identity
Whether time or money, losing resources is the last thing you want when developing a product. A good strategy will both reduce your risks and guarantee you success.
Plan Your Launch and Post-Launch Strategy
Launching your product is the first stage of successful entrepreneurship. And while it is indeed a very important step, a lot still needs to be done. Further in this article, we'll break down both the launch stage and the post-launch stage.
2. Launch Stage
Finally, your product is ready. After weeks of intense work, your team has successfully completed all the steps in the prelaunch stage. Now the long-awaited moment has arrived - it's time to go live!
But don't hurry to pat yourself on the back. The fact that your product is ready doesn't mean that your project is over. Finishing the prelaunch stage of your project doesn't guarantee that you're getting the most out of it just yet.
What happens after your product goes live is equally important. Especially the first month - it's crucial for your business.
So during the excitement of delivering your project, managing the launch stage should be considered a phase in your product launch stages in its own right.
Surely, to conduct it effectively, you need a roadmap, which will be your plan of action that you need to complete.
Let's define the steps that you should include in your product launch plan.
1. Traction Channel Optimization
In the world of competition, you have to fight for your customers. If you fail to attract your prospects and convert them to customers, be sure that your competitors won't.
Therefore optimizing your traction channels is vital, especially when you've just entered the market and your target audience still has to discover your product.
There are various traction channels, both online and offline, that companies can utilize to acquire customers. Surely, there will be channels that suit you better and others that won't work for you.
So what are those traction channels? Let's explore some of them.
Affiliate marketing is a process whereby affiliates earn commissions for providing specific results to the company. Most of the time, the desired result is sales.
However, it can vary from leads or free trial users to clicks on a website. In other words, affiliates get a payout for promoting others' products on their social media platforms, blogs, websites, or podcasts.
Affiliate marketing allows you to successfully market your product without spending much time, effort, and money.
Moreover, it ensures a high return on your investment at a well-contained risk level. It's an effective way to raise your brand awareness and eventually generate sales.
Surely, it's not totally effortless. Make sure to select your affiliates according to your target audience and your brand image.
Familiarize yourself with the best practices and study as much as you can about affiliate marketing. Ultimately, you'll see the perks of a well-executed campaign.
Search Engine Optimization (SEO)
SEO is all about increasing your online visibility. The more people see your website, the more you drive online traffic and the higher the chances for you to sell your product or service.
SEO can be defined as a process of getting traffic from search results on search engines. Simply put, it's a method to make your website appear at the top of search results when prospects search for products related to your business.
This method is mainly based on using well-researched and carefully chosen keywords in your content.
Don't ignore the importance of this valuable process; it'll help you succeed in today's digital world.
Giving you a chance for your prospects to meet you can be equally effective, sometimes even more than online advertising.
Therefore, you should also consider sponsoring or organizing offline events as a method of getting traction. It's a great opportunity to engage with your potential customers and get to know your audience better.
Other traction channel examples are viral marketing, e-mail marketing, social & display ads, offline ads, content marketing, trade shows, etc.
Sometimes, you'll need to leverage sales when your product is expensive or needs interpersonal interaction before purchase.
Start with developing at least one strategy per channel. After defining what's possible, you'll have to understand what's probable.
This is the phase where you start testing your predefined strategies. There's no need to go all in - start with cheap tests to figure out what's working and what's not.
After identifying the channels that make your company gain traction, focus on them to get as many customers as possible.
2. Product Launch Announcement
Informing your prospects about your product launch will help you create hype and excitement over your new release.
Choose the way of announcing your new product launch considering the characteristics of your product and the demographics of your target audience.
So be it a physical event or a digital event, your goal is the same - to generate buzz around your new product and maybe even generate your first sales.
First off, you'll need to choose the right venue that best suits your product and your prospects.
Try to associate the product you're offering with the venue. However, remember that your goal is to showcase your product, so don't let the place outshine it.
Use the event as an opportunity to display your product and give your prospects a chance to explore it.
You can organize different activities to provide informative and useful information to your guests, as well as show them how they can benefit from your product. Everything you offer during your event has to serve as a lead-in for your product.
However, don't forget about the fun part. Make your new product launch event as memorable as possible. It is certainly in your interest as well for your guests to have a good time.
Not to forget about the timing. You can hold your new product launch on the release day or several days before.
Nonetheless, keep the anticipation at its peak when launching your product. So pick the date carefully and let your prospects know about it.
Virtual product launches are also a great way to announce your new release, drive the interest of your prospects and eventually get your earliest customers.
In this case, you're not limited by the number of guests you can host or the location of your event. So digital event is also a great way to present your product to the world. Moreover, anyone with an internet connection can be your attendee.
Here again, you'll need to center everything about your product launch event around your target audience. Knowing them will help you deliver an unforgettable event.
Keep in mind all the tips that we've given you for the physical event, as they are equally important when planning a digital one. Choose the platform for your new product launch that best suits your needs. Schedule it strategically.
Don't let it be overshadowed by a larger event. Furthermore, try to keep your audience spellbound by making your virtual event interactive and entertaining. In a few words, make your digital event an experience to remember. Be creative!
3. Defining the Marketing Channels and Resources You're Going to Use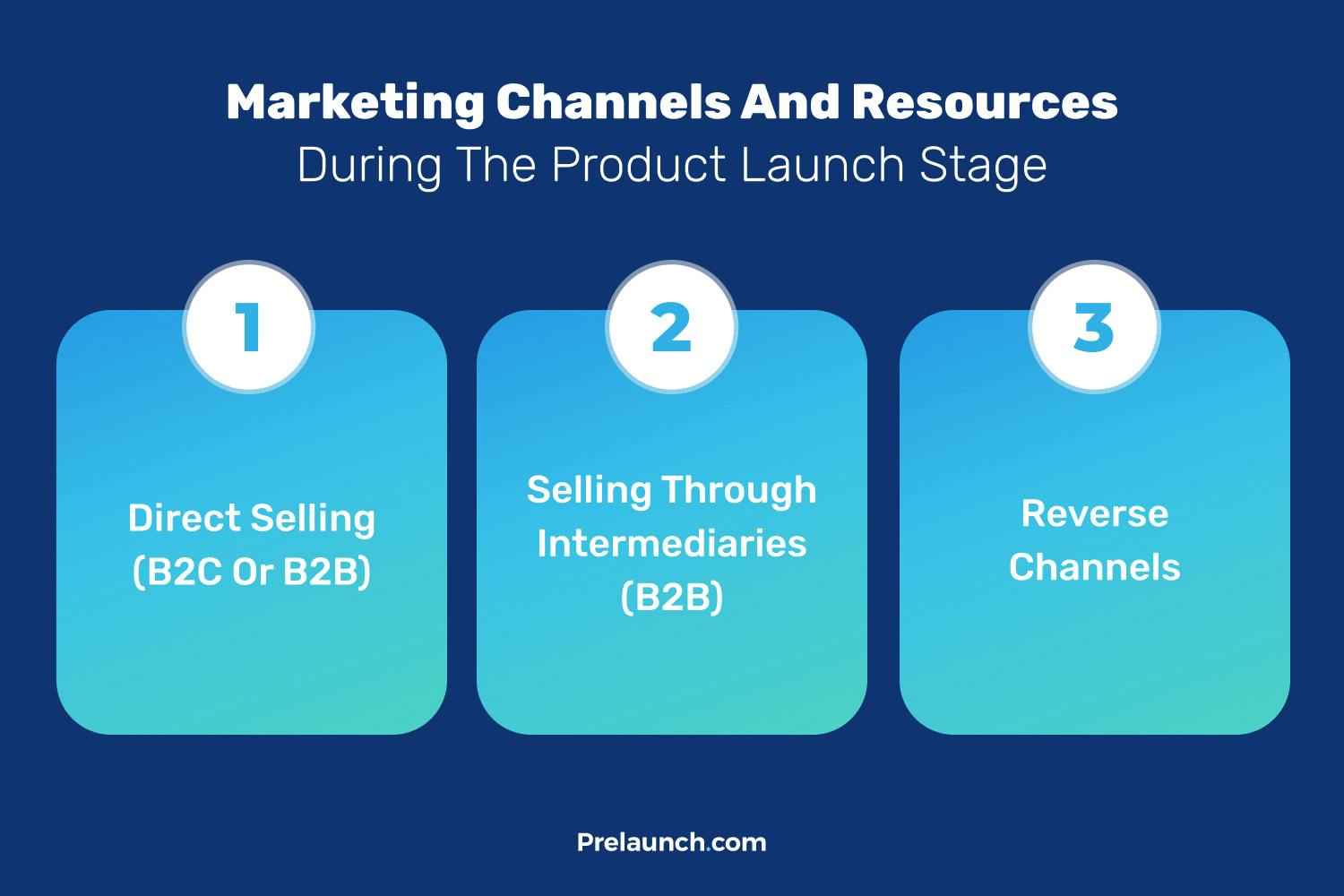 The marketing channel, also called the distribution channel, is made up of the individuals, businesses, and activities required to move ownership of products from the producer to the consumers.
It's the way companies who produce goods connect with their prospects. So, choosing the proper marketing channels in your product launch plan is critical.
There are 3 distribution channels to convey products from the producer to the end user.
Direct selling (B2C or B2B): the goods are directly sold to consumers without a middle person

Selling through intermediaries (B2B): the company uses downstream intermediaries such as brokers, agents, wholesalers, and retail stores to sell its products.

Reverse channels: products move from the consumers back to the producers (recycling, product recalls)
Based on your chosen distribution channels, you need to define the digital marketing channels you will use to effectively promote your product and drive sales.
According to Hubspot statistics, B2B marketers mostly use social media (45.1%), websites and blogs (40.7%), email marketing (38.3%), and content marketing (33.4%).
And when it comes to B2C marketers, the top channels are again the same but in a different order: social media (44.9%), email marketing (35%), websites and blogs (34.8%), and influencer marketing (32.4%).
While B2C marketers aim to provide engaging content, the highest priority for B2B marketers is to build long-lasting business relationships with their clients.
Below we will discuss some of the most popular digital marketing channels.
Social media is one of the most cost-effective channels companies use to raise awareness of their product by providing engaging and informative content. Moreover, it ensures interaction between companies and their prospects, allowing both to learn about each other.
Nowadays, there are different social media platforms, and most of them, such as Instagram, Facebook, Twitter, and Linkedin, are known to everybody.
When it comes to choosing the platforms for your company's online presence, the effectiveness depends on your business goals and your target audience.
While B2B marketers might prefer LinkedIn, as there are a lot of business-minded people, B2C marketers might decide to go with and focus on Instagram and Facebook, as their prospects are more active on those platforms.
Nonetheless, you don't need to choose only one or two social media channels. Repurposing your content across various platforms might even be the best idea.
The majority of internet users have an email account, making this marketing channel a great way for you to communicate directly with your prospects. You can offer some benefits to your prospects for them to opt into your mailing list in one way or another.
Email marketing is an efficient way to deliver automated or targeted content to your prospects. Remember that customer segmentation and message personalization play an important role here.
Buyers, both involved in B2B and B2C sales, often rely on websites when purchasing, especially regarding online selling.
So when your website is your main distribution channel, it becomes a great way to convey information about your product to your audience.
Moreover, you can use marketing automation tools to tailor customized landing pages and content based on the data you've collected about your prospects.
The strategy of concentrating your efforts and resources on a single marketing channel is no more effective.
Nail Patel, one of the top 10 marketers according to Forbes, suggests leveraging more than one channel.
The reason is that all good channels ultimately get saturated, and omnichannel marketing is the only way to stay competitive. [Content marketing unlocked, Nail Patel]
4. Engage Your Network
Building relationships has always been the cornerstone of business, only the means for making those connections have changed and evolved.
Networking can be a great opportunity for you to attract new clients, gain useful information and generate new ideas.
Therefore, make networking a part of your product launch plan. Look for events that you can attend and meet people who might be interested in what you're offering or even people who can connect you with the ones who will be willing to do business with you.
Never underestimate the importance of networking. If done correctly, it will be a time-honored way of developing business relationships. Remember, it's not about collecting contacts or selling your product.
The real value of networking is in building long-term relationships and developing a community where people are willing to interact and help each other.
Start with reaching out to your friends and former colleagues. Talk about your ideas and what you are doing. Informal discussions can help you establish strong network contacts just as effectively as official meetings.
Nonetheless, don't limit yourself only to people you already know. Sign up for conferences, events, and meetups. You often find opportunities in the most unexpected places.
Networking is a continuous process of sharing. Remain open-minded and offer your help to others without waiting for them to do something for you. Eventually, you'll see the perks of your connections.
5. Collect and Use Customer Feedback
It can't be highlighted enough the fact that the needs of your customers should be your highest priority. Otherwise, your business is doomed.
You can never be sure you're delivering what they are looking for without asking them. Moreover, their needs are constantly changing, so collecting feedback from your customers and using it to better adapt your product has to be an ongoing process.
Familiarizing yourself with your audience's opinion is especially important when you're just introducing your product. So, it's essential to incorporate this step into the stages of product launch.
Begin with reading the comments on social media. You'll understand what your audience appreciates about your product, which will become a solid base for you to later promote those aspects in your marketing campaigns.
You might also get helpful insights into your prospects' concerns or misunderstandings about your product.
Make your prospects feel valuable and ask them to participate in developing your product.
Make them a part of your business!
Use the email list you've gathered to provide updates and ask them what they think about your product and what they would like to change or add.
By making the interaction more personal, you'll get some honest feedback or more specific suggestions for improvement.
Not to forget about surveys, which are the most common and arguably most effective way when it comes to collecting feedback.
However, respect your consumers' time and don't overwhelm them with long surveys. Consider offering incentives for survey participation.
Providing compensation for their time and efforts will result in a higher volume of respondents and will encourage your audience to give more detailed feedback.
Using Net Promoter Score is also a great way to find out how your customers feel about your product. Ask your prospects to grade from 0 to 10 on how likely they are to recommend your product.
There are numerous methods to collect feedback. Decide the ones that suit you best just keep in mind to
Ask the right questions, as the usefulness of the answers depends on your questions.
Keep the questions short and simple.
Use the collected information to further improve your product and meet the demands of your customers.
6. Analyze Competitor Strategies and Changes After Your Launch
You're not the only one who conducts market research and analyzes its competitors. Undoubtedly, your entrance will make changes in the market, and your competitors will adjust their strategies.
Simply put, as the marketplace and game rules constantly evolve, it's equally important for you to study the behavior of your competitors after your new product launch.
Competitor analysis is a continuous process and should be done as long as you're doing business. Otherwise, you risk losing your competitiveness.
Many decisions you've made in the prelaunch stage of your product were based on your market research. What if your positioning, pricing, and marketing strategies are not efficient anymore?
The sooner you discover it, the sooner you'll be able to make some changes.
Remember, you should never get complacent. The most adaptive and flexible entrepreneurs are most likely to survive the harsh competition in the marketplace.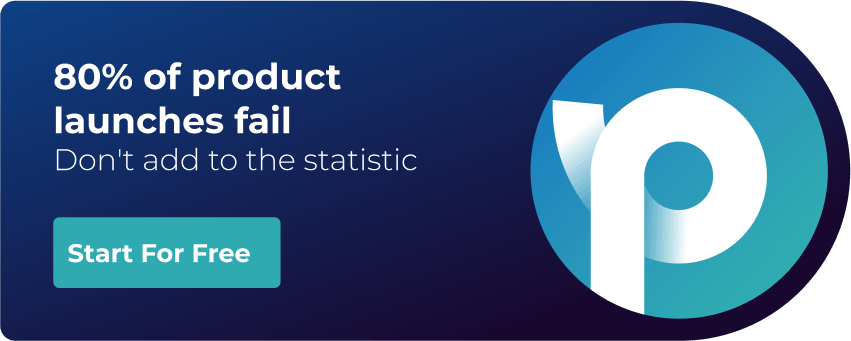 3. Post-Launch Stage
Although your product launch is complete, there is always room for further improvement. This is a process that never stops.
Of course, a celebration is needed after a successful launch. But it's time to move on. The post-launch stage proposes new challenges that need to be overcome.
Most points we've covered in the prelaunch and launch stages also apply here.
As you might have already noticed, the stages of product launch are interconnected and related to each other.
Below we will discuss the most important steps for the post-launch stage that you should include in your product launch planning.
1. Revise Your Product Based on the Collected Feedback
As we have already mentioned, collecting feedback should be an ongoing process, as what was working previously might currently not work. Consistent customer feedback is what will lead you to success.
However, the information you've gathered will be useless if you don't treat it accordingly.
You must analyze your collected data carefully to get the most out of it and translate it into meaningful insights.
First off, look for patterns. Find out the most common problems your customers face while using your product and the aspects they appreciate the most.
Note that not all feedback is useful. Pay attention to the timing and situation when it was collected and the user's expectations while using your product. Maybe you are not even looking to meet their expectations.
Next comes the reacting phase. Revise your product and drive improvements based on your findings. Concentrate on the negative feedback to determine the causes and the solutions you can provide.
The positive feedback that you've received is also important. Highlight the most liked features further in your marketing campaigns, and use those aspects to differentiate your product in the market and gain a competitive advantage.
This is an endless loop of providing a product, collecting feedback, analyzing it, and making adjustments.
You never stop doing it, as it's the only reliable way to ensure that you're meeting the needs and expectations of your customers.
2. Analyze Your Website and Sales
Let's not forget about analyzing your website and sales. With today's addition of technology and software, it is easier and more conceivable than ever.
The many tools you can use to help you analyze your website include Google Analytics, Yandex Metrica, and Hotjar.
Utilizing these tools allows you to monitor and analyze your website's traffic and activities without charge. It is fascinating how useful they can be.
You get a ton of information regarding the navigation in your website that you can use to further adapt and improve your content.
Also, they provide information about your visitors, their location, the type of device and browser they use, and how they found your website.
All of those will help you tremendously during your social media marketing. Besides, it provides keywords your visitors use to find your website, which is crucial for SEO.
Furthermore, you can get insights into your audience and conversions, understand the best-performing marketing channels, and much much more.
Thoroughly knowing why and how people navigate through your website is the most optimal way to improve it.
Yandex Metrica even provides you with videos of your website's users' navigations, including every little detail.
Exploring these tools thoroughly is very important. The data they provide might turn a failed campaign into a successful one. Never underestimate what information and proper analysis of said information can achieve.
When all is said and done, profit is still the only end goal of entrepreneurship. Many essential metrics, such as ROI and Net profit, are crucial when determining your further actions. Sales analysis is what gives you this information.
Sales analysis is an ongoing process that is always required. Most companies employ separate departments just for doing sales analysis.
All the flaws and opportunities are defined through analysis. Your every action and strategy relies on these analyses, and they should never be taken lightly.
3. Optimize Your Marketing Strategies
After launching your product, you only fully understand the consequences of your past decisions.
No matter how good you thought your market research and marketing strategies were, the post-launch stage is where the real feedback comes in. You now need to utilize this feedback to optimize your marketing strategies further.
This step is often overlooked, especially when the marketing strategies during the prelaunch stage have achieved some success. But again, complacency is a road to failure. Make sure to include this step in your product launch plan, as it will always make you a competitive market member.
Conclusion
To summarize, developing a new product is never easy or simple. In this article, we did our best to provide you with some insight into the stages of product launch that will help you on your journey.
But of course, your dedication and ceaseless work are what is going to guarantee your success. And remember, success is not about not failing. It is about adapting and learning from your failures.
Related articles:
10 Product Launch Metrics to Help You Validate Your Idea
Product Launch Email: How to Craft, Tips, and Examples