When building a new product, there are certain essential steps you need to follow. One of those steps is product validation. This process helps you understand whether your product actually works for your customers.
During product validation, you'll accept or deny the assumptions you've made about your product's usefulness, which will help you fix any issues you find along the way. This, ultimately, will lead you to your product-market fit.
If you're building a new product and want to learn more about product validation, you're in the right place. We've created the ultimate guide to product validation that'll help any new founder validate their new idea. In the end, you'll know if your product is worth building.
We'll explain the basics of product validation, help you understand its importance, give you the best methods of product validation, teach you how to do product validation in the easiest way, and much more. Whether you know it or not, you definitely need this guide. So, let's jump right in.

What is product validation, and why is it important for your business?
Firstly, let's answer the most important question. What is product validation? The best product validation definition we can give you is that it's a process full of endless customer feedback that'll eventually let you know if people will buy your product.
You'll be pitching your idea and trying to sell your product to actual customers. This will give you valuable insights into your customers' minds, helping you build a better product for them. You will also understand the demand for your product, which can guide you when gauging your required supplies.
Now, why is product validation important for your business? Well, the success of your business will be built on the success of your products, and building better products will reduce the risk of failure. Keeping in mind that 80% of new product launches fail, you can understand that the risk is on high level.
We will discuss the importance of customer insights in product validation later on in this guide, but let's talk about the bigger picture. Going blindly into a market with only assumptions backing up your success is not a smart business decision.
Your customers are the ones who will be using your product, so you need to make sure they need it, like it, and are willing to pay for it. Luckily, product validation can help you unlock insights into how much your customers need the product, who your ideal customer is, how big your potential market is, and exactly how much they are willing to pay for your product. All this data will influence your future business decisions and reduce your risk of failure.
After understanding what product validation is and why your business needs it, let's get into the initial stages of product validation.
Initial stages of product validation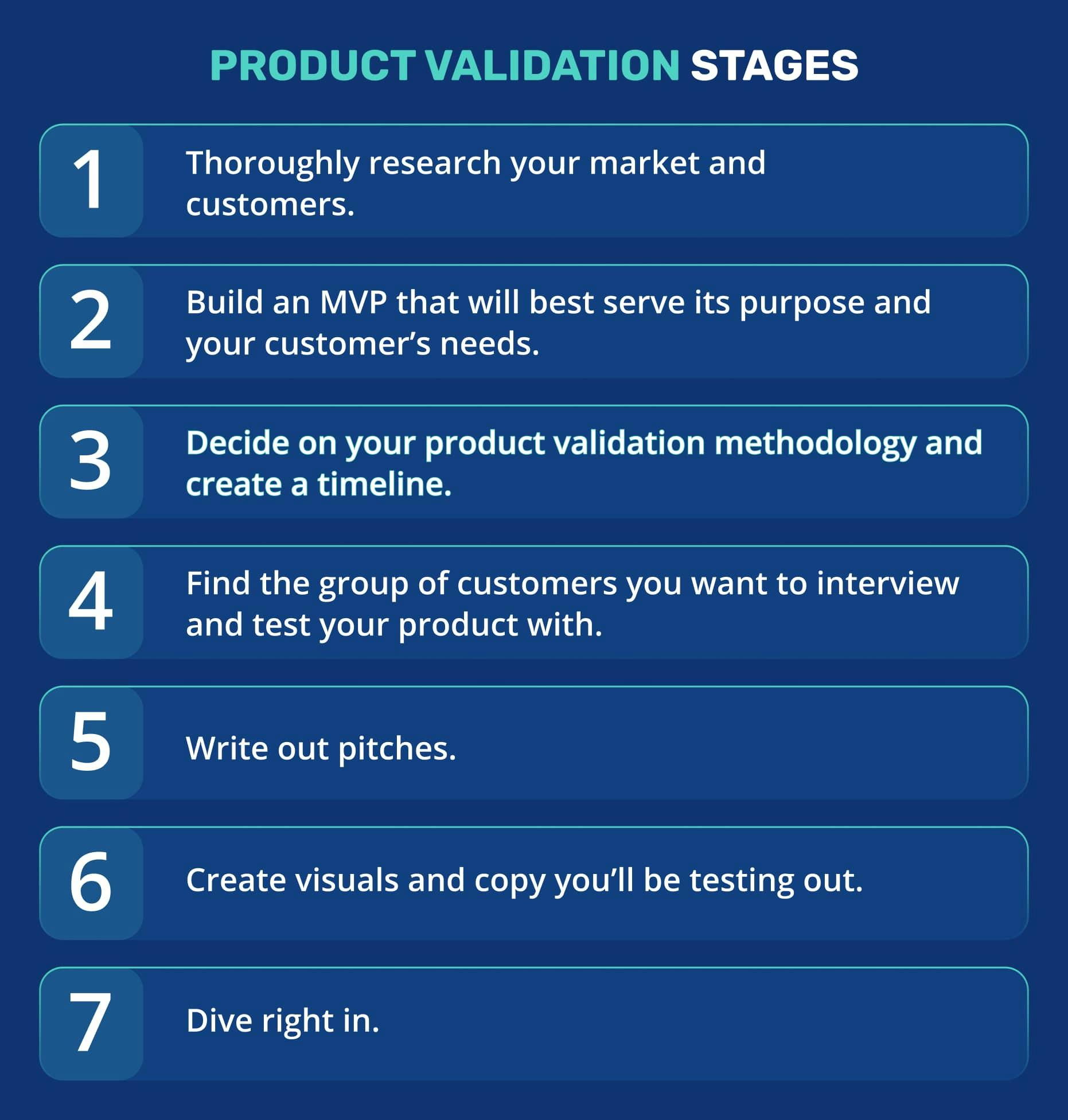 As with every major step in your business, you need to prepare and plan for product validation. Before jumping into the process of customer interviews and pivots, here's what you need to do in the initial stages of your product validation process.
Thoroughly research your market and customers.
Build an MVP that will best serve its purpose and your customer's needs.
Decide on your product validation methodology and create a timeline.
Find the group of customers you want to interview and test your product with.
Write out pitches.
Create visuals and copy you'll be testing out.
Dive right in.
Or, here's an easier option. You could use a product validation platform like Prelaunch.com to guide you through the process without hassle.
If you decide to take the harder route and build your product validation plan by yourself, you still have a lot of learning to do. One thing to remember is that your customers are your #1 source of guidance.
If you don't believe us, let's talk about the importance of understanding customer insights in the product validation process.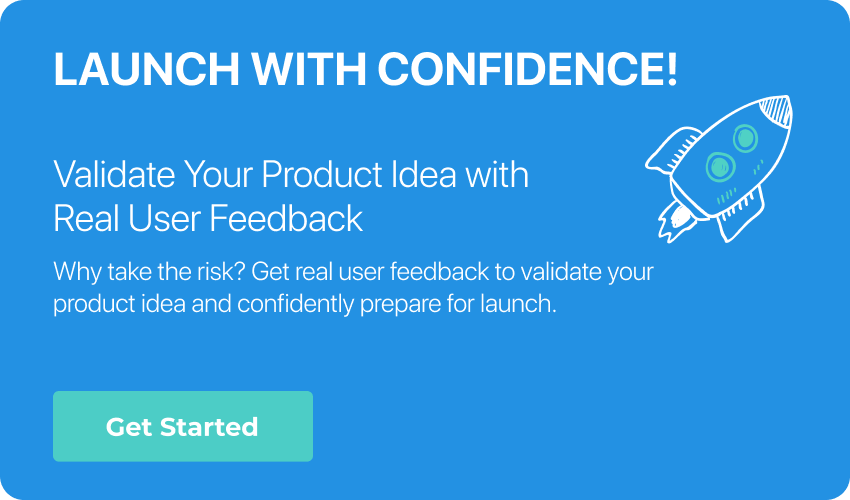 The importance of understanding customer insights in the product validation process
The key data point you unlock during your product validation process is customer insights. You might think that gathering customer feedback is only a small part of building a product, but it's so much bigger than that. Not only can it guide you toward creating an ideal product, but your customers can also literally tell you how and why you should sell it to them.
Questions product validation can help you answer.
If you're still doubtful about the value of customer feedback, here are a couple of product validation questions that customer insights can answer.
Is your product needed in the market?
The #1 question you'll answer, thanks to product validation, is whether or not your product is actually solving a problem. Does such a problem even exist? Overall, customer insights will let you know if your product is worth building or not.
Who is your ideal customer?
After you hopefully reveal that there is indeed demand for your product in the market, you can start narrowing down and exploring who it is that needs your product the most.
Obviously, you'll have assumptions made about your customer personas, but your product validation process will be dedicated to testing those assumptions. What kind of people actually need your product?
What features do they need?
Now that you understand who you're building your product for, it'll be time to research what they need your product to do for them. What are some essential features that will make customers order your product and become loyal customers? If you already have those features, you'll confirm your assumptions. If not, then you'll know what you need to add.
What features do they not need?
Similar to the question above, product validation will help you understand what features are totally unnecessary. If you have such features already, it'll be safe to remove them from your product.
How much are they willing to pay for it?
The question of willingness to pay is a tricky one. You need to know the price at which you can sell your product to help you forecast your financials.
Nevertheless, you can't go up to a customer and ask: "how much would you pay for this product?" This question will give you lots of biased answers and no true data on which you can base decisions.
This is where A/B testing comes in. You can test different prices on different audiences with the help of Prelaunch.com and unlock the ideal price for your product.
What positioning works best for your product?
Just like pricing, you need to know the positioning that your product needs to take in the market to achieve maximum success.
Does your product need to have a premium design, or should you opt for simplicity? Should you use this or that headline to grab the most attention? What sort of visuals are more pleasing for your customers? These are just the tip of the iceberg when it comes to customer insights you get with product validation.
What colors do your customers respond to most?
Just like headlines and visuals, you can A/B different test colors. Do your customers prefer scrolling down your landing page that is full of blue or orange? What packaging do they like best? What should you include in the box to delight your customers?
What more could you want? These product validation customer insights will be the ultimate guide you need to build the perfect product. So now, let's discuss how you can get these insights and introduce a couple of product validation methods.
Methods of product validation
Now that you know the value that product validation can bring to your business let's talk about how to validate a product idea, market, and more. We've identified a couple of methods you can use to validate a product, and we'd love to share them with you.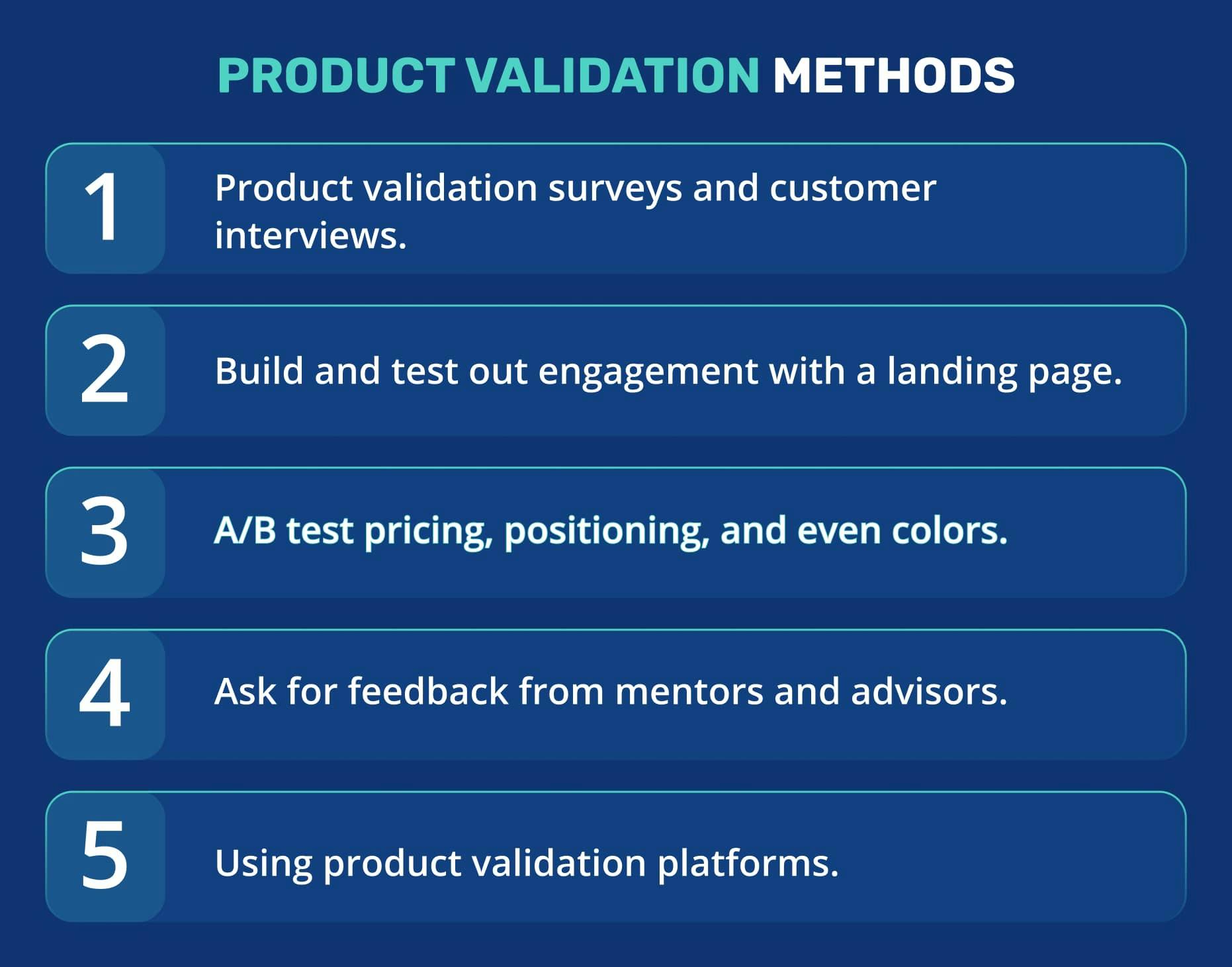 Without further ado, let's dive right in.
1. Product validation surveys and customer interviews
With your initial product validation methodology, you can test out your product in a theoretical way through surveys and interviews with customers. The questionnaires you use will help you understand if you're on the right track.
Customer interviews can unlock customer insights into your product, market, needs, and so much more. Aside from multiple choice questions, it's vital to ask them open-ended questions to leave room for additional information. Qualitative data will enable you to take the bias out of surveys.
2. Build and test out engagement with a landing page
One of the best ways to test your product's future success is to prelaunch before you launch. Build a landing page, introduce your product to the world, and track their reactions. There are many no-code website builders on the web, so you shouldn't have too much trouble there.
The hard part will be bringing in traffic to your website. You can do so with ads, so remember to allocate a special budget for it.
If you're new to website building and advertising, you can choose to use product validation platforms like Prelaunch (which we will discuss further on in this guide).
The good thing about having a landing page is that you'll see what buttons people are clicking, what they're engaging with most, etc.
Once you build a landing page, you can start thinking about A/B testing to compare different prices, headlines, and so much more.
3. A/B test pricing, positioning, and even colors
Testing one option vs another is going to be key in your product validation process. After all, your goal is to find the things that work best and launch with those specific metrics. If one headline performs better than another, you'll know what to do.
A/B testing can also help you gauge your customers' willingness to pay. If more people want to order your product at a certain price than another, you'll have your pricing strategy figured out.
This testing methodology is used in advertising to find the best-performing components. This means that you can test out reactions to specific visuals and even colors.
Note: When A/B testing, remember to use only test 1 component at a time. This way, you'll see the exact influence of that specific component rather than a combination of others.
4. Ask for feedback from mentors and advisors.
Measuring the reactions of actual customers is key, but there is another side to product validation. Startups often get access to a large network of mentors and advisors who might later turn into investors. They can serve as a powerful source of knowledge and bring tons of expertise to your product development process.
If you're looking to build something that customers don't even know they might want or need, you'll need to consult market experts. Once you find a professional who understands your vision, it's a good idea to pitch your future plans to them. You'll likely get valuable feedback from awesome individuals who can make or break your success.
Note: You don't have to take every piece of advice mentors give you.
5. Using product validation platforms
Now that you've learned how to do product validation by yourself let's talk about the easier option. Many startups choose to work with product validation platforms like Prelaunch.com to help them cover every base in their product validation process.
If you're looking to make data-backed decisions, choose a profitable pricing strategy, learn how to sell your products, and more, the next section of our product validation guide is for you.
Prelaunch.com - the #1 product validation platform
For those of you who are new to validating product ideas or markets, let us ease your mind. It's not as hard as you think. In fact, with all the online tools and services available today, you don't even need to leave the comfort of your home.
Prelaunch is one of those platforms that simply makes it easier to build a new product (and do it right). In fact, the platform helps you create a community around your product to help you build not just for them but with them. This way, you can get it right the first time around instead of correcting avoidable mistakes later on.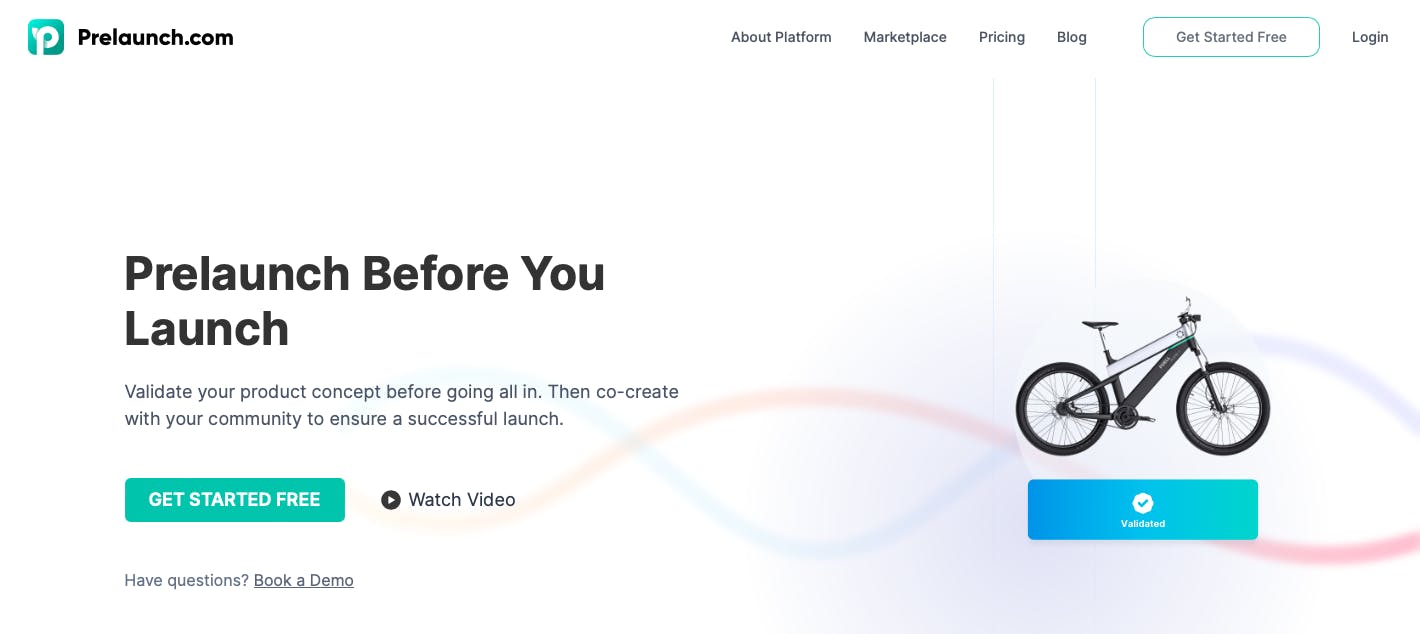 To avoid being in the 80% of product launches that fail, product validation testing is a must. So, how will Prelaunch validate your products, markets, and ideas? Here are some great advantages to keep in mind.
Create a landing page for your product.
Test out your concepts, pricing, audiences, positioning, and even colors.
Get product reservations that will stay with you after product validation.
Create a community around your product (with the awesome community of early adopters already on Prelaunch).
Run targeted ads to bring in more traffic.
Get insights into the audience that resonates most with your product.
Access conversion metrics and gauge market demand.
So, we bet you're thinking: where's the catch? Well, just like any other useful service, Prelaunch has pricing plans you can choose from (and yes, there's a free version). Here's what you should have in mind when it comes to the cost of product validation on Prelaunch.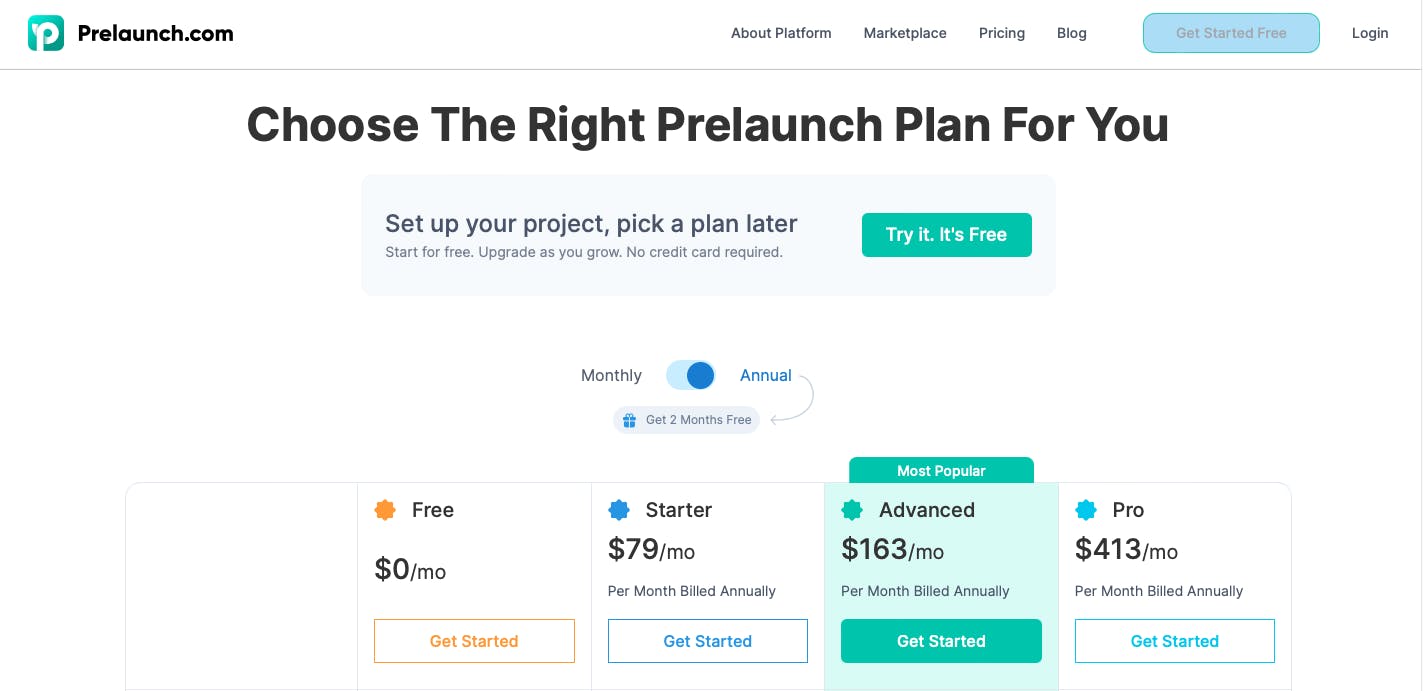 With the free version of Prelaunch, you'll get access to some product validation features like 15 reservations, analytics, 10 AI copy variants, and more.
If you're looking for something on a larger scale that'll include pricing testing, surveys, a dedicated success manager, and more, you should have a budget of at least $95. On average, companies spend $300,000 on new product development, so this number shouldn't scare you.
For the pros who value customer insights and understand the importance of product validation, Prelaunch also has pricing plans that range from $79 - $413 per month (billed annually).
If you're interested but not fully convinced yet, check out one of the Prelaunch product validation examples. You'll learn all about how it works and what to expect.
Final thoughts
So, there you have it, folks. We've covered all you need to know about product validation, including methodology, its importance, and how to do it in an easier way than most.
Validating your product should be at the top of your product development checklist, so don't treat it as a secondary task. In fact, building your product as you validate it can result in a better product, built in an easier way.
Your customers are your #1 source of feedback and guidance. They are the ones who will be spending their hard-earned money on it and using it in the future. So, you better make it exactly the way they want it.
If validating your product on your own turns out to be harder than expected, it's a good idea to turn to product validation platforms like Prelaunch to help you along the way. It will likely turn out to be cheaper and better for your business.
Thank you for reading through our product validation guide, and we wish you the greatest success on your next product!
Related articles
Prelaunch.com | Idea Validation Platform For Your Next Product
14 Best Ways to Get Market Validation for Your New Product