The product validation process is when you make sure that your end product satisfies your customers' expectations.
Now you may ask: "But how to do product validation?"
To answer you, let's first look at the steps you should take to achieve it.
Note. The order of the steps cannot be changed.
Problem: If you want to succeed, you should start not with the product—as many people do—but with the problem first. Is the problem you're aiming to solve with your product a big one? Is it an important one?

One of the useful ways to do this is by interviewing your potential customers. But before doing this, it's worth working with your team to develop the best ideas. Here are a few mini-steps to validate the problem:
Understand
The first step is to create a map to understand the problem. You can do this by focusing on key parts of the problem and seeing the related areas, stakeholders, and concepts. With clever mapping practices, understanding the problems can become much easier!
Diverge
It's important to think of different solutions for the problem you are trying to solve. For this, it's a good idea for your team to break up into smaller groups or pairs and brainstorm a few ideas each before consolidating them later on in the process.
This will get you 2 – 5 different solutions at your fingertips so that you can make an informed decision on how best to proceed with solving the issue or challenge presented before you. When it comes time to present your ideas, be sure to not only offer up a single idea but also take into account feedback from other members in order to find the best solution.
Decide
After you've given your idea a thorough review, it should be time to regroup and figure out which one is the best. You might choose between ideas that solve your problem the best way or present less of an investment required to enter the market.
Customer: Identifying your customer is important in creating a product or service that meets their needs. Who is your ideal customer? Who would really want to buy your product?

If you say "everyone," it will be a tough time for you since people are all different and have their own needs: concentrating on everyone instead of a niche audience will only lead you to failure.

Market: Next, you must validate the market. Are these potential customers that I interviewed truly interested in my product? Or is there another group experiencing this problem even more intensely or at higher rates?

This market validation stage is also about assessing the market size and share. If you want to turn your idea into a successful business, take the time upfront to estimate how big your target market is and what percentage of it you can realistically capture.

By doing so, you can not only make for a more accurate estimation but will also legitimize your product's launch. For products similar to yours, research sales data for comparable items, the number of manufacturers currently producing it, and how much share your segment has in relation to the total market.

Determine where you fit into this marketplace, assess what percentage is left for your business, and determine if that's enough or not feasible.


Product: If you've made it this far, then congratulations! Time to get your product validated. This is the stage when you tie the value of your product directly back to your customer's problems.

How does your product solve their problem? How does it make their life better? This can be tricky though, so we'll explore several methods—including prototyping and landing page testing—to help you determine if your product will be a hit with customers now.

Profitability: You might also research prices in different markets and niches to have a better sense of which you should tailor your product for. Which market offers not the highest price point but the highest potential profit?
Once again, make sure to do your validation in order! Don't try to validate your product or its profitability before determining whether or not the issue is worth solving.
Methods of Product Validation
Now that you know the main steps leading to product validation let's talk about the specific methods you can use to achieve it.
If you want to ensure your product is worth the investment, go through all your free options before investing in anything. Let's start with them to specifically see how to do product validation and which strategies to use for the best results.
Keyword Research
One way to gauge the market validity of your business idea is to research monthly search volumes for terms related to what you're selling. When consumers need a product or service, they often use a search engine like Google or Bing and type in keywords that relate specifically to their needs.
To find out what they search most for, you can conduct keyword research using SEO tools like Google Trends, Moz, or Ubersuggest.
For instance, if you've decided to create a cat water fountain, you can use Google Trends to see if it's something in demand on the market: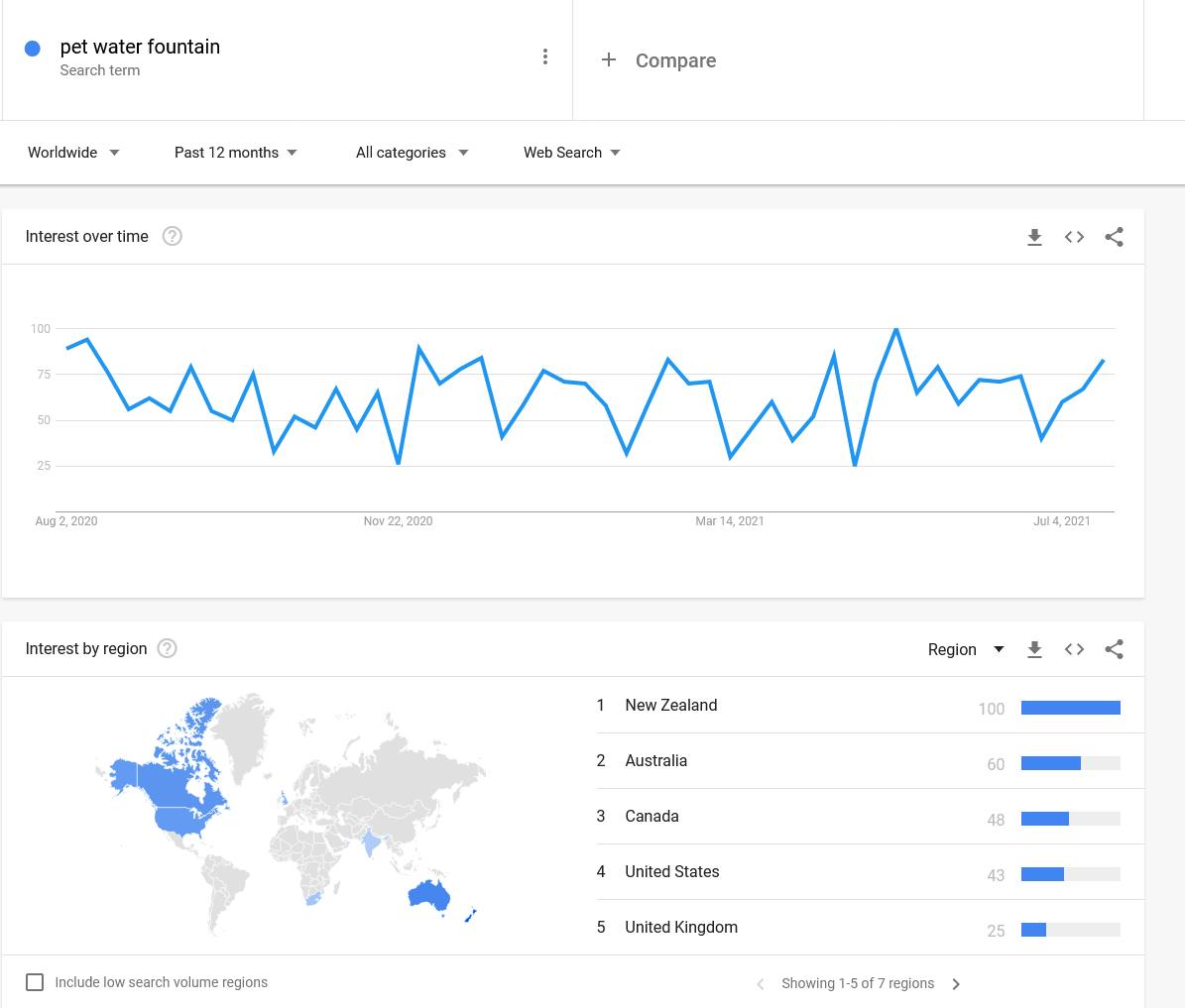 To get more accurate results, you can also narrow down your search by typing "cat water fountain" if it's specifically for cats: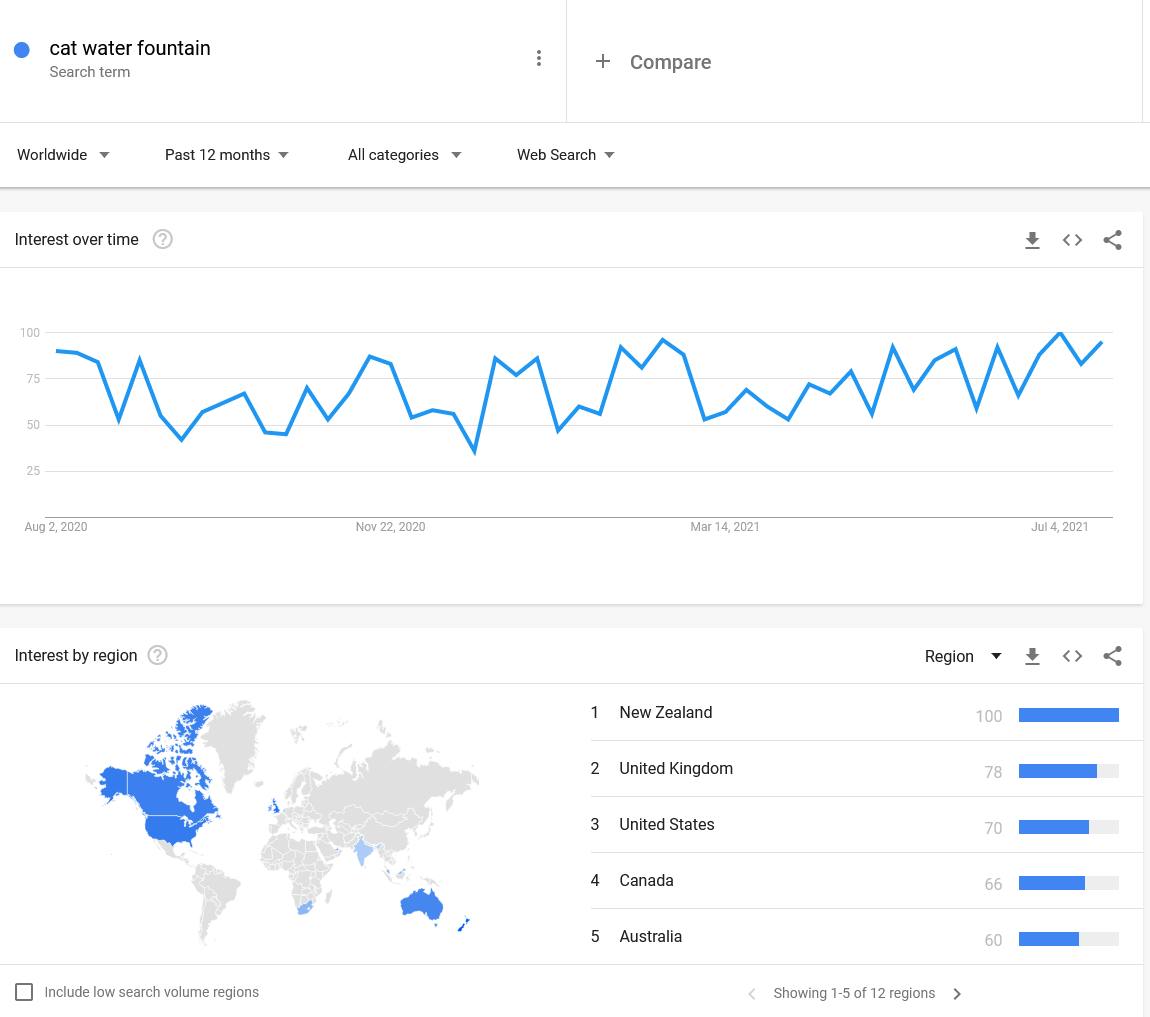 If there's not a lot of search volume surrounding your product, you should consider using terms that express customer intent. For instance, if you design a special orthopedic pillow, you could look up how many people search for "pillow for sore neck" or "best pillow for a sore neck."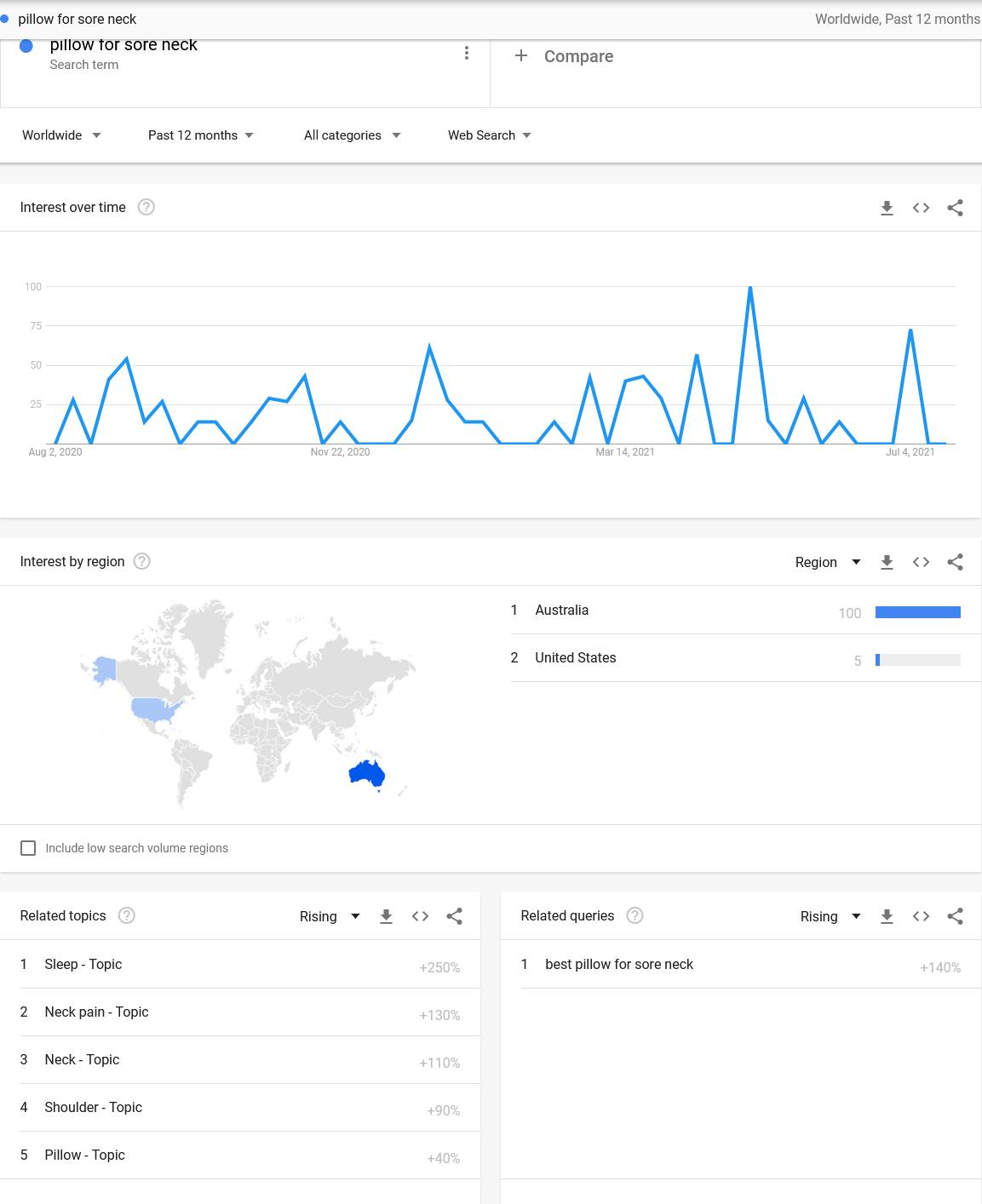 In all these cases, the search results not only give you an idea about the potential customer interest but also help you get insights on which regions would be more interested in your product.
Customer Validation Interviews
Another effective way of learning about your product's potential is by conducting interviews with your target market audience.
You can do this by running focus group testings, sending out online surveys to your potential customers, or meeting with them in person. Find out how they are currently handling the problem that your product solves by asking a series of questions.
These questions should be aimed at revealing your potential customers' needs, preferences, motivations, and the products they currently use to solve their problems.
Frame any assumptions or hypotheses you made during the market validation process as questions for your interviewees. Also, be especially open to the feedback you receive: you can use it in the future to improve your product if it proves to have weak market validity.
Here's a list of a few questions for you as a reference:
When did you first think about buying [PRODUCT]?
What challenges did you hope to solve by buying [PRODUCT]?
Where did you learn about [PRODUCT]?
What other options did you explore before making your decision?
What was the determining factor that made you choose [PRODUCT] over the other options?
What solution were you using before? Why Didn't You stick to that solution?
Who pushed/recommended you to buy [PRODUCT]? etc.
As a result, you might discover, for example, that although there isn't any exact product like yours on the market at this time, they have found other ways to get around and don't feel like paying for what you want to sell.
This will help you to think of something else without making aimless investments or develop your idea further into something more valuable and demanded.
You might also find that the perfect product to provide a solution for their wants doesn't exist yet! If that is your case, they perceive this as a green light and roll up your sleeves for the upcoming hard work.
Landing Page
Creating your minimum viable product and presenting it on a landing page is yet another way to get an idea about your product's potential.
The good thing about landing pages is that you can monitor the activity on the page and make decisions based on data. For this, you need to install Google Analytics or use the built-in analytics tool built into your landing page builder.
Your landing page can actually consist of three parts:
Features/benefits of the product, how it works, etc.
Source: Wishpond
Options of the product (different colors, sizes, types, packages, etc.)+CTA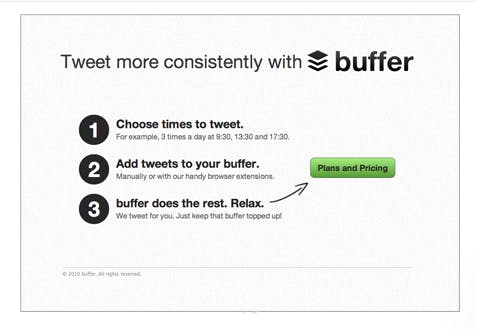 The second page gives you further information about the product, presenting in detail its options. In the case of Buffer, the second page was about its packages and pricing.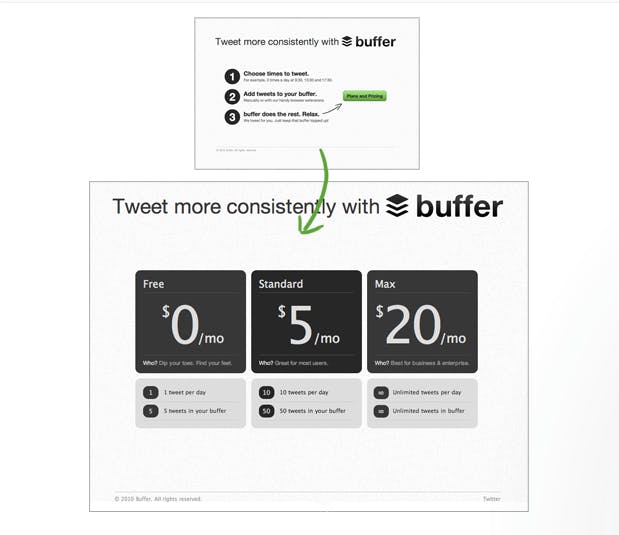 For a physical item, the page may look like this: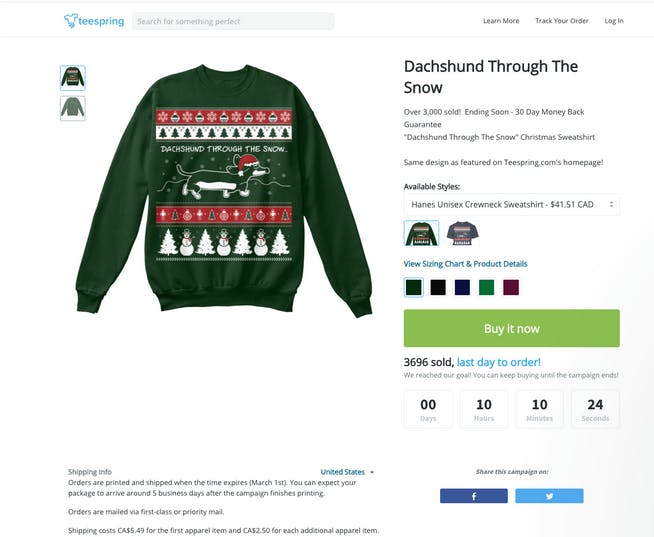 This is the part of the landing page that makes it different from a real product page: once they click on the CTA on the second page they will be redirected here to leave their email.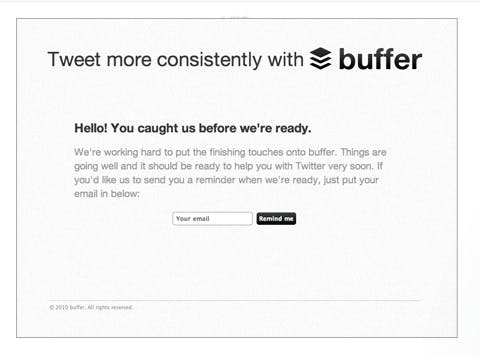 This prelaunch page notifies users that the product is not quite ready to go. At the same time, It allows them to enter their email address for them to find out more about it once it's ready and available for purchase.
With this three-part website, you get a chance to easily test your entire sales funnel without even creating your product. This means you can not only get an idea about the demand for your product but also address user objections well before making any investments. A landing page like this is the best way to measure your user interest as they move through your page and decide whether they want to buy your product or not.
To make this kind of page, you can use a landing page builder, which provides you with the features of A/B testing, analytics, and working forms. Otherwise, you can also use other tools or code it up using HTML, CSS, PHP, etc. Or you can opt for Prelaunch.com – an all-in-one platform that provides both landing page builder and data insights to conduct your product and market validation. Read more on this tool here.
Drive Traffic and Test
Sure, you've spent zero dollars on your project up until this point, but now it's time to start spending some money. Stop putting all the eggs in one basket and spend a little bit of your budget to bring traffic to your page and see if people want to buy.
To do this, you can use Facebook ads, Google ads, LinkedIn ads, LinkedIn outbound, LinkedIn inbound, cold email, direct mail, cold calling, etc.
But before you start using all these tools, make sure to set up Google Analytics beforehand so you get a chance to track everything.
And another important thing: whatever strategy you decide to use, remember that it could take a little while for them to start really working. That means leaving them running long enough—say about a couple of weeks—depending on how big an audience you're targeting is.
If, as a result of your testing, no one is buying your product, then you should work on making changes to your landing page copy, re-evaluate your traffic sources, or even reconsider your product.
Prototyping
One of the best ways to validate your product is, of course, by making a prototype. A prototype is a test that simulates the final product. It's actually your first step from a concept to a tangible reality.
There are two main types of prototyping—low-fidelity and high-fidelity. You'll most likely do both during your validation process but at different stages. You'll usually start with a low-fidelity prototype and then turn it into a high-quality version after getting feedback on how well people liked it.
Low-fidelity prototypes – These prototypes aren't as realistic: They can come in the form of a PNG mockup, paper drawings, or PDF of the UX. Although these prototypes lack realism and have limited functionality (as they aren't clickable), they are still worth consideration because they're inexpensive on a budget and allow testing different design layouts or accessibility issues economically.

High-fidelity prototypes – These projects are as realistic as possible. They look just like the finished product, but they don't actually do anything! In the case of software, the user might be able to click on menu items a bit here and there, but all of the features will not work in this prototype. A high-fidelity prototype just gives users an idea of what it could look like when finished.
User Testing
During the product validation testing process, it's important that you test your product with real prospective customers. There are two types of testing you can do — alpha and beta testing.
Alpha testing is when the team of testers, who are part of a company's own internal staff, tests out the product in an artificial setting. This type of testing aims to eliminate any bugs, glitches, or issues before releasing it publicly.

Beta testing is a process of releasing unfinished versions of products to a limited number of real users. This helps identify and fix any problems before they reach your customers.

Beta testers are encouraged to point out any potential issues so that you can be assured that when it's finished, your product will be in its best shape possible!

During the testing, make sure to inform the users that they are not being tested, but the product is being tested. The testing is not to check their tech savviness but rather to reveal what they would change about the product and which features they prioritize.
With the feedback you get from beta testers, you can improve your product, leverage it better, and meet your customers' needs.
Related articles
Product-Market Fit: Measure Your Idea's Success