Launching a product is an exciting journey. It is also a crucial process that can determine your success in the market. A product launch press release is one of the most important documents to prepare for your launch. But what is it, and how do you make one?
According to our PR specialists, the prelaunch stage is the most important part of your launch. This is when you will take 3 basic steps before you send out a press release for your new product.
From research and pitches to your press kit and follow-ups, the PR component of your new product's promotion is an important process. Ultimately, your team should have all the assets ready to start the outreach after officially launching.
If you're new to creating product launch press releases, you've come to the right place. In this product launch press release guide, we will tell you all you need to know about PR before, during, and after officially pulling the trigger and launching.
Of course, a press release won't magically make every news outlet post about your product. Nevertheless, it's a cost-effective way of spreading the word. Once you learn how it all works and understand the basics, you'll start writing newsworthy press releases.
We will tell you why PR campaigns are important, what a product launch press release is, and how you can write one, and we'll also include an example from our own experience! Sounds useful? Keep on reading through, and you'll be ready to launch your new product into the market with confidence.
Why is it important to run a PR campaign for a new product launch?
Simply put, PR is the way to get coverage and exposure for your new product launch, which is going to be the fuel for your success. Whether your product is talked about on the news or relevant blogs, word will get around, and people will start learning your name.
Your product press release is the main document you'll be using to share your product's story. If you manage to get coverage in the media, it'll make you more credible and get your potential users to trust your product.
Remember that journalists will be using your press release to get the most important info about your product. It's common practice for journalists to copy and paste your story into their articles about you. This is why you need to include all your crucial product info. It will also help to imagine writing a news post when crafting up your press release.
Creating a press release and sending it to journalists should be one of the top items on your product launch checklist. Why? Your product launch press release will help build buzz around your new product. Ultimately, media exposure is something you simply need.
Advantages of running a PR campaign for a product launch
There are many different ways to get coverage on the web around your product. You can use social media marketing and advertising to spread the word, but having your product featured by other publishers has its advantages.
We've identified 3 main advantages you get with a PR campaign before your product launch:
It's cost-effective
It boosts brand awareness
It helps bring in potential buyers

And there you have it. Have we convinced you to create a new product announcement press release for your launch yet?
Now that you know the advantages of running a PR campaign, let's dive deeper and learn what a product launch press release is.
What is a product launch press release?
A product launch press release is a comprehensive document that tells the story of your product and its launch. Ultimately, it helps promote your new product by presenting an interesting story.
This document is later shared with journalists, and its goal is to prove your product's newsworthiness.
To help you better understand the meaning of a product launch press release, let us present it in another way. Think of a new product launch press release as a pitch for journalists and anyone else who will see it. You will present what your product is about, why people should use it, and much more.
Product launch press releases have a specific format and style. In fact, that is one of the reasons why experts take care of press release content writing and distribution.
Let's move on to the next section of this product launch press release guide, and we'll explain why PR experts handle press releases.
Why do PR experts write and distribute press releases?
Regardless of your product's industry, a press release plays a huge role in being featured in the media. A press release is the most efficient way for PR specialists to build up buzz around a product in the real world. PR specialists simply know how it's done.
Since there are some rules upon which press releases are written, it can be hard for a beginner to come up with a great piece. PR experts, on the other hand, know what they're doing because they have the necessary experience.
Distributing your press release is also a crucial process. PR experts need to gather a list of relevant media outlets and journalists to reach out to. Luckily, PR experts already have databases for specific niche industries. This is where PR experts have a big advantage over beginners.
Now that you know why PR experts write and distribute press releases, let's talk about how you can write one. Keep on reading for our ultimate product launch press release writing guide.
How to write a press release for a new product launch?
In this ultimate product launch press release guide, this section is one of the most important ones. We've created a step-by-step tutorial on how to write a product press release for your new product launch.
Follow this guide, and you'll have a much easier time coming up with your product launch press release content. We'll tell you all about essential press release elements, what general structure you should use, and how you can charm potential readers with your content.
Without further ado, let's jump right into step 1.
Step 1: Plan it out
The first step for writing a press release is doing your research. Check out other press release examples to get a sense of what you'll be creating.
Create a basic template for each section and follow the rules of writing a press release. This can be anything from including "for immediate release" at the top to figuring out your mailing list.
Step 2: Create an outline with your essential information
Next, you'll need to create an outline, including the topic of each paragraph. Make sure that there is a natural flow. Keep in mind that your goal won't be to explain your product. Your main goal is to make it interesting enough that journalists will want to learn more.
One of the most common mistakes beginners makes when they write a press release is focusing too much on the product and its features. You need to remember that you're writing a story. The journalists who read it need to be able to come up with an interesting story for their readers.
To make sure that journalists can get a newsworthy story from your press release, check that it ticks all of these boxes:
It must be of interest to their readers
It must be timely
The readers must benefit from learning about it

Whatever focus point you choose for your press release, you must ensure that it's not too salesy. Your goal is not to sell your product to the journalists, it's to introduce an innovation to the sphere.
Make sure to include all the essential information about your launch in your outline, just to make sure that you don't leave anything out. Check out the next section of this product launch press release guide for questions you need to answer in your press release.
Step 3: Write a killer headline
Your press release header is the most important sentence or phrase you'll write. It needs to be catchy and convey what the product is all about. Make it sound like a news article. Once you land on the perfect phrase, you'll know it.
To make it easier and more appealing for journalists, you should limit your headlines to 25 words. The best headline length to go for is 10-20 words. The best headline length naturally depends on the nature of your product and its target groups.
Step 4: Introduce your story in a short but sweet way
In the body of your press release, you'll need to tell the story behind your product. The key is to keep it short and catchy. Since journalists come across dozens of press releases every day, you need to make sure that yours will stand out.
Ideally, your press release should be up to 500 words. When writing one, you can write up a longer version, then spend a couple more hours cutting it back. Remove anything that doesn't directly add value, and leave only the most vital content.
Make sure to write a press release that's easy to read. You can use tools like Grammarly to check for grammar mistakes, appropriate sentence lengths, and other metrics. Regardless of your reader's literacy level, short and simple content will always be easier for them to understand.
Step 5: Proofread
The next step for writing an amazing product launch press release is proofreading it. Not only do you have to check for grammar mistakes, but you also need to ensure that you've included all your essential information.
Step 6: Test it out
Once you have a final version of your product launch press release, the only thing left to do it to test it out. It'll be a good idea to share it with someone who doesn't know anything about your product, have them read it, then ask them the following questions:
What were the 3-5 focus points?
Why should you care about this product?
What does the company do?

If you are happy with their answers, then you've got a good thing going.
Next steps - pitch to journalists!
Along with your press release, your pitch should include supporting documents like pictures, videos, your logo, etc. Journalists will be able to use these elements to enhance your story in their articles. Naturally, the better looking your product is, the more interest you'll get from readers.
Now that you know how to write a product launch press release, let's talk about how you can make it as great as possible. We've prepared a list of essential questions your press release needs to answer, so let's jump right in.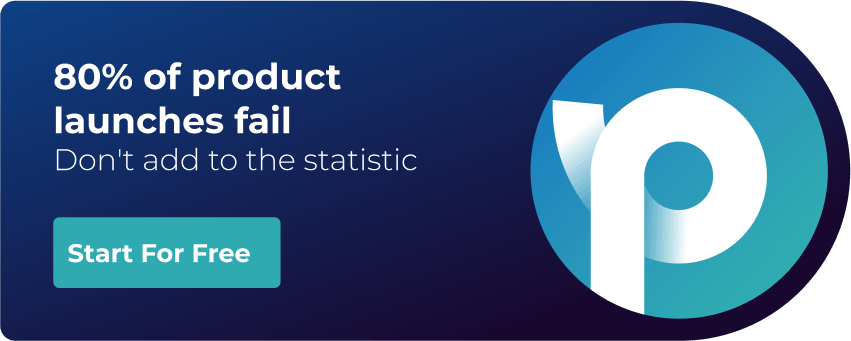 Questions you need to answer in your product launch press release
The questions you need to answer in your product launch press release are called the '5Ws and H'. These 6 questions are - what, where, when, why, who, and how.
It will be up to you to choose which question's answer to emphasize more. For example, if your product is complicated, you might focus more on explaining what it is.
While working with a PR expert, you will read a lot of product launch press release examples to ultimately come up with your own product launch press release template.
To answer the 'who', 'when', and 'where' questions, you should tell the story of your company. Introduce your founders, tell the readers where you are based, and give a bit of info on when you'll be launching your product.
As for the 'what', 'why', and 'how' questions, you'll tell the story of your product, its features, how you decided to create it, what the problem in the market is, and how your product solves it.
The way you need to answer these questions will become clearer when you check out other examples of a press releases. After that, it'll be up to your copywriting skills to make it interesting and newsworthy.
To help you get a better feel for what an actual press release looks like, we've decided to include an example of a new product launch press release. Let's check it out.
New product launch press release example (Elecjet Apollo)
For the last section of our product launch press release guide, we've decided to show you a press release example for a new product. If this format fits your product, you can even use this as a template for your own press release.
So, let's talk about the press release of ElecJet Apollo Ultra - The Fastest Charging Power Bank in The World.
Check the press release here.
The Header
We started the press release with the words "FOR IMMEDIATE RELEASE". This tells the journalists that they can share our story immediately. Including the date below it made sure that journalists know this document is up to date. These are standard industry press release practices that you simply must follow.

The Headline

Your headline should be as catchy as possible while also introducing the core of your product. With the Elecjet Apollo Ultra, we introduced the product as the fastest charging power bank in the world. Who wouldn't want to hear a story about that?
The Lead
Right below the headline is your Lead. This is a small sub-title with up to 50 words that highlight the focus of your story. It comes right after the headline and has a special accent to motivate journalists to keep reading. It's a good idea to smoothly include the answers to the 5Hs and W in your Lead.

For this product, we wrote a Lead that explains the product and conveys its main advantages along with social proof.
The Elecjet Apollo Ultra is a power bank that has a 5x longer life cycle than other ones. We're shocking the reader by including the Nobel Prize-winning technology. We are also conveniently mentioning that the product is launching on Indiegogo, aka answering the 'where' of the product launch.
Your 1st paragraph - the introduction of your story
Most readers scan the first paragraph to decide if they want to keep reading. That's why you need to include the main points you'll be talking about in your press release.
Remember to focus on the advantages of the product rather than its features. After that, you can go into detail and tell your whole story. For ElecJet Apollo Ultra, we did exactly that.
We mention its charging speed and capacity, which are the key advantages of the product. We also mention info about the founders, along with how the product was created. Lastly, we mention its design advantages to keep the reader intrigued.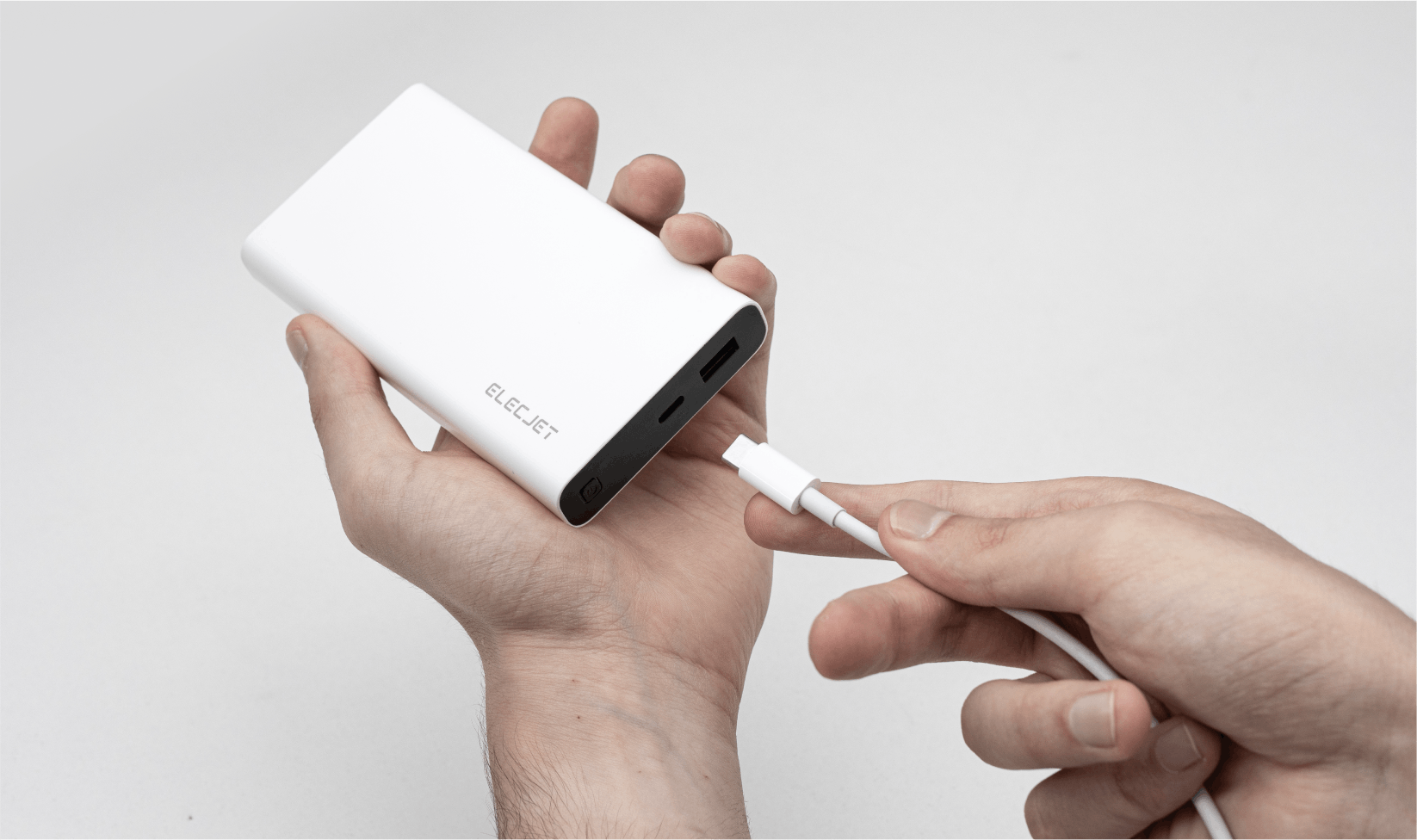 Your 2nd-5th Paragraphs
After the small intro, we dive deeper into the specifics of the product and tell the story in a more detailed way.

We also conveniently answer questions that might come up while hearing about the product for the first time. These initial paragraphs reiterate the advantages of our technology and give more important metrics that users can wonder about.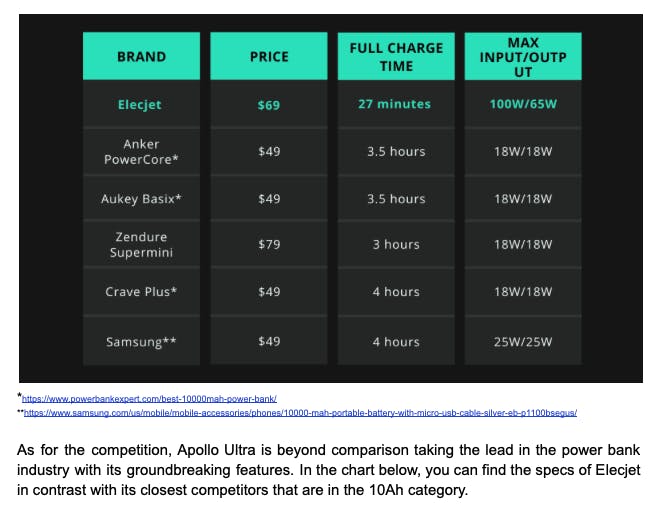 Next, we come in with proof and competitor comparisons to explain why the product is better than others. The price, the charging time, and other specifics show that the Elecjet Apollo Ultra is better and still affordable compared to other popular power banks on the market.
Social Proof
After the product is introduced, we start building credibility for the product.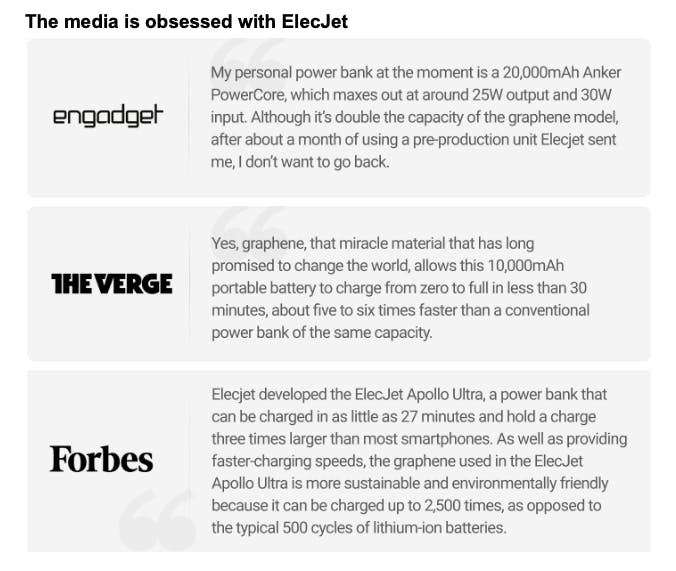 We mention great sources where the Elecjet Apollo Ultra has been mentioned to instill trust in other journalists reading about it. This can also come in handy when they are writing up their own stories.
The Where
Before bringing the press release to an end, we briefly reiterate the availability of the product.

For the Elecjet Apollo Ultra, we've mentioned that the product is available on Indiegogo for $69.
About the Company
At the end of this press release, as you would with any other press release, we included the boilerplate. This is information that never changes, which in this case was about the company.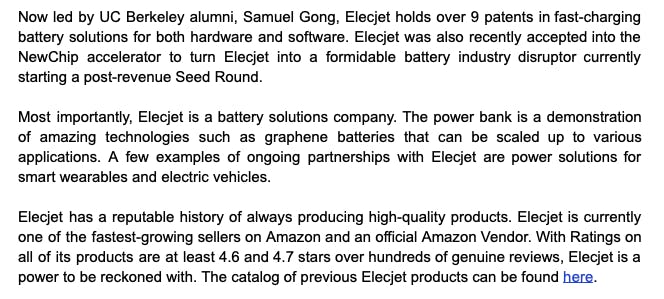 Info about the company can add credibility and trust toward the product, as well as bring the readers closer to the product. Of course, it also adds to the sweetness of your story.
Contacts
Last but not least, we included our press contacts to help journalists reach back out to us for more information.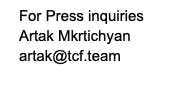 This should be kept short and simple - just a name and an email address are enough.
Final thoughts
And there you have it! We've reached the end of our product launch press release guide. Starting from the importance of a press release to a step-by-step guide on how to write a press release and our own example, this guide is complete.
Remember that sending out a product launch press release is a crucial step in your launching process. Follow our guide to writing a killer press release for your own product, and we wish you the best of luck!
Related articles
7 Most Successful Product Launch Examples to Learn From
Prelaunch Marketing Strategies: Where to Start and Why